Hello and welcome back to another edition of Boob(s On Your) Tube, your Friday stop for queer TV wrap-ups! Today I went back through the comments on this column to make sure we're covering everything you want to see covered, and I've added all the shows y'all have mentioned to my list and we'll work on getting updated on all of them. I'm beyond proud of what our TV team has accomplished so far this year but we're never going to stop working to get better and better, so thank you for your recommendations.
This week Carmen recapped Black Lightning for you, Kayla made you gayer in a post about Shall We Dance, and for one brief and shining moment we became a Shenny fansite. And Natalie has been working full time on the NATIONAL CHAMPIONSHIP OF KISSING!
Here's what else.
---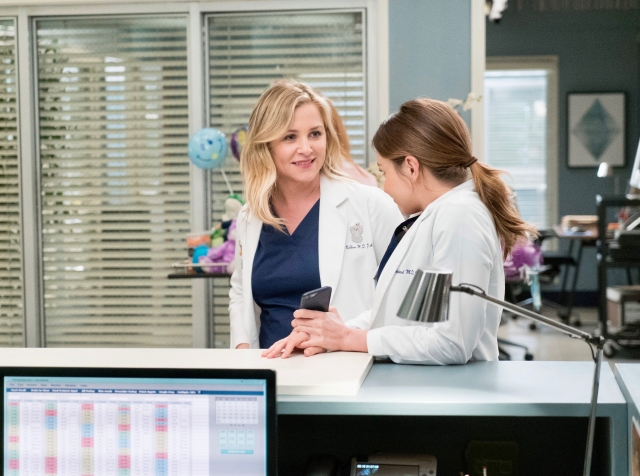 Let's start with what is most important: Arizona Robbins most definitely does NOT have breast cancer!
It maybe seems strange to start this week's recap with the news of what didn't happen, as opposed to what did — but let me tell you, there was a commercial break in the middle of last night's Grey's Anatomy where I thought our beautiful Arizona Robbins was going to be written off of the show with a Dana Fairbanks style farewell, and those were the longest five minutes of my life.
Peggy and Dana (NOT Fairbanks), the quirky lesbian couple who Arizona and Carina coached through having a hallway birth during the mid-season cyber attack, came back to visit us at Grey Sloan Memorial. They were in a car accident after Dana (NOT Fairbanks) had gotten sick following her chemo treatment. Yes, apparently this Dana has breast cancer, but she's not too worried because her doctor is a miracle physician. She can't say enough good things about him! His name is Dr. Hanson and he poops rainbows and puppies and all is beautiful in the world. Ughhhh… not so much.
Arizona and Owen feel suspicious about "Dr. Hanson", who apparently is the only doctor in the world with the cure for cancer — despite not being board certified or being attached to any professional medical associations. When they look at Dana's scans, they see she doesn't have cancer at all. This leads Arizona and Owen to go undercover as, and I am sorry to have to even type this, Mr. and Mrs. Arizona and Otis Hunt. Arizona "playing straight" is pretty hilarious, having to pretend there's a world where Arizona is married to Owen Hunt most certainly is NOT.
Anyway, their undercover routine is pretty hilarious. Owen is with Arizona in the exam room, but turns beet red and refuses to look at her breasts. In their fake couple routine, they discover that Dr. Hanson has been fixing his medical scans to indicate that there's mass in the breast tissue. They realize this because when shown the scans, for a brief moment Arizona's face crumples.
"I really do have cancer?", she tearfully asks Owen. She looks like all the color has been sucked from her skin. The music goes hollow. And maybe it's my Bury Your Gays PTSD from watching too much television, maybe we have all been overly traumatized as a community, but for a brief moment I thought that Shonda Rhimes might actually play into one of television's most horrendous and cruel tropes.
They go back to Grey Sloan and have April perform her own examination on their home turf. That's when we find out that Dr. Hanson is just an evil predator. Don't worry, he's in jail now. And Arizona is alive. She's healthy. She's not going anywhere any time soon (except of course at the end of the season, when she is most definitely leaving us — but I don't want to think about that yet, I haven't stocked up enough on Kleenex.)
---
Quick Hits
Famous In Love 201-202: "The Players & La La Locked"
Well, Famous in Love is back on Freeform and the manipulative bisexual character, Alexis, is even more manipulative and sociopathic than she was in the first season! Now she's the star of her own reality TV show and is selling out all her friends for fame. The thing is that she's not even a fun villain, like Season One Riverdale Cheryl Blossom or Miranda Priestly, she's just a heartless bitch. — Riese
The Arrangement: Season Two
Yo they killed the black lesbian so I'm never watching this show again bye! — Riese