​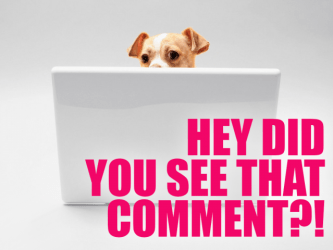 Good day, peanuts! I'm about to get on an airplane so the comment awards are coming at you rapid fire this week. Sit back, put your tray table in the upright position and enjoy the complimentary pretzels.
Did you hear that the Autostraddle Hot 100 is now open for voting? Any out queer woman is yours to nominate, just remember that voting for Intern Hot Laura five times will only count as one vote. (But I'm sure she'll still accept heartfelt sonnets.)
Gabrielle wants to make you look good at work and Laura will help you eat well on your lunch break. Malaika pondered weather-based fashion dilemmas, Lizz was all about floral prints for spring. It was a rough week for Kate, who cry-recapped the final episode of Bomb Girls and explored misogyny in the butch community.
The biggest, queerest news of the week was that Jason Collins became the first active male athlete in American professional sports to come out as gay. So far only one person on my facebook feed posted a homophobic rant about it so things are looking up. Should everyone come out and should well-known closeted queers be outed? Riese talked about it.
Now some things from you beautiful creatures!
---
The Hot 100 TL;DR Award to Shannon:

The Dropping Truth Bombs Award to Vunderland:

On Ms. Fit Magazine: Finally, Feminist Body-Positive Fitness and Wellness:
The Best Tag Team Poetry Collab Award to Catjay and Kathryn: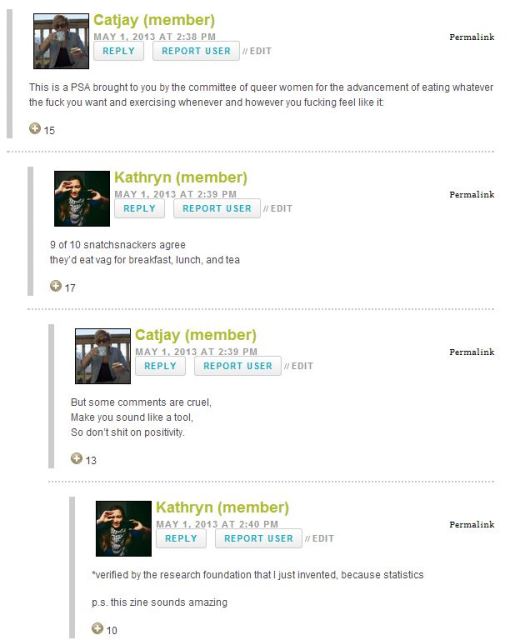 On Everybody Should Come Out, Or Not:
The PREACH Award to Eifa:

The Walked Right Into It Award to Carmen SanDiego and bookbound: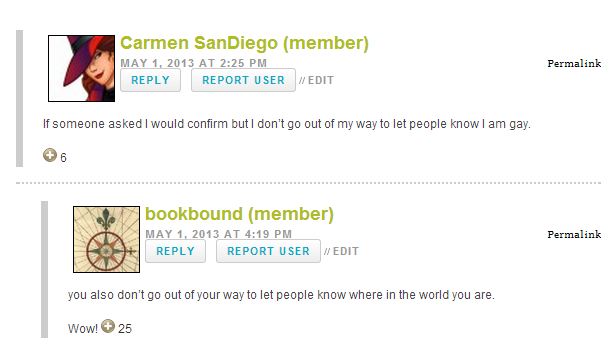 ---
See a clever, hilarious or thought provoking comment around this website-ship? Email it to me at: carrie [at] autostraddle [dot] com!