Welcome to the twenty-sixth installment of Queer Your Tech with Fun, Autostraddle's nerdy new tech column. Not everything we cover will be queer per se, but it will be about customizing this awesome technology you've got. Having it our way, expressing our appy selves just like we do with our identities. Here we can talk about anything from app recommendations to choosing a wireless printer to web sites you have to favorite to any other fun shit we can do with technology.
Header by Rory Midhani
---
How did that backup go? I'm assuming swimmingly, since I haven't got any angry comments on last week's Queer Your Tech. No one's computer went toward the light? Good.
So this week, we're going to deal with something that people generally associate with a lot of tedium. We're going to deal with your software. People hate dealing with software because updating generally takes a long time, especially if you haven't done it in a while, and frequently you can't use your computer while the updates are running. It gets boring. And you probably need your computer, either to watch Buffy on Netflix or for actual work or to read Autostraddle. I'm going to break this down into days of the week so that you don't get bored and get distracted by the reflection of your watch on the wall or spend so much time away from your computer that you go into withdrawal spasms.
I also want to let y'all know that I left something out, and I did it on purpose. Linux users – it's not that I don't love you, it's that you're tech savvy enough that you've installed linux and can use it, so I'm guessing you've got this. This guide is primarily for Mac and Windows users, but I'd encourage you to find each other in the comments to swap war stories of organizing, and to still follow the steps if your computer could also use some Spring Cleaning.
Today, Right After You're Done Reading This Article
You're going to update or upgrade your operating system. Your operating system is what makes the hardware and software in your computer talk to each other. It's responsible for a lot of things – the way your computer in general looks and behaves. An update to an operating system is free and only costs you in time. And its way, way worth it! Updates usually fix bugs (things that the developers notice don't work quite right), patch holes in your systems security, and sometimes even add new features that users have been asking for.
If you're on a Mac, you can do a software update by either heading to the Apple in the top left-hand corner:
Or the App Store:
Your operating system update will look like this:
On a Windows machine (and you'll have to forgive me for the lack of screenshots here, I don't own a Windows computer), you're going to click the start button and type "Windows Update." Your search results will include something that is aptly named "Windows Update." Select that and then click "Check for Updates." If any updates are available, run those updates.
Depending on how long you've left updating your operating system, this could take a while. I suggest going for a walk, eating ice cream, or journaling while you wait for your computer to be usable again.
Upgrading your operating system is a little different. An upgrade happens when updates are so significant that they change the way the computer functions. These are also good because they keep your computer running as if you just bought a brand new computer in the store. They do cost money, but usually the benefits outweigh that cost because an upgrade keeps your computer compatible with new software just coming out.
The latest software for Mac is 10.8 (Mountain Lion). You should check to see if you computer meets the system requirements to download Mountain Lion. Always check the system requirements before purchasing new software – companies do not generally offer refunds on software, even if you mistakenly bought it and it turns out your computer can't run it.
The latest software for Windows is Windows 8. Again, and I cannot say this enough, check your system requirements before hitting that "Buy" button.
If you use a software professionally (like Adobe, Final Draft, Scrivener, etc), make sure to check that the version of the software you are working with is compatible with the operating system you want to upgrade to.
Sunday Will Be Your Day of Rest/Masturbation
Monday
Write down all those weird software licensing keys. You know. All those codes that are, like, 50 characters long and lets you prove to a company that you actually bought their software? Not all softwares have them, especially now with the prevalence of app stores that rely on your account information to prove you haven't hacked/cracked a copy. But some still do. And it's important to keep track of them because when you lose them and you have to reinstall it can be a real pain in the tuchus to get up and running again.
When choosing how to keep track of license keys, remember that they're a little less sensitive than passwords, but if someone gets ahold of them they can use your license key. Which means that $240 copy of Final Draft now belongs to someone else. Womp womp. So I'd recommend against a paper list sitting next to your computer. Some people go with an encrypted spreadsheet or even a google doc (because you have to log in to see your google docs). Some password-keeping softwares also offer the option of storing license keys. I personally use 1password for Mac, but that does cost $50. If you're looking for free, LastPass does a secure note storage that would be perfect for this kind of thing. Round up all those tiny little license keys and put them somewhere centrally accessible, though, because tomorrow we're uninstalling software. And we want to do it without anxiety.
Tuesday
Happy uninstalling software day! I want you to really, really take a hard look at the software that's bogarting the available space on your equipment. Which softwares haven't you touched in a month? In a year? Got your list? Good, we're axing those softwares today. And here is a piece of advice for you, and this is the first time I will say this but not the last: Don't be a digital hoarder. What we are doing is the equivalent of cleaning out your overstuffed closet. And you know the cool thing about software? As long as you have the license key or you're logged into your app store account, you can always reinstall your software if you need it again. That's why we ran through the house/our emails/our "about this software" sections yesterday and made sure we had all the license keys noted.
I even promise to do it with you! I downloaded Sculptoris for my 3D printing article and I haven't used it since! I also replaced Pulp with Feedly and now it's just taking up room.
If you're on a Mac, you have it easy. All you have to do is go to the applications folder and drag your offending applications to the trash. Empty the trash. Bang wham, you're done! Be aware that some softwares have supporting files that you can totally also trash. You can find these items in your Library, but depending on which operating system you have, you might not be able to find the library. Apple hid the library, maybe because effing around with it can actually do damage to the way your computer runs. So I'll tell you how to find the library, but the next bit is for advanced users only:
Click finder and head to the "Go" menu. The Library used to be here, but it might not be anymore. Hold down the option button on the keyboard. Can you spot the change?
In the Library folder, you're looking for non-Apple folders that are named the same thing as the software you're trying to uninstall – you'll know you're on the right track if these files end in .plist. Cult of Mac has a lovely list of the folders you should search.
If you are not comfortable doing this and still want to delete .plist and other supporting files, make a Genius Bar appointment and head to your nearest Apple store. They will help you through it.
Windows Users: you've got a few options. Some of your softwares may have uninstallers. You can go ahead and run that uninstaller, click through the screens and jolly good, you're finished. For others, click the "Start Button" and head to the "Control Panel." Then click "Programs and Features" to reveal your list of software. Selecting a software will present you with the option to uninstall it.
Did tossing stuff traumatize you? Don't worry. The next bit is way more fun.
Wednesday
Let's get some new software and replace some fuddy-duddies that you couldn't bear to get rid of because they serve a purpose in your life! Have you always wanted to try Evernote (highly recommended) but haven't been able to tear yourself away from your other subpar note taking app? What about changing your browser to something you actually like (if you're using Internet Explorer, please change your browser right this instant. Don't wait till Wednesday.)? And I've had at least one ask for a replacement for iTunes (Enqueue, Songbird, Media Monkey). We use tons of software that there are alternatives to, but perhaps we don't realize it. For me, iTunes is kinda perfect. But for others, you might need something different.
Here's the challenge, though. Try not to load up on software you'll never use, or you'll have to repeat Tuesday again and again. So if you can, trash things as you find replacements for them. Often times you won't be able to trash the software you're replacing because it's part of the operating system, and that's okay. We'll deal with that tomorrow.
Thursday
Software is no good if you can't find it. We're going to organize software today. This will feel really satisfying when it's done, so stay with me.
If you're on a Mac and it's running 10.7 or 10.8, chances are this is what you see when you're looking for your software:
In my case, you'll see that there are two pages worth of software here, plus a crap ton of stuff in my dock. My goal today is to try to get everything onto one page using folders, so that I can easily find everything with labels. To make a folder, just drag one app icon on top of another. Presto. Folder. It even tries to name that folder for you, but you can change it – just highlight and delete the name, replace it with something you'd prefer. Let's see how I do: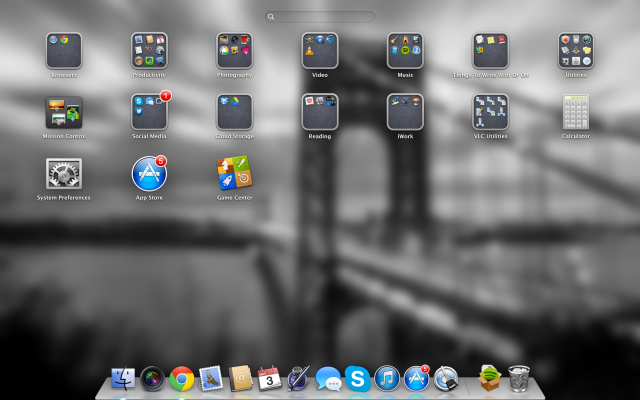 It's also worth noting that I shrank the amount of crap that was in the Dock also. That's because the Dock (the bit at the bottom) is truly just for shortcuts. I want to keep only the software I use daily in the dock. Daily dock. When in doubt, just repeat that. Daily Dock.
Windows computers can be a bit tricky for this, but you still can organize your start menu to find programs more easily. Unlike the Mac, you can't do it from inside the bit where you launch the programs from. You have to find the folder where they really live – any changes you make to that folder, the Programs folder, will show up in the start menu.
First click your Start button. Then hover over "All Programs" and right click it, revealing a menu. Select "Open". That'll take you to the programs folder.
Create new folders for all the different categories you want to see and just click and drag those icons into each folder. Some recommendations for folder categories: Photography, Things to Write With and On, Browsers.
Please keep in mind that you don't have to fit everything into a folder – that's just how my brain works best.
Friday
We're going to do all remaining software updates today. The whole kit and caboodle. Every single piece of software. Rather than try to describe every piece of 3rd party software under the sun, I'm going to let Lifehacker do it for us because they've got this great video that breaks it down. It's an older video, but the principles still stand. It also goes over how to update operating systems – that's, of course, going to be review for ya at this point, but hey, I think it's helpful. Also, if you're on a recently update Mac, don't forget to check that App Store for your 3rd party software updates
See you next week, when we're going to organize your files and get all of that crap that's on your desktop into folders that human beings can understand.  If you have a recommendation or any other questions, feel free to email me: ali [at] autostraddle.com.