Hi crush monsters, this is Straddler On The Street, a feature where I celebrate all of you incredible Autostraddle readers by hunting you down, demanding you chat with me, and then writing about you on the Internet so we can all crush on you. Get excited, because butterflies in your stomach 24/7 is a fantastic way to live.
Header by Rory Midhani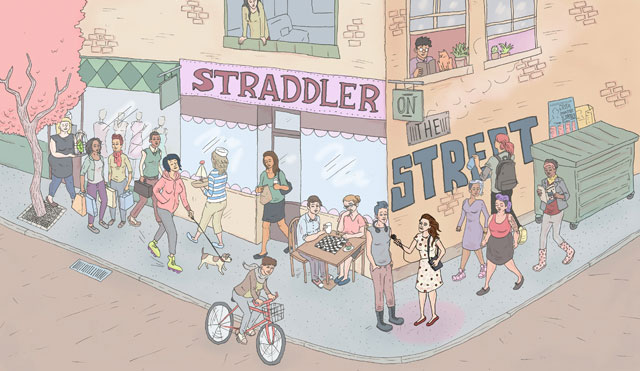 ---
Straddler On The Street: PJ, 23
PJ and I met at The Original A-Camp back in April 2012 and immediately became close. I was attending camp solo and she was there with her lovely girlfriend, but they were both so kind and welcoming to me that by the end of the four day stint we were joking that I was the third partner in the relationship. PJ shared her booze, helped me conquer the vending machine, added insightful commentary to the gender panel, and comforted me when I started to cry at the dance because I was having Too Many Feelings. All of which is to say, it's impossible for me to speak about PJ without bias – she's one of my close friends, and I think she's incredible.
PJ is 23 and lives in Northampton (where the coffee is strong and so are the women!) with her lovely partner. She just started a new full-time job and she's a part-time student interested in eventually pursuing nursing. PJ self-identifies as butch and runs the popular tumblr Masculine-Of-Center. She is also funny, smart, caring and genuine. Like I said, I might be biased when I say PJ is amazing, but the fact of the matter is I'm also right. See for yourselves!
Hi PJ. What are you up to these days?
I live in Northampton, MA.
 I currently work full time and am a part time student.
What are you studying at school?
Right now I am finishing up a general studies degree. I then plan to continue to pursue a BA in nursing.
Would you like to be a nurse eventually?
Yeah, it's taken me quite a while to figure out what it is that I am actually passionate about, and nursing has really started to feel like the right move.
That's amazing! What draws you to nursing?
I've tried to figure out what it is that makes me happiest for a long time, but it never was very clear. I've always been drawn to people in need, people who don't have a lot of support. I've also always been a super science nerd. I like to know all the facts. Nursing is this awesome combination of science/fact-knowing and caring for others.
That sounds perfect. How did you finally figure out that it's the right path for you?
As for it being the right path and how I know it, I can only say that I don't know it. It feels right at the moment, and it seems to have the most likely permanence, but I have pretty eclectic interests and passions so I always worry that at some point I'm going to have a change of heart and follow another passion of mine and become a bicycle mechanic. Being a bicycle mechanic would be the best ever.
Haha, that would be okay probably! Tell me about your current job.
Actually, I just got a new job!
Oh, congrats! Tell me about that!
I am leaving my job as a training coordinator for a manufacturing company and starting at a performance cycling company!
How exciting! Tell me all about your bicycle feelings, please.
I have all the feelings about bicycles. As long as I can remember I've been riding bikes, and my first job ever – at 14 – was as an apprentice bike mechanic. I love the way that I can be completely self-sufficient when it comes to a bicycle. I mean, I know shit about cars, but if a bike breaks, I can take care of that. It's reassuring. I love tinkering with all the simple machines, because that is all that bicycles really are. It's the problem solving that is rewarding. Also bicycles just make so much more sense, economically and environmentally.
That is super true.
And they look so damn cool (sometimes).
TRUE. A secret is that I don't actually really know how to ride one. Like I sort of do, but not well. Not confidently.
It's not easy to be comfortable on a bike!
Well it's good to know that I'm not alone.
No, not at all. Also a lot of people learn to ride in a really inefficient way, and it keeps them from actually understanding how it works. But once you get it, you will retain it forever.
Okay I think you need to teach me how to ride one day.
Yes, I totally will teach you.
Amazing! Moving on to some gender questions… Can we talk about the word butch? Specifically, what that word and identity means to you?
Butch is this thing that I have always felt, regardless of my consciousness of the actual identity. It seemed like a really natural thing to label myself as; the masculinity that is inherent in the word butch has been something I have embodied for a long, long time. When I think of the word butch, I think of all the older butches of previous generations and I feel at home, like they are my people. I read Ivan Coyote's essays and I feel like I am reading about myself.
Being butch is something I have both been my entire life and something that I have chosen.
 I've always embodied the mental and physical space of butchness, but I also agree with the identity politics of what butch is. I choose to label myself with a (mostly) universally understood identity because it allows me to share a part of myself with others.
Also I LOVE the subversiveness of a butch/femme dynamic.
Can you elaborate a bit on what you like about the butch/femme dynamic?
I mean, butch/femme subverts heteronormative stereotypes by upending and rebranding the typical interactions between hetero[sexual] couples as a queer interaction. In my world, butch/femme also subverts queer culture. It runs as a subculture to the dominant concept of gender neutrality and sexual fluidity – all of which are totally valid, just not my personal experience. Butch/femme isn't heteronormative or homonormative. It's hot because of the tension of difference.
My partner and I like the tension between how the outside world sees us and how we interact. We like that we can't be easily pegged into a stereotype. The hotness comes from the tension between us and outward perception, and the tension between her and me. Double trouble.
Cheers to all of that! Can you talk a little bit about your butch style. What kinds of clothing do you enjoy buying, where do you shop, and what are some of your favored brands?
I shop mostly in the little boy's sections of stores. My favorites at the moment are GAP, L.L. Bean, Land's End, H&M, J. Crew, Crew Cuts. These stores carry little boy's clothing that isn't neon green and covered in dinosaurs, haha. They make like miniature versions of their men's clothes. As someone who is on the smaller side of height and broadness, it is nearly impossible for me to wear a men's small without looking like I'm swimming. Some stores that I love because they have wonderful XS men's clothes are Urban Outfitters, H&M, and American Eagle. I shop at a lot of thrift stores too, and buy Levi's almost exclusively for pants.
You and I have spoken a lot about your personal style, and how it's shifted over the past year or so. In your own words, how would you describe your current style and what it means to you?
I still dress pretty similar to how I was dressing a year ago, but I've moved into a space where my confidence is more visible. I am okay looking like an asshole, haha. I feel like I've started to appropriate bro culture, at least in terms of appearance, in order to subvert it. I've also become more confident, and with that I wear jerk-ier stuff like snapbacks because I can. A good friend of mine recently told me I was going through a Freddie Prinze Jr. hunk stage, and I mean come on, who wouldn't be okay with that? FPJ is super cute.
It's true, Freddie Prinze Jr. is a total hunk forever. Speaking of FPJ, do you have any celeb crushes?
LIV FUCKING TYLER. Hope Solo. Tara Lynn.
What are some of your favorite books?
Oh boy. The Well of Loneliness by Radclyffe Hall, The Heart is a Lonely Hunter by Carson McCullers, The Violent Bear It Away by Flannery O'Connor, The Human Stain by Philip Roth, East of Eden by John Steinbeck.
Let's talk about A-Camp! You've been to two, April 2012 and May 2013. When I met you at the first camp you said you were initially hesitant to attend, but by the end you loved it. Can you talk about your camp feelings?
When I was at first camp, it was a time in my life when I was really unsure about my gender. Second camp, I was totally secure in who I am. Also, I was hesitant at first camp because I didn't know anyone, but I met some of my best friends there and that made second camp so much fun.
I think that it is a fucking miracle that a camp like this exists for queer women, and I know that there is such a huge need for this space. I think that A-camp helped me grow and understand who I am, and I am grateful for that experience.
Aw, I love that you love camp. How did you discover it, and Autostraddle?
My wonderful partner always read the site and she introduced me to it.
And finally, can we talk about your rad tumblr, masculine-of-center.tumblr.com? Tell me how you conceived of it and what it's all about.
I got frustrated with the lack of representation for MOC people in other queer spaces, so I began to collect images of people like me so that I could feel like I had a community. Apparently, a lot of other MOC [people] were looking for the same community, so it has stuck! MOC is a place for our community to be, safely, and with others who understand what it means and what it takes to be MOC in the world.
---
If you would like to be featured as a future Straddler on the Street, please email vanessa [at] autostraddle [dot] com. Include a few photos, 3-5 sentences about yourself and put "Straddler Submission" in your subject line. Approximately a million people have submitted so far, so please be patient as Vanessa goes through her inbox — you're all sexy with really smart brains, and don't you forget it!