Hi crush monsters, this is Straddler On The Street, a feature where I celebrate all of you incredible Autostraddle readers by hunting you down, demanding you chat with me, and then writing about you on the Internet so we can all crush on you. Get excited, because butterflies in your stomach 24/7 is a fantastic way to live.
Header by Rory Midhani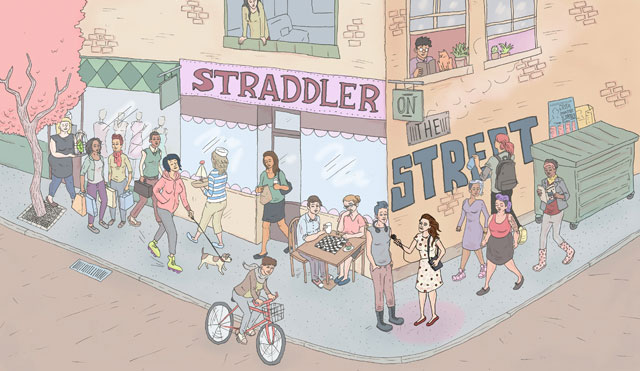 ---
Straddler On The Street: Mandi, 25
When I first heard about Mandi a few months ago in June, it was in direct relation to Queerituality.com, a project she'd embarked on in the hopes of learning more about queerness and spirituality and the places where they intersect for people in our community. Based on the FAQ on her website, I knew Mandi was a queer-identified person with a Catholic dad, a Presbyterian/Methodist mom, a Jewish step-dad, and a Quaker education who hailed from Missouri and Indiana but recently relocated to the Boston area. Armed with this basic knowledge, I was super excited to talk to Mandi and learn more about her own spiritual journey, the Queerituality project, and her experiences as a writer and a journalist.
We got to talk about all that and more, and I am pleased to inform you that I was totally correct and Mandi is a super cool and interesting human. Also FYI, Mandi is taking a tiny hiatus from recording new Queerituality stories while she transcribes the interviews she has already conducted, but she'd still love to hear from new folks who want to share their stories, especially POC and non-Christian humans. So if you are someone who wants to contribute a story to the Queerituality project, get in touch with Mandi at queeritualityproject [at] gmail [dot] com. But before you do that, read this interview!
What are you up to these days?
Well, I'm a writer, so I spend a lot of time sitting at a laptop and typing. I work on a website called Queerituality.com, which records stories of LGBTQ folks about their spirituality, and so I also have been meeting awesome queer folks and then spending a lot of hours re-listening to and transcribing the incredibly insightful things they say.
What was the inspiration behind Queerituality.com?
There are so many threads that this is weaving together in my life and in broader culture right now. I myself am queer and spiritual, though my journey has taken me outside of traditional denominational lines. My biggest influences are from the Catholicism and Methodism of my childhood, and also Judaism and Quakerism, which have been a part of my adult life. I also studied to be a journalist, so I'm bringing that background too.
The idea to record stories from other queer folks about spirituality came to me in the middle of the night this spring, around the time that the mass media was covering the Supreme Court arguments regarding gay marriage, and also as the Catholic Church was preparing for a new pope. And I was experiencing this news coverage and talking about it with my partner, and saying "This is B.S."
It made it seem like queer people were only secular, and religious people were all straight and opposed to gay marriage, and that there was this permanent, complete divide. And yet here I am, this queer person who cares deeply about my faith, who cared deeply about the new Pope… I knew that it wasn't impossible to be both.
And I felt this inspiration like I've never felt, like this idea of Queerituality was what I was supposed to focus on next. To talk to the incredible diversity of people "in the middle," living in this intersection of being queer and being spiritual. Because it's a really diverse range. And that's what I've been doing.
I really love the idea of the project – I think it's a really unexplored subject, and a super important one! Can you speak a little more about your own spirituality and religious background?
Absolutely. My dad's family is Catholic, and my mom is Protestant. I grew up in the Catholic church literally across the street from my house. I was baptized Catholic, went to weekly PSR (religion classes), and had my first communion there. I was very involved.
But very shortly after that, the local parish somehow found out that my mom wasn't officially Catholic. And there's a doctrine that if you're not Catholic, you're not allowed to take communion in a Catholic church. And so rather than converting, my mom took us all out of the Catholic church and we went church shopping and settled in a United Methodist Church two blocks from my house.
And I was really involved there – church choir and mission trips, youth group, I served as an acolyte. It was a big part of my social world. When I came out in 8th grade, that world didn't shatter, but it was clear that the UMC doctrine didn't support LGBTQ folks. I was told that it was a sin. And so I decided not to get confirmed into the church because I couldn't agree with that doctrine.
Did your relationship with the church or with religion change after that?
I look back now, and it's a little hard to understand, but I kept serving as an acolyte. I kept going to Sunday school. I stayed involved with that particular congregation, because it wasn't a hostile place, but it was not a supportive place either.
I occasionally attended a Unitarian Church during high school, and then I went to a Quaker college and got really involved in Jewish life on that campus, and my spirituality has continued to grow. But I haven't ever had a spiritual home since then, which is something I am looking for now.
But even when religion has frustrated me, I have always had this moral sense that the most important thing we can do in the world is care for one another, listen to one another, be with one another. To do good in the world.
I love that mantra. I think a lot of people feel that way but don't necessarily find it in religion, or don't necessarily know how they can find it in religion. But I think it's really cool that you can and did and have. What are some other writing projects you're working on or have worked on?
I have done all sorts of writing: poetry, journaling, journalism, radio pieces. I'm particularly fond of one piece I worked on… it was one of my very first audio pieces, about all-male naked yoga. I recorded in Montreal. My co-reporter heard about this place and called and asked if we could come visit. And the teacher said yes, but he informed us that it was a nude-only space. So we could come listen and record and talk to folks, but only if we were comfortable honoring that rule. And we decided that we were. It was actually this really remarkable feeling of vulnerability, but it felt like a very fair exchange. As reporters, we were asking people to share of themselves, to go out of their comfort zones. And we were showing that we were willing to go out of our comfort zones, too.
WHOA!
Also, it was in Montreal, so the exchanges were happening in French. And I speak French – I was a linguistics major – but having to translate in the nude in front of a room full of naked men… yeah, that's vulnerability.
I don't think I could do that, to be honest. And not just because my French is bad!
You know, I feel really lucky to have had safe occasions to really push myself… I've done things that felt totally terrifying, and survived and been not only safe but really enriched. And then I look back on those things, and can say, "Yes, I was terrified, but I did it and I'm glad I did." But I'm not sure what my dad would say if he knew I was in a room full of naked yogis… Fortunately he doesn't have the internet.
Oh that is super fortunate!
Also, can I make a shout-out to my step-dad, who is Jewish and does have the internet? He is great and totally belongs up there in the "spiritual development" discussion. Love you RDL!
Aw, yes. That is so sweet. Hi to your step-dad!
I have the best family ever.
That is the best. How do you identify, both spiritually and with regard to sexuality and gender, these days? It sounds like you have had a long journey… has your self identity shifted over the years?
Oh man. I love the word queer because it has room for all the shifting. So much shifting.
I love it for the same reason! I hate the notion that identity should be static… how boring would that be?
It's hard even to know what to say now, because any way that I identify now also eclipses the ways that I've felt in the past that were different. I have long girly hair now. I used to be Bic'd bald and bind. What is the word for that? I love Jesus' message and I also believe literally in a sort of reincarnation. Like the choices I make now will literally affect the future existence of all the atoms in my body which will continue on Earth long after I'm gone. Is there one word for that?
So yeah, shifting swirling sands of identity. I'm envisioning a big beach dune. Maybe as I get older some roots will take hold and lock things into place. Maybe not. My partner helps me be silly and enjoy the ride.
Wow. I think your perspective is probably what allows you to be such a great journalist with the Queerituality project.
Thank you. In this project I really didn't want to box people in. I wanted to let them speak their truths, which can be long and complicated.
As a journalist, are there particular writers that inspire you?
Off the top of my head, Dave Isay with StoryCorps, Ira Glass and the This American Life crew, Krista Tippett and Trent Gilliss and the On Being folks. Basically I am really drawn to people who seem to be good listeners. I feel lucky to have stumbled into journalism because it has let me practice listening in a way that isn't really normative in our culture.
That's a really great point.
Someone once told me that I could interview Osama bin Laden and listen calmly and closely, and I took that as a great compliment. Alas.
That is a huge compliment… but yeah, alas. What are your favorite news sources to read?
You know, in some ways I'm incredibly old-fashioned. I love the New York Times. I love NPR. Reddit incorporates a lot of stochasticity into my online reading.
Favorite books?
Billy Collins and Andrea Gibson make beautiful poetry. Eboo Patel writes beautifully about interfaith dialogue. Telling True Stories is a deep and helpful book for aspiring journalists, memoirists, and other truth-tellers. Everything written by Karen Armstrong. I also love cookbooks.
I also love cookbooks! On a somewhat separate note, I'm curious what you like to do in Boston, seeing as I just moved here and feel super unfamiliar with the landscape and the queer scene.
I'm new here too.
Oh, well then maybe this is a silly question! I guess so far, what do you like?
Okay, so being a writer is highly correlated with being broke. But, I have been really impressed by the guerrilla queer bar events. And I like nice places to drink tea, and I like parks.
I am still trying to create a life here, but I am just so grateful for all the incredible people I've met in the area, mathematicians and philosophers and theater people and museum workers… so many ideas are floating around here, and I think that's what makes it special for me so far, even as I'm trying to deepen my sense of place. [And] I'm open to suggestions!
Okay, this is an open call for the commenters to suggest places in Boston for you! And for me! To wrap up, how did you discover Autostraddle?
My friends Megan P. and Kristin B. told me about it many moons ago. (Thank you!)
Do you have anything else you'd like to say to the Autostraddle community?
Just that I would love to hear from them in the comments, to hear what their stories are like when it comes to spirituality. This is big stuff, and I'd love to hear how people are making meaning out of their lives.
And to you specifically, thank you for encouraging us all to listen to one another, to read about each others' lives.
Oh, thank you. That is such a meaningful compliment coming from a fellow journalist and professional listener!
"Rock on with your bad self," as my step-dad would say.
Haha, I love your step-dad already.
Can I just say again that I have the best family and the best friends? My journey through life has been a little bumpy, and I would not be the relatively-whole, relatively-sane person I am without them.
Yeah! That is so great to hear.
And I wish a lot of love to all the people who don't have that right now.
Thanks so much, Mandi.
---
If you would like to be featured as a future Straddler on the Street, please email vanessa [at] autostraddle [dot] com. Include a few photos, 3-5 sentences about yourself and put "Straddler Submission" in your subject line. Approximately a million people have submitted so far, so please be patient as Vanessa goes through her inbox — you're all sexy with really smart brains, and don't you forget it!