Welcome to the 64th annual Primetime Emmy Awards! The Emmys are one of my favorite award shows of the year because I freaking love all the TV! All of it. Except Mad Men. As usual, only some of my favorite shows are up for awards and there's a white man hosting again. At least this year that white man is none other than Doogie Howser M.D. aka Neil Patrick Harris aka a cis gay dude. Not as good as two years ago when Jane Lynch hosted, but we can't all be hilarious sexy lesbians sent from heaven now can we?
If you're new to this whole Autostraddle liveblog thing here's how it works: I watch the show, make jokes, comment on people's outfits and generally say whatever the hell I want. You folks at home are subjected to my every thought and feeling about what should win and what shouldn't, even if i haven't even seen all the nominees or I just want Amy Poehler to win everything. Or maybe I just want anyone besides Mad Men to win. I seriously don't like Mad Men. You guys contribute by scrolling all the way down to the bottom and telling me how you feel in the comment section!
For the record: Pretty Little Liars isn't nominated tonight, so this probably won't even be as good as the Teen Choice Awards.
So let's do this at 8pm EST!
8:04pm EST: Wooo! Let's do this! Look how hot Lena Headey looks! I want to share an ice cream with her face!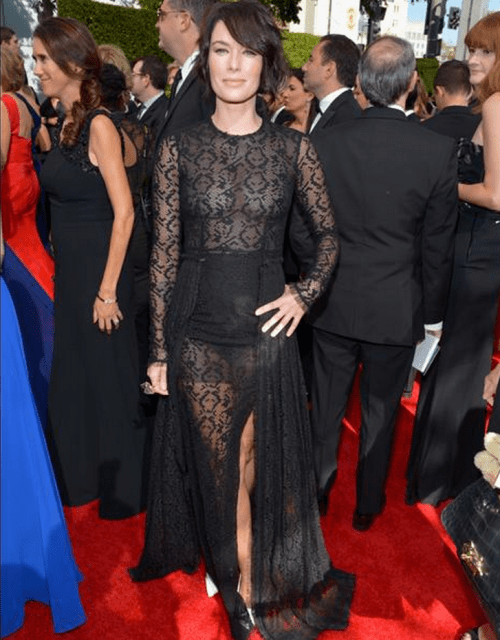 8:08pm EST: Okay so far I'm not that impressed with the opening montage. I'm sure we'll hit the part where NPH does a big dance number, but mashing up this past season's TV into a conversation just seems like a boring cop out.
8:10pm EST: Is it just me or is this super safe and boring? I understand that none of us want a repeat of Seth Macfarlane but this is so tame. I guess there's no song and dance?
8:15pm EST: Oh thank god that boring intro was just setting the stage for… every Emmy host from the last few years? On stage at once? At least we get Jane Lynch back!
Jane Lynch: I'm going to show you just how much of a woman I am!
NPH: I would not like that.
Jane Lynch: I would like that even less.
8:16pm EST: Oh yay Tina Fey and Amy Poehler in 3D glasses! I've never been happier in my entire life.
Seriously, I'm way over committed to their friendship. And they are announcing the first award! And they're wearing 3D glasses!! Guys. 3D glasses. This is a really tough category! Outstanding Supporting Actress in a Comedy Series. I love all these women and I actually watch all these shows! Except, you know, Nurse Jackie.
Outstanding Supporting Actress in a Comedy goes to Wever as Zoey Barkow on Nurse Jackie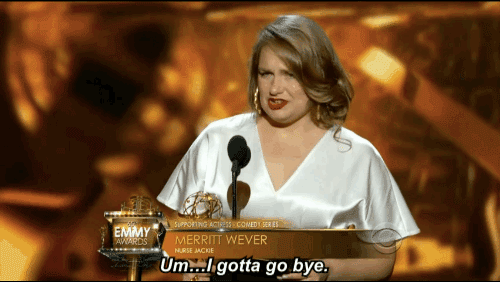 I should have seen that one coming. Damn. I really like Mayim Bialik, Julie Bowen Anna Chlumsky, Jane Krakowski, Jane Lynch and Sofía Vergara. Seriously guys, Nurse Jackie is the only one I don't watch.
8:20pm EST: Commercials already? I need some hummus. How am I supposed to keep up on this award show without hummus.
8:25pm EST: I love the writers awards! They always do something really funny!
Outstanding Writing in a Comedy goes to 30 Rock by Tina Fey and Tracey Wigfield
I don't know who Tracey Wigfield is but when I grow up I want to be her.
8:27pm EST: Did NPH just make a ping-pong ball popping out of a vagina sound?
8:28pm EST: Wow. Emily Deschanel is way way taller than Zoey.
God just look at Zoey's hair. Guys should I dye my hair back? I mean, I just don't know. Red is fun but maybe I'm a brunette at heart. I mean, these issues are so difficult. Wait… isn't there something going on right now? Oh right:
Outstanding Supporting Actor in a Comedy goes to Tony Hale as Gary Walsh on Veep
He really is great on Veep. But honestly I like Hale better on Arrested Development. I sort of wonder if he's also sort of winning for that too. You know?
8:30pm EST: Oh thank god Robbin Williams is paying tribute to Jonathan Winters tonight. When I woke up this morning I was like "God I hope I don't finish out the day without a man paying tribute to another, but deader man." I mean, that's how I start most mornings, doesn't everyone?
8:38pm EST: It seems weird to have Alec Baldwin present an award that Tina Fey might get. Except then Tina Fey doesn't get it.
Outstanding Actress in a Comedy goes to Julia Louis-Dreyfus as Selina Meyer on Veep
But it's okay because Veep is really funny. Like really funny. And I appreciate Julia Louis-Dreyfus and Tony Hale pulling their Veep schtick on stage. I hope when I grow up there's someone who walks behind me holding my purse. Only not actually at all whatsoever, because fuck the man.
8:40pm EST: The mother-son bit is over. It ended on in 1996. It's also really weird that they're announcing the Guest Actor/Actress nominations and awards in the past tense.
Outstanding Direction in a Comedy goes to Gail Mancuso for Modern Family (Episode: "Arrested")
This is only the second time a woman has ever won this award!
8:45pm EST: Sofia Vergara can never not look hot. I would watch her file the dead skin off her feet.
Outstanding Lead Actor goes to Jim Parsons as Dr. Sheldon Cooper on The Big Bang Theory (Episode: "The Habitation Configuration")
Jim parsons is truly hilarious and I really really love The Big Bang Theory! Also he's a gaaayyyyy. I'd also like you all to remember that it's Doctor Sheldon Cooper. You can't just go around saying "Sheldon" or "Mr. Cooper." The character has a goddamn phD people.
8:50pm EST: Wait. So are we just doing a thing where all the In Memoriam is actual long-form tributes? I'm not sure I can do this.
8:55pm EST: Okay I was all prepared to whine about how Matt Damon and Michael Douglas introducing Sir Elton John seems like a weird push to make moderately boring award season more interesting. Except then Elton just sounded so genuine and friendly and affable. Like have you ever heard a man sound so comfortable talking to millions of people? What a mensch.
9:00pm EST: What's the Gay Count on this show?
Gay Men: 4: NPH, Elton, Jim Parsons, Liberace (in spirit)
Lesbos: 1: Jane Lynch The Patriarchy. It's real.
9:05pm EST: Oh god guys. It's the drama section. Can I be honest with you guys and tell you I watch way fewer of the Dramas than the Comedies? Because I do.
9:11pm EST: Oh my god I'm so psyched for this bit! I love How I Met Your Mother. It cracks me up how easily a lot of actors are able to perform these blended versions of themselves and their characters. Also, The Ryan Secret Center for Excessive Hosting might be the funniest thing anyone's ever conceived of.
Outstanding Writing goes to Henry Bromell for Homeland (Episode: "Q&A"
I was all prepared to lament that Game of Thrones lost anything, but then it turns out Bromell died last year?! Saddy.
Outstanding Supporting Actress goes to Anna Gunn as Skyler White on Breaking Bad (Episode: "Fifty-One")
Unfortunately no one who watches Breaking Bad is watching the Emmys because it aired at the same time as the second to last episode of the show.
9:17pm EST: Oh man. Jane Lynch memorializing Cory Monteith. I'm not sure I can handle this. I mean, I hated Finn Hudson and made fun of him all the time, but clearly the character is not the man. There just nothing sadder than a young person's death. I feel just terrible for Lea Michelle. Also I'm so nervous now for this coming season of Glee.
9:25pm EST: Yes!! The NPH musical number! I thought we weren't going to get one! This is hilarious! Like if I'm really honest with you guys I just freaking love a big song and dance number. I just love it! I'm a sucker for it.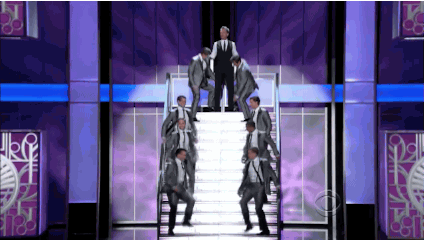 9:27pm EST: Yay Sarah Silverman just said Vagina on TV!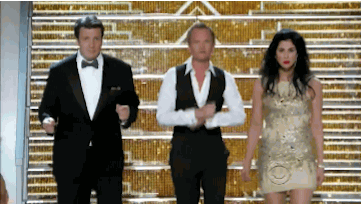 9:30pm EST: Mindy Kaling is my idol. Well actually, an imaginary person who combines Mindy Kaling with Dr. Mindy Lahiri where she's both a real person and A Doctor. Guys. A magical comedian writer/doctor.
Outstanding Reality Competition Program goes to The Voice
9:37pm EST: So Diahann Carroll and Kerry Washington are on stage. Diahann Carroll is a BAMF and Kerry Washington is super smokin' hot. Those are my feelings.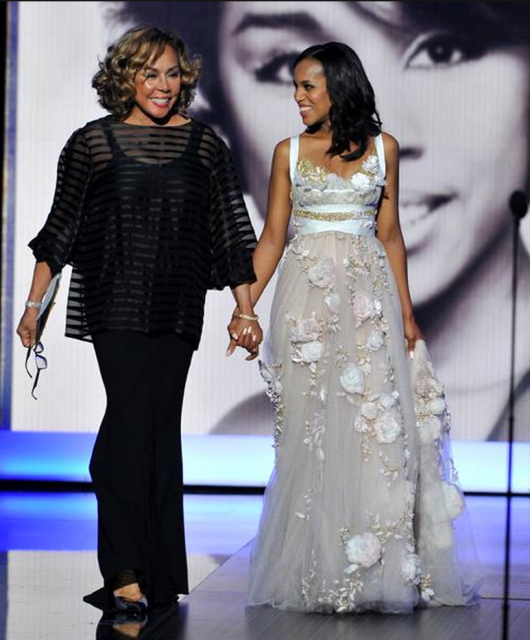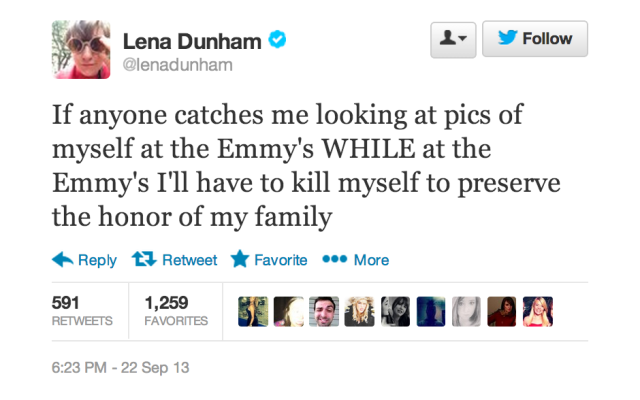 Outstanding Supporting Actor in a Drama goes to Bobby Cannavale as Gyp Rosetti on Boardwalk Empire (Episode: "Sunday Best")
Bobby I'm gonna let you finish, but Peter Dinklage as Tyrion Lannister had one of the best TV performances of all time. Of all time. More importantly, did everyone else see Peter Dinklage's face saying "wow" when Cannavale won?
9:40pm EST: Wow when they announced Bryan Cranston as Walter White on Breaking Bad as a nominee for Outstanding Lead Actor in a Drame you could really hear the crowd cheer.
Outstanding Lead Actor in a Drama goes to Jeff Daniels as Will McAvoy on The Newsroom (Episode: "We Just Decided To")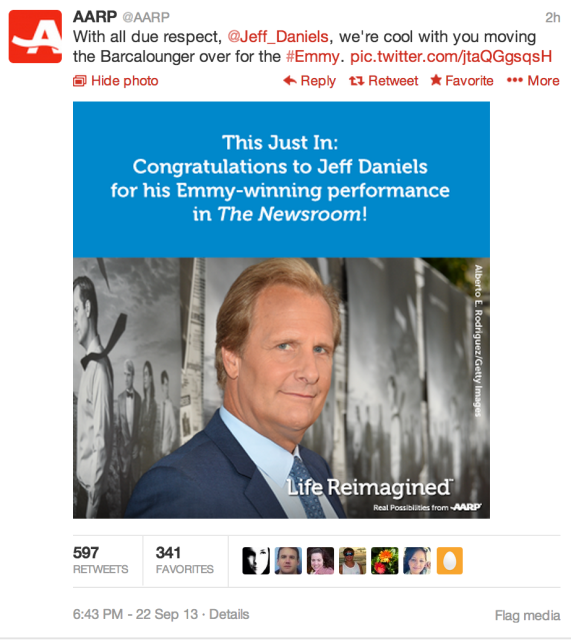 I watched the first season of The Newsroom but then instead of watching the second season I just decided to watch MSNBC news every night at 9pm instead.
9:45pm EST: I have no idea what Don Cheadle is talking about, but I'm pretty sure he's doing an In Memoriam to TV? More importantly I just jokingly compared The Beatles to One Direction and I think my Chick on The Side might break up with me right now. She is not amused.
9:52pm EST: Holy shit did everyone else just see the guy behind NPH realize he was on TV and then try to scooch out of the frame?
9:53pm EST: Bob Newhart?
9:55pm EST: I know there's no way I should be laughing this much at Jimmy Fallon's slowly lowering microphone. I just freaking love physical comedy.
Outstanding Lead Actress goes to Claire Danes as Carrie Mathison on Homeland (Episode: "Q&A")
Claire Danes is allow to do whatever she wants. Forever and forever. Particularly if she does it in that dress.
9:58pm EST: I would listen to Emilia Clarke read my physiology textbook to me. Actually that would be really helpful if someone could arrange that.
Outstanding Directing for a Drama Series goes to David Fincher for House of Cards (Episode: "Chapter 1")
Wow Netflix won a thing! Let's break the fucking system people!
10:03pm EST:My favorite announcements in the Emmys are for the variety show writers! Every show always finds the funniest ways to do it! I also feel like it's a category in which the writing is so obviously important. I just fucking love it. You go writers!
Outstanding Variety Show Writing goes to The Colbert Report
10:05pm EST: I really like these little Q&A sessions with the writers/directors. It's genius to make funny people say funny things. Who's the smart woman who came up with this?
Outstanding Direction in A Variety Show goes to Saturday Night Live
I love that his shout outs go to his 16 year old daughter and 90 year old aunt. Nice work Roy. 10:10pm EST: I'm gonna be honest with you guys, I'm 100% sure I like Michael J. Fox better than whoever he's talking about. Does that make me a bad person? Can we please be done talking about people who've died? I'm going to hell.
IMPORTANT MID-EMMYS UPDATE: Merrit wWaver was in Riese's acting class at Sarah Lawrence!
Also I just realized I love her as Elizabeth on New Girl!
10:15pm EST:Oh yay I love that they're announcing the choreographers at the main show and having them choreograph a number! I love when behind the scenes folks get the respect/attention they deserve!
My Chick on the Side:[As soon as NPH started singing Luck be a Lady] He's the gayest of the gay.
I agree. Also I freaking love this dance number. It's the best part of the show so far. I can totally get behind these chicks in suspenders.
10:20pm EST:I can also totally get behind Heidi Klum and Tim Gunn announcing any award ever.
My Chick on the Side: I changed my mind. Tim Gunn is the gayest of the gay.
10:21pm EST: I have a pretty advanced fantasy involving Alyson Hannigan and Cobie Smulders. It actually involves them announcing the Emmy for Outstanding Variety Show except then things take a turn for the burlesque. We can talk about it later.
Outstanding Variety Show goes to The Colbert Report
10:25pm EST: Are you ready for more death talk? No? Well oh well, James Gandolfini is up now. I still can't believe he died. Rough.
10:33pm EST: Anna Faris and Allison Janney have a new show together! How fun! I think they play sober alcoholics. So that's a thing.
Outstanding Miniseries/Movie Writing goes to Abi Morgan
Outstanding Supporting Actor in a Miniseries/Movie goes to James Cromwell as Dr. Arthur Arden / Hans Grüper on American Horror Story: Asylum
10:38pm EST: Sorry, I got behind for a minute guys. I was having a really serious argument over which is better, the movie or TV version of Buffy. Obviously the TV show. Duh.
10:40pm EST:Hey Kaley Cuoco is on my TV! I love the Big Bang Theory but mostly I loved her performance as Too Old For This Shit on The Teen Choice Awards 2011.
Wait. Do you want to hear about more people who've died? I hope so because now it's time for the REAL In Memoriam slide show! This always makes me feel old and sad. Also I can't believe Lee Thompson Young died. I had no idea. I loved him on The Famous Jett Jackson. Sad times guys.
10:47pm EST: How are we still on the miniseries/movie section of the evening? When did this become such a big thing?
Outstanding Directing in a Miniseries/Movie goes to Steven Soderbergh for Behind the Candelabra
When you're going up against Soderbergh and Liberace who else really has a chance?
Outstanding Directing in a Miniseries/Movie goes to Ellen Burstyn as Margaret Barrish Worthington on Political Animals
There's nothing sexier than a hot woman over 50. You might fight me on it, but this I believe. 10:55pm EST: How funny that Michael Douglas and Matt Damon are both nominated.
Outstanding Lead Actor in a Miniseries/Movie goes to Michael Douglas as Liberace on Behind the Candelabra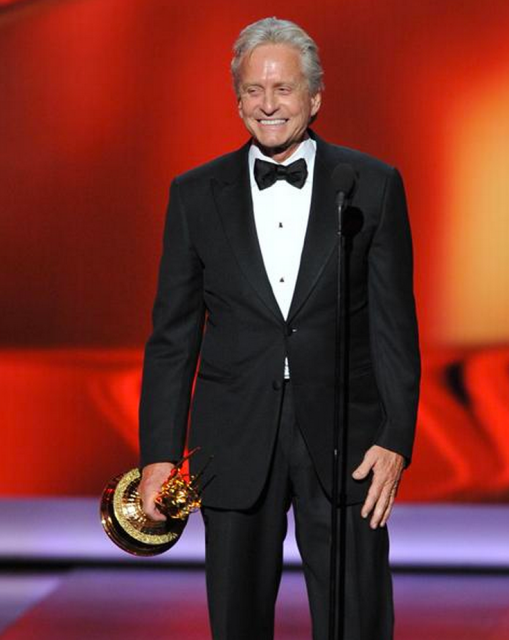 In case you weren't paying attention, Michael Douglas just made a top/bottom joke to Matt Damon. And also a two-handed jerking-off joke. And you thought the Emmys couldn't get any gayer.
Outstanding Miniseries/Movie goes to Behind the Candelabra
11:00pm EST: Are we surprised that Behind the Candelabra won? Nope, not at all. Do you know how I knew they would? Because my parents just loved it. They just absolutely loved it.
11:05pm EST: What is Will Ferrell doing here? Who are all those kids? I seriously hope they're really his kids. Like more than anything in the world.
Outstanding Comedy Series goes to Modern Family
No is shocked whatsoever. This is like the hundredth season in a row that Modern Family won. Is that why Will Ferrell brought his kids on stage? Because he's like a Modern Family situation?

Now it's time for the Anyone But Madmen portion of the evening.
Outstanding Drama Series goes to Breaking Bad
Yay! I feel like the Breaking Bad fans wanted this so badly. I mean, I love Game of Thrones but I've got plenty of seasons left and I can always just hit a ren faire or something if I want to privately celebrate the show. I think Breaking Bad really needed this one. It's not like all you fans can go out and cook up some meth to celebrate the end of your favorite show.
11:10pm EST: And with that the most depression Emmys of all time is finally over. A suggestion for next year: less in memoriam and more random but amazingly choreographed dance sequences. And maybe next time throw in some sort of Life Time Achievement Award. The people love that.
I'll leave you with this: