Welcome to the Teen Choice Awards! The only awards show where most of the awards are casually mentioned instead of announced formally, will.i.am is the show DJ and the camera exclusively pans to Selena Gomez sitting with Justin Bieber.
I'm here to talk about them because… um… I was watching them anyways. Penny from Big Bang Theory (Kaley Cuoco) hosted, which was awesome for me because I'm a giant nerd and Big Bang Theory is my fourth favorite show.
The Teen Choice Awards are pretty long, but I'll do my best to cover the gay/funny/awesome parts. This article is a little random and fragmented, but that's okay because the Teen Choice Awards are a little random and fragmented. That's probably because there are like 82 awards and they only announce 10 seemingly random ones.
First up, Ashton Kutcher accepted his award for Actor in a Romantic Comedy for No Strings Attached dressed like Sam Ronson.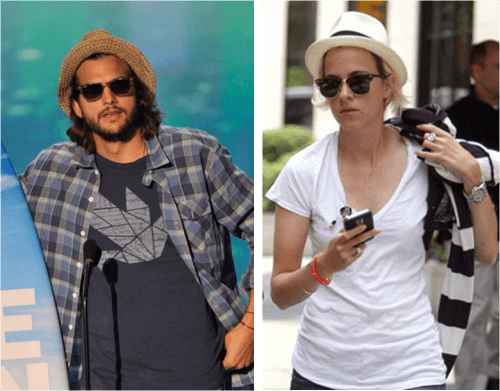 Choice Comedian went to Ellen, which is a Big Fucking Deal because as it turns out, some women are really funny. A fact everyone seems to forget. Well, apparently Ellen is funnier than Daniel Tosh. Also, she dressed Exactly Like the Biebster. Twins.
At some point you have to start wondering if Bieber is doing this intentionally. Also, his girlfriend, Selena Gomez, performed with her band, "The Scene." We have a Scene too. I wonder if it's the same one…
I'm just going to show you the notes I took while her performance was going on:
Yo. I love Selena's veil. Just like Hanna's on PLL. I've never heard this song before. She has her own latin danc OMG JUSTIN BIEBER DANCES LIKE A LESBIAN.
http://youtu.be/McWe60MoPYo
It could also be that this is just how all Canadians dance.
Moving along, Ed Helms won Choice Hissy Fit in a movie. He thanked all the teens for buying tickets to Kung-Foo Panda and sneaking in to The Hangover Part II. It was pretty much the funniest joke of the night. I feel like he's dressed in really cute lesbian workwear.
I need to stop saying that. Obviously, I think only people who wear sweaters over button-ups are lesbians. Like this guy from Twilight who won Movie Scene Stealer.
Guess who won for Choice TV Comedy: GLEEEEEE. Rachel wasn't there, probably because she found out her spin-off shelved and was home crying about it (like me). Also our favorite male identified lesbian won for Choice Actor in a Comedy. Darren Criss also won for breakout star! Gay wins! Darren is shorter than I thought he would be. That's okay. Everyone needs to look at Artie's outfit right now.
Then they showed an ad– I mean a Sneak Peek– of the new Glee 3D movie. Heather Morris says in it that she would shave her head to be a Warbler. Win.
Taylor Swift won the TCA's version of a lifetime achievement award– THE ULTIMATE CHOICE AWARD. Emma Stone presented it. Emma Stone is so hot I can't even handle it. She and Taylor both wore white because white is so hot this season/they wanted to show us what their lesbian wedding would be like. Does Taylor Swift remind anyone else of Jessica from True Blood?
In other news, Demi Lovato is back on top. Basically she won an award for inspiring young girls by joining the Love is Louder Than the Pressure to Be Perfect Campaign and through her song, "Skyscraper." The presenters even openly said she sought help for depression and an eating disorder this past year. Usually people use euphemisms like "tough times" and "poor self-image." I think the Teen Choice Awards decision to be honest and upfront about serious issues that affect tons of women is commendable.
I don't know if it's the lighting, but she looks like she's glowing to me.
To follow, Tyra Banks reminded us that the winner of America's Next Top Model is Tyra Banks by talking about what a hard year Demi must have had and by repeating her message about loving yourself. Guys, Tyra can see your beauty. Don't worry, it totally wasn't a downer though– she completely smized the whole time.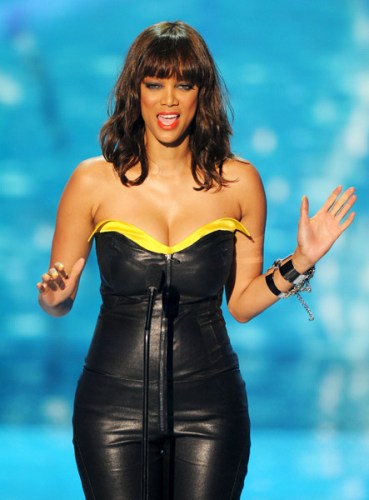 At this point the show was getting a little slow, so obviously it was time for the Biebster to win Choice Male Artist. He was still dressed like Ellen. He and Sean Kingston hugged and it was adorable.
Okay. You guys aren't going to believe this, but there is actually an award for Choice Vampire. I'm serious. This is real. But Pam wasn't even on the list! What gives? R.Pat won, of course, but there was actually a positive message in here somewhere. The award was sponsored by the Cancer Bites Campaign starting this fall. Cancer Bites is a campaign that brings together actors who play vampires to raise money for and bring awareness to blood cancers. Blood cancers are the most common types of cancer in those under 18, so a lot of you should care about this (if you are under 18/have a child/know someone under 18/have a heart).
Speaking of R.Pat, he also won for Choice Actor in a Drama for Water for Elephants over Jesse Eisenberg in The Social Network. You might remember Jesse Eisenberg from when he was nominated for an Oscar for that role.
For the finale, the TCA ran a goodbye montage for Harry Potter. I cried. The end of Harry Potter brings up a lot of emotions for me and I don't understand why they needed to sully such a beautiful night with something so sad.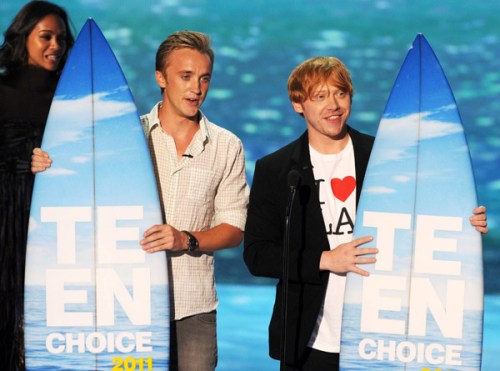 At this point I realized the show was actually over without Pretty Little Liars winning anything. Obviously I was pretty upset. In truth, The Morning After on Hulu summed it up pretty well:
http://www.hulu.com/watch/266285/the-morning-after-teen-choice-awards-speed-cap
In conclusion, light on the homogay content, heavy on the Bieber. Ron rules.