My first college course was History of American Women. It proved to be a powerful experience. I dug through primary sources and wrote research papers. I voted for Hillary Clinton. I cried when she conceded (for a while). I became a women's studies minor, and then a women's studies major. I began to seek work on various feminist topics and made contributions in my community, and internationally, to women's rights.
This one history course changed my entire life. It inspired me, but it also bewildered me. Why had nobody mentioned these women to me before?
I want to paint rainbows inside of every textbook. I want every history lesson to be about someone like you. Because it's impossible that American history lacks a gay person. So why not learn from them?
This question is more important than ever in California, where SB 48, a bill requiring California public school textbooks to include the contributions of LGBT Americans, is facing opposition. The bill was signed by Governor Jerry Brown just two weeks ago, freeing countless stories that had previously been silenced and untold. The true narrative of our country. The entire epic. Starring everyone. Even someone like you.
We've been following SB 48 since April because it's a huge deal. Two important notes:
+ The bill may help undo some of the damage of Texas' pretty much opposite standpoint on textbooks. (Texas has a very conservative approach and set of standards.) The two states are the biggest textbook markets in America and, with SB 48, one of them will be inclusive of LGBT peoples.
+ Because California is the ultimate, largest, totally biggest market for textbooks, though, this bill will have a large impact on the rest of the country, period. Texas or not.
History helps us to gain a cultural and social understanding of our world. It provides us with a context for our life experiences, and it's a guidebook for the future. What's been done? What hasn't? What should have happened? Why did they produce Sex and the City 2? These are important questions. History can answer many of them.
But Stop SB 48, a campaign being run by "a coalition of pro-family organizations, parents, students, teachers, and more," is hoping to repeal the law in California, citing that SB 48 "undermines the traditional family" by forcing children to "study materials that tell them their families' values are wrong."
The campaign's stance that SB 48 is "fiscally and academically irresponsible" is especially special:
+ It forces schools to review and replace their curriculum at a time when this money should be used for other purposes.
+ It requires a selective treatment of history by requiring that only events that reflect positively on people in the LGBT community may be discussed.
Basically they want to pretend that you don't exist and never have. They want to rewrite history. Again.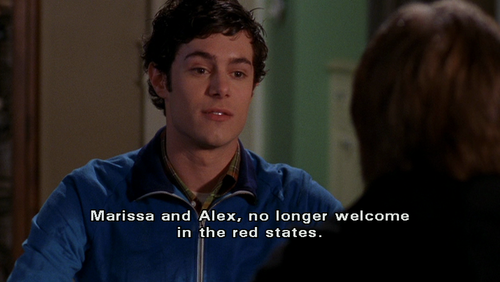 Stop SB 48 is already on the web and Facebook, and has recently filed paperwork to start the petition drive for a ballot measure. If they receive 504,760 signatures, they'll be adding a ballot measure in the upcoming elections this November.
Regardless of the rhetoric, Stop SB 48 is, of course, not actually attempting to "protect" or "preserve" our history, but to ruin it. Traditional American history textbooks have always told the story of someone else. Not me. Not people of color, not women, not queers — someone else. Not only is this alienating, it's also wholly inaccurate — a fact I hadn't necessarily grasped until that life-changing history course. SB 48 is important because the history of LGBT Americans is not "gay history," it's American history. It's a full, uncensored, narrative of our country and the truth about who created it — at every step and in every way. I want everyone to know who raised hell, who didn't, and who waited until the last minute.
It's our history and it deserves to be saved.