You guys, True Blood is SOOOO good this season! Twist after turn after twist after turn! See, I watch True Blood at 9:00 PM on Sunday nights and I'm always super pumped to follow up my True Blood viewing session with a brand-new ripe episode of The Real L Word at 10pm because, as I think we can all agree here, The Real L Word is basically the Mona Lisa of reality television and this Sunday night was no exception.
It's like Monsterpiece Theater.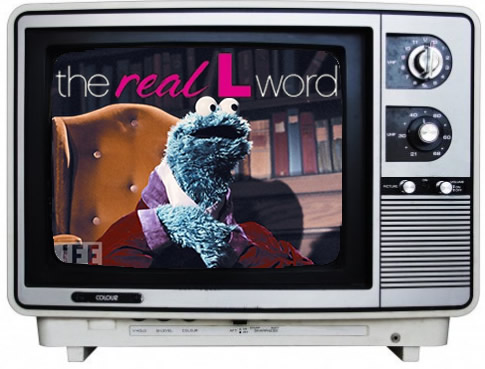 Someone call Charles Darwin 'cause there's some serious evolution going on this season. And that evolution is happening on top of Romi's head.
Romi Klinger: helping babygays everywhere by demonstrating a new alternative lifestyle haircut every week.


So we open with a warning from some benevolent higher power that this show is for mature audiences, which is debatable.
You know what this show needs? Men!


I'm especially digging the opening theme song this week. It's like how I feel about this show, "It was just another night, I don't wanna think about it." It's perfect!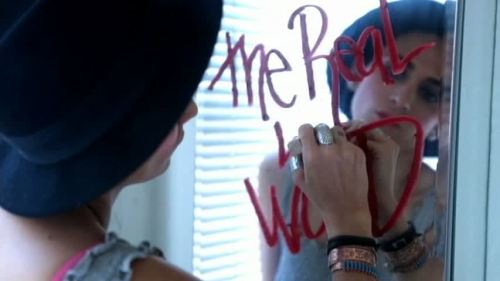 We open with Venice Beach stock footage and unfamiliar hip-hop music which means this scene will either be about the black girl or the girl-sporting-the-hairstyle-traditionally-associated-with-black-people.
It turns out to be the former — Sajdah and Chanel are at the laundromat, washing cum towels, that blue shirt Sajdah wears in every interview and probably about ten Hanes white v-neck t-shirts. Saj loves the V.
Sajdah: "Things are going well for Chanel and I. We've been together for over a month now, and we've progressed a lot, I mean, we're intimate, I don't know I think it's time to take the next step."
Sajdah's basically attempting to corner Chanel into a Promise Keepers situation and Chanel isn't having it.
Sajdah: "You moving in, you're my wife, we should practice."
Chanel: "Practice what?"
Sajdah: "Being married."
Chanel: "You just wanna have sex."
Sajdah: "Not just for sex, I want you around all the time."
Specifically around Sajdah's waist:
Sajdah: "I hump her in public, she gets really upset about it. I mean shit, that's the perk of being in a relationship."
It's true that if you're in a relationship you're less likely to get a shot of pepper spray in your eyeballs when you violate a woman's pre-established physical boundaries, but that still don't make it polite, RamboLesbo.
Chanel: "Stop grabbing my butt in public."
Sajdah: "I wanna fuck you."
Sajdah's basically one unwanted humping away from being a part of somebody's yelp review on how this laundromat is filled with crazy people.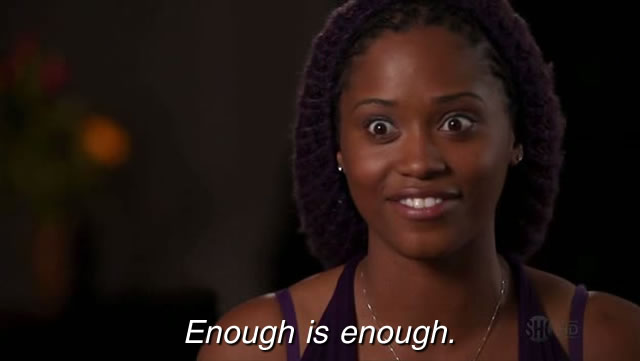 Marissa?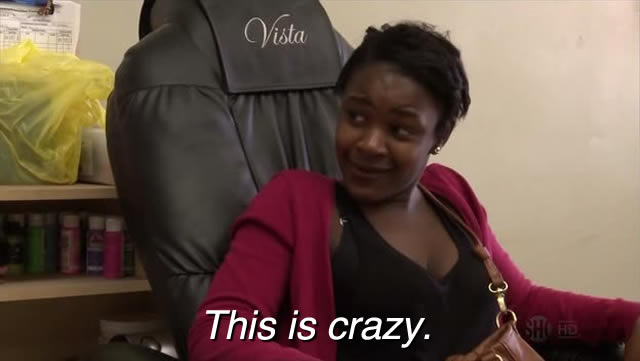 Cut to church, where KayKay's humbling herself before G-d, praying about sperm.
"I couldn't imagine not having kids," says Kacy. Me neither, 'cause it's all they ever talk about. I feel like without a baby they'd dissolve into thin air.
Kacy: "There's something about getting on your knees, and really focusing in on what you want."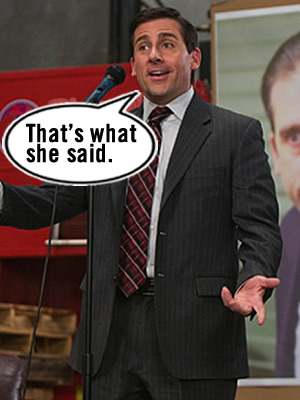 Again this week Laneia decided to watch the show with her girlfriend and provide me with periodic updates re: their feelings:
Laneia: I feel like showing Kacy mixed in with all these other people is mean and takes away from their authenticity  / makes me sadder for them. Because their shit is real and fucking in a laundry basket is just trite.

Oh good, Vivian's coming to LA. Cocomo Claire needs a buddy with arms and legs and a really gigantic heart right about now.
Vivian hops into Clairealicious's Lovemobile where a rose awaits her in the passenger seat 'cause Claire's such a gentle tiger and Vivian is really just obnoxiously hot and has a Julia Stiles voice.
Oh and also:
Claire: "It's good to see a face that doesn't wanna rip my head off every second of every day."
Vivian, who seems at once totally over it and totally into it, chats with Claire about the possibility of running into Francine during this trip, maybe at a Pan-Asian restaurant or something.
More fun topics await:
Claire: "You know I like it when we're joined at the hip but I feel like sometimes we start bickering when we're joined at the hip."
Vivian: "I like how you're already thinking about us not getting along which actually doesn't usually happen. You're confusing me with your other Asian."

Cut to an unnamed restaurant, probably The Olive Garden, where Khristianne and Francine are having dinner with Kelsey and Romi to talk shit about Claire.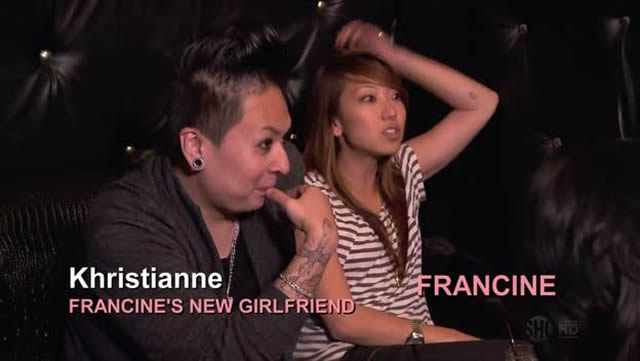 So, Francine digs in, you know me and Claire aren't speaking anymore, right? which serves to intro a Shittalking Shitstorm which is, ultimately, glorious. Claire's growing on me as like the most entertaining aspect of this show 'cause she's so fucking unpredictably bratzy.
Francine ignites the storm with an email from Claire which Francine remembers going like this:
"Everyone's such a loser on the show. No one even has a real job. Everyone works in retail or in makeup that's not a real job."
Not Kelsey! Kelsey doesn't have any job at all, she's just keeping it real and babysitting the fairies who live in Romi's hairdo, buying the alcohol, writing poetry and making dinner from Rachel Ray's 20-Minute Dinners for Unhappy Couples. 
But AHEM Romi's going through a Productive Life Transformation and Accomplishing Big Things and don't you dare, CLAIRE, insult Romi at this juncture.
Francine: "Then she's like, Whitney all she does is party for a living."
Romi: "Bitch you moved here with no job, go back. Who does she think she is? What does she think I'm doing?"
If you thought this scene was about Claire or Francine or Khristianne you're wrong, it's about Romi!
Francine: "You know what she said about Sara? That she has a dog face."
Meaningful, coming from someone who occasionally verges on Golden Retrievery hair.
Kelsey: "Oh hell no."
Romi [interview]: "I was like alright, she's a deb, she's done."
Romi does what every sensible lesbian does when they receive second-hand gossip about someone talking shit about their friends to a different friend: she immediately texts everyone she knows. That's my girl.
Cue Lesbian Text-Message Tree!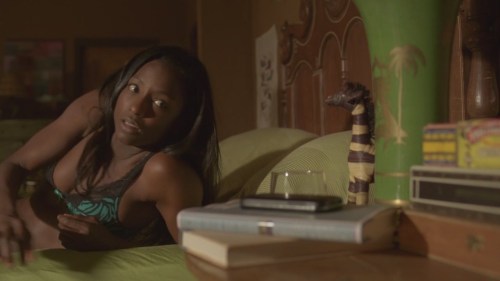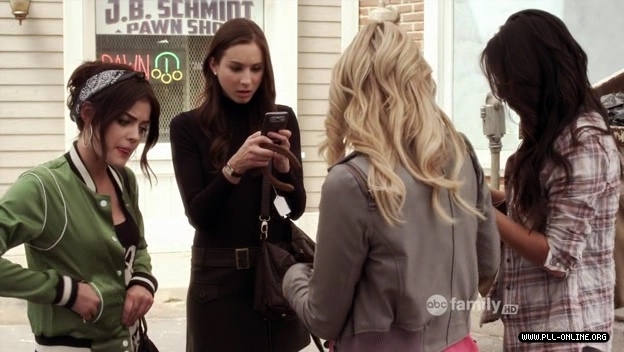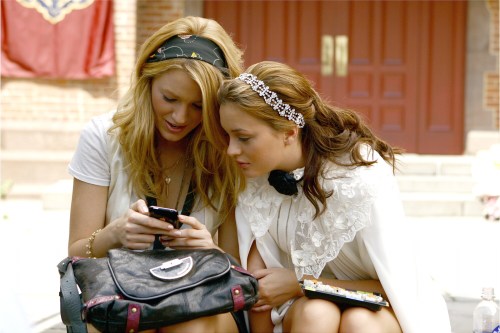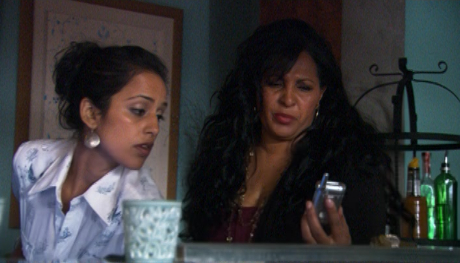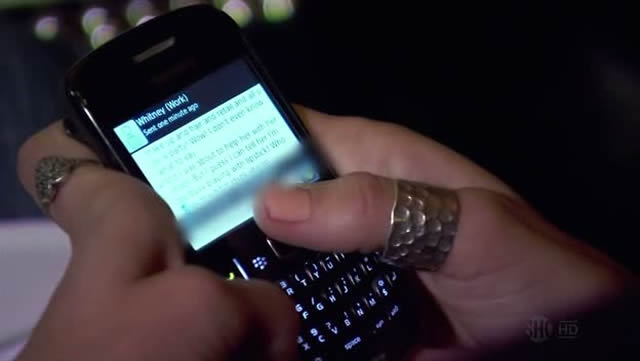 Cut to Whitney's Pussy Palace, where she's getting Romi's text in real time and who's there to process the shit-talking with her? None other than Razor-Tongued Rose Garcia, who you all remember from Season One. It's almost like Whitney phoned-a-friend and picked the Shit-Talking Expert to come in for a consult.
Whitney, reading Romi's text:
"I was about to help her with her with the shoot but I guess I can tell her I'm too busy playing with lipstick. Who does this bitch think she is?"
Malibu Barbie, I think.
Whitney: "Here's the thing: you can't hold your own in any city. You're whack. You have no personality and no fucking soul, so good luck in any city."
Rose: "Nobody likes this girl, dude."
Claire's gonna have to move to the country, maybe Nebraska or something.
Whitney says Claire could've had a "friend circle" (like the classic Minnie Driver vehicle Circle of Friends) but instead she's just got a giant bucket o'enemies (like the classic 156-piece chicken meal from Kentucky Fried Chicken).
Laneia: don't burn a bridge with whitney
  or you won't be on season three

Pages: 1 2 3See entire article on one page