Vivian's making dinner and Claire's making emotional progress (kinda) — reminiscing about the old days, when Claire had a job and she'd come home to Vivian naked making dinner. As you'll see when Vivian reveals her naked ass in mere minutes, Claire's decision to leave that life for LA was completely deranged.
Claire's amped about her Website Page Magazine Photo Lifestyle Shoot for which Vivian's gonna be the stylist 'cause she's got mad style.
I keep imagining the photo shoot will look like this: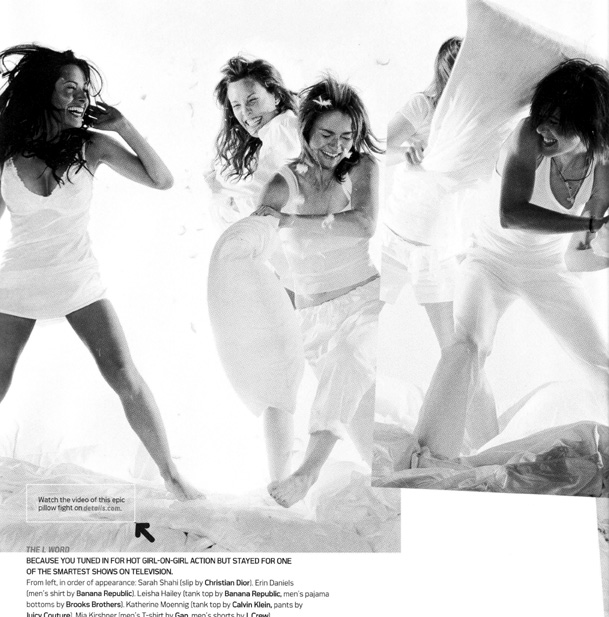 Or maybe like this: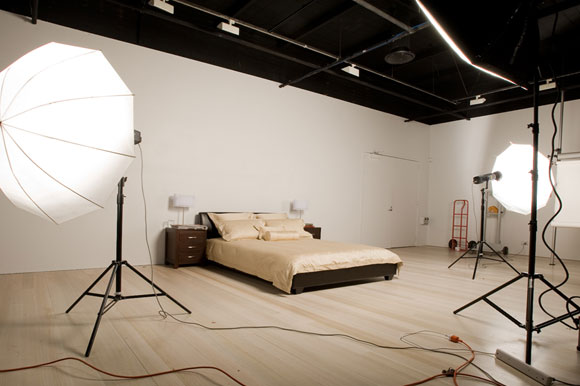 I feel sad and sorry for Claire here, somehow — the experience of nobody showing up to your event, whether it be Twat: The Night or the Photoshoot Party, is uniquely devastating, and Claire's got feelings underneath that tough denim-clad exterior, 'cause all humans have feelings.
Vivian and Claire deftly manhandle chopsticks, put food in their mouths and talk about themselves. Vivian reminds Claire that even when Claire's a Giant Asshole, Vivian doesn't "put up a big stink."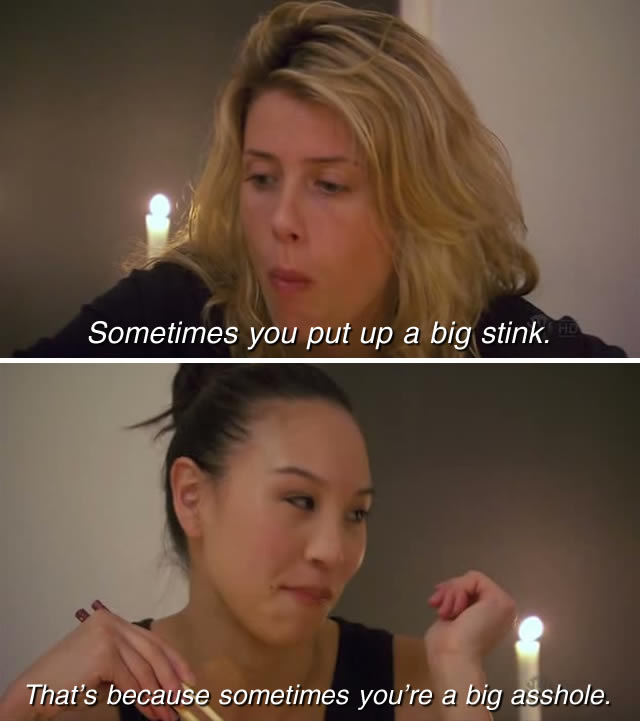 Vivian & Claire eschew the seemingly obligatory West Hollywood Post-Dinner Activity, which is "going to The Abbey and yelling at somebody," in favor of gymnastics. WHO WANTS TO FLY THE AIRPLANE?!!!
Note that Claire's pulling off white pants and that it's only the first night of Hannukah. Vivian hops off into the rosebushes while Claire changes out of her Dinner Shirt into her Sexy Shirt…
… and out comes Vivian in her Slutty Little Bo Peep ensemble from Halloween '04.

Over to Doggie Disneyland where Romi & Kelsey have come to have a fight on a blanket where the lighting is better than in the apartment. Kelsey wants to drink, Romi wants to think, there's a turtle in the sink and I liked the roller rink.
Romi's wearing Kid-n-Play's old gym bag as a smock and her hair has scaled new dimensions of Incredible, much like the bird Woodstock from that beloved comic series starring Charlie Brown (founder of the emo movement) and Peppermint Patty (Romi's first lesbian experience).
Kelsey: "You know what I miss? Bloody Marys in the sun."
Romi: "Why don't we just make Bloody Marys with no vodka?"
'Cause that's just V-8 with an olive?
Kelsey: "I'm not the one with a problem, Romi is, and I definitely don't need to drink all the time but on occassion if I wanna have a drink with my sister or whoever, I would like to do that and not feel pressure that I can't."
I love the "with my sister or whatever" detail. "It's a family thing, this drinking, okay? It's because of my family and it's because of God. God loves Boones Farm." Romi and her hair are unimpressed:
Romi warns Kelsey that drinking is playing with fire, but I think Romi also knows that Kelsey has to figure that out for herself, and maybe Kelsey knows that too, now. Romi's basically grown up five years in five weeks and Kelsey's kinda sitting in the corner with her toys, wondering when her playmate got so busy and important and grown-up.

Cori & Kacy are doing arts and crafts and talking about sperm. They're making posters for their friends' Roller Derby match, and judging by the materials they're using I'm hoping the team mascot is a second-grade girl. (Also does this mean a Roller Derby scene is in our future!?!!)
In some interview somewhere Cori says the word "my acupuncturist" and somewhere else in some other dimension Cori says "Virginia" and somewhere else altogether she says "swears I'm pregnant," and by the magic of editing, those two lines are placed back to back and this is what it says:
Cori: "My acupuncturist Virginia swears I'm pregnant because my boobs are swollen and sore and it's too soon for PMS."
How will we know for sure that they're bigger though? Maybe Kacy should check it out.
Second base is the new black this week — we've got Sajdah grabbing at Chanel's tits in the laundropedia, Claire sneaking under Vivian's shirt and chanting "little boobies" while Vivian chops vegetables, and Kacy inspecting Cori's cup size during an Arts and Crafts Session.
Cori: "At work all I do is just think — Did I feel something?"
Kacy: "My nostril flared do you think I'm pregnant? Is that a pregnant thing? Can you google that? It's been a little bit like that in our home. My eyebrow twitched. Does that mean I'm pregnant? Do pregnant women's eyebrows twitch?"
Cori: "She's kinda right."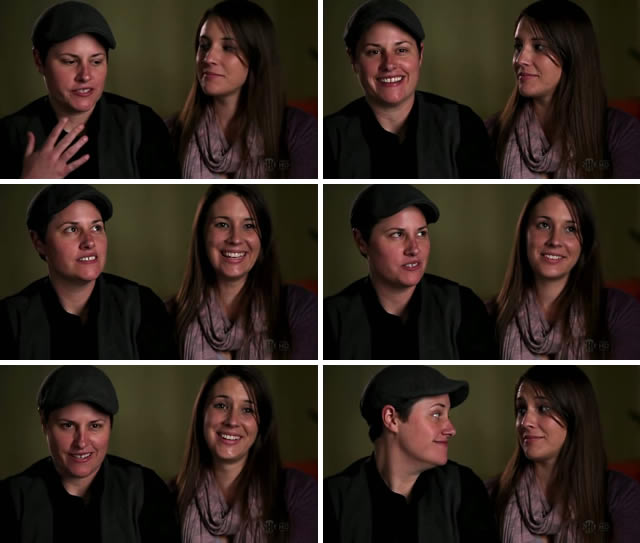 Maybe Cori's just retaining a lot of water.

Back at Sajdah's Sexyspot, Chanel wants to talk about feelings. You can't talk about finance reform all day after all.
Chanel wants to be heard and wants her boundaries respected. Sajdah wants to make out before football practice.
Sajdah: "You're talking about me like I'm a dog, like I need to get my nuts cut off."
Chanel: "You're acting like one."
Eventually Chanel wrangles one little promise out of Sajdah: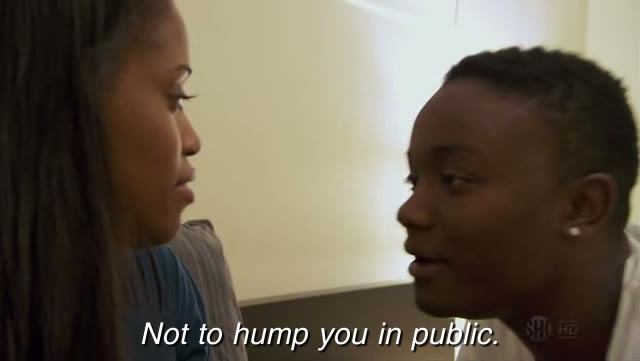 Chanel interviews that conversations need to involve two people who share their feelings, listen to one another and ideally come to some kind of conclusion regarding how to improve things in the future.
Sajdah says, "Maybe if you let me bang you out at home I wouldn't be trying to bang you out in public all the time."

Back at Whitney World, Rachel's dishing on her Vidal Sassoon interview. Rachel wants that job so bad she'd give a blow job for it! Really, she said that.  Rachel's character can be summed up like so: crying, blow jobs, whitney.
Rachel does seem, however, intensely vulnerable and recalls that scene in Magnolia where the child star says something like, "I've got so much love to give, I just don't know where to put it."  I hope she gets this job and buys a new boom for Showtime 'cause this whole scene sounds like they've got a mic hanging from the ceiling fan.
Rachel: "I gave up my life to pursue a dream in Los Angeles you know I had an amazing life in New York with people I really love and care about so if I don't get [the job], I'll probably be crushed. But everything happens for a reason I guess."
It's been a nightmare, in fact: her ex-girlfriend keeps sleeping with other clones which leaves Ray-Ray bedless on her vaycay to San Francisco and lonely in her own house, she's sliced her hand open, overdosed on klonopin, gotten fingerfucked in the bathroom, masturbated on camera and cried at least 16 times.
Someone throw this girl a bone.
Rachel: "I won't know until Friday which is like getting tested for Herpes or something, like WHY WON'T YOU TELL ME NOW!?"

Whitney & Romi are in the Whitney Wagon, going out for a romantic platonic dinner to talk shit about Claire talking shit about them.
Whitney: "You better believe that next time I see her I'm gonna share my feelings with her."
Romi: "I think that would be really good."
Ilene Chaiken: "I agree."
(I agree too).
Dinner topics include Romi's new life as an enlightened sobriety goddess who's basically six feet or less away from being the next Tiffany's and how that life doesn't jive with Kelsey's. "I'm not on a cleanse, this is a lifestyle change," says Ro-Ro. As you can see by referencing the hair chart I first introduced in the introduction to this post, Romi's lifestyle is becoming increasingly vertical:
Whitney's proud of Romi for her sobriety and thank G-d because maybe Romi wouldn't talk about her Sobriety Achievements so often if someone else would talk about them for her. Romi is doing a very hard thing and she's doing it well and deserves a lot more recognition/congratulations than she's getting right now.
Then we get back to talking shit about Claire:
Whitney: "Why did Claire talk shit about us… she's blacklisting herself."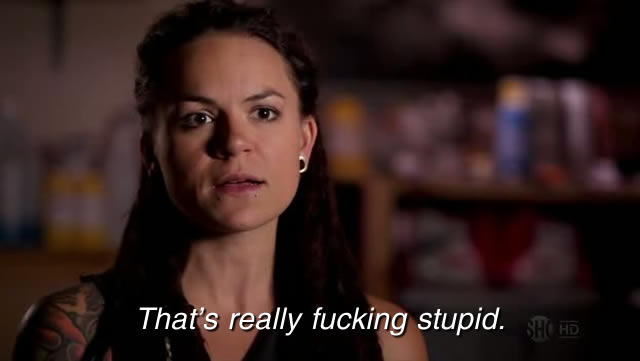 Pages: 1 2 3See entire article on one page