Back at Chez Cool Claire, Claire & Vivian are prepping for a night out on the town with all of Claire's enemies. "It's a year and a half in the making," Claire says, probably referring to her hair flip.
Laneia: can we give viv the award for best use of the unnecessary hat
  she is all kinds of cute at this party thing
Vivian & Francine have met before but this'll be the first time they'll all be under the same roof, although technically if they go outside, which they will, 'cause they always do, they won't be under any roof. Claire's irrationally concerned, it'd seem, that her two Asians are gonna leave her for each other, like Tina and Dancer-Boy did to Artie on Glee.
Claire: "I'm gonna be sitting there like a tool with my thumb on the air like now my girlfriend and my ex-girlfriend are dancing together on the dance floor."
Claire predicts everything will blow up in her face like the World Trade. I hope so! Dramatic action rising to a climax? That's almost like a real teevee show!


At the Megahot Lesbian Dance Club, Whitney explains that she can't lie ("I'm not gonna lie" -Whitney), she must follow the Goddess of Lesbian Dramz and accuse Claire of taking shit about her.
Somehow this whole shit-talking gossip party storyline is incredibly entertaining to me. It's hilarious! Obviously Claire denies saying any of that shit but her hips don't lie.
Whitney: "Claire responds shocked but I see a little deer in the headlights coming through her eyes, I'm not gonna lie. Do I think that you really MEANT the things that you said? No. Do I think you were like "UGGGH I wish I hadn't said some things?" Yeah."
Claire's weak defense, albeit conjured in-the-moment, is that Francine threw her shit on the lawn. How could Claire talk shit about Whitney in a world where Claire's gotta traipse about practically topless amongst the ruins of her life via boxes because Francine threw her shit on the fucking front lawn? Right?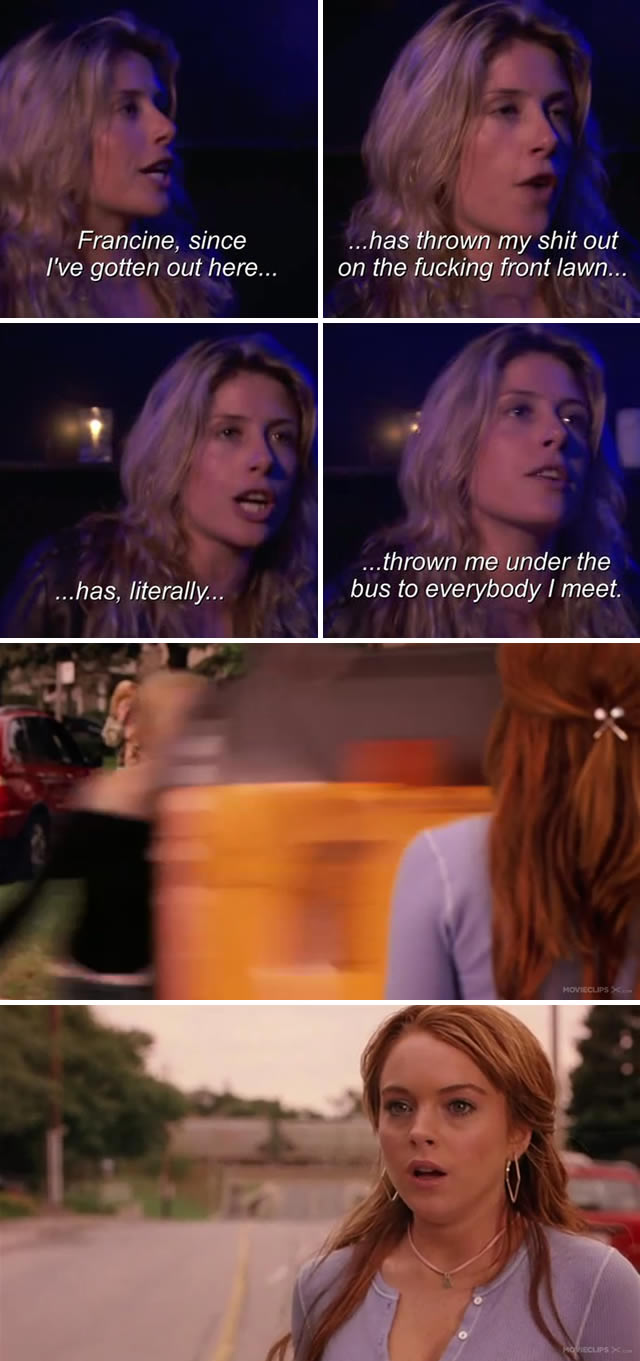 Did someone say "thrown under the bus"? Aw, Real L Word, you almost didn't do it — and then you had to go ahead and do it.
Whitney conferences with Francine who's got proof on her phone that Claire did indeed say all the things she said, therefore confirming that Claire is indeed the Bigger Bananahead.
It's worth noting that Francine is like this tiny thing and she's always wrapped in extra layers like she got cold and some giant butch lent her a puffy coat. Add a Captain Kangaroo hat and lines like "You're Evil!" to this equation and it's priceless, she's priceless, she's perfect. It's hilarious!
But it's not nearly as hilarious as Claire's facial expressions:
The girls devolve into one of their traditionally complicated intellectual battles of spirit and soul:
Francine: "This is what you said about everyone you told me that everyone's a loser on the show and nobody has a real job except for me. Yes you did. And then you told me that Sara has a dog face. You didn't say that?"
Claire: "I fucking didn't say that."
Francine: "Oh really?"
Claire: "Yeah."
Francine: "You are a lying person – WOW WOW THIS GIRL'S LYING — you're lying!!!"
Claire: "Francine you're fucking literally making an ass out of yourself–"
Francine: "Put it out there, you wanna talk shit? 'Cause I never judge anyone."
Claire: "Francine? What did I say about them?"
Francine: "You told me that Whitney doesn't have a real job and all she does is party."
Claire's eyes are popping out of her strained headskull. She's also violently clapping her hands, maybe to remind Francine of thunder or car accidents or other terrible things that could happen to her today.
Claire: "I never said that! I never said that!"
Francine: "Oh really? Wow you're evil, you're evil. How can I pull this out of my ass?"
Vivian?
Vivian: "Honestly Claire was making herself look like an idiot."
Claire keeps hightailing around the club like Yosemite Sam while Vivian goes to comfort Francine. That's when you know you're in trouble — when your girlfriend is on your ex-girlfriend's side.
Claire's my favorite now, she's like the Puck of The Real L Word.

Anyhow back to Romi's Big Career. Romi's jewelry line is called "Hija" which is Spanish for "daughter" which'll not only look good with hoodies but also pay tribute to her father's side of the family and make them bajillion gazillioniares!
Romi's hooking up with Love & Pride, the Fantastic Jewelry Company Who Brought You The L Word Line, and the product placement possibilities are endless!
Romi: "Working really hard on something you love doing and really believe in, that's the best."
That's totally true. Four for you, Romi Klinger.

Back at Lair de Claire, Claire remains ablaze with fury and essentially is now saying that yes, yes indeed she did say those things to Francine about the cast, but Francine took them out of context. That's not fair, says Claire. I said those things during an improv game. She asked me "Why doesn't Whitney ever go out?" and I was like "all she does is go out." Isn't that entrapment? 
Vivian, looking about eight kinds of "over it," handles Claire like she's the Swifter Picker Upper of Claire's psychological refuse.
Vivian: "Claire is a super-brat. She's a large child. She really does need to be able to apologize and be mature."
Claire doesn't have the time to sit here and talk shit, she says while sitting there and talking shit.
Laneia: claire doesn't have the time to talk shit b/c she's making a website?
  you're doing it wrong
  LOOK AT US

Back in Whitney's Winterdome, Rachel didn't get the job and, as promised, is crushed. Furthermore she got turned down over e-mail so Mr. Sassoon didn't get to hear her tears!
Rachel interviews that she's sad and lonely and about forty other kinds of neglected/unhappy and you kinda want to give her a hug.
Rachel: "I wish Whitney would get out of Whitneyworld and realize that I'm like, you know — I'm drowning here."
Alyssa's Sage Wisdom of the Night:
Alyssa: [to Whitney] "I think that you make beds and then you make me lie in them."
Whitney: "I didn't make any beds here! Whoaaaa!"
In fact, Whitney hasn't TOUCHED that bed since the creamed corn congealed on the matress.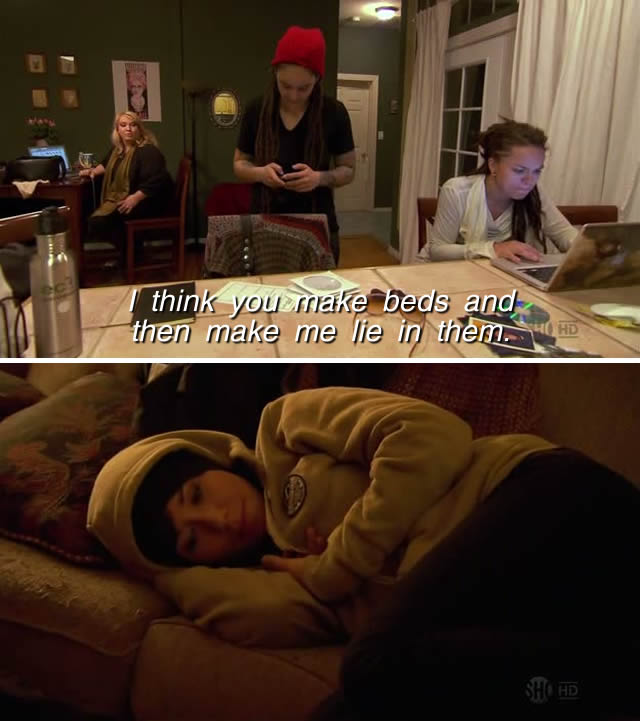 Rachel and Claire should start an Expats Support Group for People Who Should've Stayed in New York.

We return to the Barren Boudoir where tampons sit ominously on the kitchen table, announcing the arrival of blood, cramps, and no-baby. Though sometimes the first day of your period can feel like giving birth to blood-clotted vampire mini-babies.
This is all really sweet and again, Cori and Kacy seem like truly awesome people, but Jesus Christ this is boring. "Woman wants to be pregnant and can't get pregnant" is such a common yet snoozy teevee storyline and Charlotte York maxed out my reserves on this topic.
At least Cori can have a cigarette now and luckily Kacy brought two along with those tampons. Best Butch on the Block goes to Kacy, second week in a row!
The sad sad song lingers on…

Francine, or maybe a magical elf, had a brilliant idea for Francine to invite "the girls" over to watch a PowerPoint presentation about her backyard and then do some landscaping. Seriously.
Francine: "The back yard is the big mess, so I said why don't we have a party and make a fun event out of trying to landscape the yard?"
After that, we're gonna make a fun event out of mattress shopping, calling Time Warner and going to the dentist!
Francine: "We're just gonna have a chill night and talk about what everybody would like to contribute to the back yard."
Sajdah: "So Francine comes up with this crazy excuse to make us all do her yard work for her and she disguises it as a party, "the landscaping party."
Sajdah is ready to party though, make no mistake. Meanwhile Chanel's left in the dust, feeling shy and weird, like so many of us do in large social gatherings captured on camera for premium cable.
Chanel's off to the side, staring at the welcome screen on her blackberry pretending like she's conversing with important friends.
Romi tries to school Sajdah on how to be a good girlfriend:
Romi: "Well make her feel comfortable. Let her be her, let her do it her own way in her own time… be good to her, she's a sweetheart and, let's be real, the best-looking person on this show."
Just kidding I added everything after "she's a sweetheart." Romi didn't say that part, only the first part.
Chanel, like many socially awkward humans before her, switches to Plan B which is "relocate to a locked room" because it's better to feel like a loser in an empty room than it is to feel alone in a crowded room. (Trust me, I know, and feel for Chanel here.) Sajdah peeks in to make matters worse.
Chanel wants to leave (Plan C), foiling Sajdah's future as a crab-apple tree curator. Sajdah says bye to everyone while acknowledging Dramz, which breaks like three rules of Lesbian Fight Club.
Sajdah and Chanel take this spitfire of emotional turmoil to a vehicle:
Sajdah: "I have never in all of my life been in a relationship. I have never sacrificed a me for someone else. It's not easy for me to express myself like that, it's not easy for me to be vulnerable."
Sajdah learned everything she knows about dating from Gaston.
Chanel: "You're laughing and being the joke of the party talking about hoes* and this and that and just wanna be Mister Funny Person. I don't feel that it's fair that you're not allowing me my time to grow and know these people on my own terms. I've been feeling out of touch with MY reality."
Sajdah:"Are you fucking kidding me?"
Chanel:"No I'm not."
Sajdah:"No, that's why because you're not listening. You know what? You're not listening. You're not listening. I'm ready to run again."
Sajdah's confusing "you're not listening" with "you don't agree with me."
* the kind you garden with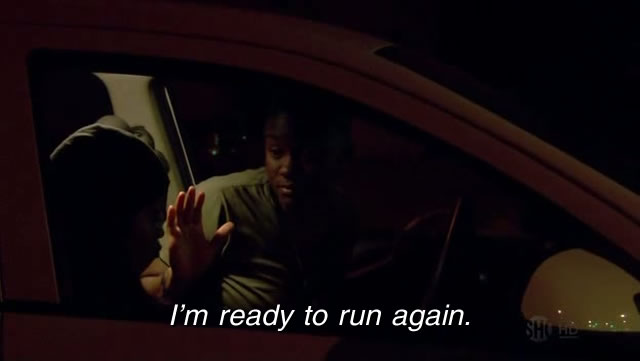 Chanel: "Run?"
Sajdah: "I'm ready to run again."
Chanel: "Run?"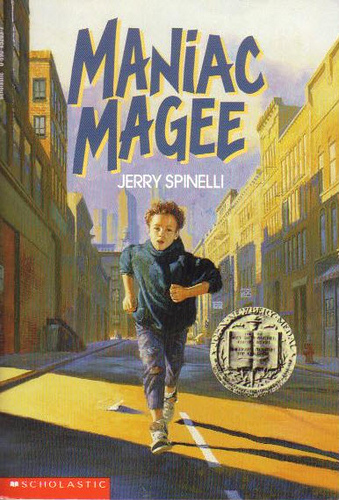 Sajdah: "I don't have time for this shit. You said the stupidest shit and I'll take you right back to where you're trying to go."
Sajdah's not gonna change for anybody. Sajdah just wants to be Sajdah and so if Chanel wants to be Chanel then she's gonna have to do it without Sajdah because Sajdah just absolutely under no circumstances can be Sajdah unless Chanel is Sajdah.
Ultimately, Sajdah would sooner break up then process emotions or navigate the sticky sapphic slopes of this fast-tracked relationship. Let's break all the rules of Lesbian Fight Club while we're at it:
Sajdah: "You know what? If we're so fucking different than why are we even having this conversation?"
Chanel: "You're so dominating in a situation that it overpowers the other people."
Sajdah: "If you have a problem with that, then you shouldn't be in a relationship with me."
Chanel: "What am I doing wrong?"
Sajdah: "I'm not critiquing you."
Chanel: "You are!"
Sajdah: "What the hell?! You're critiquing me!"
Chanel: "It's not about you! It's only about me!"
Sajdah: "Well maybe that's the problem cause I ain't having this conversation!"
Chanel: "That's what a relationship is about!"
Sajdah: "Then let's not do it."
Chanel: "I had real feelings and you think that other people are gonna be like that. Not everybody's like that."
Sajdah: "We're young. This is new. We promised to have fun every day. I'm done with this Chanel, like fuck it, man. I'm not gonna change –"
Chanel: "Part of being in a relationship–"
Sajdah: "Fuck it — I GIVE UP. I GIVE UP. I QUIT."
Despite how totally totally wrong Sajdah is in this conversation, if you really think about it this whole sitch isn't as "out there" as it seems. Think about the douchetastic or otherwise radically ridiculous things you've said in relationship fights under the assumption that relationship fights are a sacred space. Your partner is sworn to secrecy because of Mutual Assured Destruction and because Lawd Knows nobody besides you two will understand what inspired such outrageousness. I suppose reality TV rests on the laurels of How Ridiculous Relationship Fights Can Be. Simply throwing those into a public forum is drama enough.
It's painful, really, this scene — and if you've ever been shouted over like this with it hurts doubly and it hurt earlier when Claire shouted over Francine too. Nothing like the ol' "Repeat the Same Ridiculous thing 45 times over and over in a loud voice so I can't get a sensible word in edgewise" trick.
Chanel: "You're gonna try so hard to prove that you're right and you know and you're so wrong."
Sajdah: "If I'm so wrong why are you still here?"
Chanel: "Well, I guess I'm just fucking stupid."
Sajdah: "Stop fighting please, please stop fighting because I'm done. Goodnight."
Chanel leaves.

Um? Update on Francine's yard, anybody?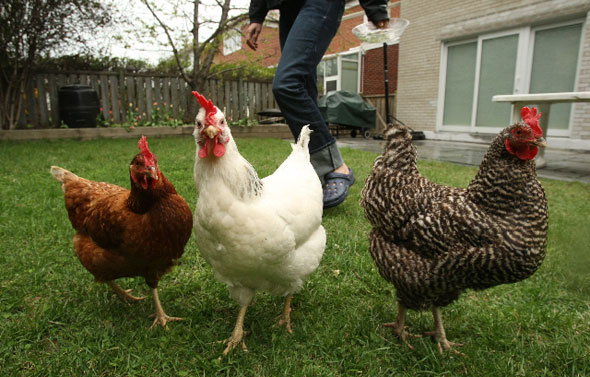 And now, your moment of zen: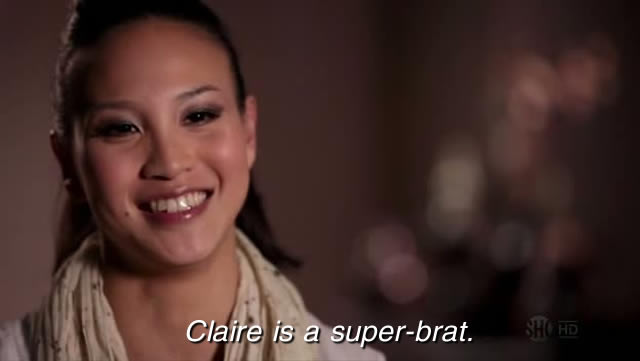 Pages: 1 2 3See entire article on one page