Back at The Birthday Party, Sajdah's Over It 'cause Natasha's friends have arrived and Sajdah wasn't told this was also Natasha's party, and I think Natasha says "that's what I was talking about when I said we needed to plan this" but really who knows. Natasha and Sajdah have an incomprehensible spat, laden with gems like "get your shit and go right now!" and "I've been so patient with you!" and "You want me to clean right now?"
Chanel's sort of bumbling around like a pretty girl in a sexy outfit who's not really paying attention to her surroundings and Sajdah gets all Sadist on her:
Sajdah: "Get in my car, we're about to go. The party that I threw is now over. Anyone I invited must leave now."
Chanel: "I am talking to my brother! Don't be like that."
Sajdah: "I'm about to leave."
Chanel: "Okay we can go, but don't come at me like that –"
Sajdah: "Because I had a little gentle conversation and it's like ten minutes later. It's ten minutes later!"
Chanel: "Baby – relax–"
Sajdah: "If I rented a place and I say it's time to go, it's time to go. There's no conversation."
Then Sajdah pulls a Lizzie Grubman and backs that ass up all the way into another car.
As they drive off into the dim cool evening of thwarted expectations, Sajdah has some choice words for Chanel:
Sajdah: "You were sitting there, you was concerned about Shirley. Natasha, she was about to throw me down the fucking stairs. Nobody was hitting Shirley. Shirley's man was there with her. Shirley was a-ok… if we have one more issue like this, we're done, we're done, there's no point."
F*CK YOU SHIRLEY YOU ALWAYS RUIN EVERYTHING

Whitney's visiting Scarlett, who's painting something for some reason. The most important part is Scarlett being on camera, as she's pretty much the best-looking thing to ever happen to Showtime since Shane.
I can't remember what they were talking about, it was either Immigration Reform or Sara.
Scarlett: "Sometimes I just wanna put a leash around you and be like bad Whitney, bad."
Sara is bad news for Whitney bla bla bla.
Okay. Here's the thing, Real L Word: SHOW DON'T TELL.
Everyone talks shit about Sara but we never SEE Sara do anything, besides occasionally forget her lines or remember her lines. We rarely see Whitney and Sara's "connection" or even their "disconnection," nor do they fight about anything we actually witnessed (aside from, I guess, the Makeout at Dinah Shore 2010), only things Whitney heard from her friends or speculated while cruising for chicks on Santa Monica. SHOW DON'T TELL, SHOW.

Soooo, after apparently locking Francine in a foxhole, Claire's got a meeting with Power UP!, which Claire describes as a "lesbian filmmaking group" who hopefully will want to work with her on her Big Idea about creating the first Lesbian Online Magazine Website Ever.
Claire arrives at the meeting with camera people deployed by Lesbian Media Empress Satanlord Fuckwad Ilene Chaiken, so I'd say already she's going against Power UP!'s mission of lesbian visibility butttt that's just my personal opinion.
The woman in the Girl Trash t-shirt is Stacy Codikow, the founder of Power UP!, and the woman in the sunglasses who you may recognize is Jamie Babbit, director of your favorite movie ever, But I'm a Cheerleader.
Claire: "Out here my goal was to create some kind of lesbian publication — planning on starting with a website, that's like fashion, health and like — kind of like a – "upgrade your style" kind of thing."
Stacy: "What's your publishing background like?"
Claire: "Not so much, not much of a publishing background, but that's why I wanna start with, um, like a website. So I'm gonna kind of start there, I just bought a domain name."
They don't like her domain name (dirty boudoir dot com).
Stacy: "Do you have someone to set up the website?"
Claire: "Well, that's what I'm kinda struggling with at this moment. That and then also I need to get writers because I am not the best of a writer but I wanna be able to do the interviews and kinda have somebody take what I get from the interview and write and write it because that's what I wanna spend my time doing is just — like 'cause every day I'll like think of something new that I'm like — how am I gonna do that?"
Stacy: "Do you have anybody that you've talked to about how to go about this?"
Claire: "I mean, no, not yet, not out here."
Stacy: "You know, this is the tenth time I've heard this."
Claire: "What?
Stacy: "Your pitch."
Claire: "And I wanna be the person that does it."
Yes, unlike the persons behind GO Magazine, Curve, SheWired, AfterEllen, BOUND, DIVA, Velvet Park, Everyone is Gay, Autostraddle and several bajilion other websites, not all of them secretly operated by 45-year-old men, Claire is gonna DO IT.
Jamie Babbit: "I think you know, it's a fun idea, I just feel like we've seen it before, yeah — I do think Power Up would be a great place for you to intern if that's something you're interested in."
Claire: "That would be amazing but you know, for me I wouldn't, like I'm not gonna do something — I'm not gonna go be a secretary."
Stacy: "It was really good to meet you."
JAMIE BABBIT JUST OFFERED YOU AN INTERNSHIP AND YOU TOLD HER YOU'RE NOT GONNA BE A SECRETARY!?!?!!?!?!!?!

Romi's out there getting her life together. Step One is turning her hair into a National Monument:
Step Two is, as aforementioned by Power UP!, getting help:
See — Romi was wearing these feather earrings and they picked up and a lot of people are making feather earrings and wearing them and so Romi figured, why don't I make the feather earrings? And then sell them? And maybe other things too.
Romi's like ten steps ahead of Claire, she's definitely gonna win Celebrity Apprentice.


Alyssa gets glorious with a made-up "voice of reason" voice which sounds like the Wicked Witch after forty cigarettes and a hernia.
Rachel arrives home with cameltoe, admits she's not wearing underwear, and then drags Whitney to a fancy hotel where Rachel will be cutting her friends' hairs. But when Whitney leaves for a smoke she returns to find Rachel's cut off a chunk of Bianca's hair and also her own hand.
"I do my best work when I'm drunk," Rachel says, while bleeding from the palm. Whitney, now in super-caretaker mode, consults with Lauren regarding Rachel's mixers for the evening:
Meanwhile Rachel clips away while Bianca, who either isn't scared or doesn't care about her hair, gets shorn.
Whitney: "When you cut your finger and don't acknowledge it, it's time to stop."
Whitney suggests it'd be wise for Rachel to put down the sharp objects but Rachel, being the suddenly needy crushed-out heartbreaking hot mess that she is, thinks all she needs to snap out of it is a few slaps to the face and a kiss. Whitney provides the slaps and reluctantly provides the kiss. No, not that kind of kiss. A BETTER kiss.
If there's one little bit of you who's ever felt like Rachel feels in this scene w/r/t wanting someone so desperately that you've lost any self-consciousness or pride whatsoever, you're probably cringing and wishing this wasn't on the teevee.
In scenes like this though, it's so clear that Whitney is a really good, smart person, and that many of her failings likely do stem from caring too much for everyone and not realizing that in doing so, she encourages them to have unrequited feelings in return. I feel like Ilene Chaiken has located the most confused and reckless part of her and built an entire show around it, which should surprise nobody.

FUN FACT about Sajdah:
HOT DAMN.  Sajdah's glad to be at practice 'cause she's mad at Chanel and needs to punch some shit. I get that.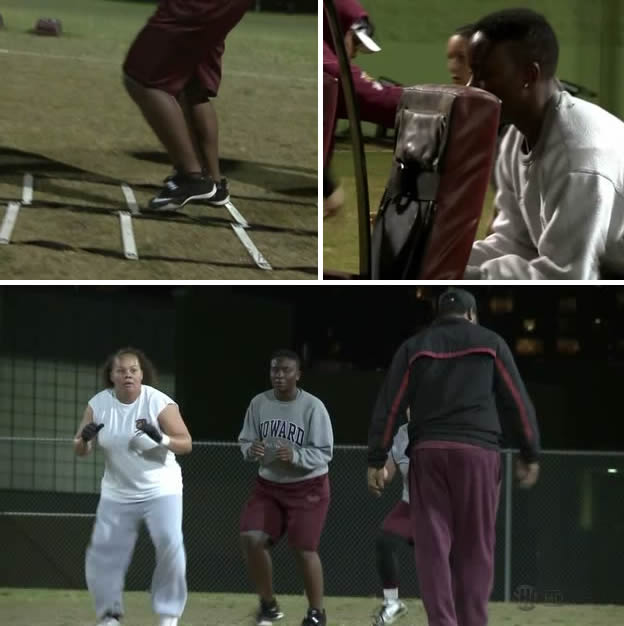 AND THEN…OMG I cannot! I just can not listen to people talk about their feelings for Whitney Mixter or other people's feelings for Whitney Mixter for one more second of my life!!! The topic is PLAYED OUT, like Pokemon, Lindsay Lohan's court dates and Sarah Palin.
This scene's topic is "what happened with Rachel in the scene we just saw," in case it didn't rock hard enough the first time.
"It's classic Rachel behavior…" Alyssa begins. She's like Dr.Lesbian. She's just there with her juice and her hoodie just waiting for you to come home and nestle into her bosom and unload your sadness upon her and she'll like, psychoanalyze whoever's not in the room.
You know what this show is missing?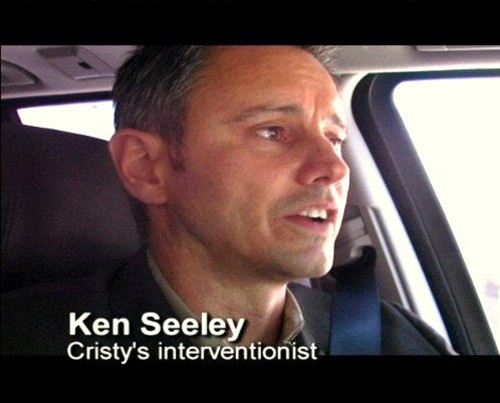 Because I feel like this is what this show wants me to think right now: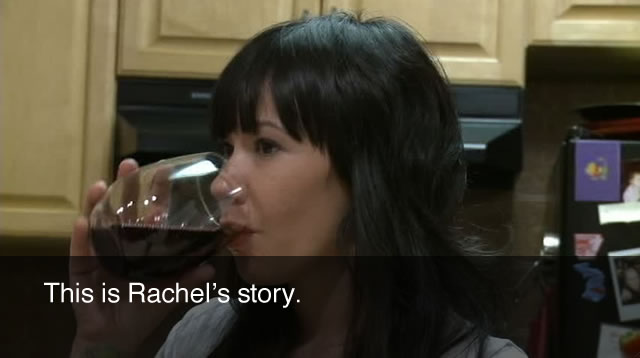 Pages: 1 2 3See entire article on one page