Welcome to my "recap" of The Real L Word Episode 204, entitled "The Other L Word," which I'm 75% sure is a reference to Lettuce, Lizzie McGuire, Little House on the Prairie or Looney Tunes: Back in Action.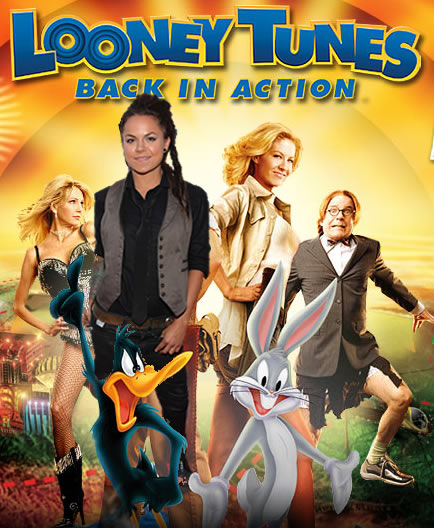 There are few feelings as singularly devastating as the feeling of watching an episode of The Real L Word after watching a brand-new episode of True Blood. I mean, how can "I'm not gonna lie, I have feelings for you" compare to "Sookie, you are mine"? It can't, that's how, regardless of how often Whitney resembles a vampire.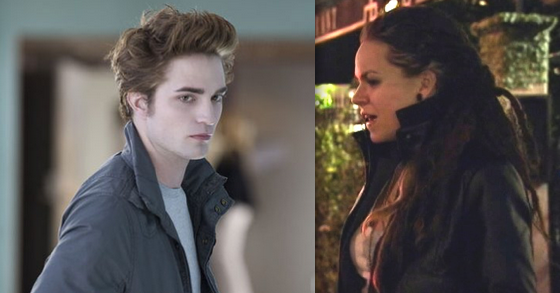 Anyhow, as we proceed today I'd like to remind everyone at home that in order to produce these recaps, I have to completely forget that these are real human people and devote myself entirely to the "characters" created by the production team.
That being said, this weekend, Kelsey pointed out a factual inaccuracy in a graphic constructed by Intern Grace several weeks back. This graphic explained "things Kelsey does" as those things had been explained to us by The Show: Cooking, Cleaning and Getting Alcohol. This was, of course, an incomplete picture which fails to illustrate the true breadth of Kelsey's skills/talents.
I promised to fix it and so we did!  Ta-DA! Revised: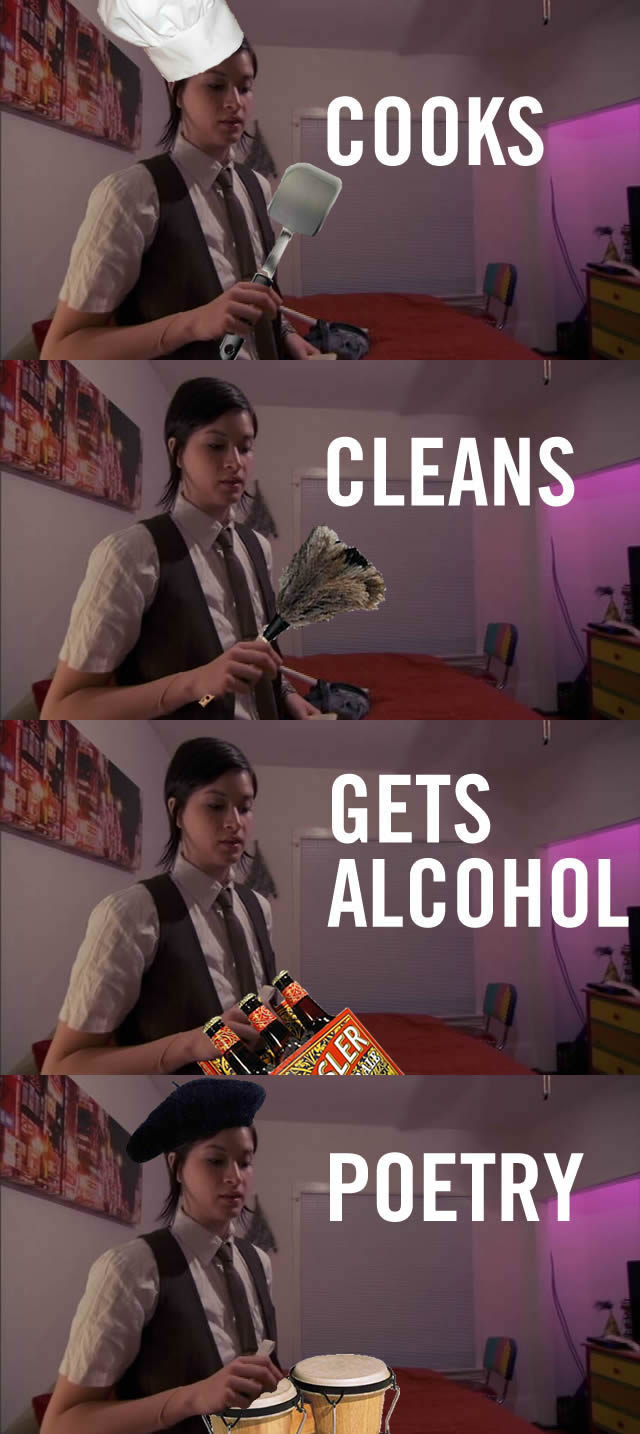 She's a poet and you didn't even KNOW IT.

We open in the Den of Whit, where Rachel's sitting in a chair, eating a raw yellow pepper with all the enthusiasm of a tranquilized Keroppi doll. Whitney arrives on her chariot of sex, claims she's not eaten in days, and submits herself to another session of impromptu psychoanalysis.
But first! An enrapturing discussion about the weight of Whitney's hair, the nutritional value of Rachel's favorite snack (no, not Whitney's vadge! PEPPERS!) and decapitation.
Whitney: "I haven't eaten in days and the first thing I'm eating is raw pepper."
Rachel: "Maybe you should eat because you don't want to become — your head you have a lot of head so what's gonna happen is you're gonna end up like this -" [bends her neck to the side]
Whitney: "Like a lollipop?" [sidenote: that is A FUCKED UP LOLLIPOP]
Rachel: "Your body won't be able to support the massive hair/head ratio."
Whitney: "There's a lot of brains in this head."
Rachel: "Brains?"
Whitney: "Underneath these dreads."
Rachel: "I don't know about that."
Rachel believes Whitney's going down a 'rabbit hole' with Sara and it's disappointing and nothing like the movie with the Mad Hatter and the Red Queen and so forth. Whitney makes the following "point":
Whitney: "Maybe right now — maybe my decisions aren't the best but right now I'm trying to sort out my emotions because that's what they are behind them — they are emotions behind them. And sometimes unfortunately you can't control emotions!"
I believe Angela Chase has some wisdom to share on this particular topic:
"It's such a lie that you should do what's in your heart. If we all did what was in our hearts, the world would grind to a halt."
Whitney says Rachel's being condescending, which is true, but also Whitney's certainly got a better comeback in that giant-head-nest-dred-brain-holder of hers than "you can't control emotions."

Romi, sober and full of light, sleep, and hydration, is going to get her life on track.
Romi voiceovers that she feels "stuck" at Marc Jacobs, which is fair enough, security doors are complicated.
Sober Romi is ready to grab life by its Vixskin balls and turn them into earrings. She's right: giving up drinking helps you get your shit together quicker than you'd imagine. I say this while drinking, of course.
So thus Romi does some lunges and then runs around the pond in cute sweatpants and an unnecessary hat/doily thing and super-fancy headphones to the sweet sweet sounds of, I think, Enya.

Claire, Queen of the Los Angeles Jungle, is moving out of the House of Thwarted College Romance into her own apartment. She's dressed like Sue Sylvester for good luck.
Claire explains that because nobody likes her anymore, she's gotta live by herself, which she's never done before. But c'mon — LOOK AT THIS EXPOSED BRICK! I'd take exposed brick over two girlfriends any day.
Claire: "[Francine] should've told me before I moved out here that it was gonna be miserable, but she didn't. She told me it was gonna be nice."
How many people is it again that it takes to tango? Two, right? Yes, I believe it takes two to tango.

Cori and Kacy have mutual friends with Whitney and Sara, so they're all together at the table, like monkeys at a picnic, NOT TALKING ABOUT SPERM. Instead, we get actual BACKSTORY! Like how they met, etc.
After discussing her wanton party-girl youth and Kacy-permitted wild-oats-sowing period, Cori is forced to move on to a more sperm-focused convo 'cause Whitney asks about "the next step" in their storyline/relationship.
Whitney: "They're like the perfect couple, they're like the unicorn couple that you hear exists, but you never really see them out."
It's 'cause unicorn couples are always at home sperm-shopping, cuddling, shining their horns and watching Rachel.
So, are you guys together? Cori and Kacy ask Saritney. The two-second pause, muffled by Saritney's awkward glances and chuckles, says more than their words ever could, and I'm not just saying that because Sara never talks and I can't handle another Whitney Metaphor.
In fact, I have a metaphor of my own: Sara and Whitney, watching humans, are realizing that their relationship, much like vampires, melts in the sun.
Whitney extracts some nonsense about being stubborn and being "into our own shit." Somewhere over the rainbow, Samantha Jones is shaking her head and rolling her eyes and deadpanning; "Admit it, ladies. You're just fucking and there's nothing wrong with that."

In addition to having the exact same crazytown feelings about relationships, Sajdah and Chanel have the EXACT SAME CRAZYTOWN BIRTHDAY.  Clearly both sets of parents were riding the hobby horse on the very same day, eventually leading to this fated moment when Sajdah would end up in Los Angeles, throwing a weird party filled with tiny pocket-sized scenes of Awkward!
AND A BABY!
Sajdah, being the Butch Gentlewoman that she is, is throwing a party for Chanel, a party she apparently planned despite only allegedly meeting Chanel two weeks ago. She's rented a big fancy house "managed" by a girl named "Natasha" who is not, much to my disappointment, the same one who was engaged to Mr.Big.
Love stories!
SO MUCH LOVE AT THE PARTY:
Sajdah and Chanel aren't having sex "currently," but Sajdah is "planning for it" and "hoping for it." I'm hoping it'll be like when Donna Martin lost her virginity to David on 90210 and stacked a bunch of candles at the end of the bed (fire hazard!).
"The desire to have sex inspires me to do certain things," Sajdah says. Story of my life. Actually, I believe that's the story of every non-asexual human's life. Desiring sex, doing things. Things like LAPDANCES!
Sajdah, swept up by the power of Chanel's ass and her own burning loins, literally hauls Chanel into the other room to execute the Seduction Plan she read about at the dentist. It starts with magical princess sexyloveface champagnesex drinkity-drink procured from Fairieland.
Sajdah could've gotten Chanel something boring like a pony, a Nintendo or a charm bracelet, but instead got Chanel a journal.
Chanel: Ooooo, I like the paper!
It'll be a "tool" for them to express feelings to each other. Thank G-d. These kids need to stop fucking, hiking, watching sports and talking politics and get down to their FEELINGS.
(Also, maybe Showtime had a tie-in with Moleskin, 'cause I think Kelsey got a planner last week.)
Much like Shakespeare and Jeanette Winterson, Sajdah discovers, through the process of writing the first journal entry, that she's in love with Chanel. Mmm-hm. What say you, Marissa?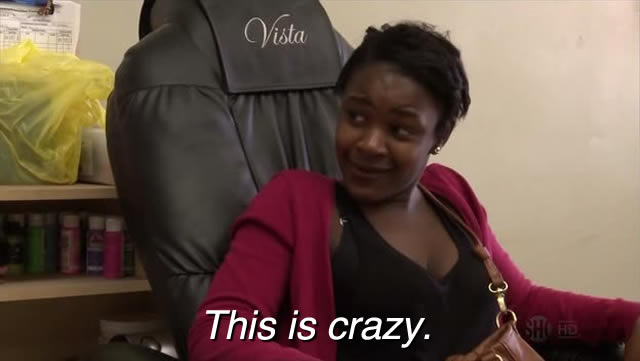 Sajdah nabs three seconds of makeout heaven before Chanel has to get back to her guests, leaving Sajdah crawling on the floor like it's that scene in Sesame Street where we learned the word "agua."
See the thing is —

Whitney and Sara are in bed together with their tattoos out, possibly naked.
Their mouths are moving and sometimes we snap over to another place, where it's just Whitney sitting in front of the camera with her mouth moving. Then we go back to the first place where they're in bed with their mouths moving, and sometimes not moving, and it appears that they then close their eyes and go to sleep.
Oh fuck, I just had the mute button on. Oh well, NEXT!

Back in Sober House…
Kelsey's been walking all day. She walked up Melrose, Santa Monica, Hollywood, turned six tricks, stuck her hands in the Hollywood Walk of Stars, went to Ripley's Believe it Or Not and applied to every California Pizza Kitchen in the whole g-ddamn state and thank Jesus Lord Christ Romi gives her a cuddle hug for her efforts. Aww.
Kelsey admits she's been down lately but hasn't said so 'cause Romi hasn't been sympathetic. But that's all in the past. Walking changes all that.
Romi: "When you find someone who's like genuinely such a good human being and has such a good soul, you can work on that. Trying to fix someone's soul and someone's spirit is not something I'm interested in doing. Trying to fix somebody's routine and agenda — I can do that."
Gays have lots of practice with changing agendas.
Romi: "I need you to get rich or die trying."
Kelsey: "I think that's what's gonna happen, I'm gonna die trying."

Pages: 1 2 3See entire article on one page