Is Tara a lesbian? Who the hell knows, maybe she's bi or straight or an alligator or a spaceship or a wizard (you never know with True Blood), but it's a hyperbolic weekend.
If this "what the hell let's make her a lesbian during a season other than sweeps" thing is a trend — and I refuse to declare it so because it's such a ridiculously obvious thing to say — then I salute this trend. I mean ultimately there are only so many stories to tell and we've told a lot of stories throughout the course of human civilization but we haven't told very many gay stories. So now's the time! Everyone gather your Lesbian Trope Rosebuds while ye may!
Tonight's True Blood premiere began with Sookie returning to The Fresh Hell of Her Life on Earth after being gone for what felt like 15 minutes in Fairy/Goblin Starlight World but was actually a bit over a year in human time.
A lot of things have happened in the meantime, including some apparent sexual attention between Jessica and Pam. Jessica's like, engorged with some kind of pent up anger or sexual frustration and lust or hunger and Pam's cool as a cucumber, rigid as a rail, ready to snap Jessica right open. Or maybe we're just projecting.
Most importantly TARA IS A LESBIAN CAGE-FIGHTER.
Tara goes by the name "Toni," a name most likely inspired by the fantastic hip-hop group "Tony! Toni! Toné!" She's told her girlfriend she's from Atlanta, and passes off Lafayette's "Sookie's back" text as a text about her grandfather dying. Tara doesn't have a grandfather. She says she doesn't have to go back for the funeral and then she sorta smiles a little, knowing Sookie is back.
When Jason tells Sookie having her back is the greatest feeling he's ever had in his life, you imagine for a second what that would be like — the return of someone you thought was dead — and I mean, that's something. That's a big feeling. So what will everyone do now.
But what's going on with Tara's sexuality? She's young, it's not weird that it'd take her some time to figure it out, if that's what this is. Or maybe there's never been an opportunity before that seemed to make sense, what with the rest of the shit out there.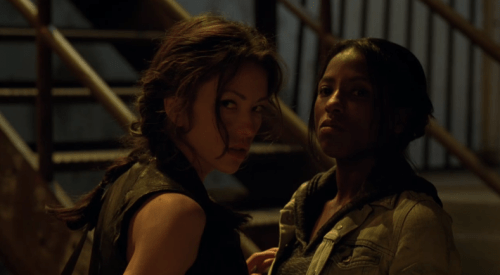 It's clear that after Sookie disappeared, Tara just couldn't stand to lose one more g-ddamn thing and thought maybe starting over would be the best thing to do. Is her sexuality gonna be a transformation, or will it be blamed on the sexual and physical assault she endured for a good chunk of last season? (I hope not.) Or is it just an identity she's adopting, sexuality and all? Or… is Tara actually in an alternate dimension or under a witch's spell or inhabiting the body of another hot lesbian or on the holadeck?
Well, creator Alan Ball told The Hollywood Reporter:
"We felt like it was time for Tara to stop being the victim. It was time for Tara to really take charge of her life in a way that would be surprising and would give us some fun places to go story-wise. We thought, 'If somebody has been through something like that, maybe they would be prompted to create a whole new life and identity.' And why not?"
Rutina Wesley was surprised at first but agrees with Ball's assessment:
"After I thought about it, I was like I can see that. She's got some new skin so to speak and she's living life to its fullest and I think that's a beautiful thing honestly to see a person go through that sort of change. Without putting any labels to it, she sort of fallen in love and that's OK, you know. I just think that's amazing."
Executive producer Alexander Woo:
"Was she always curious? Did she always have sexual interest in men and women? I think we figured that we certainly were careful not to suggest that her life and the course of her life drew her into a relationship with another woman. But I think what Tara does at the beginning of this year is that she sees an opportunity to start completely fresh, start completely new and not being tied down with all these patterns that created so much suffering."
If you have HBO Go, you can watch the second episode now.