San Francisco Pride:
San Francisco's Pride wasn't kicked off with a bunch of new engagements and wedding planners, but they've got a lot to celebrate. This year's celebration, entitled "In Pride We Trust," inspired its sponsor, Bank of America, to show even more support with an additional gift of 130,000 dollars for nine Bay Area LGBT organizations.
The gift will be going to the Lavender Youth Recreation and Information Center, Our Family Coalition, the National AIDS Memorial Grove, San Francisco Lesbian, Gay, Bisexual, Transgender Community Center, Horizons Foundation, National Center for Lesbian Rights, Project Open Hand, San Francisco Pride Celebration, and San Francisco AIDS Foundation.
This kind of money could only deserve a big check.
San Francisco's gay community is huge: 15 percent of the city's adult population identifies as not being straight. But as queers in the Bay move away from old notions of gender and sexuality, and move forward toward more equality, their community is changing, according to The Bay-Citizen. Allegedly San Franciscoians are less interested in gay rights activism and gay landmarks, organizations, and gay-owned business are suffering. The Castro neighborhood is in for some big changes, too. This makes Bank of America's gift even more important, and relevant to the times.
The New York Times has put together this slideshow to show how the gay community is evolving in San Francisco – through the words of the gay people there.
Planned Parenthood:
U.S. District Judge Tanya Walton Pratt made a game-changing decision to shut down Planned Parenthood's opponents in Indiana, and ruled that the state could not cut general health services funding to Planned Parenthood just because they also provide abortions. (On May 10, Indiana became the only place in the United States to successfully defund Planned Parenthood. A bill signed into law over a month and a half ago made Medicaid funds unavailable even for breast exams and pap smears. So considerate!)
Pratt said it was inappropriate to cut Medicaid funding because a federal bulletin had specifically said states could not do so solely on the basis of abortion services present at any organization. "Denying the injunction could pit the federal government against the State of Indiana in a high-stakes political impasse," she wrote in her ruling. "and if … neither side budges, Indiana's most vulnerable citizens could end up paying the price as the collateral damage of a partisan battle."
Planned Parenthood serves 9,300 clients in Indiana and was relying on private donations to cover costs for Medicaid patients. Unfortunately, that money had dried up this week, leaving PP with nothing to do but deny them service. Now, they'll simply file for reimbursement, and open up their doors again – to everyone this time – within the week. "This decision will have immediate, positive consequences for our patients and our organization," said Planned Parenthood of Indiana President Betty Cockrum.
We Forgot Ellen's Tweet:
Gay marriage in New York was an event heard 'round the world – complete with parties and celebrity endorsements. And we collected a lot of them here, but we forgot to include everyone's favorite lesbian in it: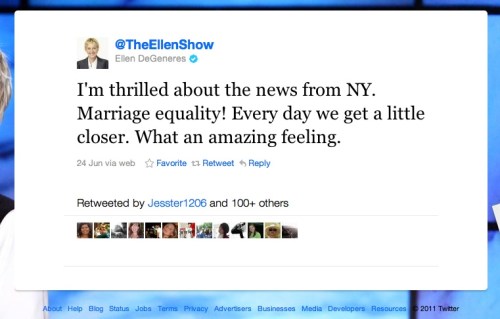 Neil Patrick Harris Is Getting Married to a Dude in New York:
The legalization of gay marriage in New York is also close to the heart of Neil Patrick Harris. The "How I Met Your Mother" star has been engaged to his partner David Burtka for some time and now they can finally have their wedding:
"David and I did propose to each other, but over five years ago! We've been wearing engagement rings for ages, waiting for an available date."
Before the NY vote, Harris was vocal about his support for the measure. He's spoken about gay marriage to the public before, and it's no surprise: him and Burtka are so serious that they already have 2 kids. (Fraternal twins even!)
A Lesbian Marriage Photo to Honor the Times from My Tumblr Dashboard: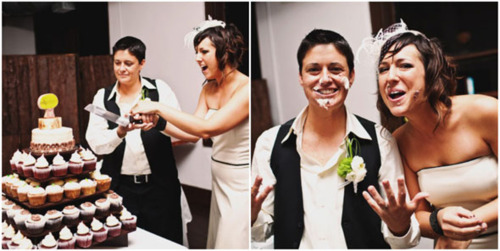 Gaga / Oprah Emmy Showdown:
Lady Gaga was nominated for an Emmy Award! She's up to win in the variety special category for her Monster Ball Tour at Madison Square Garden. It's the first time Gaga is up for an award outside of a musical category, and she's playing against some Really Big Deals like Oprah, and Beyonce. Cross your fingers!
Madonna Comics:
Bluewater Productions Inc.'s Female Force comic series documents the lives and careers of women like Margaret Thatcher and Barbara Walters. And now, Madonna.
The 52-year-old performer's 30-year career is the cause for her selection. "Most pop stars owe everything to this woman. It's amazing all of the things that she's done in her lifetime, and I have a feeling that this is still only the beginning," said C.W. Cooke, the author. The book will be illustrated by Michael Johnson.
32 pages of Madonna as a comic book superhero? Start saving up now – it comes out in August.
Wonder Woman:
But if we're talking superheroes and comics and women who look best in leotards, I can't leave out the extended clip that leaked this week from the Wonder Woman TV Pilot. It looks, um, violent and really badass:
Puppies Almost Nuzzling in a Field of Flowers:
The only thing better than this photo is holding a dog in your arms.