Last night same-sex marriage was legalized in New York City with a Senate vote of 33-29. It'll go into effect in 30 days. The road to legalization was a frustrating one, and last night everyone took to the streets to celebrate and looked beautiful and here's our cyber-collage of feelings.



Jess R, Senior Editor: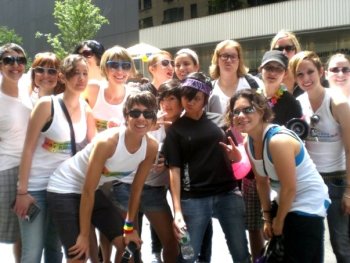 I never expected to feel as overwhelmed as I did last night. Watching the vote come down on NY1 like a goddamn suspense movie was thrilling and terrifying (and seriously, some of those Senators are kinda insane). The electricity from all the calls and texts from friends who I'm about to spend Pride weekend with in the final moments before the official ruling made me feel so connected to everyone I know. I caught the eye of my treadmill neighbor while watching the coverage as I ran this morning and instinctively felt a jolt of energy and inspiration — gay marriage in NY makes me feel so fucking free and ALIVE!

Gov. Andrew Cuomo: "I'm always proud to be a New Yorker, and tonight, I am especially proud to be a New Yorker."


Scribegrrrl, Contributor:
The New York Times coverage of the celebration included this note:
The City Council speaker, Christine C. Quinn, the city's highest-ranking openly gay official, said after passage:  "I really can't really describe what this feels like, but it is one of the best feelings I have ever had in my life."
I can describe it: It feels like validation. It feels like the amazingly inclusive thing that includes acceptance but also far exceeds acceptance. It feels like I'm a full citizen instead of a second-class one. It feels like I exist.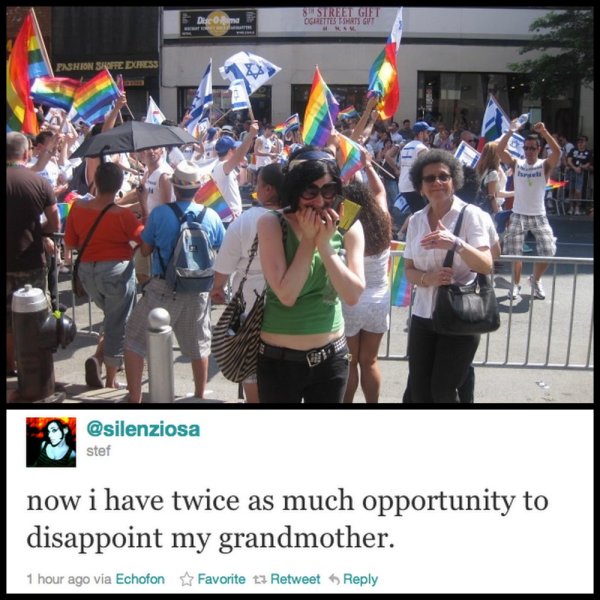 Michele, Writer: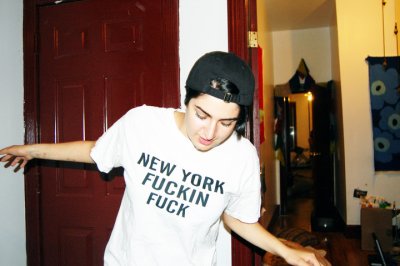 I was home nursing strep throat, trying to store up as much energy as I could for a crazy Pride weekend, when the news came in. I saw it on Facebook. There was a jolt of surprise, but it didn't really start sinking in until I saw Cuomo's official announcement. Hearing the long list of senators who had voted yes was overwhelming. I was crying even harder when the Assembly room erupted in cheers, people shouting "Thank You," and chanting "U-S-A."
Something really big had just happened, not only to me but to the world. In those moments, it's hard not to feel bonded to everyone ever, which is kind of a religious experience if you think about it. I was smiling alone in my apartment at my computer because it finally felt like we could truly "be a part of it" in a seamless way.
I'm going to the NYC Dyke March in a few hours and I don't know how to write the anticipation that I'm feeling. Bitterness has melted into a lot of relief and hope, and I'm excited for a Pride that's combined with actual validation and inclusion. I can say "it's about time" all I want, but you know when melodramatic brides say "this is the beginning of the rest of my life?" I feel like this weekend is that for gay people.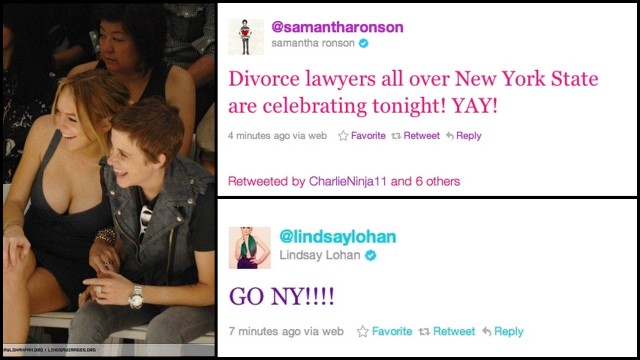 Bevin, Contributor of Queerfatfemme.com: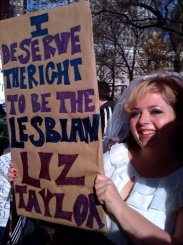 I've always thought that, as a movement, the gays would be better served by working toward universal health care rather than marriage rights. All gays need health care, regardless of relationship status, and I've seen plenty of "domestic partnered for the insurance" situations go wildly awry. Not to mention the fact that universal health care would cross class barriers in a way that marriage equality doesn't.
That said, the very idea anyone at all is going to tell me what to do with my heart and my relationships makes me all uppity. After Prop 8 was passed in my home state of California, I headed to the steps of City Hall in my chosen city of NYC carrying a cardboard sign that read "I Deserve The Right To Be The Lesbian Liz Taylor." It's pretty amazing to know that three years ago, a huge crowd assembled in solidarity with our pals in California, and now we wake up for Pride weekend with the ability to go have a shotgun marriage any time we want!
Unsolicited Advice:  Prenups make for stronger marriages.

Some words from the Senate floor:
Senator Mark J. Grisanti (formerly a member of Team Totally Wrong):
"The issue boils down to this . . . I've done the research and I believe a person can be wiser today than yesterday. I apologize to those who feel offended, to those who I have hurt with the votes I had 6 months ago, but I believe you can be wiser today than you were yesterday when you do the work.
I cannot deny a person, a human being, a taxpayer, a worker, the people of my district, and across this state, the state of New York, and those people that make this the great state that it is, the rights that I have with my wife . . . I vote in the affirmative, Mr. President."
Senator Thomas K. Duane:
After an impassioned nine minute speech on his history as an out, gay, HIV positive politician and the history of gay rights legislation in New York he ended with these words: "I'm asking my colleges to please vote 'Yes' for all new Yorkers and to vote 'Yes' for me and Lewis."
And the best one . . .
"Ayes 33, Nays 29," followed by an eruption of cheers for 1 minute, 34 seconds.