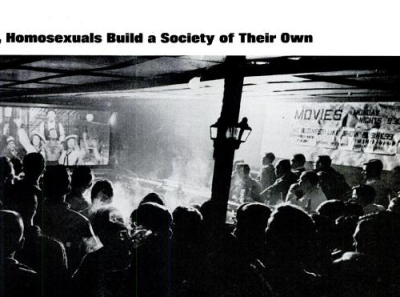 + On June 26th, 1964, LIFE Magazine published Homosexuality in America. Reading it is pretty intense, and a reminder of how far we've come –> "Homosexuals have their own drinking places, their special assignation streets, even their own organizations. And for every obvious homosexual, there are probably nine nearly impossible to detect." You can read the whole article on Google Books. (via Box Turtle Bulletin) While you're time traveling, a 1968 article tackles the lesbian problem in the wake of "Sister George," "the most explicit and sensational of a flock of films about lesbianism."
+ Gawker said the book Gay in America is "a real picture of what today's gay world is like" in "all its butch, femme, urban, rural, single, coupled, smiling, and struggling richness." But GOOD Magazine wants to know Why is Gay in America for Men Only?: "Gay in America features 140 faces from all 50 states… famous and unknown, black and white, masculine and feminine, dolled up and dressed down, and posed with planes and tiaras. But none of them are women… this book is titled Gay in America—not Gay Men in America."
+ Briefly – Trailblazing: A History of Gay Rights in New York.
+ More and more states are proposing and passing "voter suppression bills" that make the voting process intricate and convoluted, according to Bitch Magazine.
+ Class of 2011: If Social Media Were a High School. It's an infographic!
+ Some overweight Disney enthusiasts call themselves "Pooh-sized," and Jezebel says that the people who find that inappropriate are fatphobic.
+ Target, who has previously come under fire for donating to anti-gay politicians and organizations, released an "It Gets Better" video. Queerty comments that "What it lacks in racial diversity it makes up for in teary-eyed closeups." Hm.
+ 38 Awesome Pictures of People Celebrating Same-Sex Marriage in New York.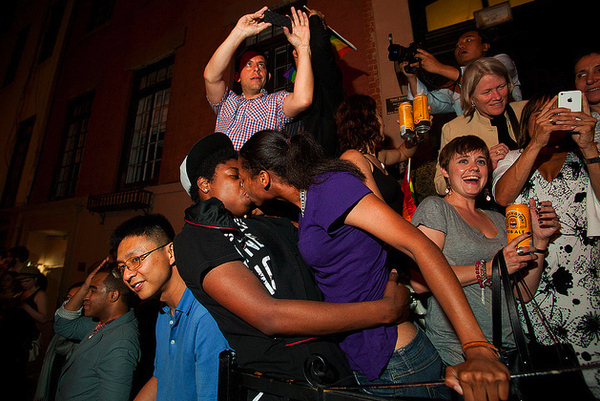 + NPR ran a story about a gay high school teacher who had a positive experience coming out to his class.
+ Queer Fat Femme gets poignant, resonant and heartbreaking in So Much Loss.
+ Grace Helbig of Daily Grace made a video you can send to everyone to let them know how gay you are. It will make you smile.
+ Buzzfeed has a gallery of images from New York pride during the 1970s. Keep in mind that the Stonewall Riots were in 1969, so these are the first pride parades ever.
+ A study from ForbesWomen shows the "most sexist" job in America is a personal finance adviser.
+ Should gravity be taught in schools? The Miss USA contestants weigh in.
+ Living Out Loud with Darian has a video from Don Lemon's visit to the Outwrite Bookstore in Atlanta, during which he discussed topics such as "black gay men, the black gay community, and the religious bigotry that exists in the church around homosexuality."