After eons of deliberations, the same-sex marriage bill came to a vote on the Senate floor tonight with extensive provisions to protect religious institutions who don't wanna marry gay people from ever being punished in any way whatsoever forever/always/'til the end of time. Seriously. If your church won't marry you, you flaming homosexual, you are not allowed to get upset about it. Is everyone okay with that? Okay. Moving on.
SAME-SEX MARRIAGE WON A THING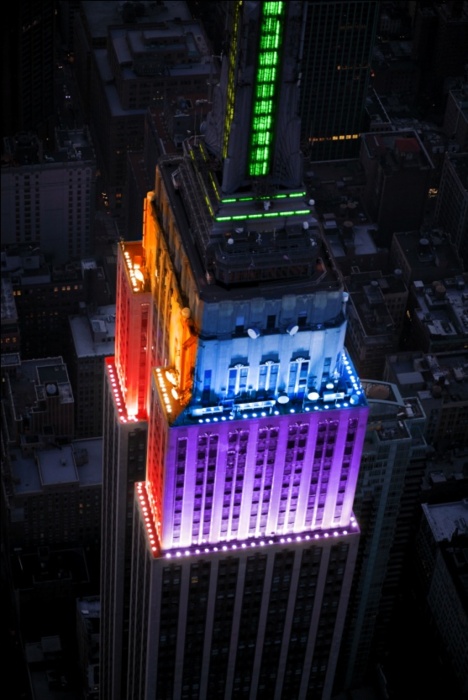 Senator Stephen M. Saland opened the ceremonies and explained the new provisions as outlined in today's amendment. Saland was talking like a sane, rational, tolerant, open-hearted person. He'd been a fence-sitter all this time. He commended the quality of the amendment and also spoke about the importance of tolerance and respect.
Was he the rumored 32nd vote secured last night? Or is Saland not the only undecided vote who decided to join Team Gay?
When the votes were tallied the score was overwhelmingly and unexpectedly in our favor: 36 – 26.
After the announcement we, like the HRC, The Huffington Post, OUT Magazine and 600,000 other people, yelled in jubilation that we'd legalized same sex marriage. That wasn't the case, actually, we still needed a full vote on the bill itself (not just on the acceptability of the new amendment) on the Senate Floor.
But we're happy already because we've got this shit in the bag. Now we can sit back and watch the show. This is the part of a basketball game where they start going for wild three-pointers and acrobatic slam dunks just for funsies, since there's no way they won't finish this one for the win.
On the senate floor, we won 33 to 29.
This isn't just great news for New York — these religious exceptions can very well serve as a model to those trying to pass same-sex marriage amendments in their states.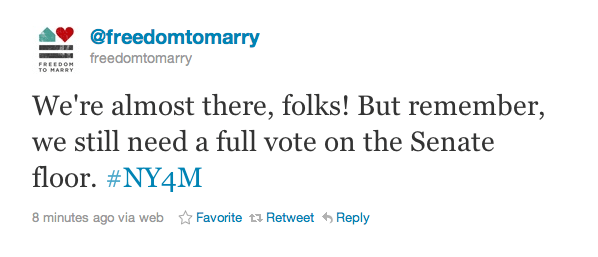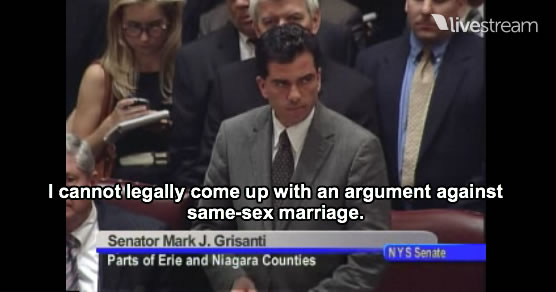 Following Ruben Diaz's psychotic freakout, Thomas Duane and Carl Kruger made passionate speeches about gay rights and equality and things of that nature.
And we did.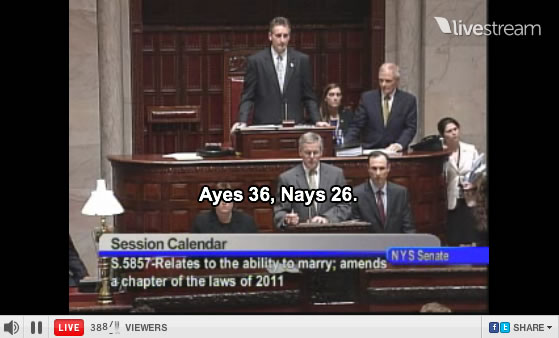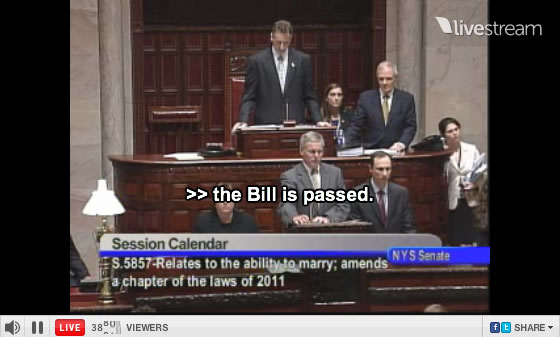 I'll write a fuller article on this but we all need to celebrate right now. The Governor will sign the bill and in 30 days marriages will begin.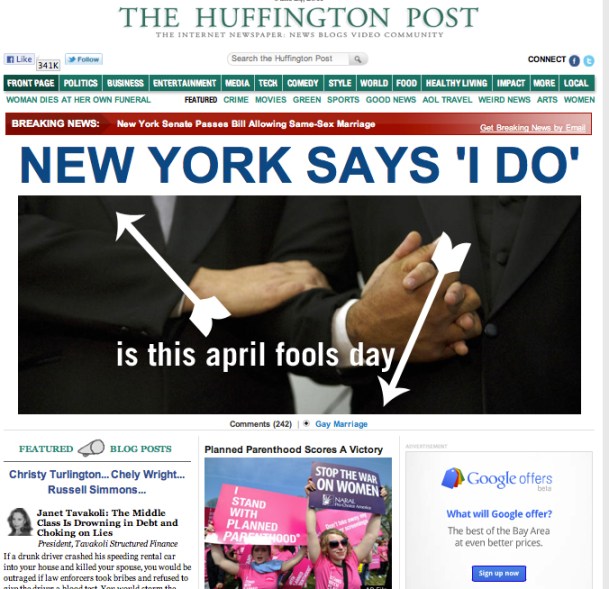 If you're in New York you have to send us your photos!!!