Claire's friend Barb is in town, which's awesome 'cause Claire's got nobody left to talk to in Los Angeles besides these guys: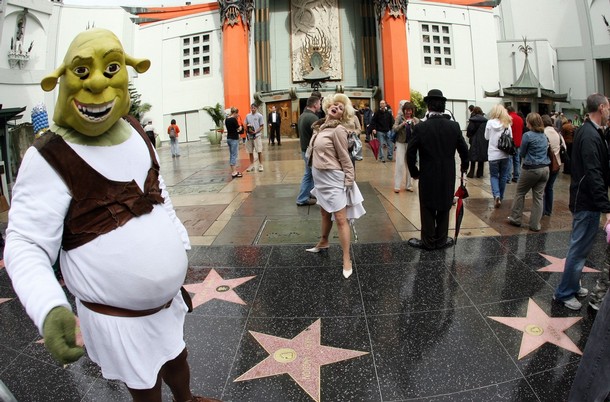 Claire tells Barb about her interview and her idea about getting talented people together to do a thing in a "sick way."
Like she'd be a fool not to do a photoshoot with The Real L Word girls in white t-shirts, she has a vision, but she doesn't know if they'll do it — but it would be really dumb of them to NOT do it —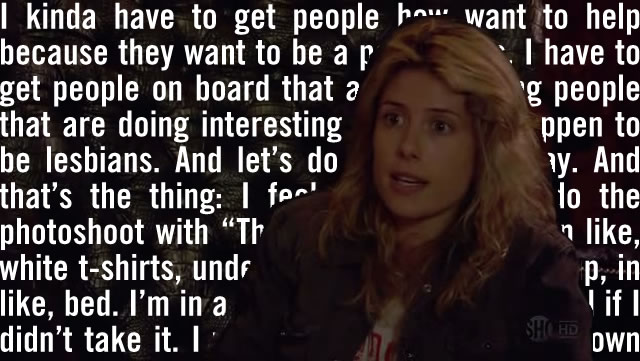 Barb: "You have to like, spend some time with them."
Excellent point.

Cori and Kacy are going to a "knocking it back before getting knocked up" party, talking about sperm. Specifically, the sperm that's about to crawl up into Cori's stomachspace and edge out any potential room for tequila.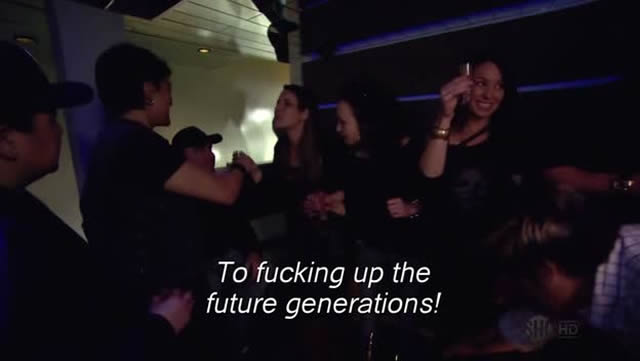 Kacy's being sweet and caring and patient about how Cori likes to party and will probably never party again and then shit gets totally bizarre when Cori reveals that when she gets drunk, she has "alternate personalities."+
1. Alter One: Cookie.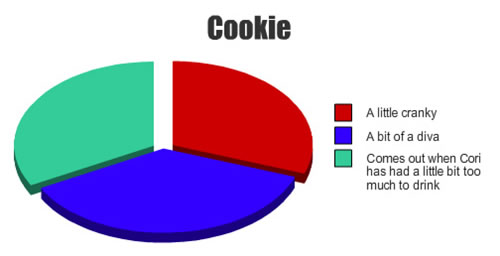 +
2. Alter Two: Coco.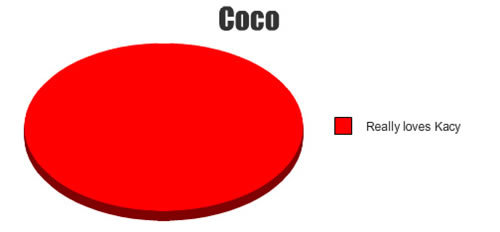 Are you thinking what Ken Seely is thinking?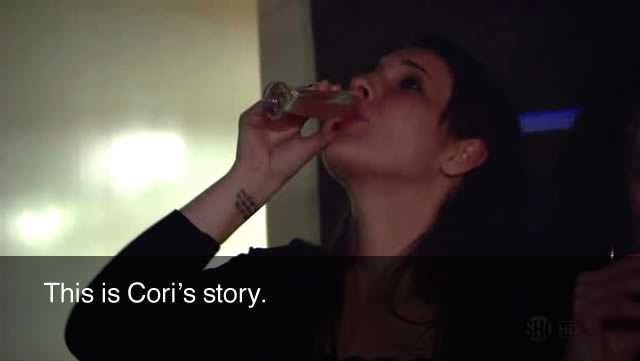 Meet Coco: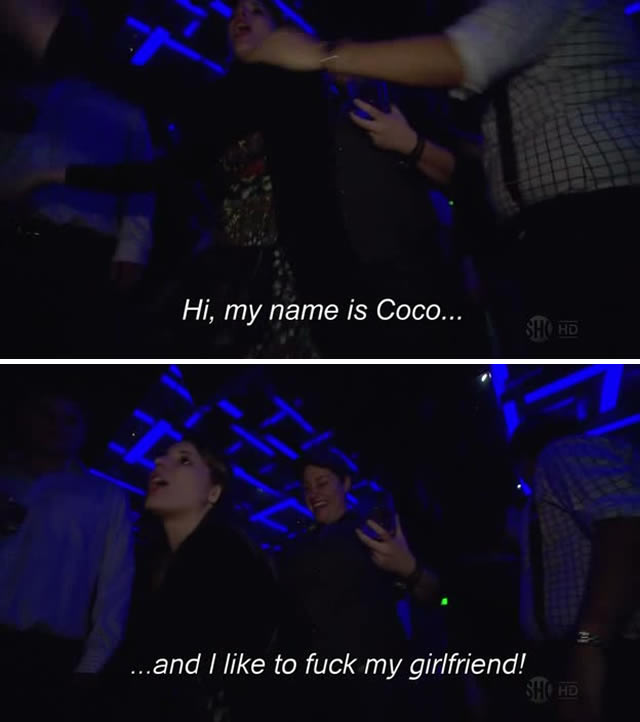 These girls cannot handle their alcohol. That's the takeaway here.  (Neither can I or any of my friends, which's reason #46 why I'm glad we're not on the teevee.)
Absolutely nobody should ever drink anything ever. If you do you will die, ask Whitney to slap you three times, or develop multiple personalities.
Kacy: "She gets that look in her eye, that like eye of the tiger — it was a little scary, I'm not gonna lie."
Around this time my girlfriend said, "I feel insane watching this," and maybe I did, too. It's clear Kacy cares about Cori, Cookie, AND Coco, and that, you know, future Lesbian Moms can party too.
Shit eventually gets too crazy to handle and Kacy shuffles a hilariously talky Cori out of the club. "I LOVE YOU SO MUCH!" Cori yells out the back window as Kacy whisks her away from the pre-baby ball.

Sajdah and Chanel, at one of LA's many fine outdoor eateries suitable for film crews, are gonna talk it out. 'Cause they miss/love each other, etc.
Chanel: "I think the pressure we sort of put on each other with having so much in common made us expect to know each other right away. So the little things… it was irritating us more than it should have."
This rings surprisingly true and haven't we all been there when you meet someone you decide is perfect for you and the first time they do something you wouldn't do you freak out?  You're mad at them doubly: for whatever it is you're actually mad about and also for not being who you thought they were, which is to say — they're not you.
Maybe saying "I love you" so quickly was too much pressure not to explode immediately afterwards. You absolutely cannot know somebody in a week, or even two weeks. I think you need a full year of holidays, seasons, tragedies, Real L Word premieres, computer crashes and celebrations, to really know a person. And even then, they could turn out to be a serial killer, I saw it on A&E.
Or, you know, it's because of astrology:
In other news:
Sajdah: "I'm ready to fuck."
WORD.

Back to the Sister Wives House:
The only thing more fascinating than Whitney talking about Sara or to Sara is Whitney talking on the phone to Sara while one of her other ladies drinks in the kitchen.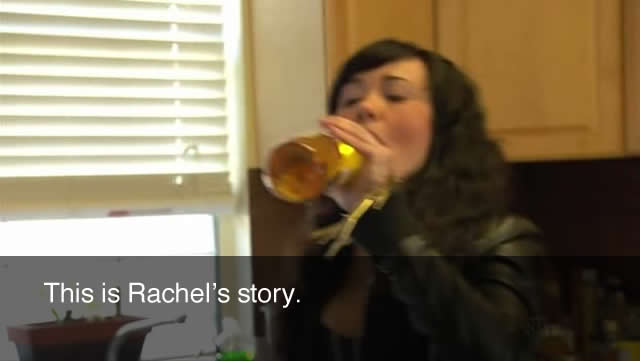 Rachel: "I don't remember kissing Whitney last night… we just had fun. To me, it's all about fun. I still give great haircuts."
Whitney won't let Rachel use Whitney's car because it says "do not operate heavy machinery" on the side of that pill bottle Rachel just downed. "Something's off with her," Whitney observes.
What follows is sort of awkward and upsetting and starts with Rachel crying in the bathroom and Whitney going in to remind her about bleeding all over Bianca's hair.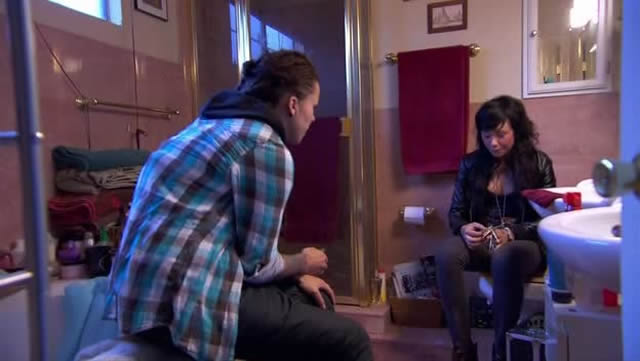 Well Rachel does not need one ounce of this shit, she did not take all that Xanax just to get stressed out. What time is it? It's time for STRAIGHT TALK with Rachel, held in the backyard.
Let's discuss.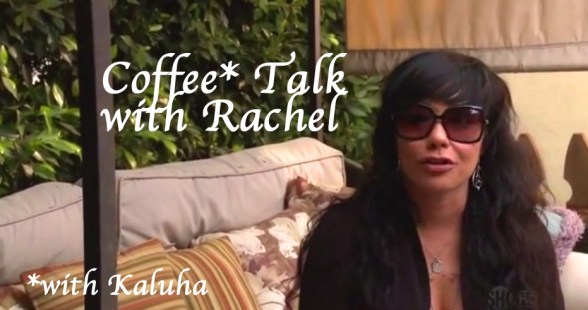 Rachel: "Whitney can't say SHIT. Because downfalls come in many different um — ways and — at this point, nothing Whitney says to me I can take it with a grain of salt because you're still fucking with someone who is a lying uhh– manipulator. So your judgment is marred."
Downfalls come in many different ways — some of us masturbate to straight porn on camera, some of us mix pharmaceuticals with alcohol. Some of us do both of those things.
Whitney goes to pick up Sara from work, chatting to the cameraperson, when she spots Erica on the street walking away from Sara's salon. It's like an episode of Cheaters, which I read about in a 'zine once.
Sara gets into the car and starts talking nonsense about who's more feminine, her or her co-worker. Whitney confronts Sara about Erica, Sara says she didn't see Erica and Erica doesn't even know where she works, so she must have just been in the neighborhood.
Whitney: "You mean to tell me of ALL the places in Los Angeles that she JUST SO HAPPENED to be heading out the back door area of where you work at the exact time you're getting off of work?"
Whitney "gets it." It = Sara's lying. OFF SHE GOES.
Whitney's basic philosophy is: "You do you."
Take that home with you children and think about that.


In conclusion — what is "The Other L Word"? DUH!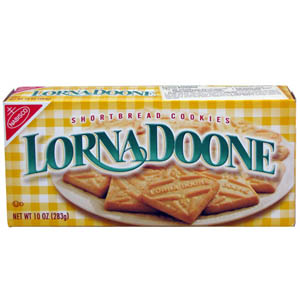 Pages: 1 2 3See entire article on one page