While we continue to dawdle through the seemingly endless limbo of the DADT not-quite-repeal, there was some hope that the military would put an unofficial halt on discharges for gays. No one expected the military to issue that as an order, but just based on the sheer amount of paperwork and wasted time that re-instating discharged soldiers will require once DADT is actually repealed, it seems like it might be in the military's best interest to put the time and money required to investigate and then discharge gay soldiers elsewhere. However, since at least four airmen were discharged in the past few weeks, that doesn't seem to be the case. 
An important point of clarification: some of the soldiers in question were discharged of their own accord, when they volunteered their sexual orientations to their superiors, saying that they needed to be discharged in order to get away from anti-gay harassment in their units. That's not insignificant. But there was also at least one servicemember who was discharged against his wishes, exactly as people have been for years under DADT. From the Service Members Legal Defense Network:
These Air Force discharges underscore that DADT investigations and discharges continue. Unfortunately, SLDN has a client right now who was recently recommended for discharge at a board hearing, and his paperwork is headed to the Navy Secretary. He made no statement, and he wants to continue serving. We have another client who is having a board hearing later this week, and if this senior enlisted person is recommended for discharge, her paperwork will likely be before the Navy Secretary in short order. She, too, wishes to continue serving. Let me be clear. At SLDN, we have scores of clients who have been advised they are under DADT investigations. Some of these clients have between 10 and 15 years of honorable service, few made voluntary statements, and none to my knowledge has asked to be 'separated expeditiously.' For these service members, especially, certification and final repeal cannot come soon enough. The continued stress of investigations and the risk of separation under DADT is real and very much imminent.
DADT won't be fully repealed until the repeal is certified by the President, the Secretary of Defense, and the Chairman and the Joint Chiefs of Staff, and THEN a 60-day waiting period has ended. Until that time, the military is perfectly entitled to discharge gay and lesbian servicemembers just as they did before. Objectively and ethically speaking, this is very bad news for our military and our nation. But paradoxically, it might be good news for some — for instance, the four airmen mentioned above.
The Executive Director of Servicemembers United has said that "The Pentagon has made it abundantly clear that… it is more than willing to deal with any lingering harassment issues through the chain of command or, in the case of command involvement, the base's or post's Inspector General's office.wp_postsBut that doesn't seem to have been the experience of these soldiers, who out-and-out asked for discharges because it seemed like the only way to end the harassment they were being subjected to. If their stories are any indication, the chain of command isn't working. One soldier, Airman 1st Class Albert Pisani, went so far as to ask for an expedited discharge — a supervisor had told him that after the DADT repeal, he expected an increase of "friendly fire" deaths for gay soldiers. In the military, harassment at work can be deadly.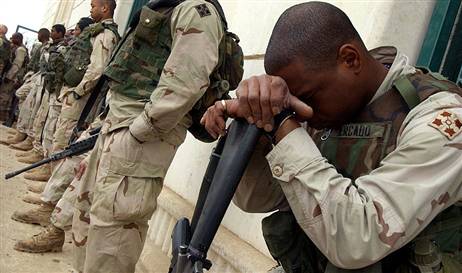 It's a question that's less often explored on the subject of DADT, because so much of our attention is focused on whether or not it will ever really be repealed: will the military be a safe environment to come out in, once it's permissible to do so? The military has been instituting trainings that are focused on a smooth transition to a post-DADT armed forces. One internal communique that reflects these new guidelines is as follows:
A TIERED APPROACH TO ENSURE PERSONNEL RECEIVE THE APPROPRIATE LEVEL OF TRAINING. THE CENTRAL MESSAGE OF THIS TRAINING WILL FOCUS ON LEADERSHIP, PROFESSIONALISM, DISCIPLINE, AND RESPECT.
A. LEADERSHIP. This is a major policy change and focused leadership is required to set conditions for success for unit cohesion, readiness, and the effectiveness of a given command. Frontline leaders are tasked with building unit cohesion and maintaining readiness in a diverse force to meet mission requirements. By providing leaders at all levels with accurate information, we enhance our ability to ensure a smooth policy transition with minimal disruption to the force.
B. PROFESSIONALISM. We have taken an oath as military professionals to support and defend the Constitution of the United States and we are committed to our navy core values. Emphasizing these professional obligations in a post-repeal environment will reinforce expectations of personal behavior and will help reduce any impact a policy change may have on our effectiveness.
C. DISCIPLINE. The uniform code of military justice (UCMJ) remains the legal foundation of good order and discipline. The ucmj provides for enforcement of standards of conduct and laws and prohibits harassment, sexual assault, and other violence. Accountability is a cornerstone of good order and discipline and will continue to guide standards of acceptable behavior.
D. RESPECT. As leaders we must focus on our values and Navy traditions as the foundation for maintaining the strength of our force. Central to that strength is treating all people with respect and dignity regardless of sexual orientation.
As Albert Pisani's story proves, the issue of "treating all people with respect and dignity regardless of sexual orientation" can be one of life and death. The military is telling us with the recent discharges that it's not ready to give up DADT. But when it is, are its servicemembers going to be ready for life after it?