I just returned from a trip to Lagos, where I met a girl who'd found my one of my blogs online and emailed me to see if we could meet up while I was in town. Along with my best friend, we went out to a secluded bar in Ikeja, had a few tequila shots, and chatted underneath the blasting music. When she realised that she'd left her phone in the car, I escorted her out to get it, waited as she changed from kitten heels into flats, and flirted appropriately. As we all stood around in the parking lot before leaving, she described me as 'butch', and I cringed. My best friend stepped in with her correction: "No, she's a b-o-i."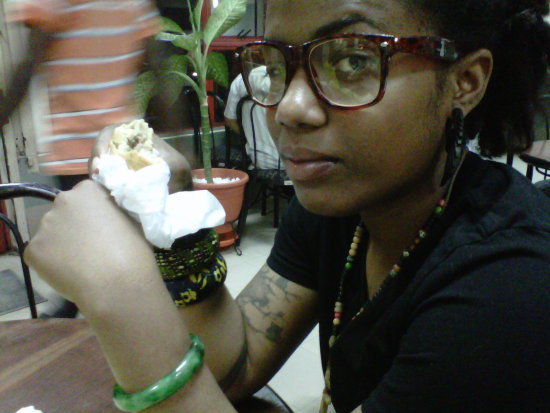 I'm more likely to see myself as a femmeboi, because while I don't see myself as feminine per se, I do see myself as effeminate. However, because this doesn't spill over into my dressing much, I'm rarely read as such. While in Lagos, I was talking to a new gay friend of mine about how I'm often read as masculine and aggressive, and I wasn't quite sure why. He said that to him, it was in how I carried myself, that my energy comes off as contained and controlled, in charge. Personally, I've noticed that when I'm around some of my femme friends, I definitely seek to balance the dynamic. I'll take the heavy bags, carry the dresses while they're picking them out in the store, give them my arm. You get the gist.
In my relationship, however, it's a bit different. I'm the one who drools over kitchen appliances, who actually likes cleaning and doing laundry, who makes the bed every morning, who makes my girl breakfast when she stays over. I'm the domestic one who puts together IKEA furniture, and I love it. She carries my heavy stuff, takes me out on dates, picks up the tab more often than not, and expects to be the major breadwinner years down the line. For the record, I'm so okay with being a kept woman. Wifey for the win! This seems incongruous to some people simply because I wear mostly men's clothes, while she wears only women's clothes and isn't butch/boi either. Despite how we use clothing as markers, it's impractical to make assumptions about roles in queer relationships.
That doesn't stop people from doing so. In a heartbeat, someone who wears men's clothes is assumed to be butch or boi or aggressive or the owner of a strap. The next night in a club, the same girl from Lagos asked me if I strapped. When I said no, she looked taken aback for a moment, then added that neither did she. Ohh-kay. Obviously, straps aren't vital in all queer interactions, but I felt as though she was attracted to me because she assumed I was a butch who strapped. I get it: I'm attracted to androgynous presenting people who I cross my fingers and hope are into strapping #winkwink, because trust me, I have negative interest in it. I'm rather tired of people reacting with shock when they find out I dress the way I do and identify as a bottom.
In general, I despair at hooking up *ahem* dating because I always feel like those who I'm attracted to aren't attracted to me. I wonder if it's because I'm not femme (enough), if they're assuming I'm a top who straps, if I look too similar to them, or if I just intimidate people. I want to be pursued, wooed, hit on, propositioned, taken charge of. I want people to stop thinking that being a bottom is equivalent to being passive and disinclined to reciprocation of pleasure — that's just insulting. I resent the internalized homophobia that doesn't support boi-boi, stud-stud, GQ-GQ, or permutations along those lines.
Part of the frustration for me is that I feel as though I'm constantly being read as a masculine of center woman when I'm actually just genderqueer. I'm genderqueer of center. Trying to interpret me in any other way leads to confusion — such as some friends not understanding why I can't wait for my chest to be flatter and more androgynous so I can wear dresses again. The few times I have worn dresses out and gone en femme, I got hit on by masculine-presenting women whose interest in me only lasted as long as the high heels and red lipstick was on. Any time I saw them when I was dressed in my 'regular' clothes, I got the friendly head nod or no recognition at all. Talk about the buddy zone.
I wonder how many others have had similar experiences. Do you feel that the way you dress and present leads people to make assumptions about your roles, sexual or otherwise? How does your actual self contradict the assumptions that are made about you?
"I'm Neither Butch Nor A Top" originally published on bklyn boihood. Republished with permission.

About the author: Born and bred in the south of Nigeria, Akwaeke Z Emezi is an Igbo and Tamil free love advocate, genderqueer Nutri-C addict, and natural hair aficionado. In the space where parathas and palm oil meet, she dances reverence to dope beats and follows the Christ. As a queer bard, blogger and performer, Z infects a message of self-awareness laced thoroughly with love and bravery, believing that only in knowing and accepting oneself utterly can we truly be free. A current Brooklynite, they adore traveling and beautiful people, and are constantly pushing for a life free of fear and full of marvelous.
My preferred pronouns are she/he/they. Mix it up. Surprise me.
Akwaeke Z Emezi
Drag King| Bard | Blogger | Milliner
www.akwaekeemezi.com