Even if you're a horror movie fiend all year-round, there's something special about watching them in October. Instead of just following your ghoulish whims, you're participating in a time-honored gay tradition. And that's community, baby!
As a gift to our community, we've gathered a list of queer horror to stream and told you where to stream it. This list has all-time greats, hidden gems, and recent faves. They range from fun and campy to truly horrifying to truly horrifying and fun and campy. We hope there are some discoveries here for even the biggest horror fan, but, hey, experts need to know where to stream queer horror too. Rewatching the classics is an important part of any horror movie marathon!
---
Queer Horror To Stream on Paramount+ with Showtime
If you loved Rachel Sennott's turn as the agent of chaos PJ in Bottoms, you'll also love her in Bodies Bodies Bodies, one of the best new slashers to come out in recent years. There's a queer relationship at the center of it, comprising characters played by Amandla Stenberg and Maria Bakalova. I love everything from the movie's banging soundtrack to its fun twist. As I wrote in my original review, I'm drawn to some of the class criticisms in the film:
The movie doesn't read as a send-up of Gen Z in general but rather of a very specific subset of ultra wealthy twenty-somethings whose inherited wealth protects them from harm for most of their lives. These are young people who have never had to fight to survive, so it tracks that they would be wildly, comically bad at survival, always taking an individualistic approach to the game when they should probably be working together.
– KKU
Scream V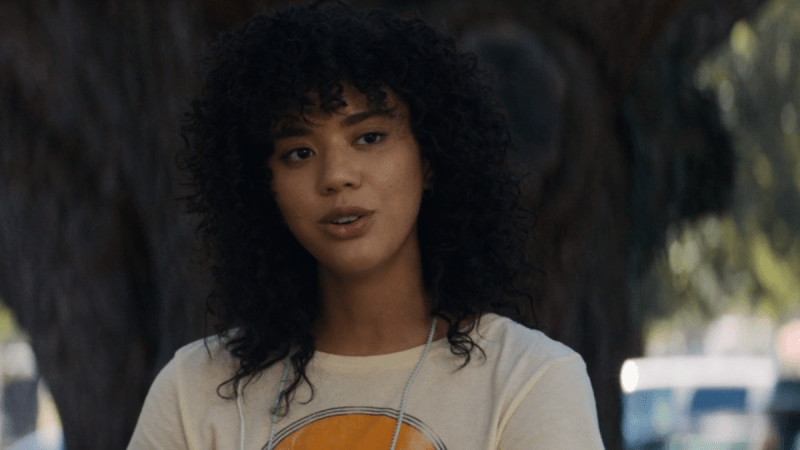 Tis the season for a full Scream franchise rewatch, but of course for our purposes here we're focusing on the ones with explicitly gay characters. Scream V introduces us to Jasmin Savoy Brown's Mindy, the niece of Randy Meeks who shares her deceased uncle's vast knowledge of horror tropes. While I'm not in love with this entry into the franchise and think it's mostly just checking an inclusion box by making Mindy gay, I do like her a lot as a character and enjoy a lot of the new additions to the cast even if they're in a bit of a flop of a story. – KKU
There's definitely one kill in this movie that rubs me the wrong way, but I won't spoil it since this is still the newest of the Screams. That flaw aside, I do think Scream VI improves upon some of the mythology set up by Scream V and also expands queer core four member Mindy's role. It also brings back Hayden Panettiere's Kirby, who might not technically be canonically bisexual but pings enough for me to make the executive gay decision to count her among the Scream Queers. – KKU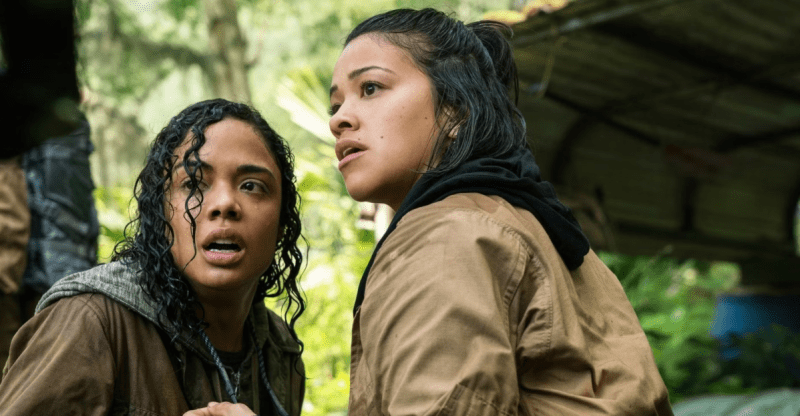 "Came Back Wrong" horror is one of my favorite tropes, and that's the point from which we start in Annihilation, a disturbing eco-horror film adapted from the novel by Jeff VanderMeer with a stacked ensemble cast in which Tessa Thompson, Gina Rodriguez, and Jennifer Jason Leigh are standouts. It's one of the few films that made both Shudder's list of the 101 Scariest Horror Movie Moments and Autostraddle's 25 Scariest Queer Horror Movie Moments compiled by Drew and I. – KKU
Mulholland Drive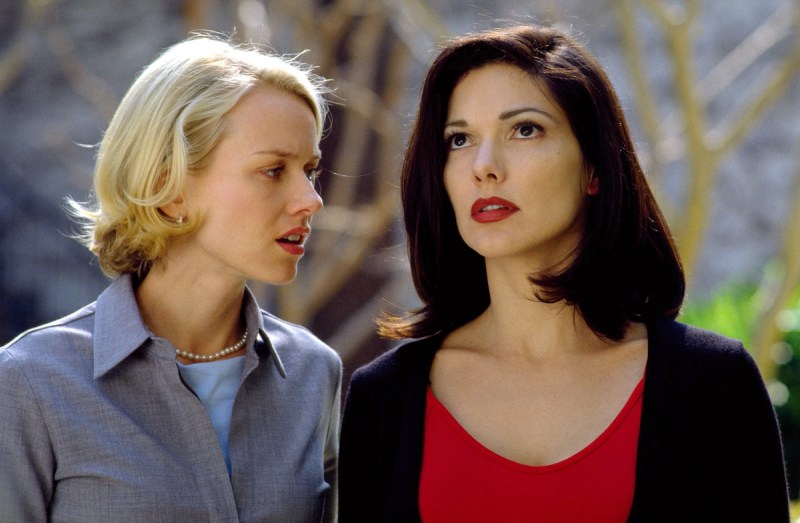 Just a fantastic movie all around, David Lynch's iconic 2001 surrealist thriller is proof that abstract doesn't have to mean incoherent in film. It has Lynchian strangeness, yes, but it's also ultimately structured well, its tight pacing building genuine fear and suspense throughout. It's my personal favorite work of Lynch's — and not necessarily because it's gay; it's also just really good. – KKU
The Carnivores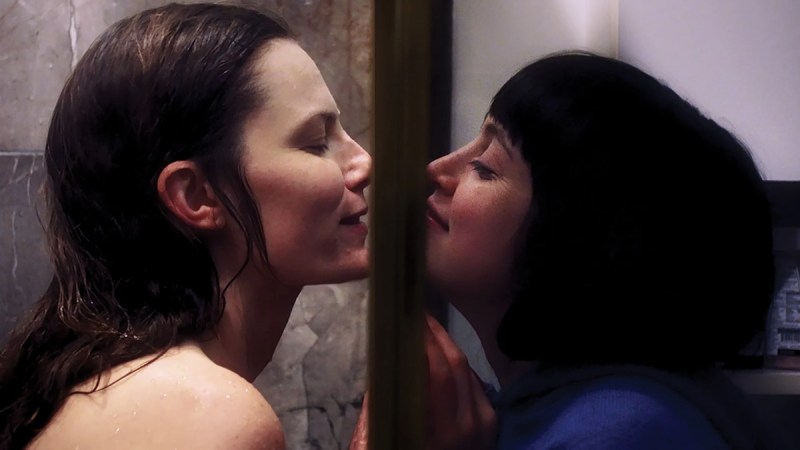 There are lesbian horror movies and then there are LESBIAN horror movies. This movie about a lesbian whose girlfriend is more in love with her dog than with her very much falls into the latter category. It's too bad the movie itself doesn't quite live up to that premise or its stellar lead performance from Tallie Medel. That said, I still think it's worth watching, especially for dog lesbians — or emphatically NOT dog lesbians — who have seen all the more popular fare and are looking for new queer horror to stream. – Drew
---
Queer Horror To Stream on Netflix
Of the three interconnected but aesthetically distinct Fear Street installments, part one, which mimics 90s-style slashers is undoubtedly my favorite. But there's queerness throughout the trilogy, the show's central themes of class divisions and a cursed town echoing through the decades and centuries. Watching all three in a row would make for a fun night in, especially if accompanied by delivery pizza and 2-liters of soda to really lean into the 90s nostalgia. – KKU
The first part of this movie is delicious and genuinely frightening. Allison Williams and Logan Browning are rival cellists who hook up before things take a very, very wrong turn. There's a jaw-dropping moment that leads into an even more jaw-dropping twist. Unfortunately, everything after that doesn't quite live up to the beginning. Nevertheless, it's still a polished and unique work of high quality trash. – Drew
Wendell & Wild
If you want some spooky fare for October, but aren't a horror person, here is the perfect solution! A collaboration between stop motion legend Henry Selick and horror genius Jordan Peele, this is a Halloween-ready kids movie with a lot on its mind. It has a goth Black girl lead, a Latino trans boy by her side, and a plot all about the dangers of private prisons. It also has demons and skeletons and all sorts of undead delights! – Drew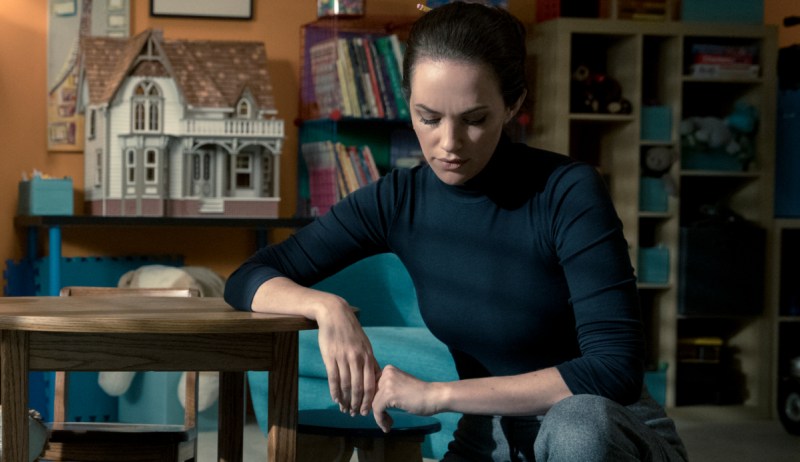 The first thing I did when finishing the Mike Flanagan series loosely based on Shirley Jackson's iconic gothic horror novel of the same name was go back to the beginning and start it again. I was instantly obsessed with this sprawling series about a family, their various traumas, and the haunted house that comes to define them well into their adulthood. While very different adaptations, it would be fun to pair this with a screening of 1963's The Haunting, which you'll find toward the end of this list and which is also featured on our Scariest Queer Horror Movie Moments list. If I have the time, I usually like to do a full rewatch of this series during the month, but if you want a more compressed experience, you can't go wrong with rewatching either episode five ("The Bent-Neck Lady") or six ("Two Storms"). – KKU
If you're worried The Haunting of Hill House might be too scary for you, might I suggest Flanagan's other adapted-from-literature Netflix horror series, The Haunting of Bly Manor, which I think is less frightening than Hill House while still delivering some classic frights. It's a loose adaptation of Henry James' 1898 novella The Turn of the Screw as well as other works by James. But most importantly, it's a lesbian love story at its core — featuring ghosts, hauntings, and time loops. If you want to experience the full impact of the slow-burn queer romance, you'll have to watch the whole thing. But in my opinion, the best episode of the series works very well as a standalone installment: episode five ("The Altar of the Dead"). – KKU
Queer Horror To Stream on Shudder

One of my favorite movies of the year, Stewart Thorndike's second feature queers The Shining with a heavy dose of mommy issues. Gayle Rankin and Hari Nef lead an absolutely perfect cast and Thorndike's camerawork is worthy of its Kubrickian influence. When I interviewed her, Thorndike mentioned being surprised by her work's divisiveness, and I've been similarly surprised! Some people have loved it, some have hated it, but I definitely think it's worth a shot. And, hey, it's the only film on this list featuring two different romantic relationships between a cis woman and a trans person! – Drew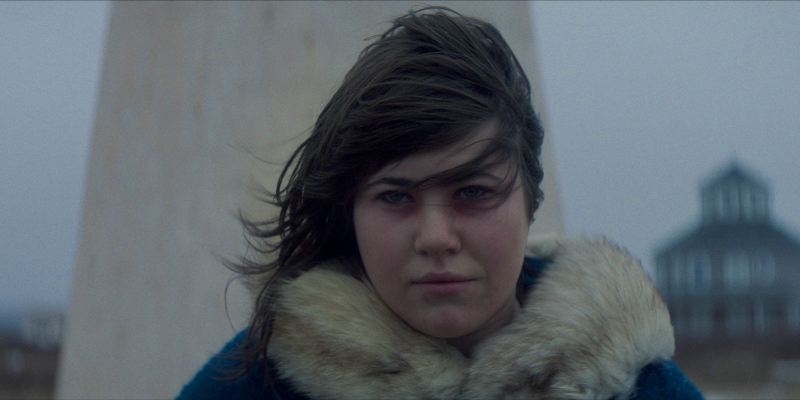 Calling all arthouse horror fans! This is the slowest of slow burns but the rewards are plentiful. Teagan Johnston — who also wrote the films songs — plays Catherine, a queer musician isolating at a remote cabin after a break up — a break up break up and a band break up. What begins as lonely and mundane, ultimately builds to moments of absolute terror. This movie has ghosts, great music, incredible cinematography, and queer make outs. What more could you want?? – Drew
Some of you may know Jennifer Reeder as the director of Fawzia Mirza's wonderful romcom Signature Move. But she usually works in horror! Her latest feature is about Jonny, a queer teenage girl who goes to live with her aunt (played by Alicia Silverstone!) as her 18th birthday approaches. Jonny isn't a regular teenager and this new town isn't a regular town. Other teenage girls keep going missing and Jonny takes it upon herself to figure out why. If you're not familiar with Reeder's unique — and bloody! — body of work this is a great place to start. – Drew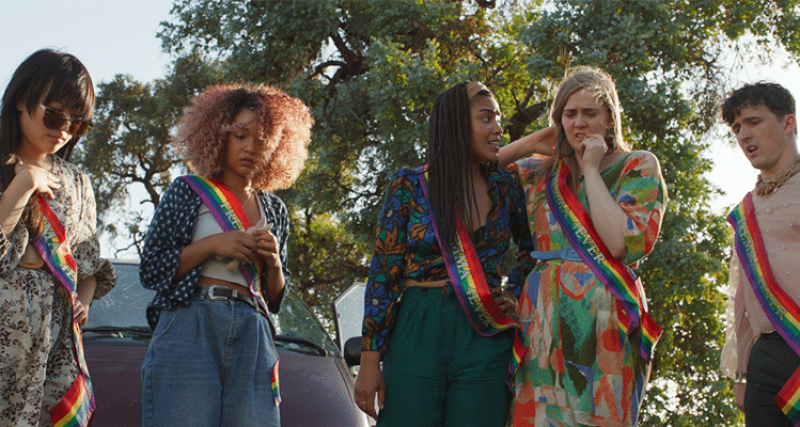 Aisha Dee plays influencer — ahem, "mental health advocate," according to her — Cecilia/Sissy in this very good, very gay Australian horror movie from 2022. It takes place at a gay bachelorette party (or hen party, because you know, Australia), which thrusts Sissy into the same space as her former bully. Psychological gay mayhem and mordant humor mix in this thriller in which Dee is an easy standout. – KKU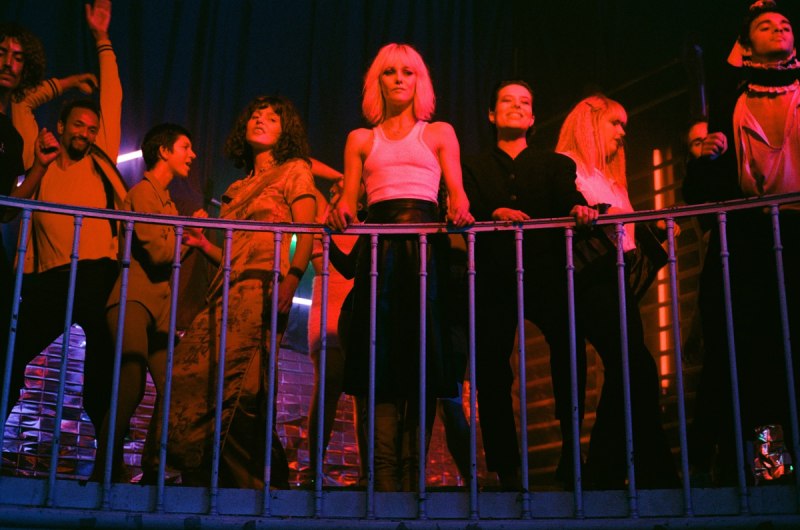 Few horror films explore the thin line between desire and fear as explicitly — literally explicitly, as it's set in the world of the pornography industry in late 1970s Paris — and acutely as Knife + Heart, a penetrative blade of a film that's lush and lurid in its imagery. Art, porn, and violence intermingle in a story not at all concerned about portraying queerness or its many queer characters as "good" or "safe." It's as horrific as it is (homo)erotic. And it will haunt you long after watching. – KKU
Queer Horror To Stream on Hulu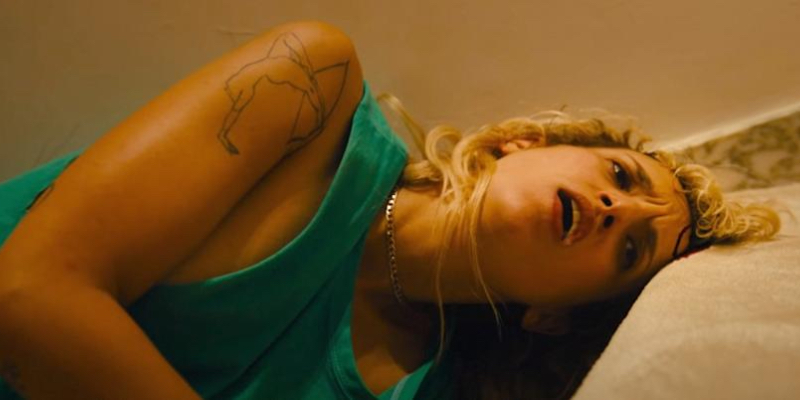 There was a lot of pressure on Julia Ducournau's sophomore feature after her remarkable cannibalistic debut Raw. I'd say being the first woman to solely win the Palme d'Or lived up to that pressure! Rather than repeat herself, this movie is more idiosyncratic and challenging. It's funny and brutal and baffling. Some trans people have taken issue with the way the film traffics in transmasculine imagery, but personally its complex approach to gender really worked for me. If you like strippers, firemen, cars, daddy issues, and body horror, check this one out! – Drew
I recently revisited this film, which I originally saw in theaters many times before I came out, and it holds up for a lot of the reasons I was obsessed with it in the first place. Beauty and brutality are twisted sisters in this ballet psychological thriller packed with haunting performances. I know people are mixed on what "really" happens between Nina (Natalie Portman) and Lily (Mila Kunis), but that ambiguity is a big part of the draw of this film, and to deny its queerness is to overlook so much of the character-level storytelling. – KKU
I really disliked this movie but maybe you'll disagree! It does have a romance between two goth girls. But it also punishes those goth girls for casting a spell on a creepy boy? As someone with my own personal experiences, I found its treatment of mental illness and cutting to be poorly done. And the dialogue in general rang false. But, hey, years of Covid does make trapped in a room horror more relevant! And, again, you might like this more than me. (Probably not.) – Drew
Matriarch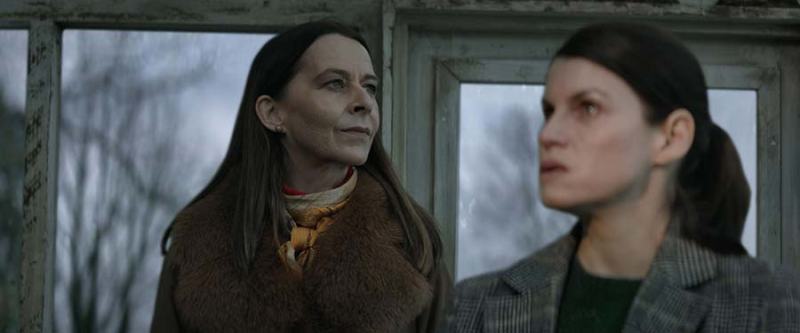 You'll note that this list isn't necessarily of the best queer horror movies and shows to stream, but we wanted to include as many titles as possible to account for different tastes and interests. Matriarch, in my opinion, is not a very good film, though it had promise in its premise. Folk horror vibes and cursed mother-daughter dynamics collide here, and maybe you'll find more to like about it than I did. After surviving an overdose, the protagonist goes back to her hometown and childhood home and has to face the mother she's estranged from. – KKU
Monsterland is an anthology horror series that features a different monster in every episode, and there's an episode featuring Taylor Schilling and Roberta Colindrez as wives! The episode admittedly makes some missteps in its portrayal of mental illness and doesn't have as nuanced of a view of "monstrousness" as other episodes do. But if you're only interested in watching the gay episode, this one's it. – KKU
Queer Horror To Stream on Peacock
Dracula's Daughter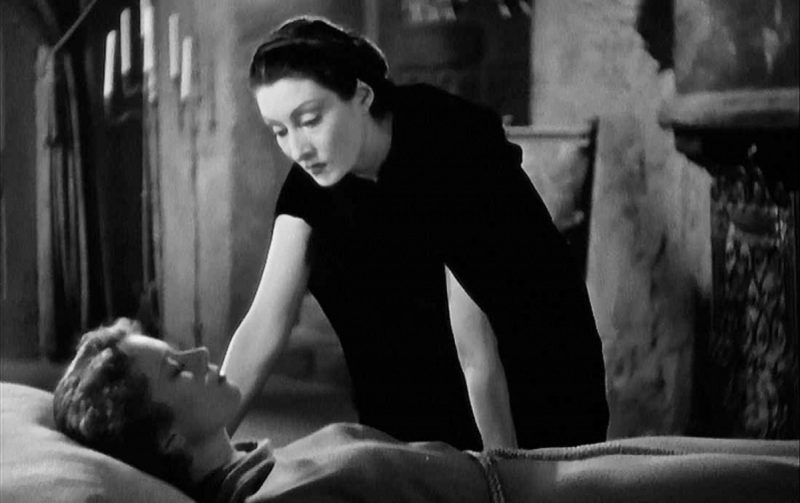 One of the earliest lesbian films, this Dracula sequel pulls just as much from the other vampiric literary classic, Carmilla. Made after the introduction of the Hays Code, efforts were made to remove any lesbianism from the film, but they did not succeed. While there may not any explicit kissing, there is a lot of suggestive glances and hovering. As in Carmilla, the lesbian vampire is a predator who aims to seduce a nice girl away from "normal" behavior. And yet despite this intention, it's easy to be seduced by the trope itself! – Drew
It's unnecessary to say that Stewart Thorndike's fierce horror movie is more than its pitch – what if Rosemary's Baby was gay? It's unnecessary, because the film doesn't settle in that premise and it doesn't go beyond it. Instead it dives deep into the thematic mess that question raises. I'm still not sure what the film is saying, and I'm not sure it's really saying anything. It's just asking questions we don't ask; expressing feelings often left unexpressed. And as an experience it's an absolute ride. – Drew
Here's another film I do not necessarily recommend, but I know some people found things to enjoy about it, and it is billed as a gay slasher, so there's that! If someone tries to tell you it's the first queer slasher, however, that's not true. That title belongs to Hellbent (available for rent on Amazon Prime and about a group of gay men) and Make a Wish (a bewildering lesbian slasher unavailable to stream ANYWHERE). But if you want something easier to find, you can watch this slasher set at conversion camp. It'd at least be a good candidate for a drinking game. – KKU
Queer Horror To Stream on Max
Bitingly funny, chillingly gross, and undeniably bisexual in its bones, Jennifer's Body is finally getting the retroactive critical acclaim it deserved in the first place. Megan Fox and Amanda Seyfried are fantastic, and their character's obsessive best friendship makes for great sapphic tension underscoring a gory and sinister horror-comedy. – KKU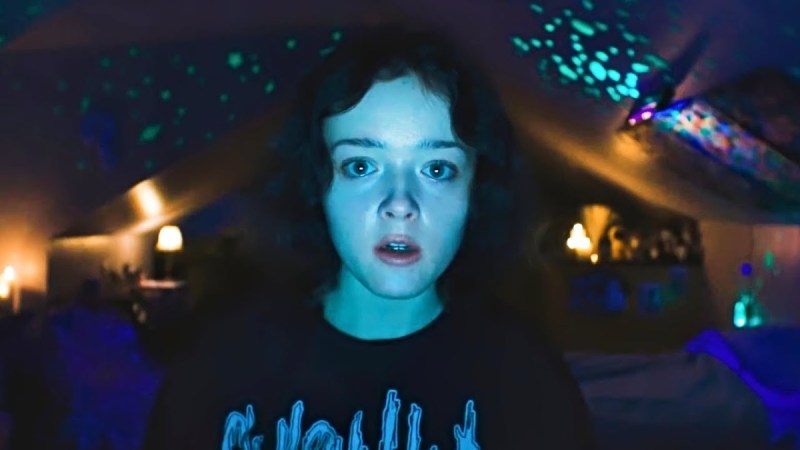 This movie is a true masterclass in slow-build horror and creating tension and stakes in really simple, borderline mundane ways. It's very atmospheric horror, and its effects will stick with you for a while. Not much happens, but that lack of action is an inherent part of the horror here. – KKU
Queer Horror To Stream on Prime Video
Jordan Peele's latest is somehow as audacious as it is funny and entertaining. Beyond its grand visual achievements, it is structurally inventive and thematically dense. Oh and it stars the one and only Keke Palmer getting to play her whole queer self. I'm still convinced we'll someday get a director's cut where she at the very least flirts with Barbie Ferreira's character but even in the theatrical release she is explicitly queer. It's not the point and yet in a movie partially about who is centered in film history and who is forgotten, this aspect of her character cannot be ignored. – Drew
Hellraiser
Gay author and filmmaker Clive Barker's kinky masterpiece launched a franchise, but there's nothing like the original. By finding the pleasure in pain and the pain in pleasure, Barker created a sticky queer world that's deeper than our cultural image of Pinhead. This is a film about forbidden desire and even today remains one of the most accomplished queer horror movies. It's great we now have more movies that go beyond subtext, but sometimes subtext is the best way to express a feeling. – Drew
Saint Maud
Writer/director Rose Glass has already shot a second feature starring Kristen Stewart that's set to be released early next year. So while we wait, check out her startling debut about a pious nurse with a secret who begins taking care of a hedonistic lesbian dancer. This is a very Catholic film about sinning and saving. It's definitely more interested in its titular character than the lesbian, but it can be fascinating to watch horror from the perspective of our villains. – Drew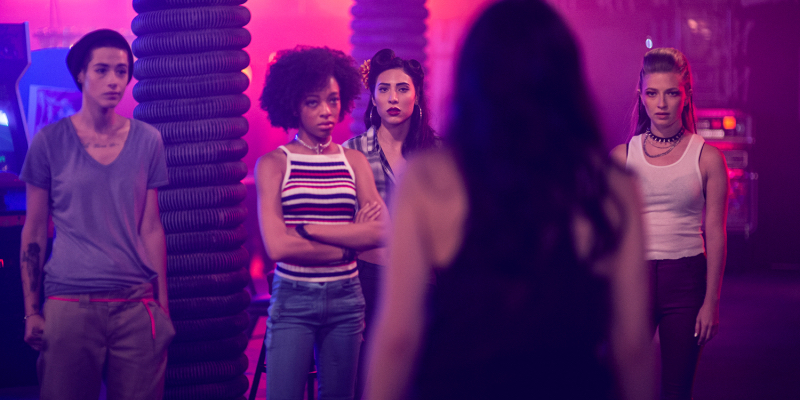 When this movie first came out, I was a big fan. It was just so rare to see a queer trans woman on-screen! And in a movie about separatist lesbian vampires starring Nicole Maines? What a joy! I do still like it, but as more media has been made about queer trans women, I've held onto this one a bit less. Some of its problems — in plotting and theme — feel more glaring. But hey! It's still a movie about lesbian separatist vampires that stars Nicole Maines. – Drew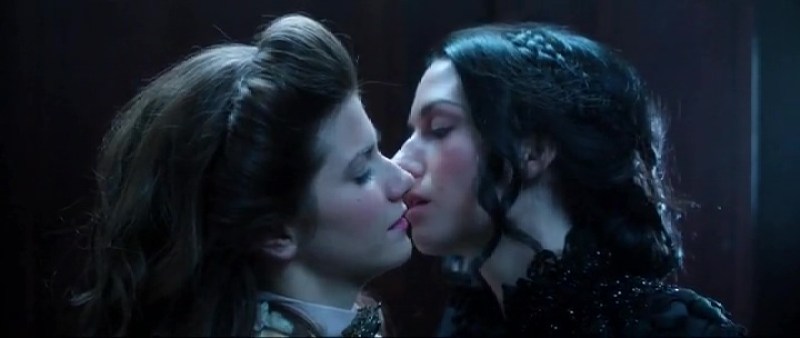 Based on the Canadian webseries, which was of course based on Joseph Sheridan Le Fanu's 1872 gothic novella Carmilla — often cited as the root of the everlasting lesbian vampire craze — The Carmilla Movie picks up five years after the webseries' ending with Carmilla and Laura living and loving in Toronto. They head to a mansion in Austria after Laura has some bad dreams that start impacting Carmilla's humanity, and various supernatural conflicts unfold, including ghosts and exes. It's a sexy, thrilling, sometimes funny vampire movie. – KKU
Queer Horror To Stream on Tubi
Knife + Heart
See description above.
Hellraiser
See description above.
The Other Side of the Underneath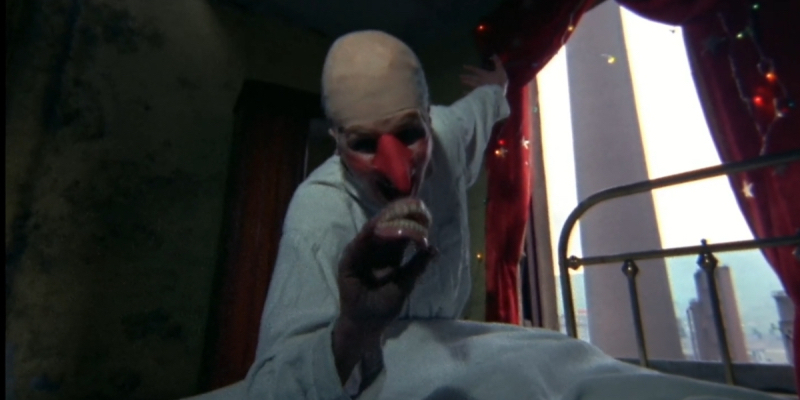 Based on her stage production, A New Communion for Freaks, Prophets, and Witches, Jane Arden's uncategorizable masterwork was number one on our list of the 25 Scariest Queer Horror Movie Moments. Far from your average scare fare, this film oscillates between the uncanny terror and joyful surrealism inspired by the headspace of its protagonist with schizophrenia. Arden herself struggled with mental illness and campaigned against the psychiatric treatments of her time. Those experiences are on full display here — the horror coming as much from the the protagonist's inner mental state. Equal parts queer magic, political fury, and arlecchino nightmare clowns, it's time this underground classic took its rightful place on the surface. – Drew
The Retreat (2020)
The monsters in the film are not mythical — they're militant homophobic serial killers targeting queer people. And the majority of the film with all its bloody torture and revenge is really well-done. It finds the perfect balance between being properly brutal and satisfyingly cathartic. The film follows some pretty standard beats but it does them well and it's exciting to get this kind of horror movie with queers at its center. – Drew
All Cheerleaders Die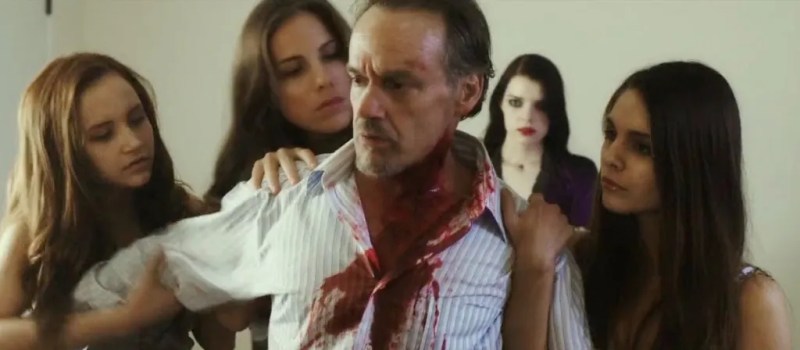 I find this movie about a group of cheerleaders who are turned into undead creatures who devour men for strength thanks to the witchy ex-girlfriend of one of the girls on the squad QUITE UNDERRATED. It even more explicitly fits the hyperspecific but very important to me subgenre of Queerleader Horror than Jennifer's Body, and queer actress Caitlin Stasey gives a great performance as the central queer character. And her toxic relationship with her ex is a compelling driving force for the mythology. – KKU
Queer Horror To Stream on Criterion:
Rebecca
If you watch Alfred Hitchcock's adaptation of Daphne du Maurier's classic novel as a love story between the mousy second Mrs. DeWinter and the older millionaire Maxime, then Mrs. Danvers is undoubtedly the villain. But if you watch the film as a love story between Mrs. Danvers and the late Rebecca, the villain becomes the murderous Maxime. Played by queer woman Judith Anderson, Mrs. Danvers is one of Hitchcock's greatest characters. He may have used queerness to other his villains but he let them be three-dimensional characters and, as a result, created some of the best queer characters in classic film. – Drew
Freaks
Many classic horror movies found the humanity in monstrous outsiders, but Tod Browning's follow up to Dracula turns its attention to real life outsiders. This is a really complicated and interesting movie in terms of disability, but it also includes a trans person in its cast of others. Real-life circus performer Josephine Joseph plays a version of herself. Here she portrays her transness by having the appearance of a "male" side and a "female" side, but she eventually had gender reassignment surgery and lived her life entirely as female. She is one of the earliest examples of a known trans person appearing on-screen.
Hausu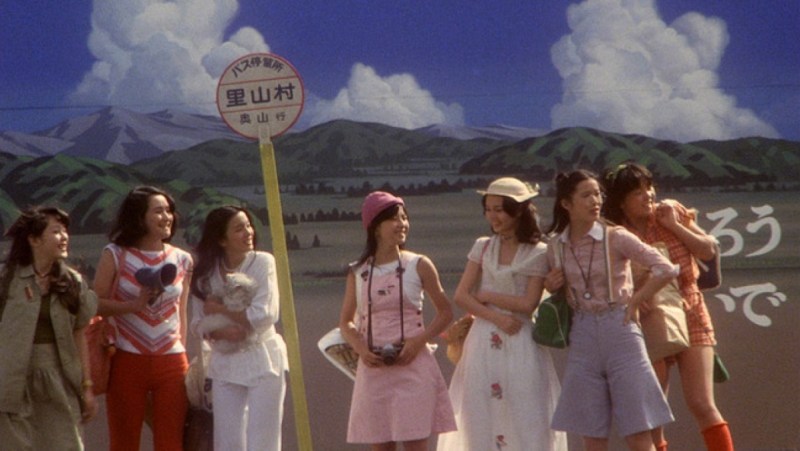 While not usually categorized as queer horror, this classic of Japanese cinema deserves a place on this list. It may explicitly be about girls who are trying to escape the expectations of heterosexual marriage, but you know what's a great way to do that? Being gay! The relationships between the girls feels so queer it becomes undeniable. Paired with the flamboyant style, it ends up feeling formally queer as well as in its story. I'm not sure if there's any proof that was intentional but just watch the movie and you'll see!
The Lure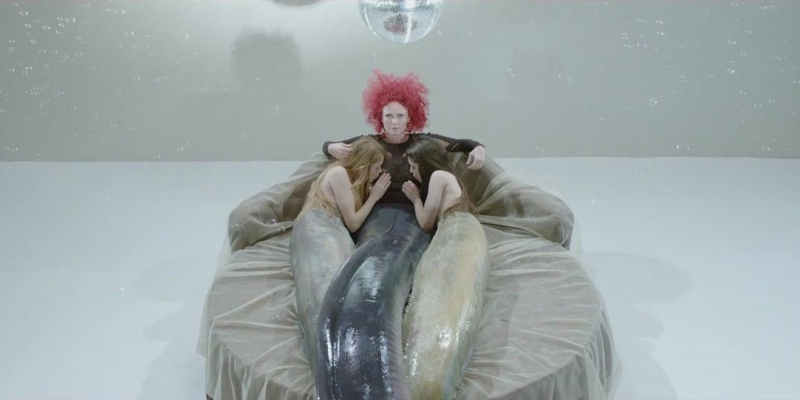 This genre-bending mermaid musical horror movie was likely not intended to be about a gay trans girl and her straight trans girl best friend. (Michalina Olszanska and Marta Mazurek who play the central mermaids, Gold and Silver, are both cis.) And yet with its literal bottom surgery and riff on The Little Mermaid — a trans girl favorite — it's no surprise that it's left such an impression on the community. But beyond this imposed subtext this is still a weird and wonderful work of queer cinema that includes a sung-through scene of lesbian fish sex that makes The Shape of Water look like Mr. Limpet. – Drew
The Old Dark House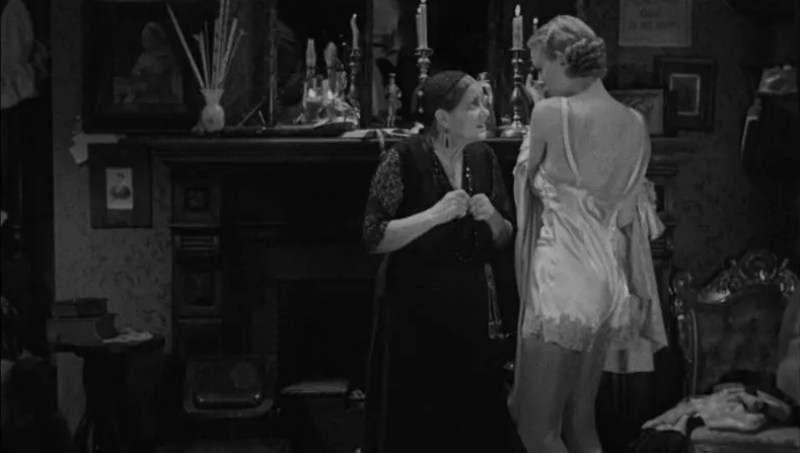 James Whale is best known for directing horror classics Frankenstein and The Invisible Man. But his queerest movie — and one of his best — is this quirky and hilarious hidden gem. Subtext comes right up to the edge of text in this one with one male character played by an actress in drag and some suggestive moments between two other women. It's also just so campy and formally queer! – Drew
The Short Films of Jennifer Reeder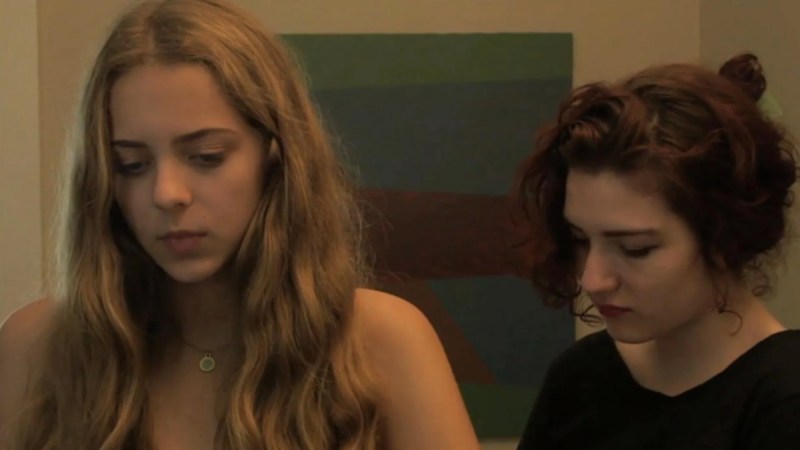 If you like Perpetrator, you can watch more of Jennifer Reeder's unique and horrifying body of work on The Criterion Channel! They have nine of her short films ranging in length between five minutes and a half hour. They also have an interview with Reeder about the films! – Drew
Queer Horror To Rent on Prime Video or Apple TV
The Haunting ($4.99 on Prime Video, $2.99 on Apple TV)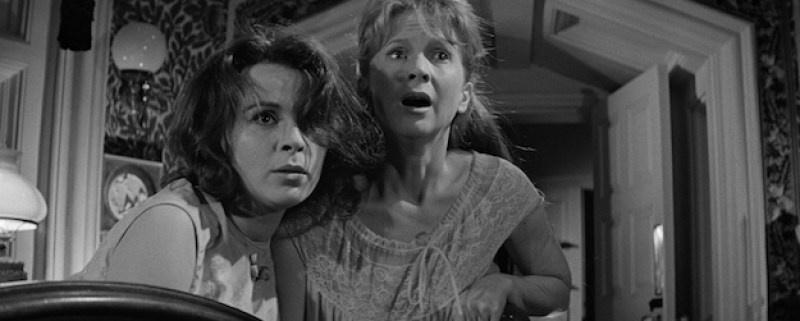 In this haunted house, we recognize the 1963 version of this movie and the 1963 version ONLY. You never really see anything terrifying in this movie — you hear it. And you see it in the eyes of the characters. Their fear becomes your fear. This movie really proves that all you need is good sound design and a talented ensemble cast to pull off horror. – KKU
I am quite literally always trying to get people to watch this genre Frankenstein of a movie. Body horror! Monster narrative! Tragic lesbian love story! Social commentary on class in Brazil! Domestic horror! Musical?! This movie really does have it all. With this one, I always think it's best if you go in knowing as few specifics as possible. Trust me, it's worth the rental price tag. – KKU
---