Welcome to Queer IRL, an Autostraddle community photo series that gathers little clips of lesbian, bisexual, queer and otherwise-identified women, trans and non-binary folks, just living our lives in 2017.
So far this year, we've showcased queers doing a number of cool and beautiful things, like standing in their kitchens, being outdoors, holding a goat, reading books, and taking vacations. This gallery you're about to stroll through is dedicated to queers celebrating, and it is GLORIOUS. We're thrilled to be sharing it on the first annual It's Great to Be Gay Day, while we celebrate just how wonderful it is to be our own gay selves! I hope you take some time to cheer yourself on today, and throw some confetti for your fellow queers. You're not straight, you're not boring, and you're definitely not without a reason to CELEBRATE.
---
Claire, Izzy, Ella, Julia / 15 and 16 / Chelsea, NYC / June 2015
"In retrospect, we all agree that this was a day out in New York celebrating the fact that we all owned backpacks, and that we'd become the future members of a gay group chat even though only one of us was out at the time."
---
Louisa / 21 / Graduation / Surrey, UK / 11th July 2017
"I graduated with a degree in English Literature this year! That was the second time that day I'd held that scepter. This chancellor man at my university spotted my kente cloth and asked if I was Ghanaian (I am). We got to talking and he let me hold the scepter as my class was waiting to graduate. I realised I was bisexual at university, just one of the reasons I'll treasure the memories of my time there."
---
Stuart, Tracey, Ashley, Max, Caroline, James / Celebrating Chewbacchus Parade / New Orleans, LA / Mardi Gras February 2017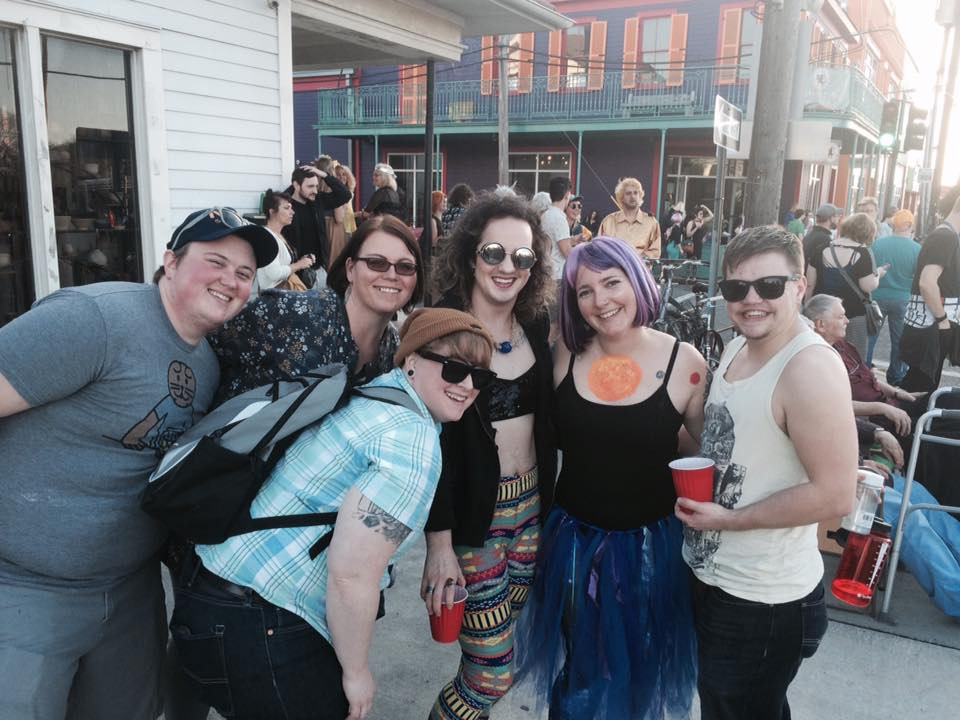 ---
Megan and Brenda / 24, 26 / WE GOT MARRIED! / Plymouth State University, Plymouth NH / July 29, 2017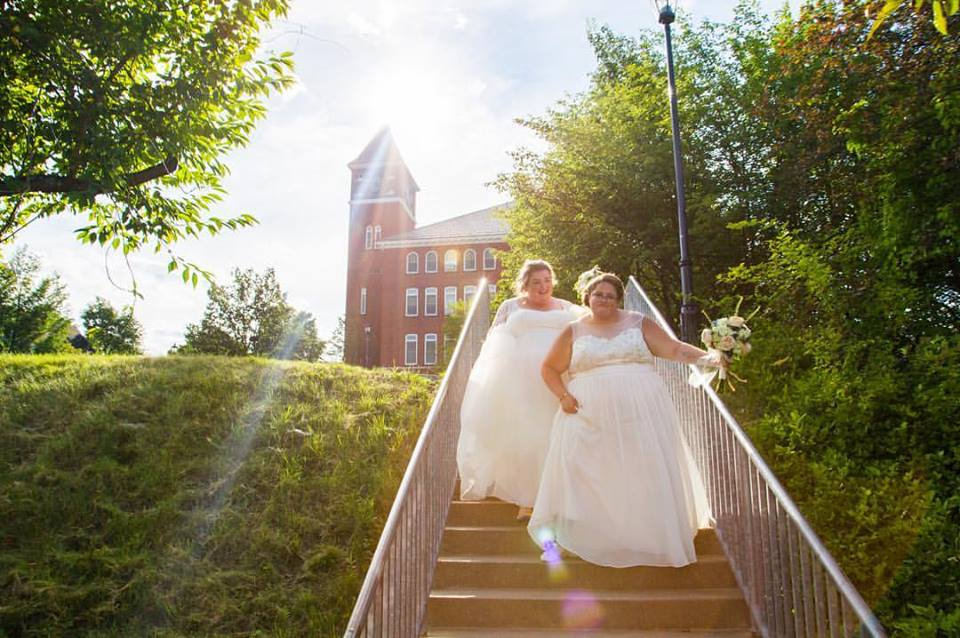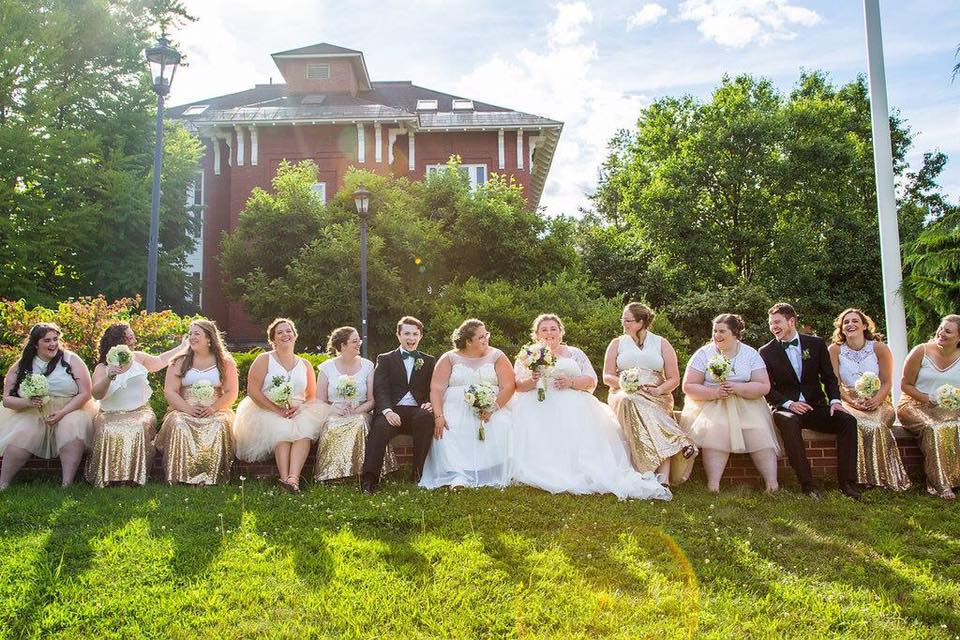 "These pictures were taken on our wedding day at Plymouth State University. Brenda and I are both alums of the college, and wanted to get hitched in the place we fell in love. We were blessed to be joined by our biological AND chosen families, and many many queer friends, relatives, mentors, and community members. I love these pictures because it shows off our beautiful campus, and are thankful beyond words for our (large) bridal parties. Photo cred to another PSU alum, Nina Weinstein Photography."
---
Tina, Julie, Phoebe / Tina and Julie's Wedding / The Mount Washington, Lake Winnipesaukee / June 6, 2009
"Julie and I had wanted to get married since the day we met at nun school in 2000. Feel free to insert any irreverent joke…we have heard and laughed at them all! On June 6, 2009 we had a Civil Union ceremony on The Mount Washington (the boat not the hill) on Lake Winnipesaukee. It was an amazing day. Our daughter, Phoebe, celebrated with us – rocking on the dance floor with her aunties and uncles until the wee hours of the morning. We received our free upgrade to a marriage certificate a few months later."
---
Little Mole (AKA Rous Rose), Fellow Animals, Narrator, Human Sound Effects Machine / 20, 22, 9, 27, 8 / Limburg, Belgium / 2017
"For my mother's birthday, a few (chosen) family members and I decided to create a stage adaptation of one of her favourite children's books: 'The Story of the Little Mole Who Went in Search of Whodunit'. The resulting theatrical masterpiece lasted four entire minutes and involved people playing many different parts (TatMas-ing, if you will), tripping over props, lots and lots of fake poop, George Clooney (played by yours truly), and one very delighted mother.
Weirdly enough, we never heard back from the Tonys."
---
Mary and Ellie / We Eloped! / Charlottesville, Virginia / May 2017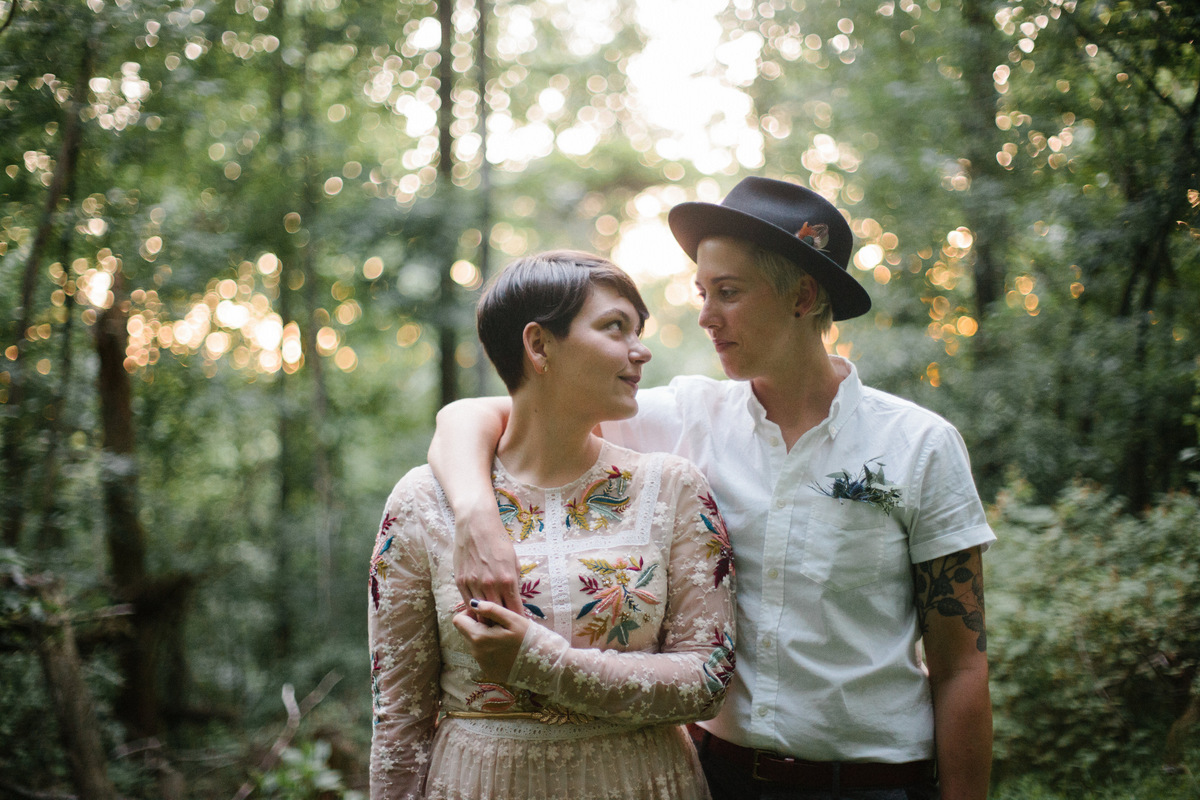 "We went into the woods and cast a queer wedding spell with poetry, rings, and our sweet pups Wulfe and Nigel."
---
Abbie, Cassidy, Garrett, Megan, Brenda, Eli, Katie / Megan and Brenda's Wedding / Plymouth, NH / July 29th, 2017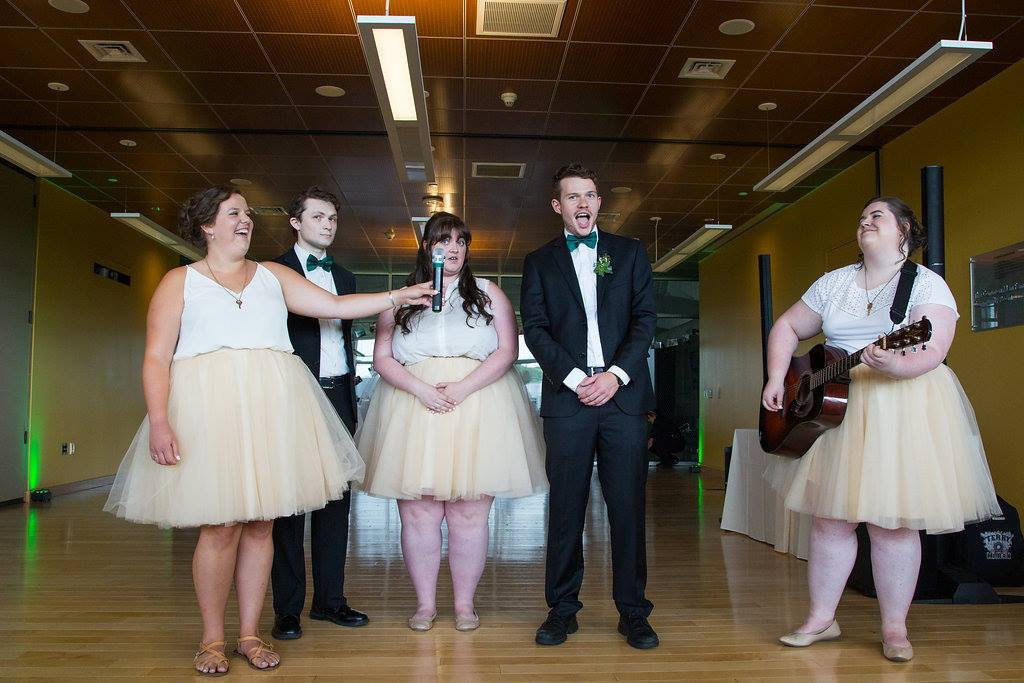 "Megan and Brenda's wedding was perfect, fun, and full of so much love. There were many highlights of the whole wedding weekend (Golf carts! My mom doing choreography from RuPaul's Drag Race on the dance floor! Dabbing!) but the best part for me was getting to be in Megan's super queer bridal party. The five of us (two queer boys, two queer girls, and one token straight woman) have been best friends with Megan for so long we're basically family. I'm so happy she had us by her side when we welcomed her wife Brenda into our little family. Also peep us singing Ingrid Michaelson's "You And I" at the reception featuring me with my guitar looking like I'm gonna play the next Lilith Fair. Photo Credit: Nina Weinstein Photography."
---
Clara and Rebecca / 27, 28 / Getting Engaged / Stockholm Sweden / June 5, 2017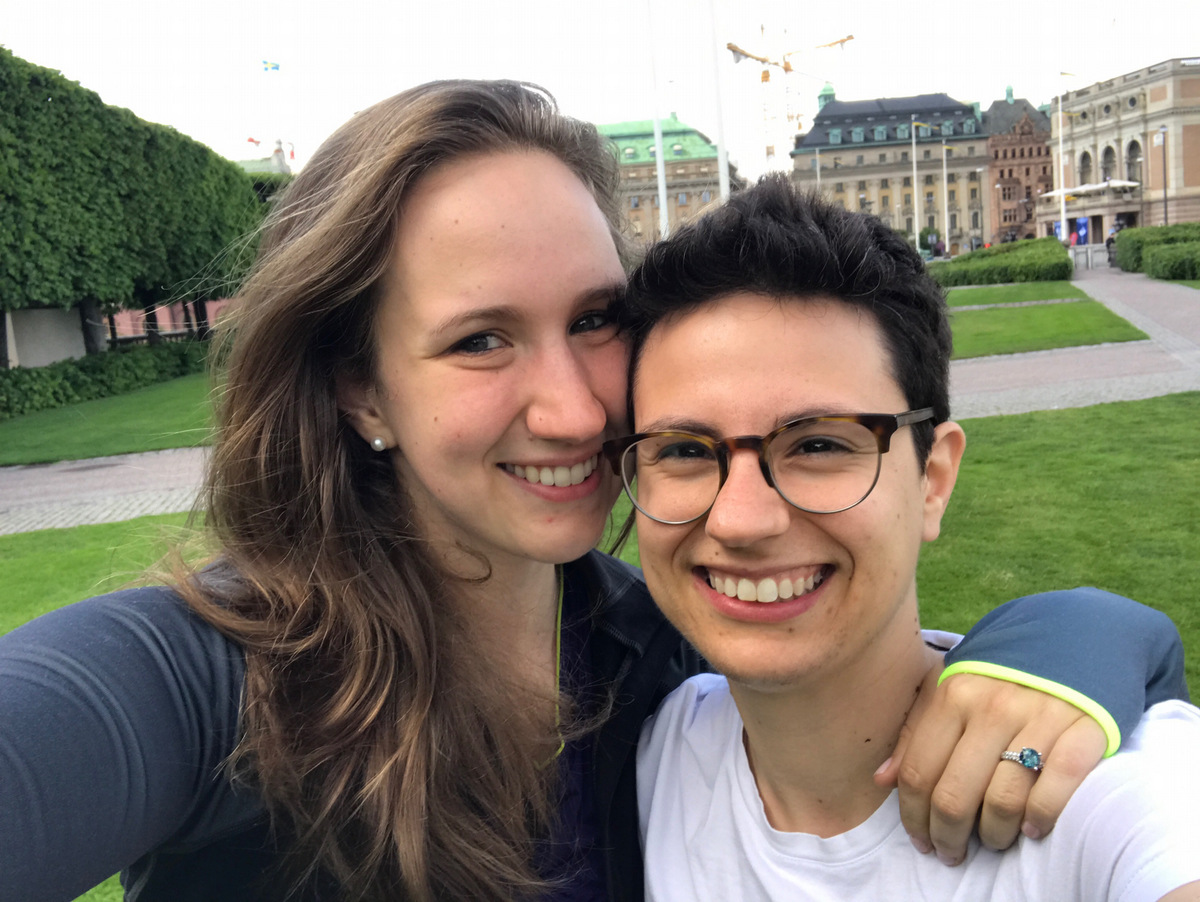 ---
Misha, Emily, Ashlynn, Liz, and Emilie / Master's Degree Capstone Presentation Celebration / Washington, DC / 2016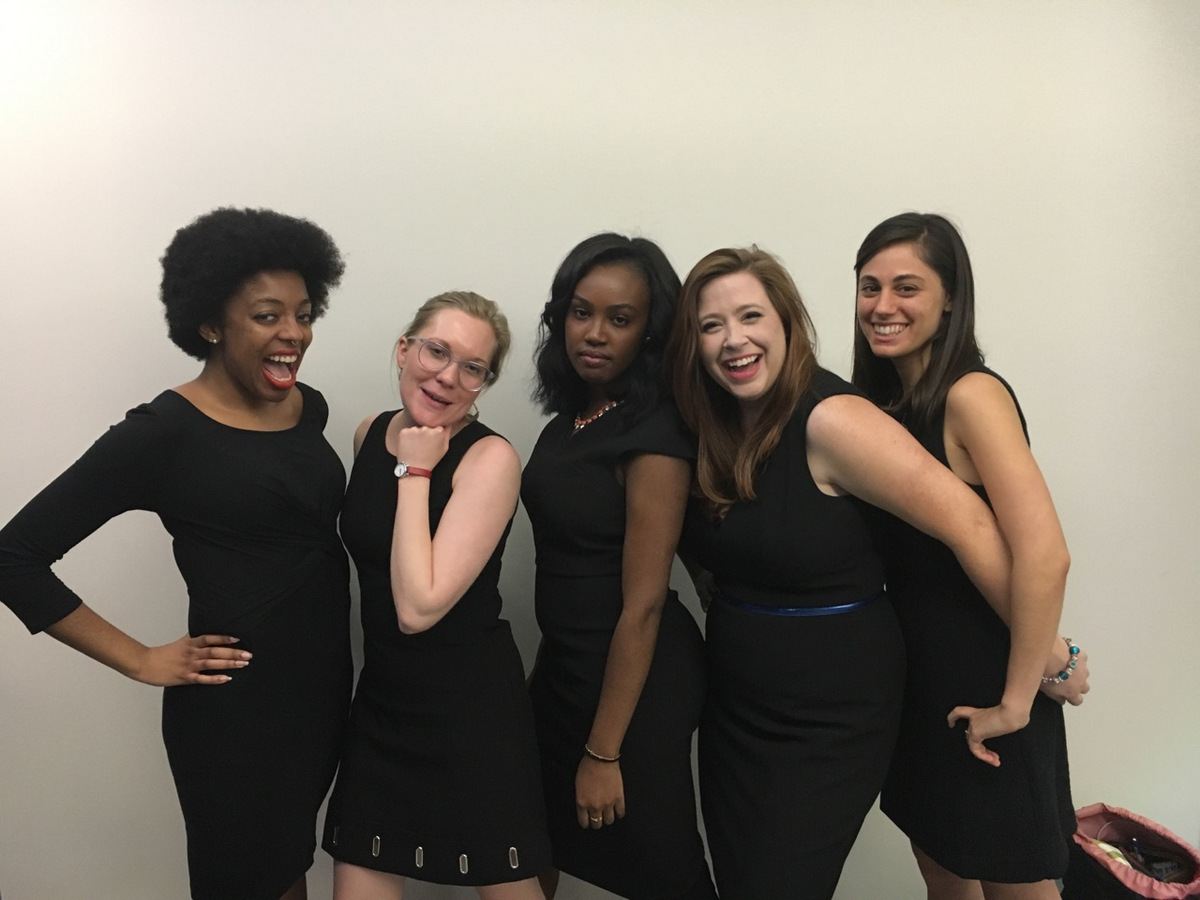 "This is our capstone group from graduate school, #TeamSpiceGirls. For the last hurdle to completing our master's degrees in public policy and public administration, we had to present our capstone to professors and our cohort. This photo was taken after our presentation (which we rocked) so we went and got drinks to celebrate. The real party started when we decided to replicate a photo of the "real" Spice Girls. Our outfits are a little more modest, but the essence of the photo is spot on (I think)."
Pages: 1 2 3 4 5 6 7 8 9See entire article on one page