Hello welcome to the first annual IT'S GREAT TO BE GAY DAY, a new international holiday we invented two weeks ago and are delighted to celebrate with you all on November 8th, a date that celebrates the one-year anniversary of me chain-smoking for two hours for no particular reason even though I don't actually smoke in real life. It's also my (Riese) mother's birthday, so, happy birthday Mom, I hope you're as glad to be gay as we are!
A lot of LGBT holidays are about raising awareness regarding the various struggles we struggle, but this one is about making ourselves feel good about ourselves despite aforementioned struggles. Today we celebrate all the reasons it's actually kinda cool to be gay, lesbian, queer, bisexual, non-binary, trans, any part of the LGBTQ+ family or, you know, straight & single! JUST KIDDING ABOUT THAT LAST ONE HAHAHAHAA. Straight people this isn't Pride, you're not invited to our party. (But we do appreciate your supportive allyship and take donations!) According to your various privileges or lacks thereof, where you live, your identities, relationships, and so forth, this past year has probably ranged in quality for you from "unsettling" to "genuinely apocalyptic," and today we just wanna be happy for a minute together. Plus, we got some good news from various state elections yesterday and that's great too!
We're celebrating by offering 20% off in the Autostraddle Merch Store with code GR82BGAY and! A free sticker with every order. You can pick which of these stickers you'd most like to slap on your butt / surface / puppy or whatever to celebrate how great you are most of the time.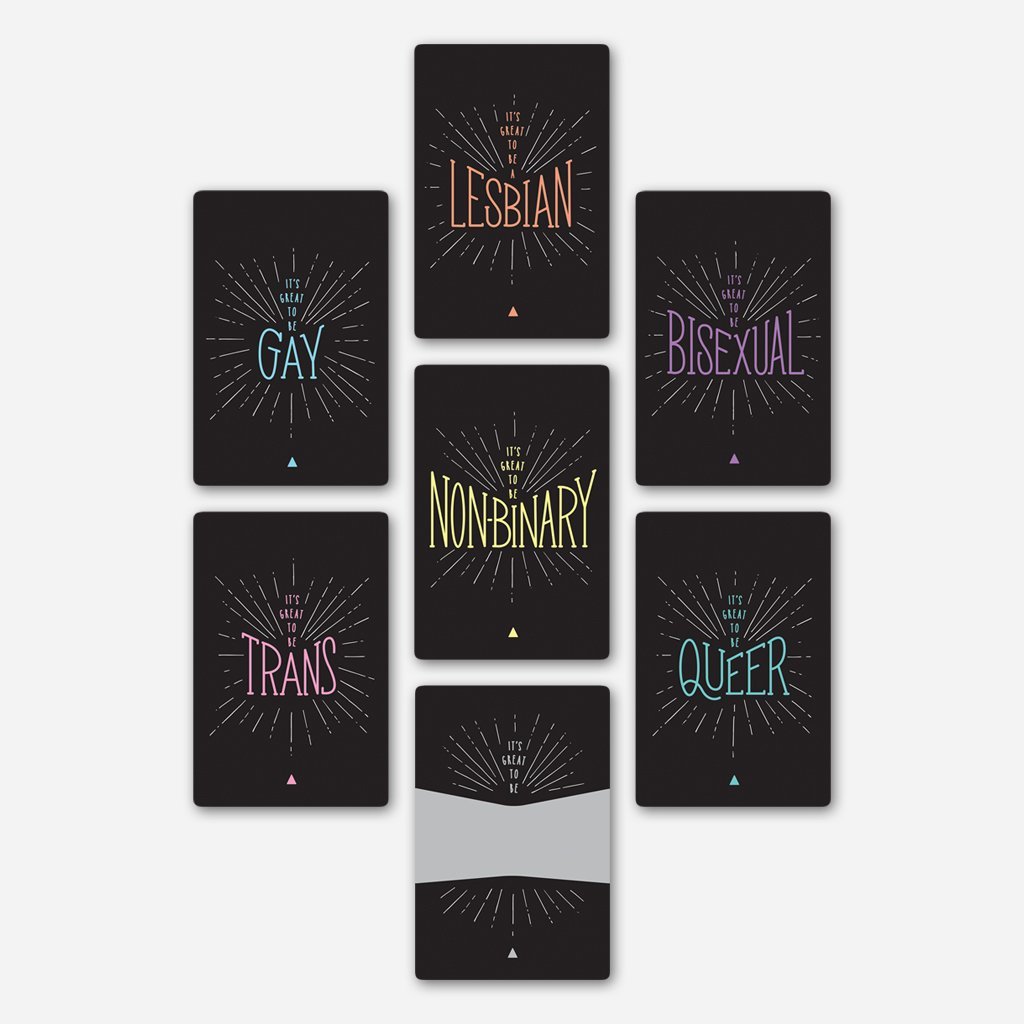 We're gonna kick off by telling you why we think it's great to be whatever we are. Most of our staff took this assignment pretty literally and spoke about being "gay" specifically, even though we represent, as a group, an intentionally diverse array of LGBTQ+ identities, I PROMISE. Also we invite you in the comments to speak about whatever part of the LGBTQ+ rainbow you're pleased to be part of.
A big thank you to Vanessa, who as of November 2017 and after an extended hiatus, has officially returned to the post she created in 2012, Community/Straddleverse Editor, for putting this roundtable together. Also to Sarah Sarwar for making us look so good all the time with her graphic arts!
---
Vanessa Friedman, Community Editor
Hello my name is Vanessa and I love being gay. We have the best sad babes playing guitar, we're really good at making zines and collages, and we have super cute clothes. We also have amazing sex. And we have Autostraddle! Frankly, I have no idea why anyone is straight anymore — I'm so glad I'm not.
---
Lucy Hallowell, Contributor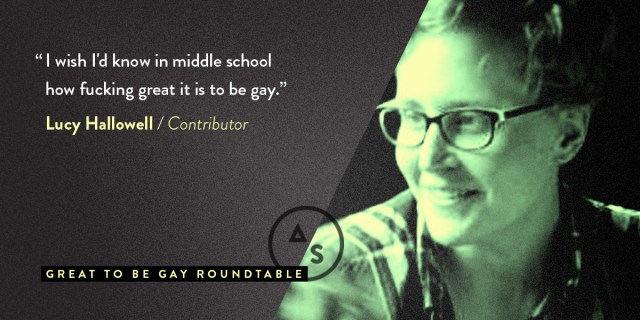 I wish I'd know in middle school how fucking great it is to be gay. It would've saved so much angst. I love the freedom of being gay. I married a woman and made a family with her so the "normal" rules are totally out the window. It's really freeing. Also, she's just so damn beautiful and smart and funny I can't believe I am lucky enough to be her wife. None of which would be possible without being gay. Other great things include the kissing and the sex.
---
Alaina Monts, Staff Writer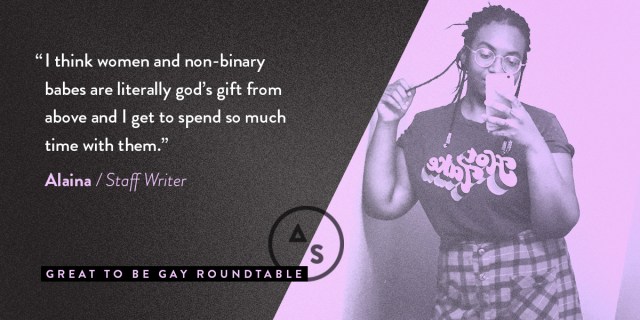 I love being queer/bisexual (#binotbinary) because I think men are awful and it's a pointed excuse to never interact with them on purpose. On the same note, I think women and non-binary babes are literally god's gift from above and I get to spend so much time with them. Like at A-Camp for instance, my favorite five day fever dream every single year.
---
Erin Sullivan, Staff Writer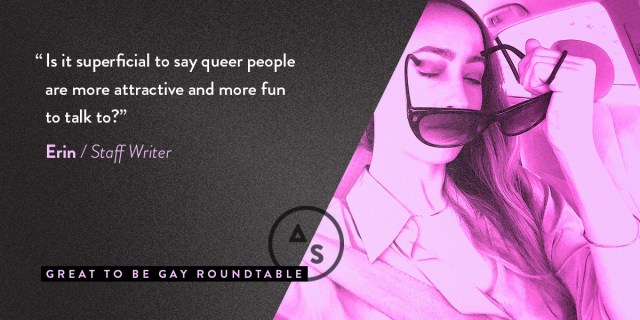 Is it superficial to say queer people are more attractive and more fun to talk to? Probably, but it's true, and are two of the reasons being gay rocks.
---
Heather Hogan, Senior Editor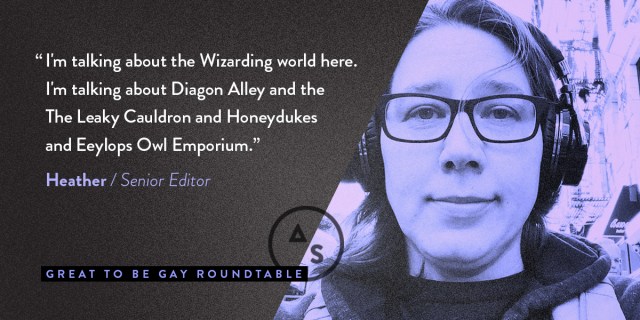 It feels so weird to think I was ever closeted or tortured about being gay. I think the pitch for being gay should include more than just the part where you get to kiss girls. I mean, yes, that part is very, very good. But that's really just the tip of the iceberg of benefits available to you when you come out. You get to be part of this whole other world. And I don't mean an inferior world like the one Ariel absconded to for the most boring Disney prince in history. I'm talking about the Wizarding world here. I'm talking about Diagon Alley and the The Leaky Cauldron and Honeydukes and Eeylops Owl Emporium. You know how wizards who have been wizards for a long time are truly bamboozled by the Muggle world? Like they don't even know how to dress for it, just out there in London in some fishing waders, a fleece pullover, and a hat shaped like a chicken? If you are gay and you play your cards right you could get that out of touch with the patriarchy and compulsory heterosexuality! I love being gay because I get to spend every day and night with my best friend. And I love being gay because it means I get to work at Autostraddle. And I love being gay because it was like getting an actual letter to Hogwarts School of Witchcraft and Misandry.
---
Molly Priddy, Staff Writer
Being gay is like winning the lottery — you're kind of like "wow i guess!" and other people are like, "I have requests of you now!" Those requests are mostly explaining things that you probably don't have anything to do with, like pride parades in Seattle in the 1990s that scared your mom. Anyway, otherwise, it's awesome! You're already removed from the mainstream by mere virtue of being who you are, the community building is rad. Chosen families are amazing. And, I mean, have you seen women? Wow. Wow, indeed.
---
Alexis Smithers, Staff Writer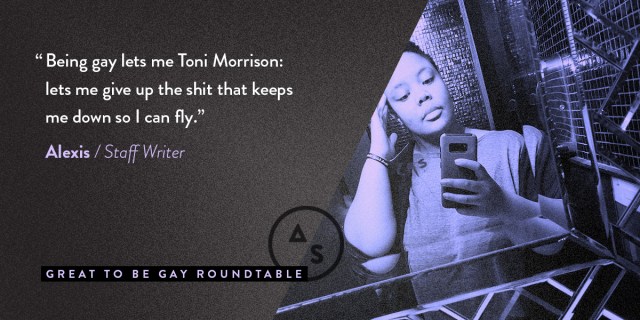 Being gay and nonbinary is the bee's knees, the cat's pajamas, and super dope, ya dig? I mean, not having to be around men any more than strictly necessary? And not even taking all their shit as the end all be all? That shit is nothing less than a dream come true. And when people say, what's your gender? I can give a different answer every time! And it's still right! Because no matter what my gender or nongender or all gender is, I'm always me! I'm a constant! For your shaky boi that's afuckingmazing.
Really, community is one of the best things about being gay. Every time I've gone to a QTPOC space, I instantly feel safer. Just knowing that I don't have to worry about whether or not someone's gonna hurt me just because I'm me is a weight I never know is too much to carry until I get a chance to set it down. Being gay lets me Toni Morrison: lets me give up the shit that keeps me down so I can fly.
Best of all, I can sing: "All I need in this world of sin is me and my girlfriend" so the world can know that I don't really need to fuck with it as long as it keeps doing dumb shit. Really, the list goes on and on.
---
Tiara, Staff Writer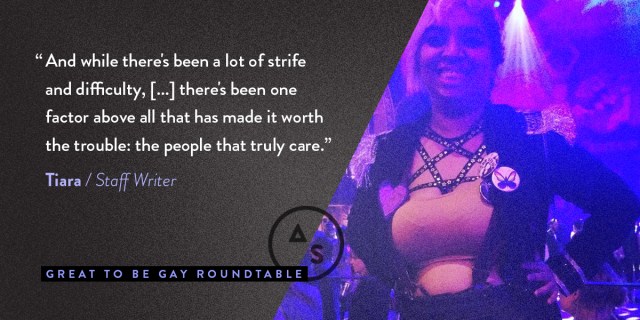 Honestly? Sometimes it can be hard to feel happy about being queer, especially when it upended my sense of self once I really came to terms with it. What was I risking of my life by embracing my queerness? Who would not believe me, and who would not accept me? What else could I be wrong about, what else do I not know about myself?
And while there's been a lot of strife and difficulty, from within and outside the 'queer community', there's been one factor above all that has made it worth the trouble: the people that truly care. The friends and family (some bio, mostly chosen) that accept me and love me for who they are. My Safety Team, a group of some of the most important people in my life. Creative collaborators and partners in crime, many of whom are also some flavour queer, making magic together. People who read my cries of loneliness in a city I had just moved to during the aftermath of Pulse and reached out to me to hang out or introduce me to new people — which then led to being introduced to more new people to hang out with — which then led to a series of life changes I couldn't have begun to imagine before.
Sometimes I rue about being queer, and then I remember the people that love me, no matter how much or little they know me, and I feel a little better about it all.
---
Rachel Kincaid, Managing Editor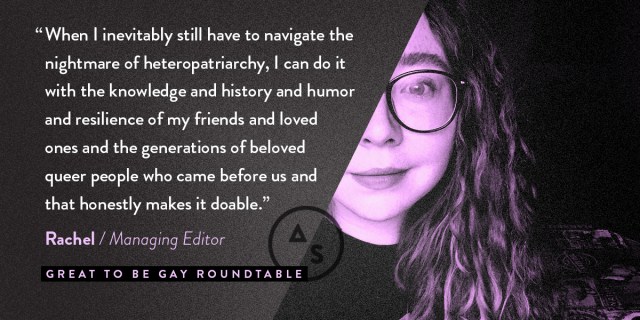 There is very rarely a day that goes by when I don't think to myself "god I'm so glad I'm not straight." We are so funny and so resourceful and so fun and so often so compassionate to one another! When I look back at the hardest times of my life it's always been other queer people there getting me through it and lifting me up, and the happiest times of my life have basically all been with you all too. Being queer is the best thing that's ever happened to me; I can't imagine my life otherwise and it makes me sad to think about it. When I inevitably still have to navigate the nightmare of heteropatriarchy, I can do it with the knowledge and history and humor and resilience of my friends and loved ones and the generations of beloved queer people who came before us and that honestly makes it doable. Also we're all so hot! Jesus Christ. It's like looking directly at the sun. Lord help me.
---
Mey Rude, Trans Editor
I love being gay because it means I'm better dressed than other people. I have great taste and an eye for fashion and art. I'm a culture maker. Also it means I get to be as gay as I want to be. I can talk about musicals and men's fashion and listen to sad music and use the hanky code and look at art and watch movies with attractive people in nice clothes. Probably my favorite thing, though, about being gay is that I get to hang out with other gay people. I have a family full of wonderful gay people who are extremely gay and love me and I love them and we all get to be our gayest, truest selves and help each other be even more gay. In a world where everything is supposed to be ironic and overly-serious and pessimistic and selfish, I get a community that's about the opposite of all that.
---
Heather Davidson, Contributor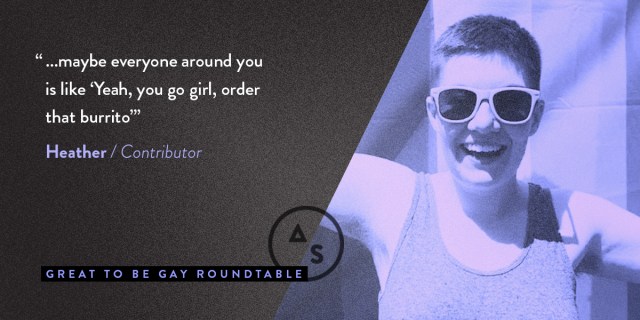 Being gay is brilliant, it's like walking into Starbucks one day and realising you really want a burrito and maybe everyone around you is like "Yeah, you go girl, order that burrito" or maybe they're like "WTF, you can't order a burrito in Starbucks, what's wrong with you", but you order the burrito anyway and they bring it out and it's the best dang burrito you've ever had. And you look around while you're tucking into your burrito and you notice that even though you always thought everyone only drank coffee in Starbucks, there's a cute girl sat in the corner who's also eating a burrito. You smile at her and she smiles back, and you know that even if everyone expects you to order coffee, there's a whole wide world of Mexican food waiting for you.
---
Carmen Phillips, Staff Writer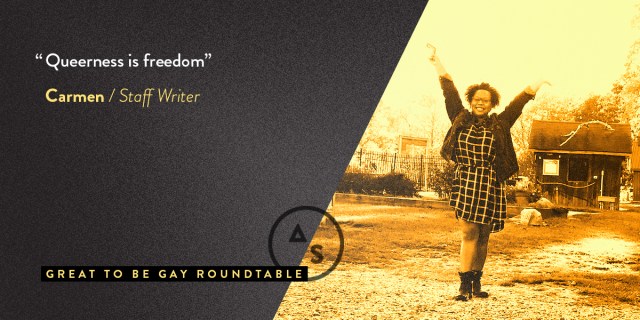 Here's the thing I would have never guessed about being gay when I was closeted: I am more myself now than I ever was before. When I describe my coming out process, I almost never use the actual words "coming out". Instead, I say "coming in" — "coming into myself", "coming in to my community". For as long as I can remember, I've been filled with self-doubt. I always felt just little bit different from everyone around me; I couldn't put a finger on why. My fingers reached and reached, but it was just beyond my grasp. Once I figured out that the amorphous feeling was queerness, I ran from it. I shoved it as deep down as I could.
I want to leave you with this from the writer Anaïs Nin. I had it glued to my bedroom mirror for years in my baby gayhood:
"The day came when the risk to remain tight in a bud was more painful than the risk it took to blossom."
The very best thing about being gay is finally letting go of that tight, anxious, pain. Queerness is freedom
(Also, I hate most men. Girls are hot. And their lips are soft.)
---
Kayla Kumari Upadhyaya, Staff Writer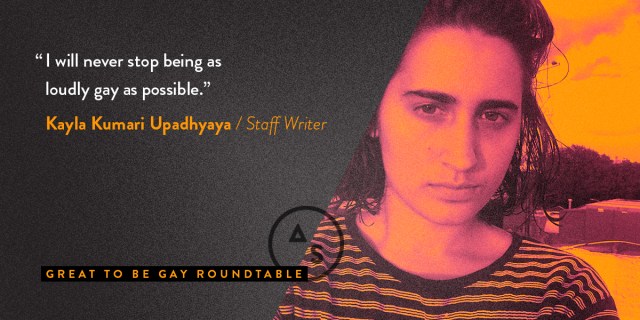 Every once in awhile, I'll tweet something very to-the-point like "I'M GAY!!!!!" You see, after over two decades of not being able to say those words to myself or others, I now like shouting them from rooftops. I genuinely love being gay, and it took me a while to get here, so I will never stop being as loudly gay as possible. The only thing I love more than being gay is being surrounded by other people who also love being gay. Queer joy is THE BEST!
---
Riese, Editor-in-Chief
Well, I love being gay and having a gay job 'cause it means I almost never have to interact with straight cis men, which is a stark departure from my entire life before becoming a Professional Internet Lesbian. I'm surrounded by super-great lesbian & queer & bi women and non-binary people, and they're fun and hungry and brave. I love the body-positivity and generosity and compassion and I like girls' hands. I love our history and the way we've built spaces and communities outside of the hetero-normative patriarchy for so long that it's like we're our own little study in "what can be done out here without the menz." I know this is kinda f*cked up but it also makes us so interesting — like every lesbian, bisexual, queer, non-binary and/or trans person has been through something hard, and that something hard is figuring out who we are and what to do about it, and that makes us tougher and more complicated. It's my favorite secret club.
---
Laura Mandanas, Staff Writer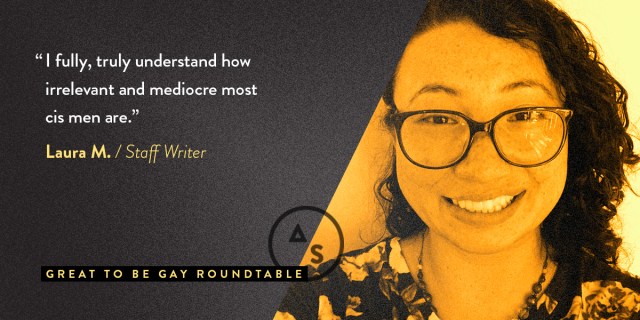 Probably the best thing about being gay is that I fully, truly understand how irrelevant and mediocre most cis men are.
Also: vegetables are delicious, and I feel like queers just GET THAT way more than straight people.
---
Valerie Anne, TV Writer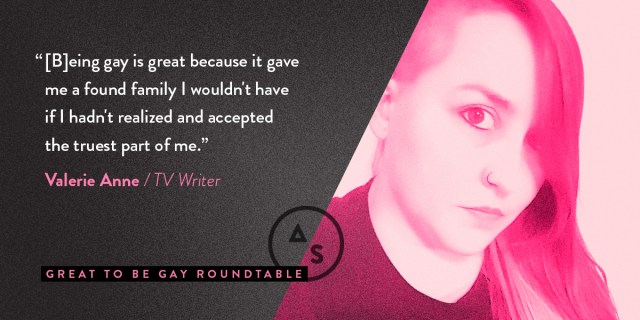 One time in college, a professor asked us to write down words or phrases that would finish the statement, "I am…" and all I could come up with was my name and my relationship to others (daughter, sister, friend), etc. I had no idea who or what I was. Flash forward a few years (okay fine almost a decade) and I have a lot more to say. I am resilient. I am a writer. I am queer. And that last one is so important to me, because being queer is more than just an identity for me, it's a community. It's the friends who get me more than anyone has before, it's the stories we can shout about, the inside jokes we share. For me, being gay is great because it gave me a found family I wouldn't have if I hadn't realized and accepted the truest part of me.
---
Faith Choyce, Contributor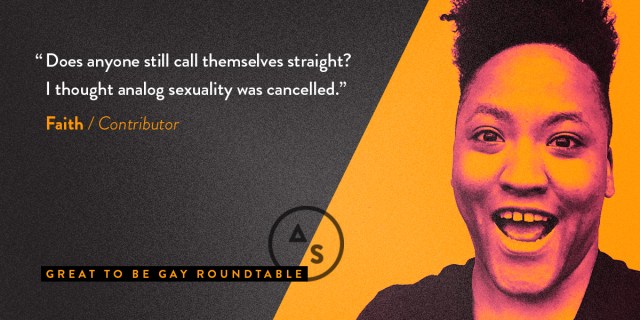 Does anyone still call themselves straight? I thought analog sexuality was cancelled. Anyway, all of the best food, art, music, and sex I've ever consumed or been consumed by has been made with love by the queerest of beings.
---
Dufrau, Contributor
At the risk of sounding silly, queerness to me feels like I'm at all times surrounded and supported by an army of the entire past present and future of queers, fueled in equal parts by not giving any fucks and by caring absolutely about absolutely everything. Among all the obvious ways this is the best and most powerful feeling in the world, it is also just hot as heck.
---
Jenna Lykes, Contributor
I went to a straight wedding this weekend and, while it was perfectly lovely, it made me happier than ever to be queer. I love the freedom to totally fuck off from traditional gender roles (and other heteronormative bullshit) and just do what feels right. We get to make our own rules and create our own happiness, however we choose to define it. I love the queer life I've built.
---
Chloe Stevens, Intern
The best thing about being gay is the chosen fam that I get to have. I wouldn't give it up for anything. Also, kissing girls.
---
Nora Whelan, Fashion & Beauty Editor
Being queer is kind of magical — our critical thinking about societal expectations, our exciting, inventive sex (how long did it take me to figure out penetration isn't everything?!), our productive rage and thoroughly human tenderness, the incredible well of creativity within many of us. Queerness is radical in multiple senses of the word, and I feel ridiculously lucky to get to be a part of it all.
---
Carrie Wade, Staff Writer
When I first came out it was more an act of resignation than celebration — "Well, guess this isn't going away, so I might as well deal with it." Now I'm like WOW, did I ever luck out. Queer people are just more interesting to talk to and have better things to say and stronger fashion sense and friendlier community than straight people ever could, congratulations everyone. As a weird person in a weird body I feel incredibly fortunate to have found this world and to be part of it. We are a superior species.
---
Reneice Charles, Staff Writer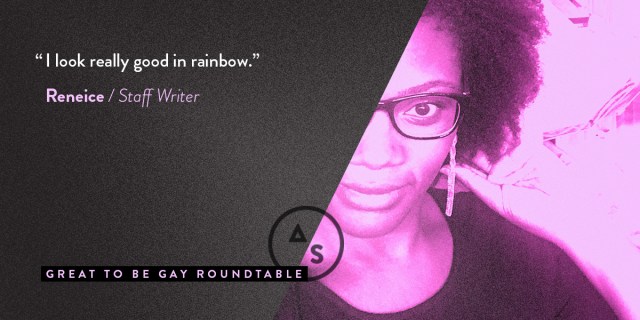 I love being gay because all the things I love that make me a nerd in straight world make me a cool nerd in gay world. Also I look really good in rainbow.
---
KaeLyn Rich, Staff Writer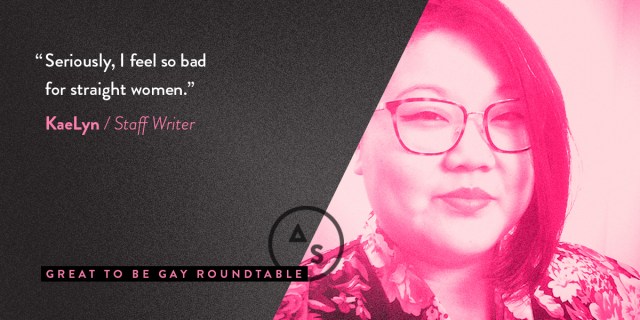 Sexual orientation isn't a choice, but if it was a choice, I'd choose being queer over and over and over again. Seriously, I feel so bad for straight women. Their lives are so scripted and mundane and only made interesting through an instagram filter. Our lives are the damn instagram filter. We queer everything we touch: family, fashion, babies, sex, art, butts. Straight people wish they could have our vibrant, rainbow-AF lives.
Queer life is like playing the duck game at the county fair—you can pick any duck you want and every duck is a winner! There are no hard and fast rules. Just pick the duck! Pick two ducks if you want! Straight women are stuck trying to nab a non-shitty straight husband at the ring toss of sexual frustration. Godspeed, ladies.
---
Yvonne Marquez, Senior Editor
I'm truly blessed to be gay! My world is queer normative by the nature of my job and honestly when I remember that the actual world is not queer normative, it makes everything dim. Queers throw the best parties and make the best art and write the best words. We care for each other fiercely and are resilient as fuck and we are definitely way hotter. I love being gay because I get to call these brilliant and vibrant queers my friends and family.
---
Raquel Breternitz, Staff Writer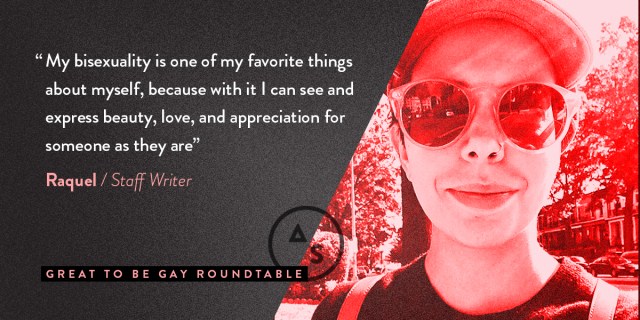 Being gay may have saved my life.
It taught me that when family doesn't feel the way you know it should, you can make your own, and you can find it in a community of people who see you, see your pain, and see your beauty, all as shimmering mirrors of their own.
My bisexuality is one of my favorite things about myself, because with it I can see and express beauty, love, and appreciation for someone as they are, because of who they are and all the myriad beautiful things that make up the singular individual standing in front of me. Not for who they should be, or who I think they are, or who they are to me.
My queerness taught me that my worth isn't centered around how I can serve god, men, marriage, society, the patriarchy, or anyone but myself and the people I love. It taught me to flaunt the rules and make my own. It taught me that the love I felt was not evil, and that loving myself isn't evil either.
To queer something is to change it into something better and greater than it was, something that subverts and upends toxic structures. It sets us free to change what hurts us and see and fight for what's right above what's always been done that way. I couldn't think of a better way to be.
---
Sarah Sarwar, Business + Design Director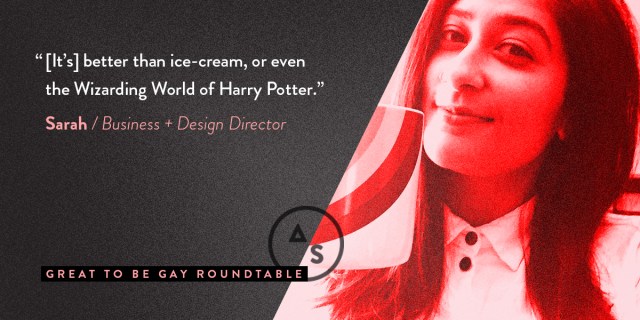 I adore being gay for so many reasons but probably the number one reason is that making a girl come is literally one of the best things in the entire world. Like better than ice-cream, or even the Wizarding World of Harry Potter. Is that too much? I'm sorry, it's just true.
---
Audrey White, Writer
Being queer is one of the things I love most about myself because it is a thread that ties my loves, my stories, my swagger and my struggle together. Being bi makes me feel most connected to a magnificent history and community whose legacy I inherit and live out. Being genderqueer helps my brain work when almost nothing else ever has. And all of these things mean I look better in hats that str8 people do, that's just science.
---
Laneia, Executive Editor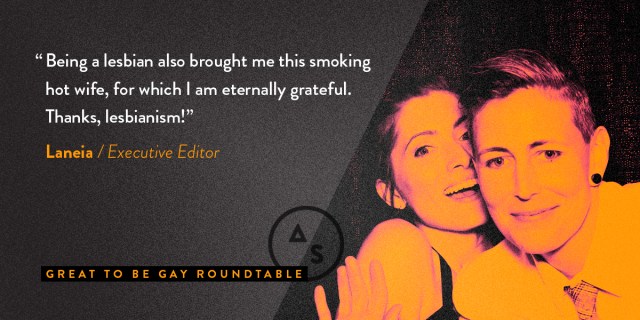 I could talk about how queer people are superior to straight people because of our personal reckonings and will to not only survive but also thrive and make the world a better, safer place for everyone, but you already know all that! I love that my gayness gave me a path to this weird-ass beautiful chosen family that sometimes drives me insane but mostly gives me a reason to keep on living. Being a lesbian also brought me this smoking hot wife, for which I am eternally grateful. Thanks, lesbianism!
---
Isn't being gay grand?! Tell us in the comments why you love being gay / lesbian/ bi / queer / pan / trans / non-binary / asexual / any part of the LGBTQ+ family!
We love you, and we're so glad you're here. In honor of It's Great To Be Gay Day, we've got an awesome sale going on at the Autostraddle Store! You get 20% off everything and a free sticker with every purchase, from November 8th to November 12th!
God damn, it's great to be gay.
---
This thread is devoted to celebration! Any comments that are complaints, various disappointments with Autostraddle's resplendent inadequacies, combative, mean or trying to start shit will be deleted because NOT TODAY, NOT ON REX MANNING DAY. Today, November 8th, the "Your Complaints With Autostraddle" comment box is closed. Just for one day! It will re-open tomorrow, or you can just e-mail us your complaint instead of commenting. Thank you!
SaveSave