Welcome to Queer IRL, a monthly Autostraddle community photo series that gathers little clips of lesbian, bisexual, queer and otherwise-identified women, trans and non-binary folks, just living our lives in 2017.
Let me tell you a little something about yourself: you have really, really been looking forward to this gallery. Since like, January. Over 225 of you rolled up into my inbox with your furry/feather/gilled/planted pals! That's so many. In fact, this is our largest gallery to date!
If you're even barely considering adopting a new pet friend of your very own, I have to warn you: this gallery will for sure put you over the edge. Proceed with extreme caution.
Ok it's time for pets!! Place a bet: how many goats do you think are in here?
---
Ariana and Archer / 25, 6 / Our Apartment in Los Angeles, CA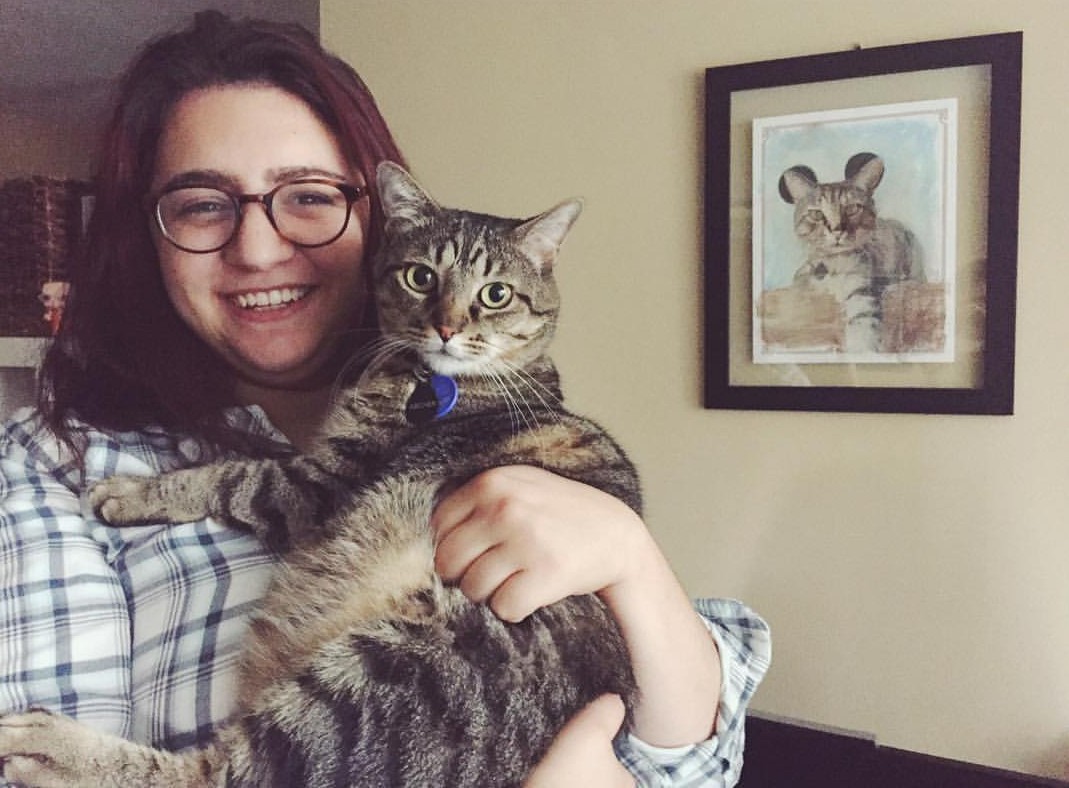 "I adopted Archer from the South LA Animal shelter in 2013. He was the derpiest looking cat I'd ever seen. He was so friendly and chose me. We've been inseparable every since. I say inseparable because he was most likely abandoned as a kitten and has separation anxiety…he needs to always be near me or touching me. I named him Archer because like Sterling Archer (from FX's Archer) he's a loud-mouth ladies man that is also a mama's boy! He's been there for me through a lot – death of a family member, moving, break-ups, new jobs – but he still manages to brighten my day with cuddles and quacks (his meow is so deep and raspy it sounds like a quack!) This photo is us in front of the portrait I got of him a Disneyland which you can apparently do if you bring in a photo."
---
Liz and Harper / 32, 5 / Los Angeles, CA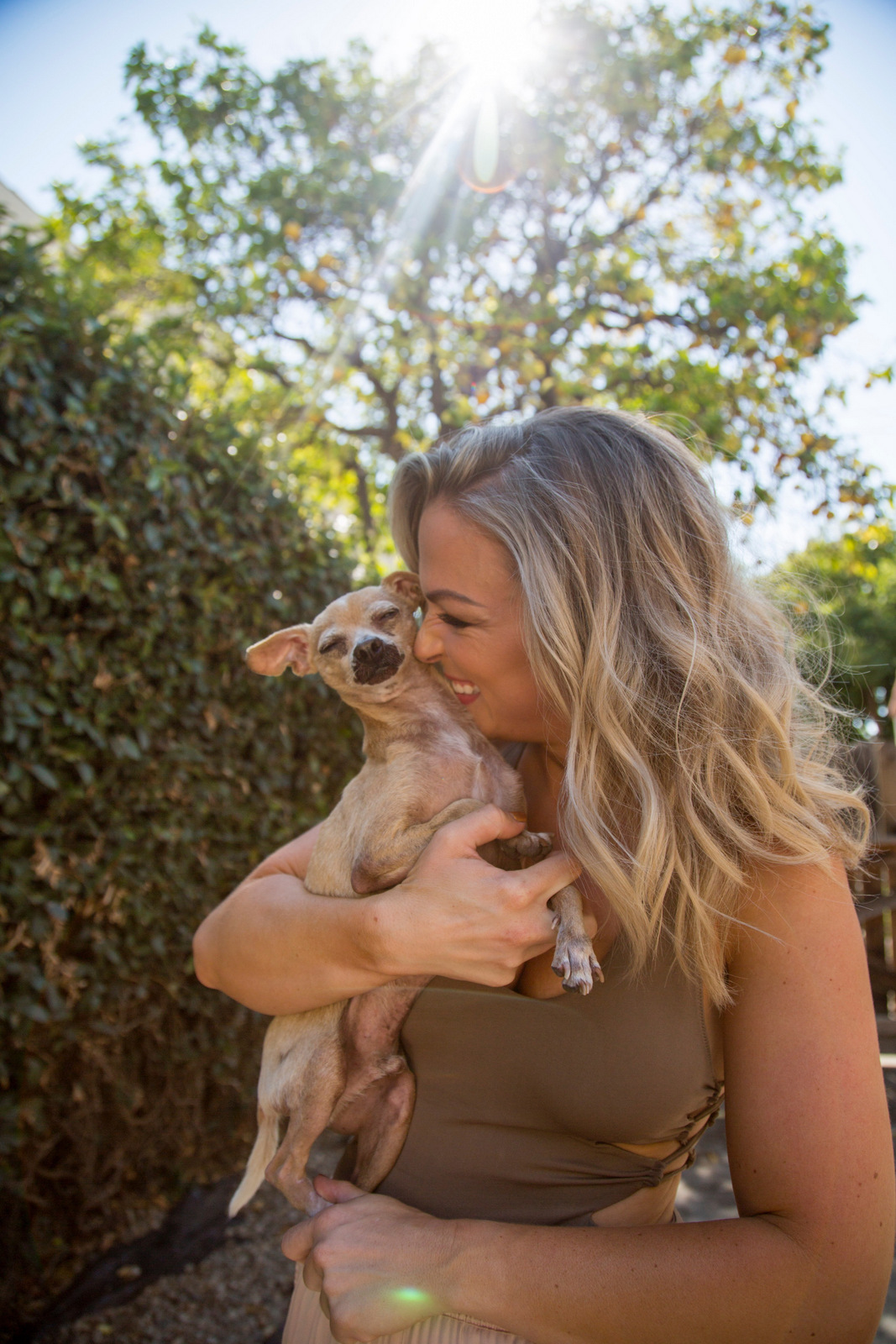 "Four years ago I fostered Harper through a small dog rescue in LA. He was severely malnourished and had pneumonia. He only weighed three pounds! After three months of nursing him back to health, there was no way that I could part with this little nugget! He is my first ever dog and I am in love.
Harper came with his name but sometime I think I should have named him Napoleon. The best thing about him is that he is that he loves the outdoors and hiking as much as I do! Harper might be small but he is very active like his Momma. We enjoy dog beach visits, long walks, hikes, and morning cuddles. The weirdest thing about him is that he has crooked front legs and a goofy little run. Love my little man!"
---
Haley and Wilma / 34, 8 / Atlanta, GA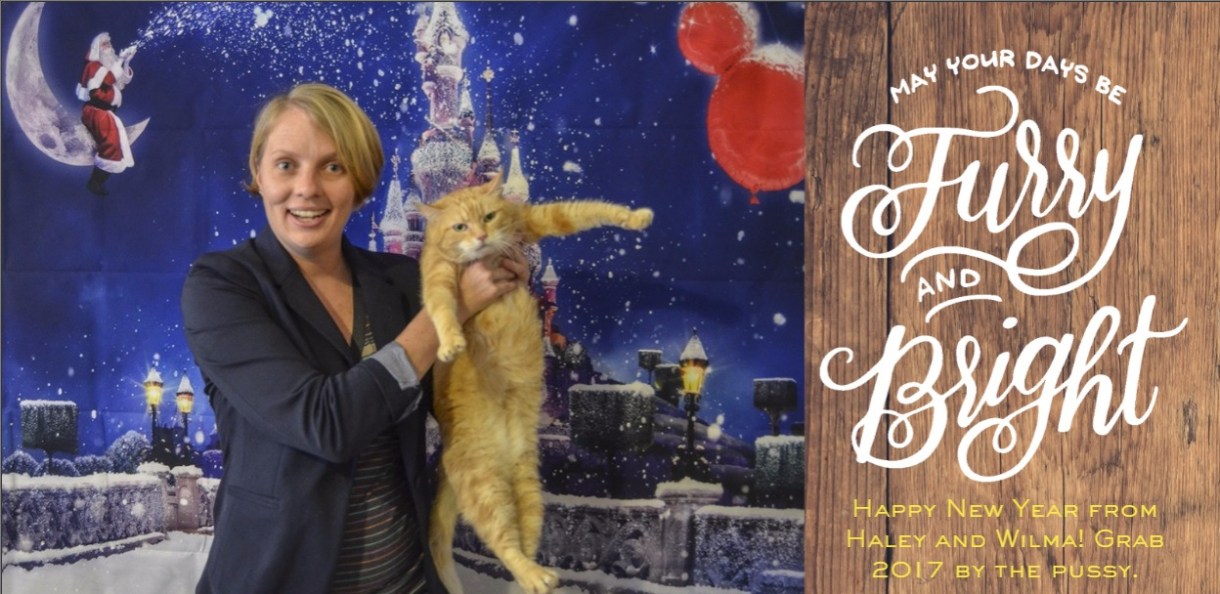 "Rescued from the Atlanta Humane Society in the sweltering heat of August 2010, Wilma was originally supposed to be a kitten. Fortunately, her owner fell in love with her striking green eyes and decided to take a chance on a grown-ass cat.
All gruff and no meow, she takes her summers in the hall closet, and winters under a quilt. Unlimited belly rubs are the norm, with no time limit 'til impending bites or scratches like ordinary cats. She likes hair bands, quarters, and milk caps, though not in that order. Never a playful cat, she will ignore toys for weeks on end then stay up playing with them on a three-night bender, foregoing sleep for the thrill of the hunt like her ancestors upon the savannah."
---
Lisa, Sampson, and Kiernan / 40, 6 months, 24 / Houston, TX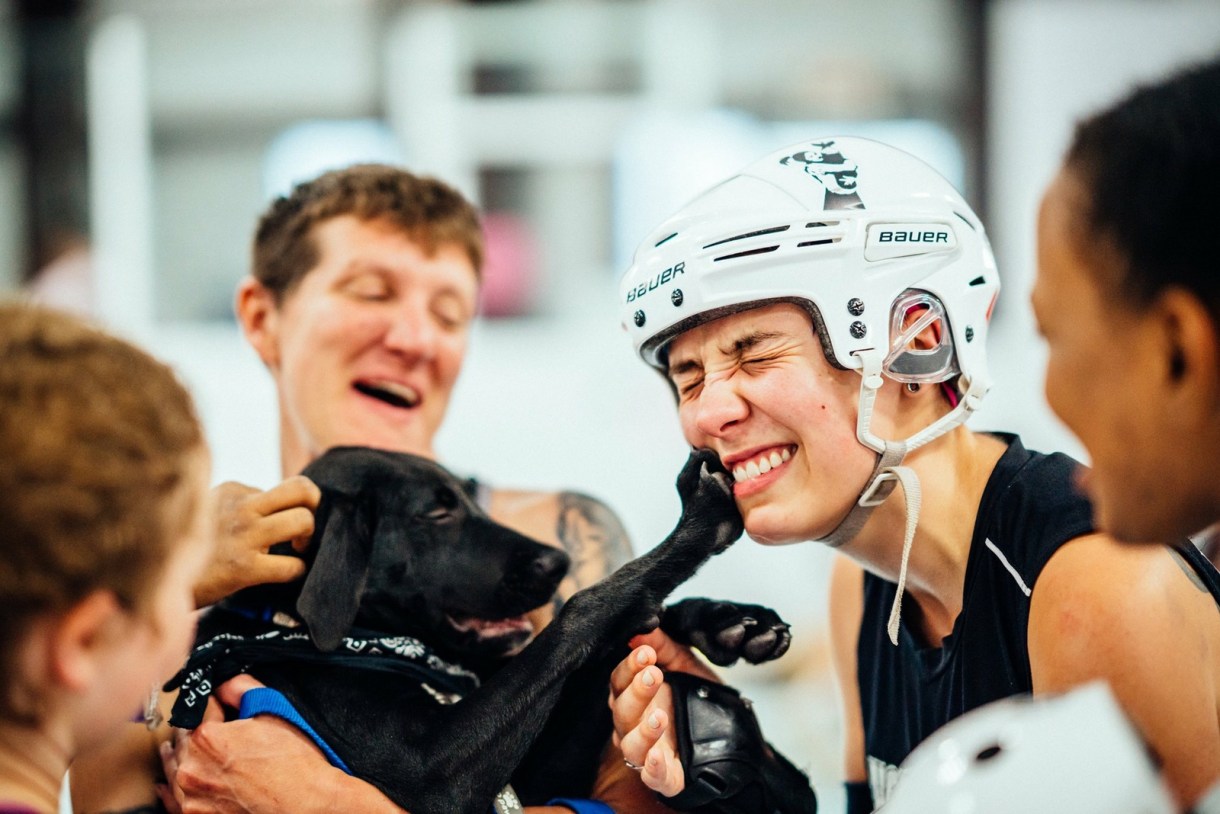 "We got our pretty boy at Houston SPCA. He frequents roller derby bouts and is a very enthusiastic supporter!
*not pictured, cats Fritz (18), Gumdrops (6), Kiri (3), Korra (3), Lilith (1), and Ramona (~3 mo)"
---
Alex and Kiki / 23, 6 months / Denver, CO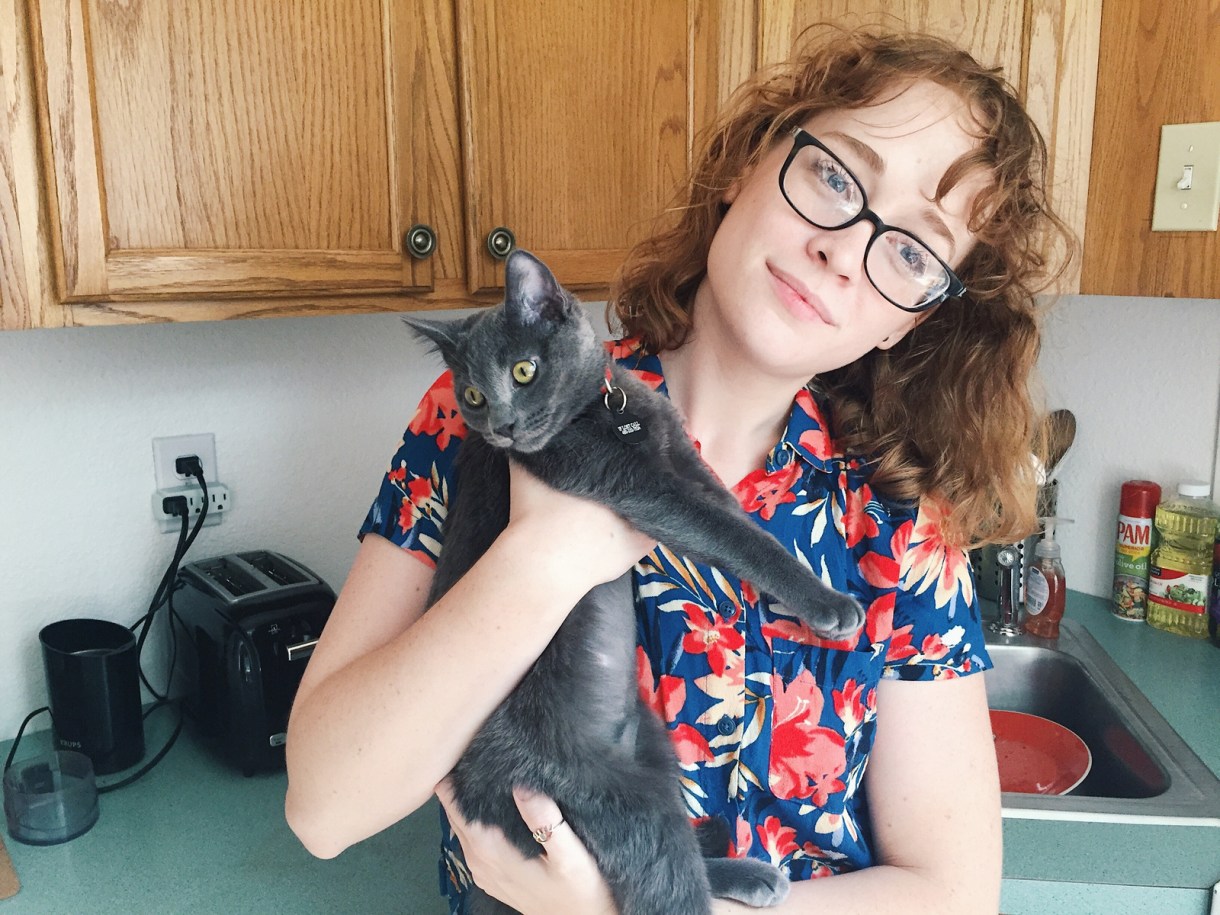 "Kiki was found all alone in an alley by a friend. I saw her photo on their Facebook adoption post and just immediately knew she was supposed to be a part of my family. I've had her since she was only six weeks old! I love the film Kiki's Delivery Service and couldn't let go of the idea of naming my smoky grey cat after an adorable witch. Kiki loves her fancy cat food, Trader Joe's knock-off Cheerios, destroying my plants and climbing up her favorite people to sit on their shoulder."
---
Shannon and Sprinkle Dot / Tucson, AZ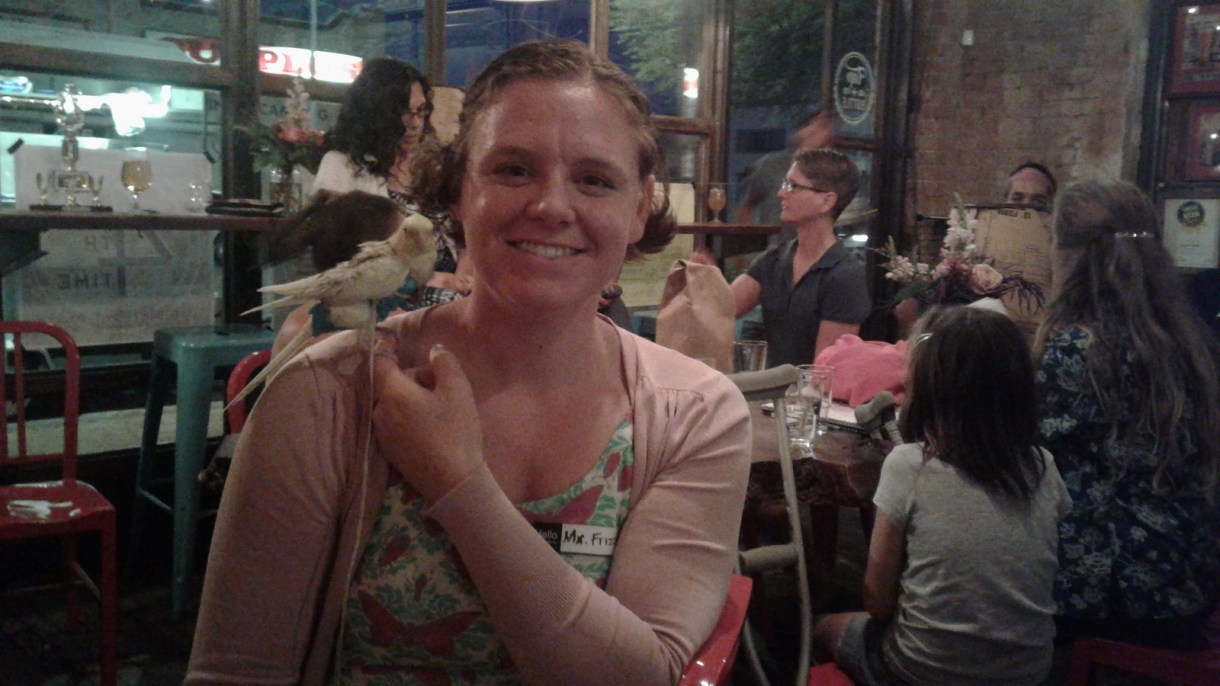 "This is one of my cockatiels, Sprinkle Dot, at the adult spelling bee in Tucson, AZ wearing the diaper and flight harness that I sewed for her. She likes to ride along on my bicycle and hang out in trees at the park. My preschool-aged child named her and our other birds when they were naked chicks (not pictured: Cinnamon and Vanilla). We often take a bird with us when we go places. They're very sweet and social. Instagram: @superfreshcandypants"
---
Coco and Dog Mary Oliver / 24, 4 / Brooklyn Bridge Park, NY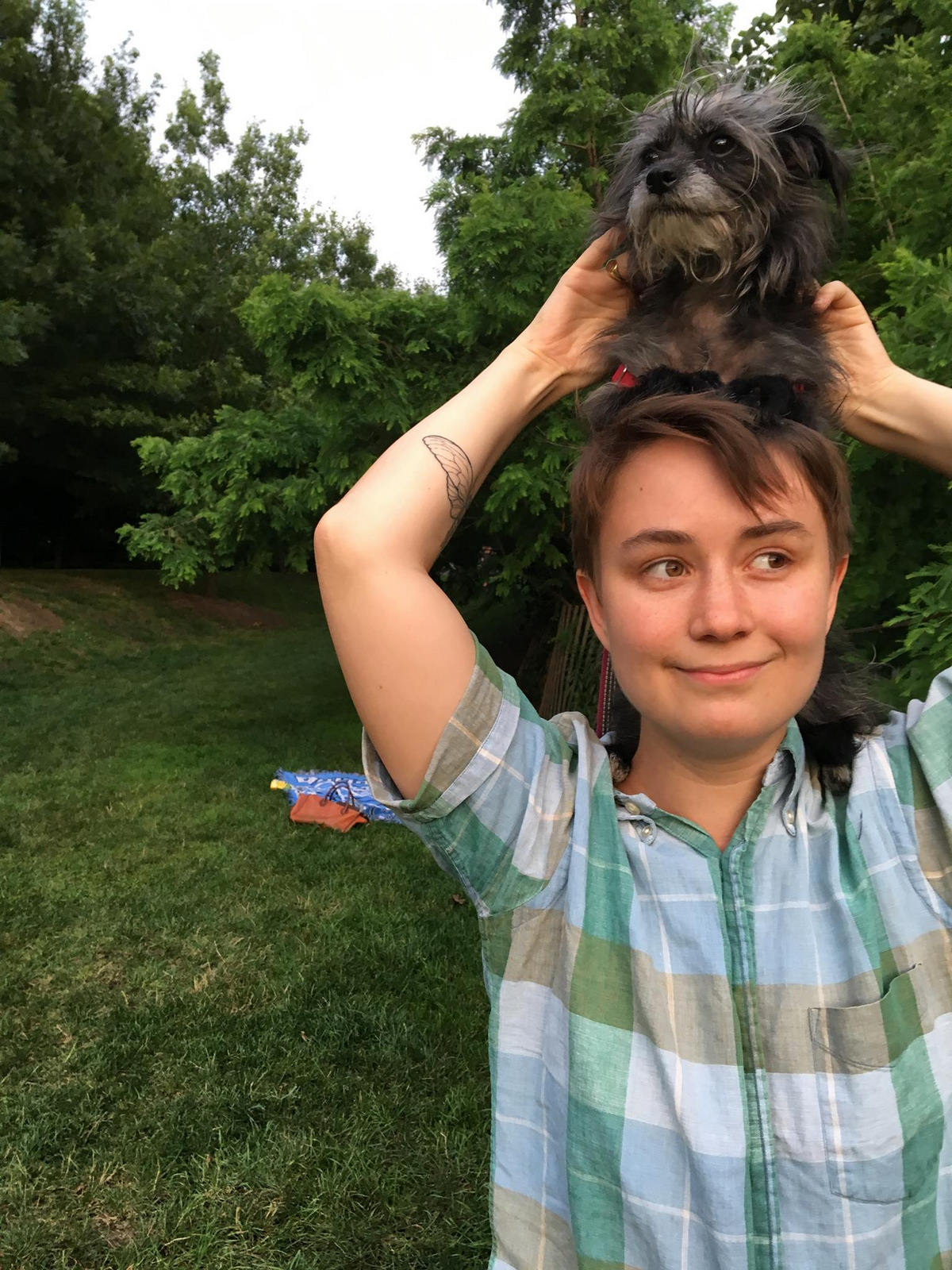 "This is my pup Dog Mary Oliver (nee Oreo), who goes by Ollie or DMO. I adopted her after moving to New York because I couldn't survive grad school on glitter trash island without the "soft animal of [my] body." That's a line from Mary Oliver's poem "Wild Geese." Ollie was an owner surrender from the Manhattan ACC; her adoption fee was only $20.16 as part of an "elect to adopt" campaign. Because my lease technically didn't allow dogs, I went with my partner at the time (also queer) and one of his dogs; we played the "co-habitiating couple" act. We met a dog I originally wanted, then I threw up at like 10 am on the street outside the East Harlem shelter, then we went inside and met Ollie. He signed all the papers, but I walked out with her.  It was all very gay. Now I live in one of those New York apartments that's 90% hall, and Ollie and I like to play this game where I jump and pretend like I'm going to chase her and she scrambles down the hall so fast she body slams into to the wall while turning the corner. I could go on or you could just follow her femme Aries adventures on Instagram @dogmaryoliver."
---
Brigid and Elliot / 22, 2 / Louisville, KY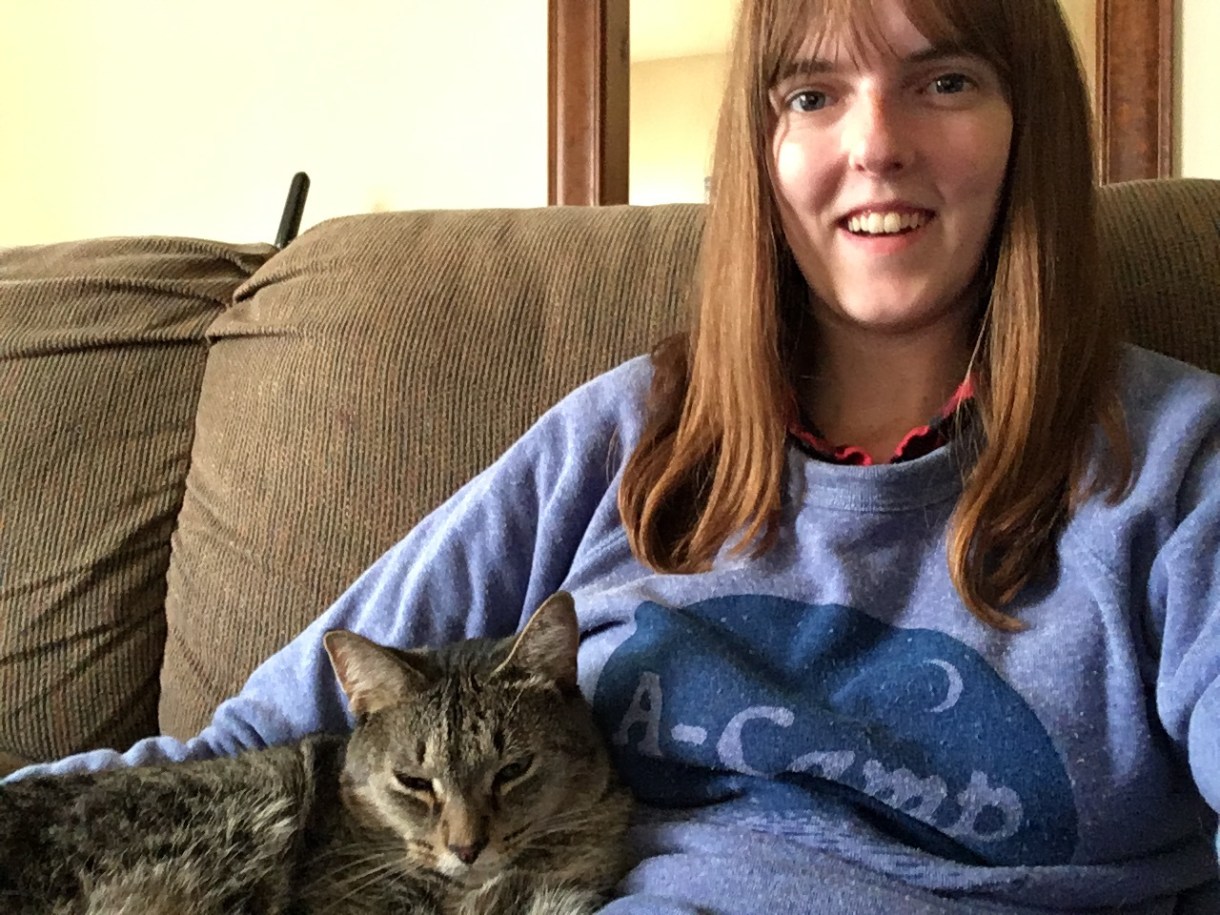 "I adopted Elliot from a shelter about a year ago; I fell in love with his chatty and cuddly personality! He loves attention and is a total lap cat. I love coming home from work and just spending time with him. In this picture we're watching Star Trek: The Next Generation. He loves it and luckily I do too!"
---
Rebecca and Stella / 24, 3 / Charles Village, Baltimore, MD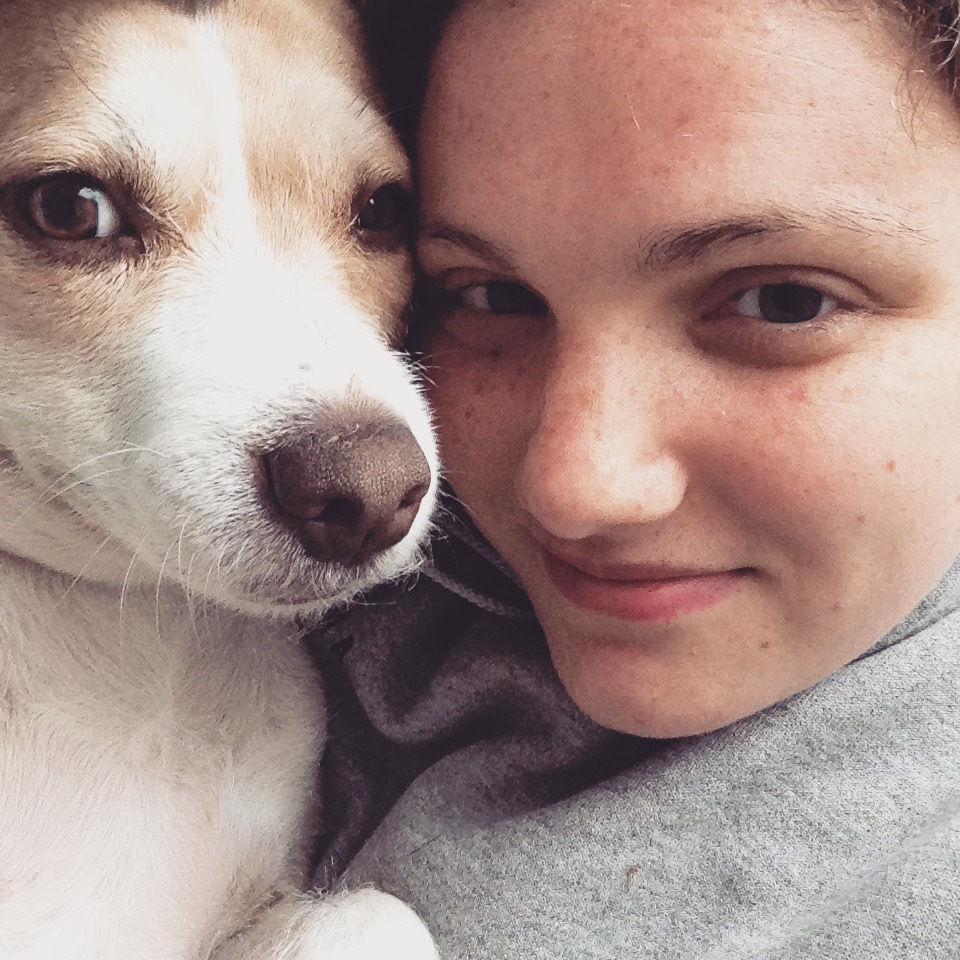 "This is my beagle mix, Stella.  I adopted her last July after finally moving into a place that allows dogs.  She's named after Gillian Anderson's character in The Fall, but fun fact: if you name your very independent dog Stella, every trip to the dog park turns into A Streetcar Named Desire.  Our favorite things to do together are go for long walks around Hampden in Baltimore and snuggle on the couch watching The X-Files.  The best thing about Stella is that she's very sweet and affectionate and loves every single human she's ever met, and the weirdest thing about her is that her favorite treat is tortillas."
---
Katy and Toby / 24, 3 / Denver, CO
"I adopted Toby from a shelter a little more than a year ago. The 110-pound mastiff/lab mix came into my care with the name Toby, and it suited him so well that I stuck with it. He's very skilled at lying down and eating things off the counter. We love going on walks together and snuggling. Toby is known for his impressive drooling and relentless pursuit of squirrels, ducks, geese and rabbits."
---
Before you go!
It takes funding to keep this publication by and for queer women and trans people of all genders running every day. And A+ members keep the majority of our site free for everyone.
Still, 99.9% of our readers are not members.
A+ membership starts at just $4/month.
If you're able to, will you join A+ and keep Autostraddle here and working for everyone?
Join A+
Pages: 1 2 3 4 5 6 7 8 9 10 11 12 13 14 15 16 17 18 19 20 21 22 23See entire article on one page