Welcome to Queer IRL, a monthly Autostraddle community photo series that gathers little clips of lesbian, bisexual, queer and otherwise-identified women, trans and non-binary folks, just living our lives in 2017.
I thought it would be cool to have a gallery of everyone working their butts off before the summer holiday — and it is, it's super cool — but also it's really moving?? I wasn't prepared for that. WE ARE EVERYWHERE AND DOING SO MUCH. So much! You're out in the world better and smarter and more fascinating, and it's really important!
Good job, everyone. Now kick back and enjoy this gallery of nearly 100 queers doing the damn thing!
---
Rebecca Olivia / 30 / Tyrone, GA
"I went back to coffee after a few years of other things, because it was one of the few things that didn't, oddly, feel demeaning to me as an artist, and it's flexible. I move a lot and it's an easy job to find.
Forever trying to coax rural Georgians into drinking a proper Macchiato by day, writing scripts/plays and preparing for acting auditions by night."
---
Rebecca / NY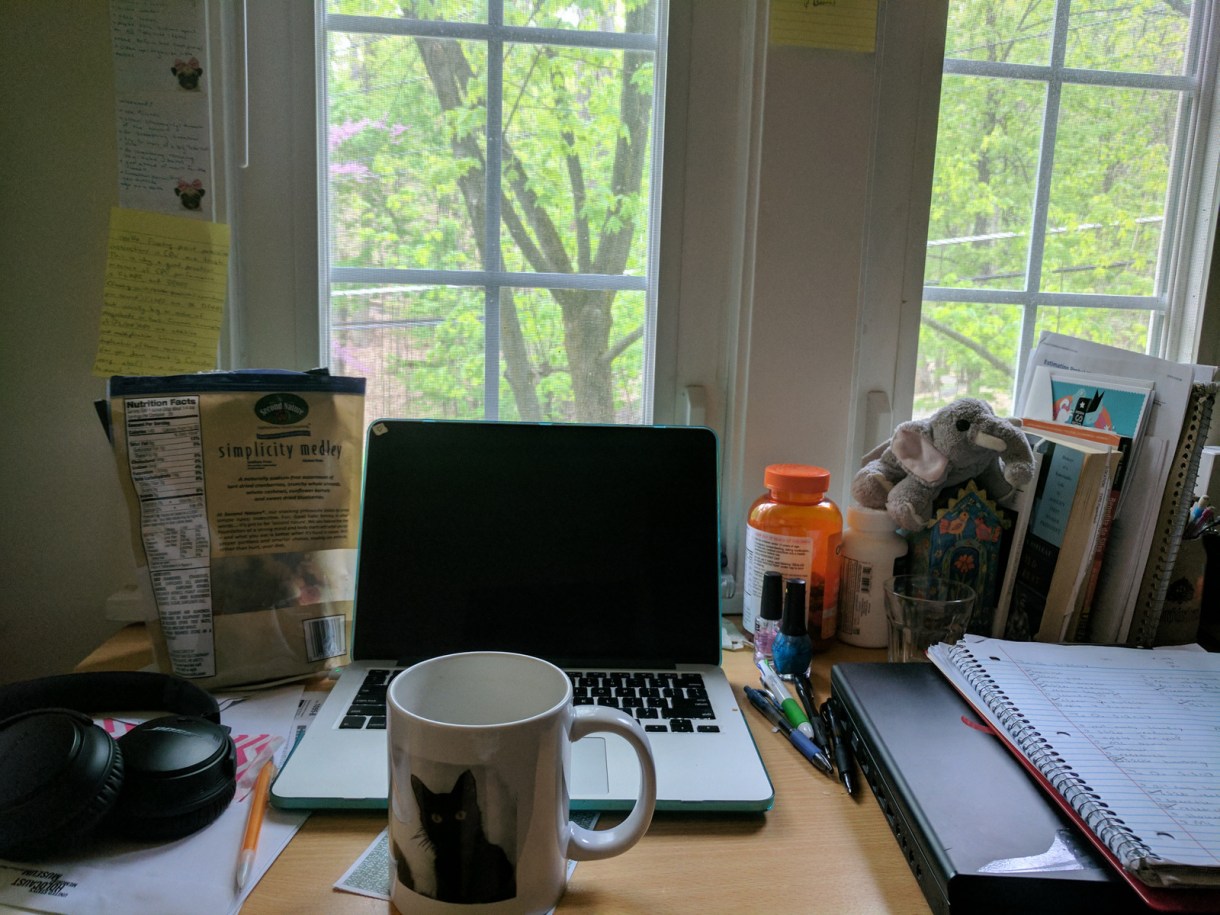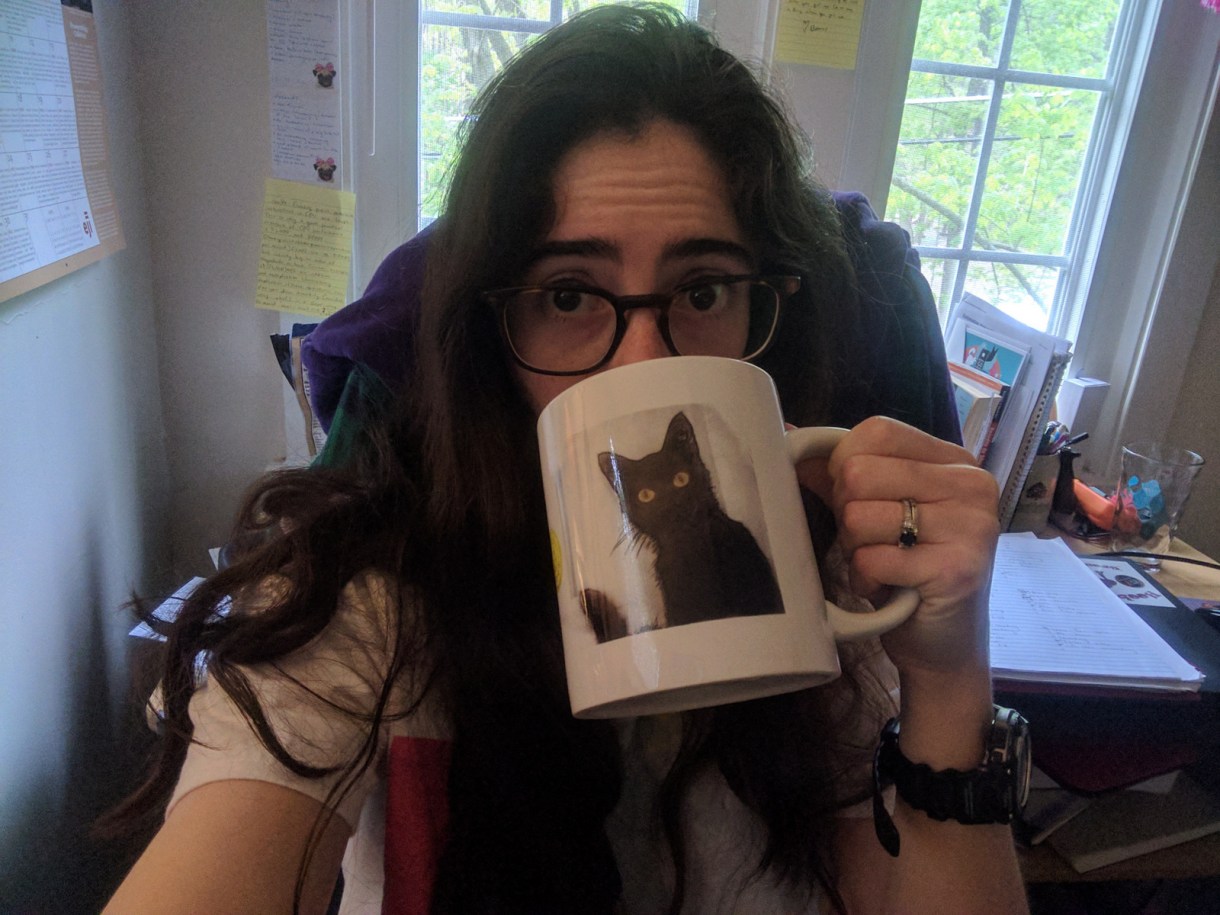 "I study computer science and had a very stressful dream last night where my laptop fell into a river. The cat mug is an excellent gift with a cat that looks like mine but actually isn't. I didn't clean up my desk for this (sorry, not sorry). I love that I can see trees while I work."
---
Mia Li / 26 / Adult film performer / Oakland and San Francisco, CA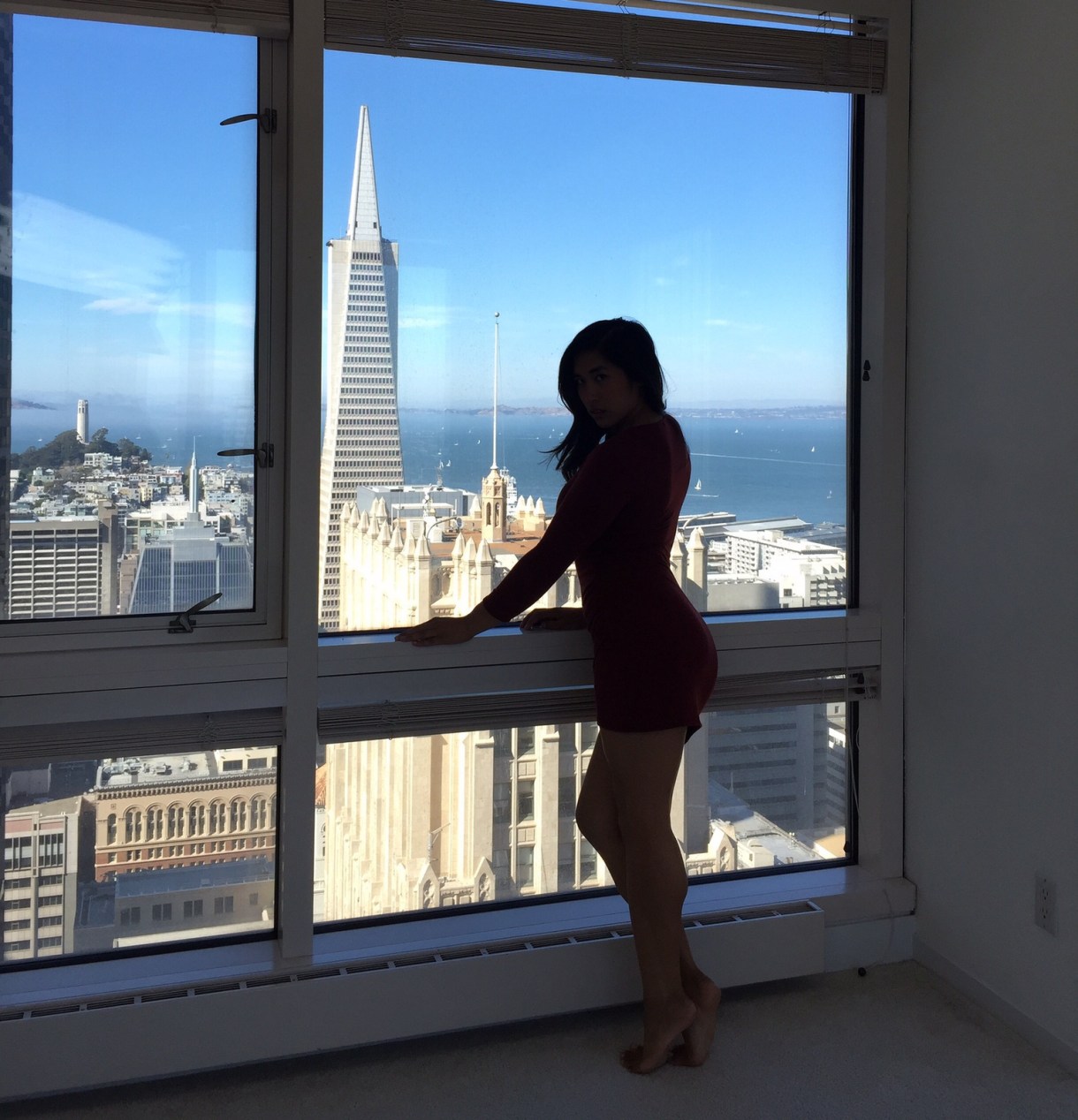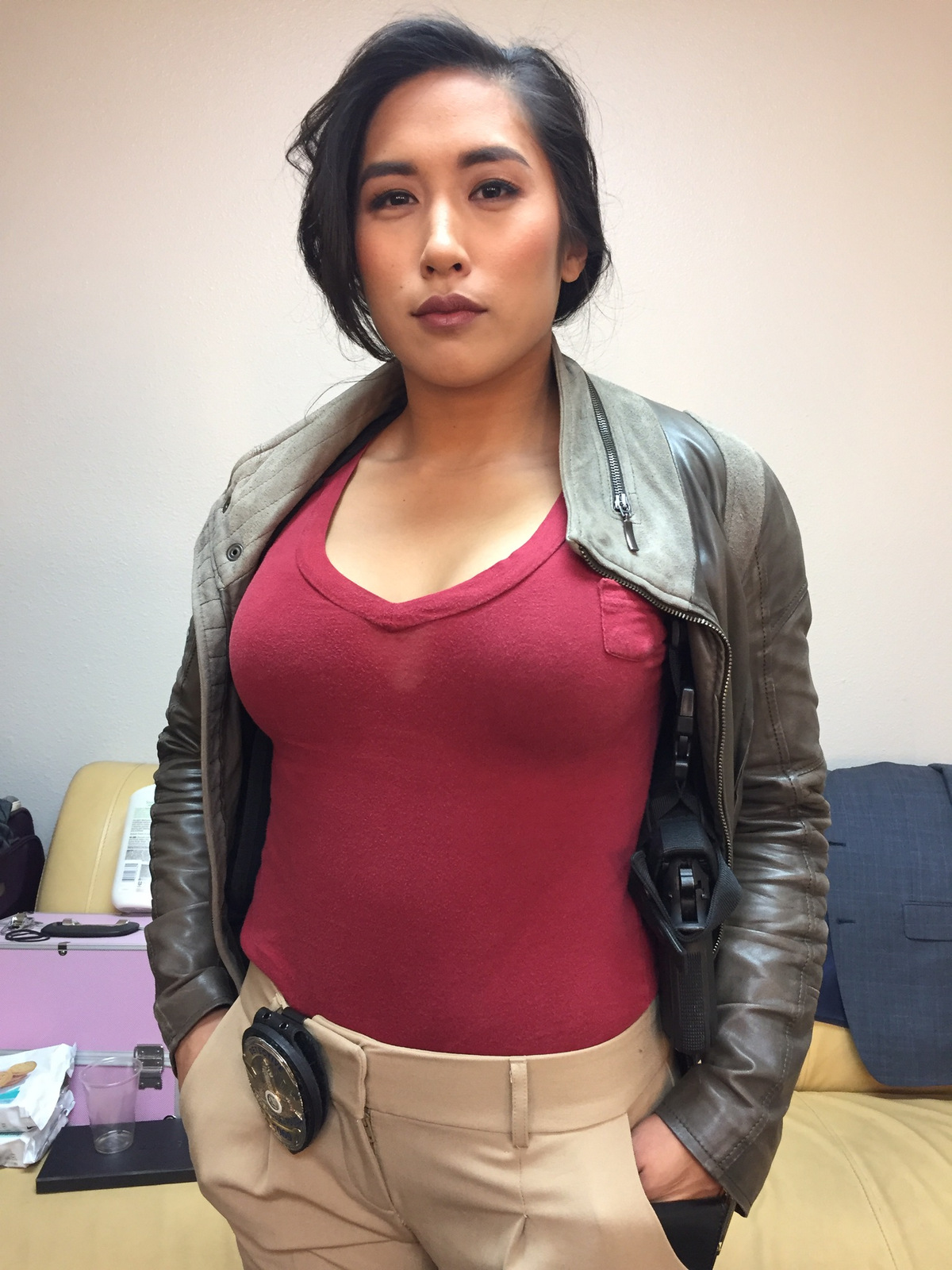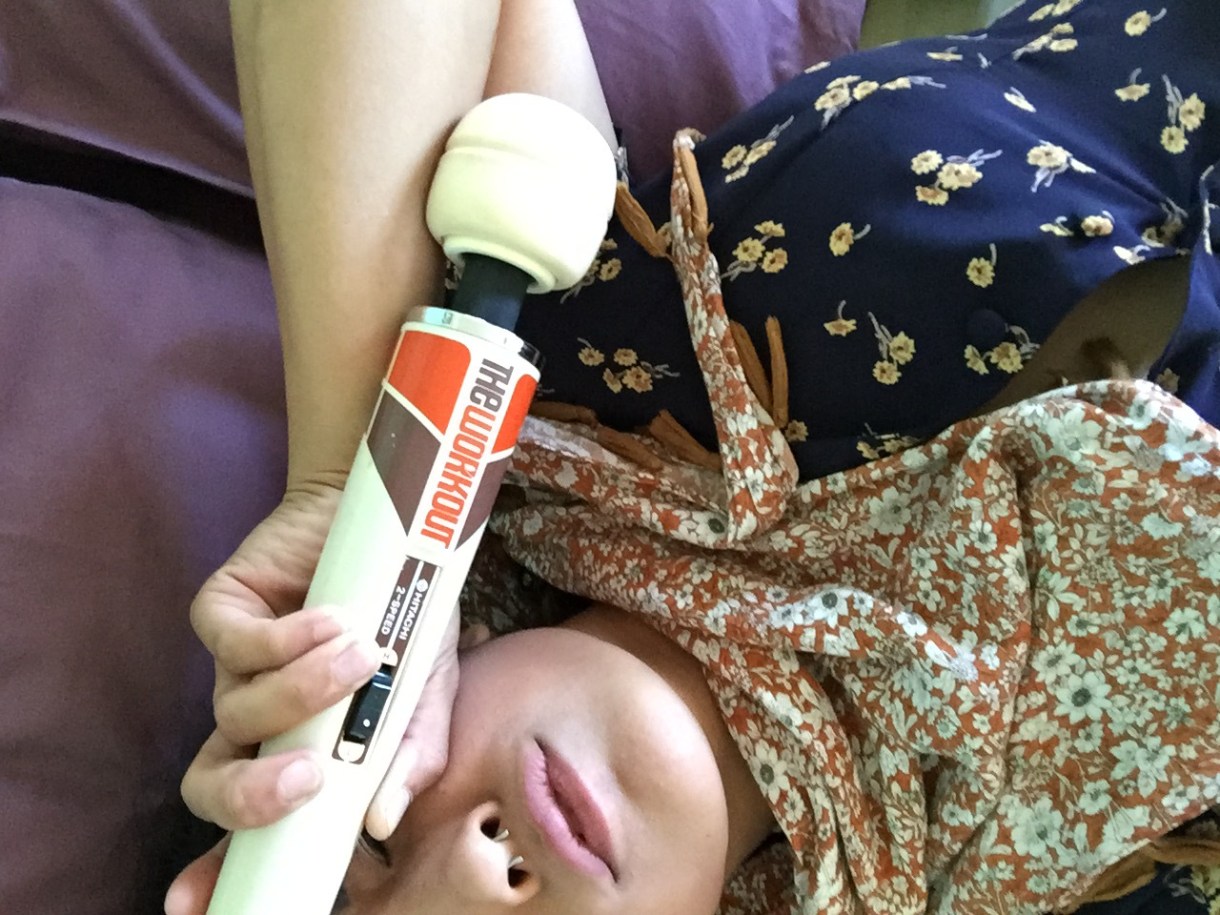 ---
Eva / 36 / Hog Island, ME
"Since I was young I have always been passionate about nature and now I have the extreme privilege to work for the National Audubon Society.  I am the program manager of an adult summer camp for birdwatchers located at the historic Hog Island Audubon Camp. For five months of the year I live on a little slice of heaven and connect people to the great outdoors and the remaining months I work from home in Colorado.
---
Shea / 26 / Chicago, IL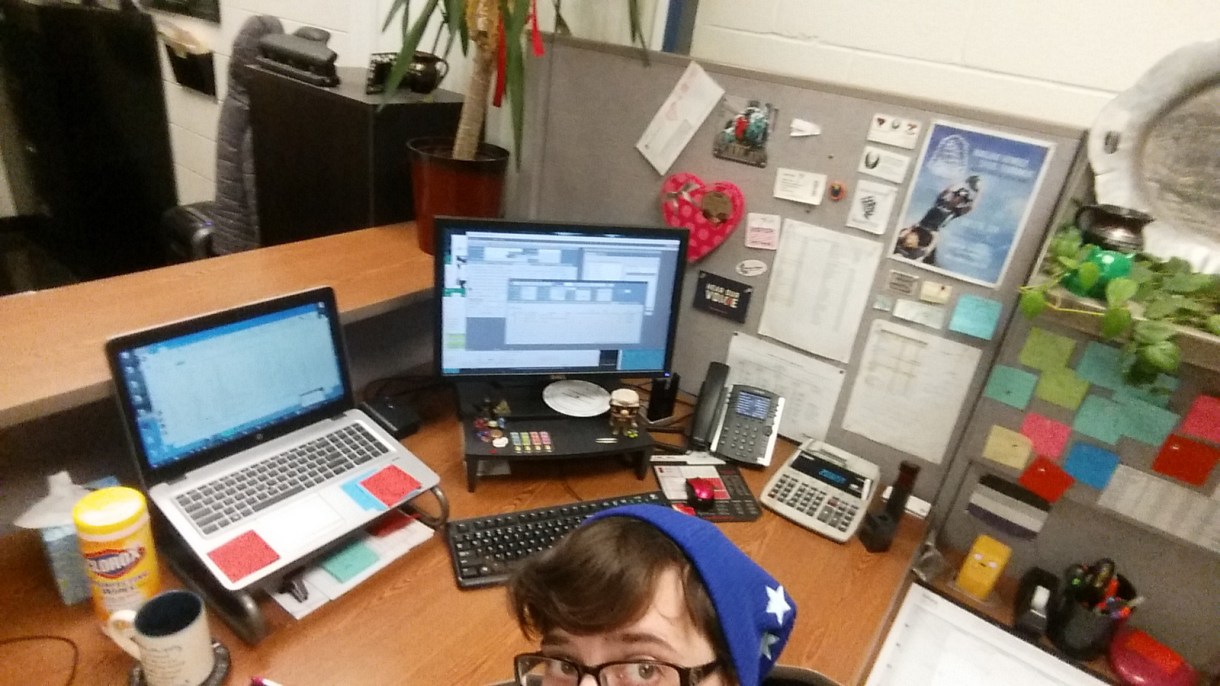 "Front Office attached to a locomotive shop where I am currently emailing city transit authorities."
---
India / 25 / KY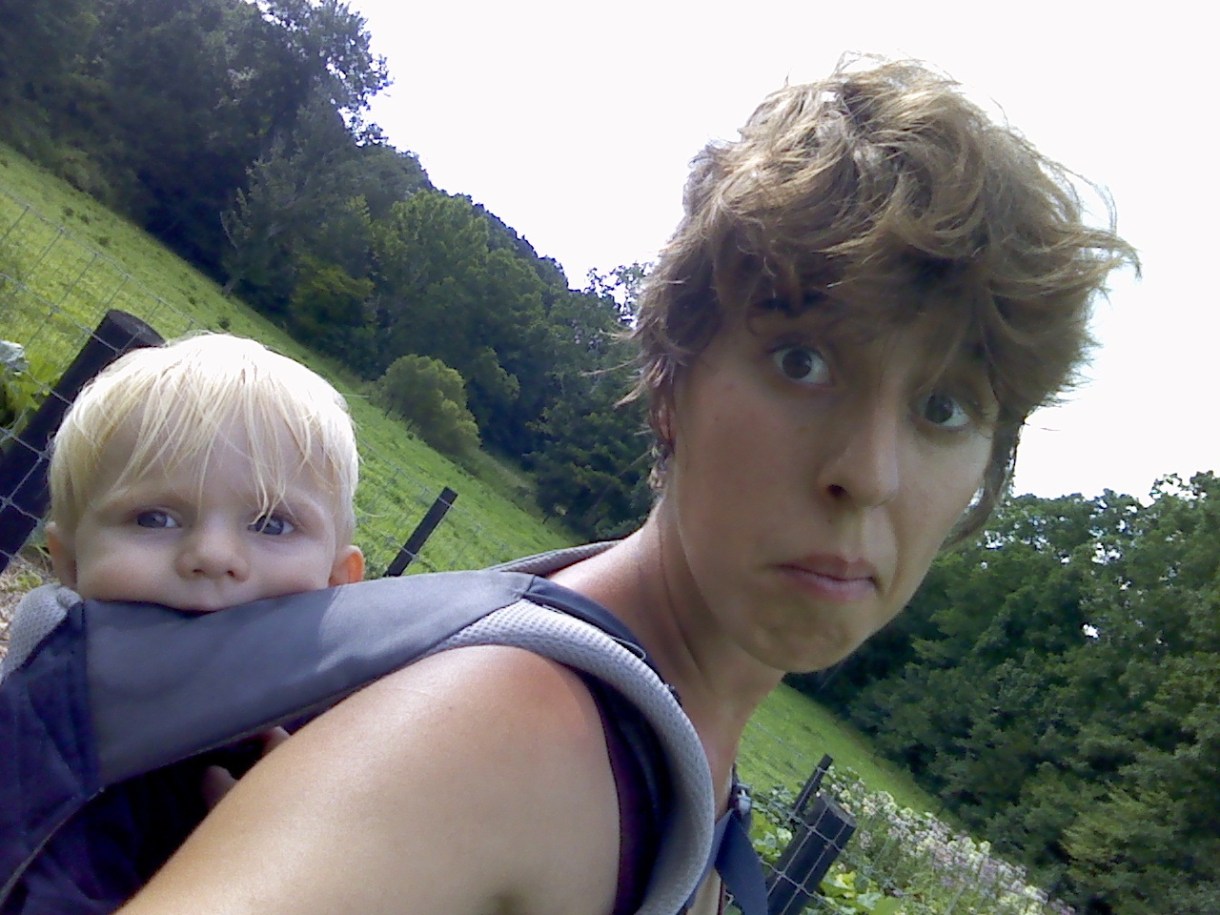 "I nanny this kiddo and do some odd jobs on the farm where he lives. I don't know how I got so lucky. I hope he remembers me when he gets older."
---
Alaina / Almost 26 / Mukwonago, WI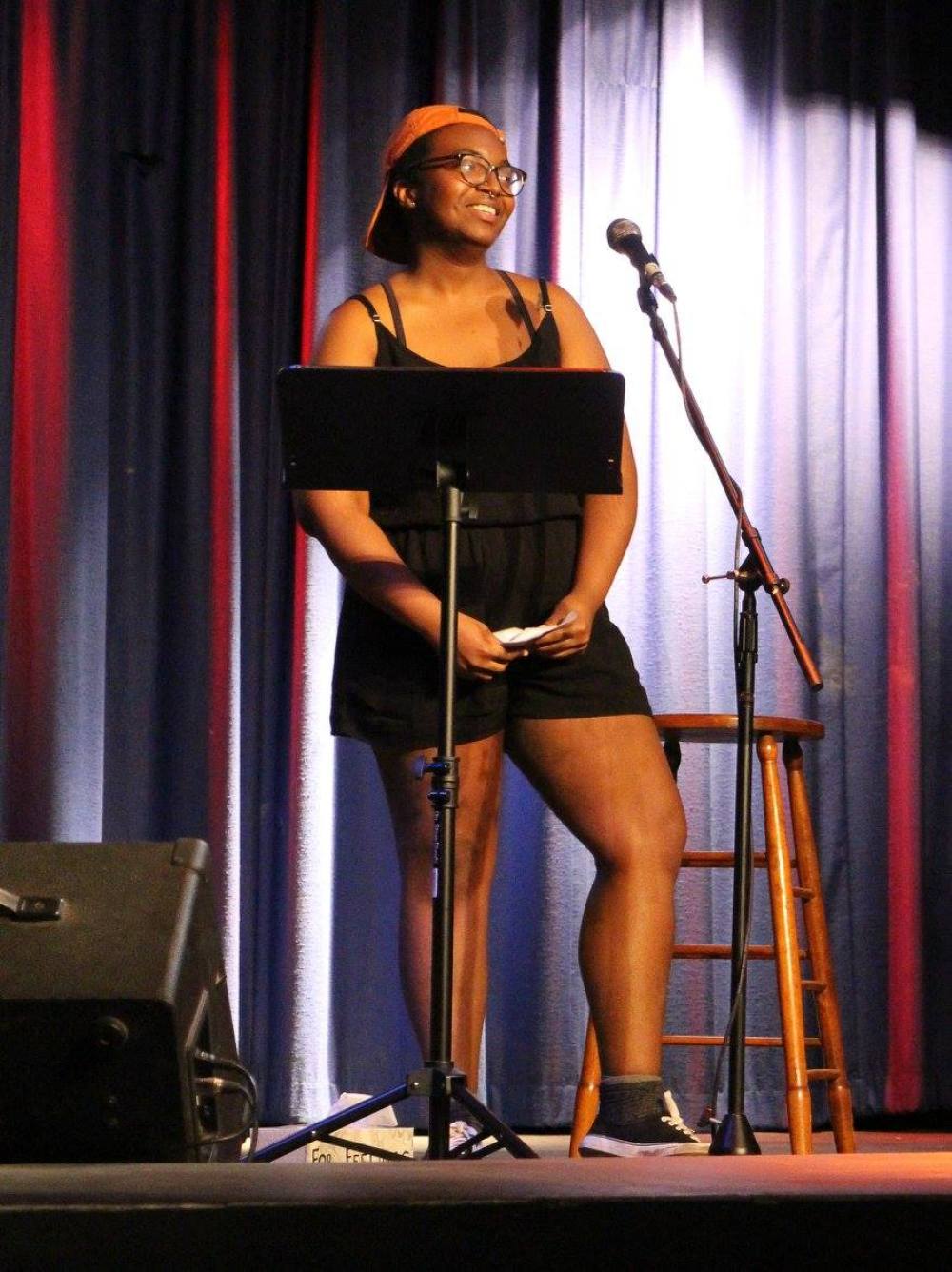 "I'm smiling because I didn't throw up during my A-Camp staff reading."
---
Alice / 26 / New York, NY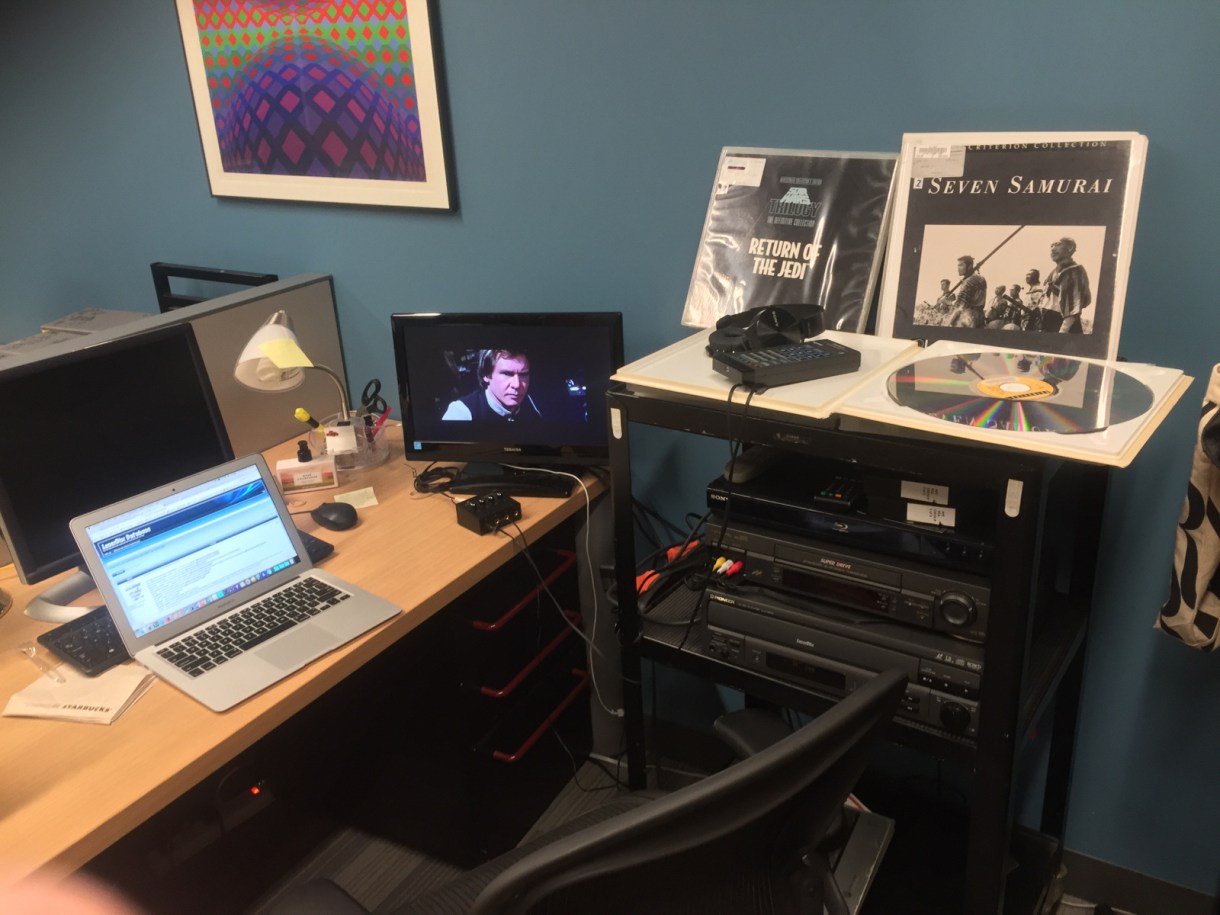 "I'm a research assistant at a university film library, where I watch our library's laserdisc collection and document rare and exclusive film content.  People who work in my department are always asking me, "What…exactly do you do?" I have a standard, sophisticated answer I give them but the real answer is, "I watch movies all day." Also, since I'm used to 12″ laserdiscs, DVDs now look very small in my hand."
---
Jeanne Foxe / 23 / French Countryside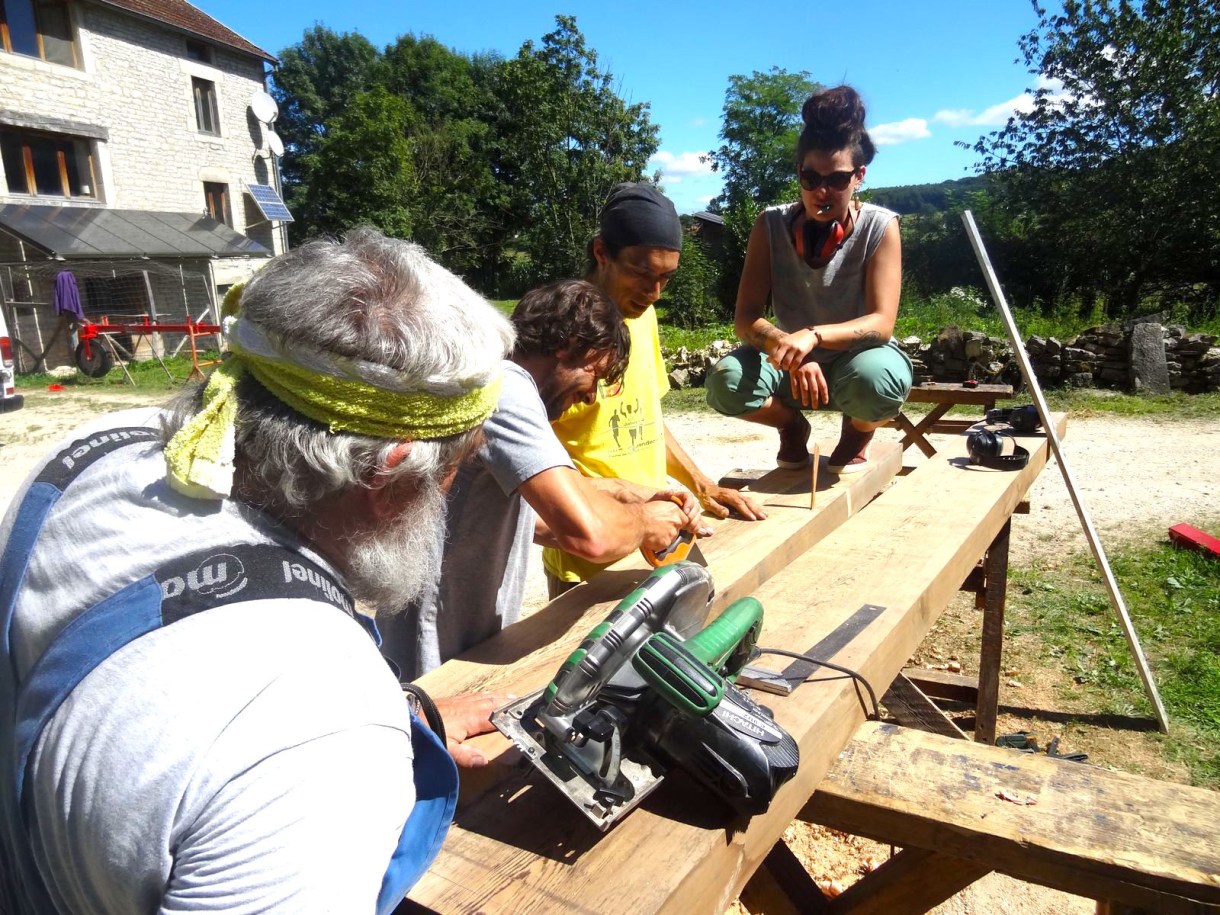 "This is me! Teaching people how to build a wind turbine! That's what I do and I love it!
I face a LOT of sexism, each course I teach brings me between 2 and 6 male specimens, older than me, who can't believe (or can't accept) a young queer gal like me is about to teach them how to properly use woodworking tools and how to weld. I'm always supported by my colleagues. I remain in love with my work environment despite of these sad encounters.
I feel like I'm making a change in the world, one wind turbine at a time!"
---
Tess / 20 / UK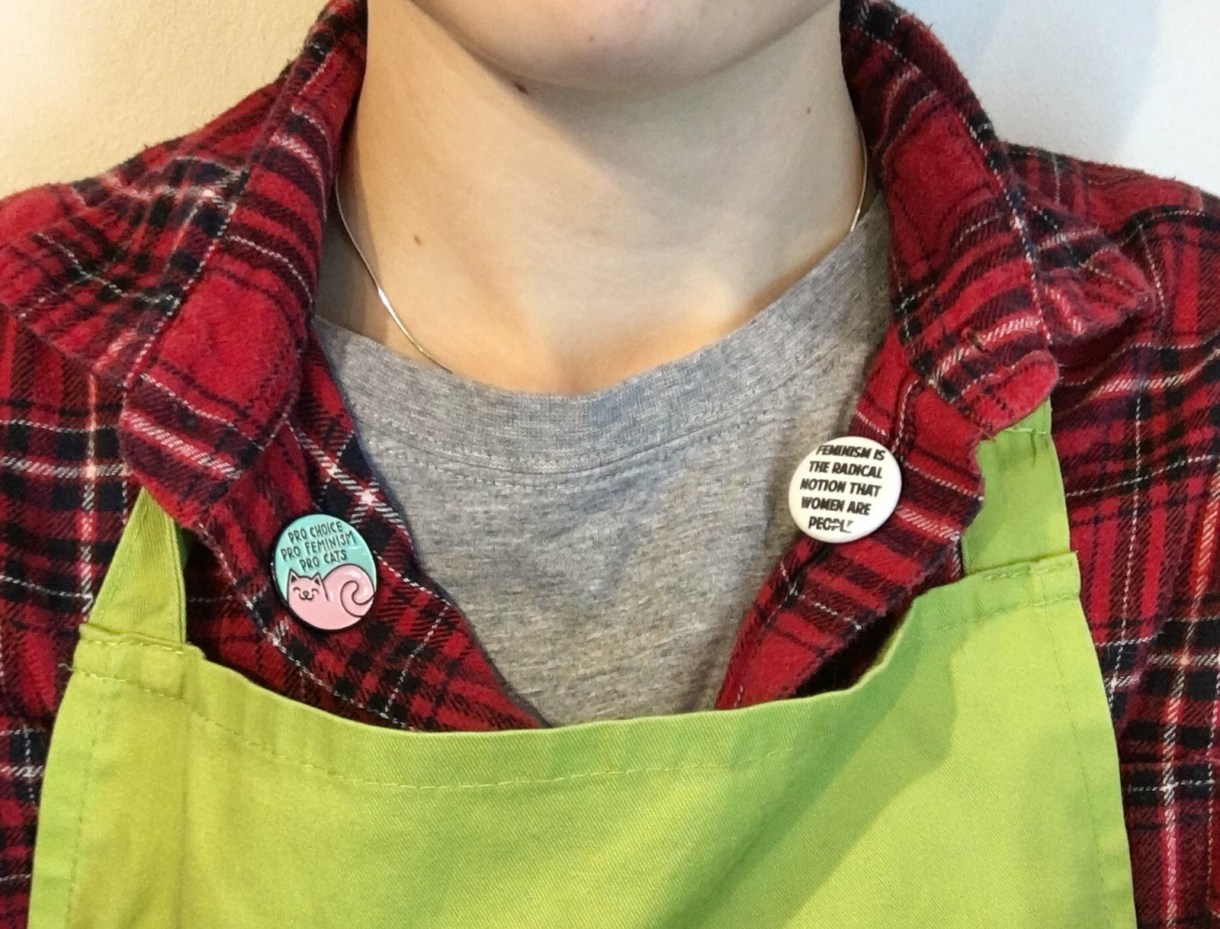 "I took the first picture while I was actually at work (in a burrito restaurant – hence the bright green apron!) on the day of the Women's March. I was working a 10-hour shift and couldn't make it to the march in London, which I was gutted about. I tried to make up for it with the pins on my shirt.
The second picture was taken at the National Union of Students LGBT+ Conference in March, when I was all dressed up to attend a fancy dinner as a delegate of my university's students' union. It was the first time I'd worn a suit and I felt great!"
---
Fotini K / Student, Photography Apprentice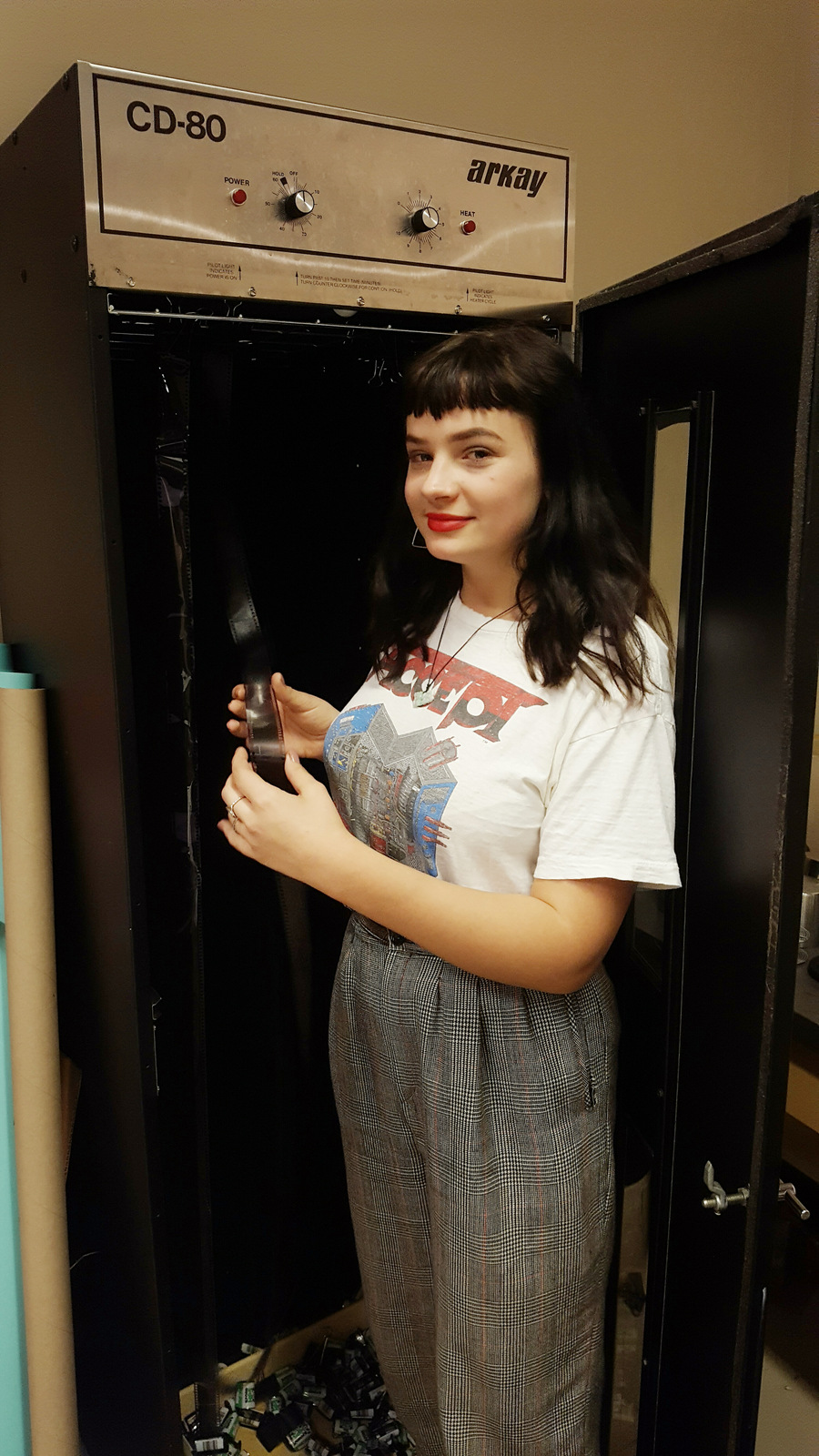 "Having the opportunity to learn about darkroom photography in a social space has been awesome for me because I get to collaborate with people that love what they do.. Also having a space outside of school to do something fun but productive is really calming.. I might get a little sweaty rolling film and stuff, but it's definitely worth it!"
Kylie Sparks / 30 / Los Angeles
"As an actor, writer, and social media person, meetings and auditions happen at a moment's notice. Here's a selfie of me on my way to a brunch meeting with my producers for my first screenplay I wrote that we hope to get into production this year that I will also star in! It was also 90 degrees at 11am….yikes."
---
Sarah Sarwar / 29 / Mukwonago, WI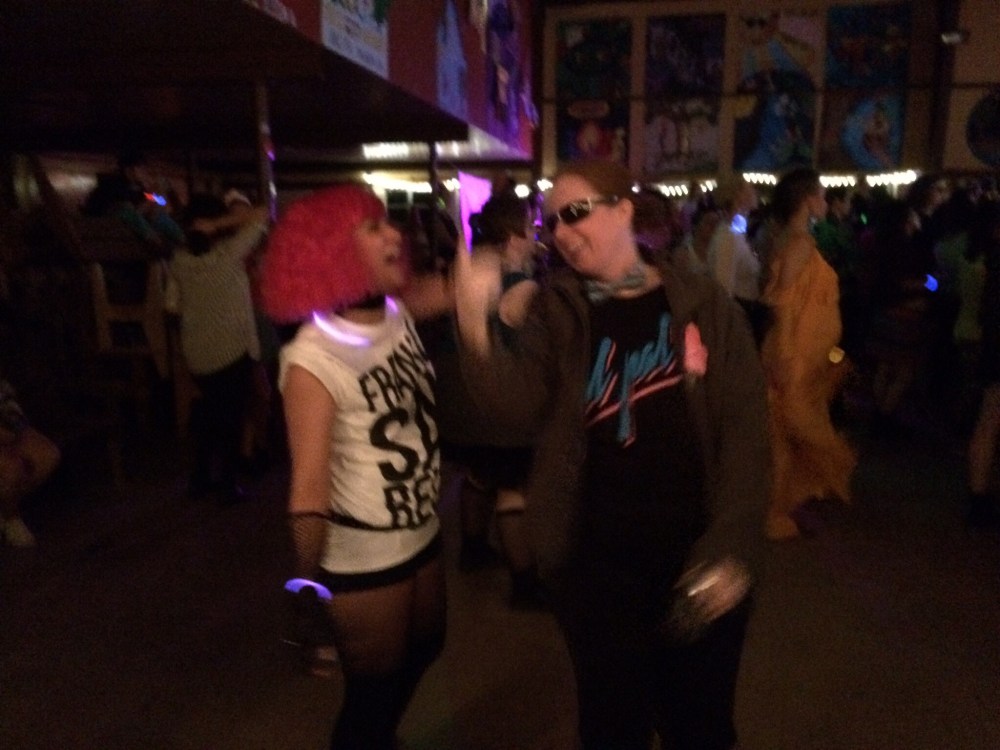 Autostraddle's Business and Design Director, Sarah Sarwar, dancing with Autostraddle's Editorial Assistant, Bren, at the A-Camp Family Band concert on the last night of A-Camp 8.0.
---
Amelia / 27 / Flinders Ranges, Outback, South Australia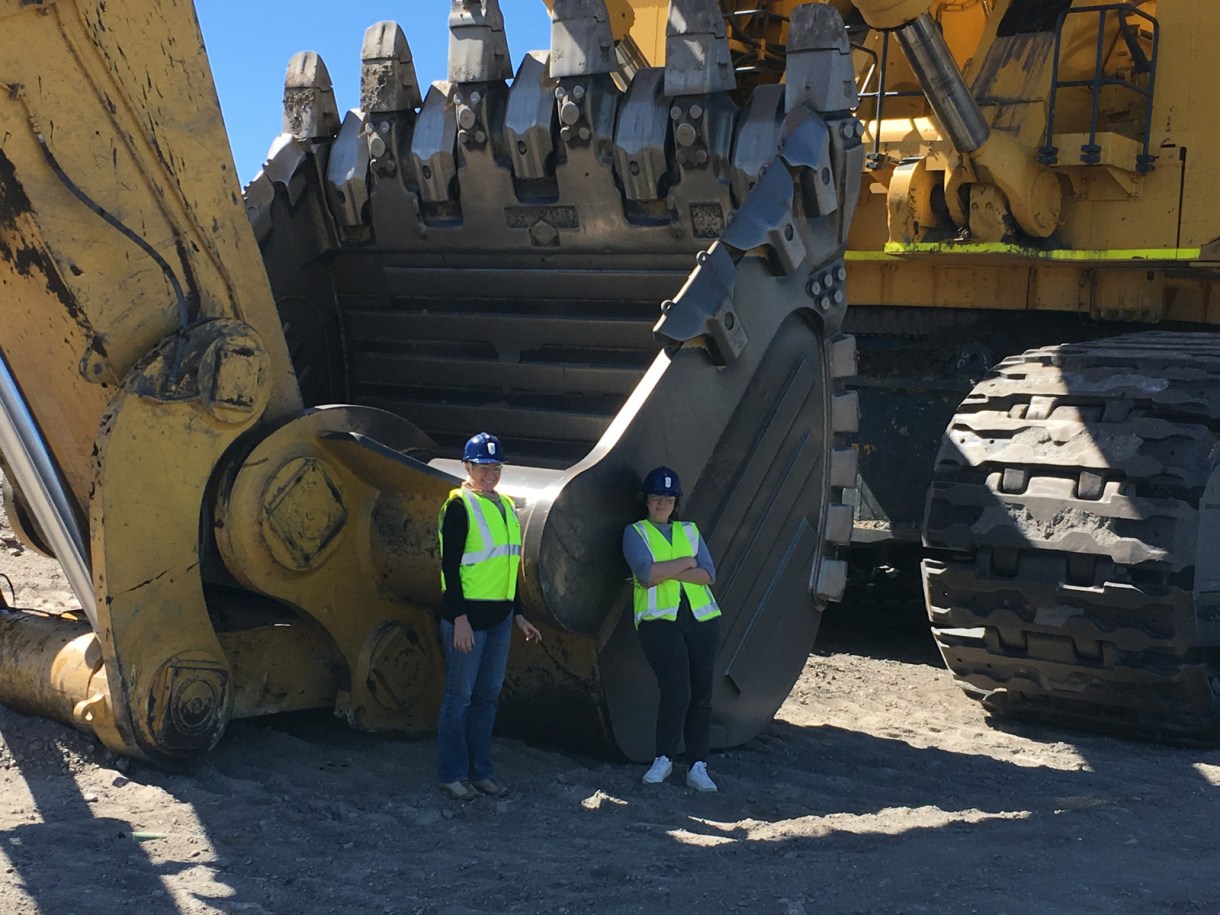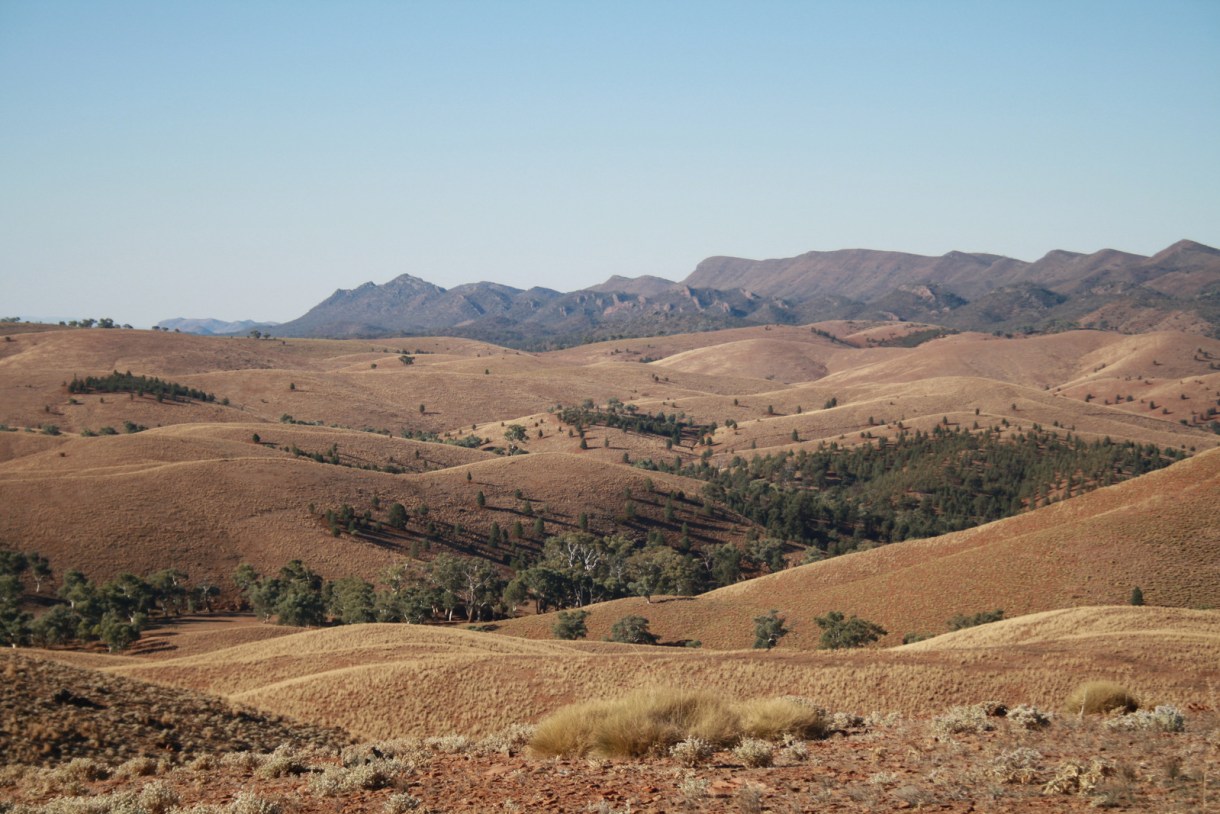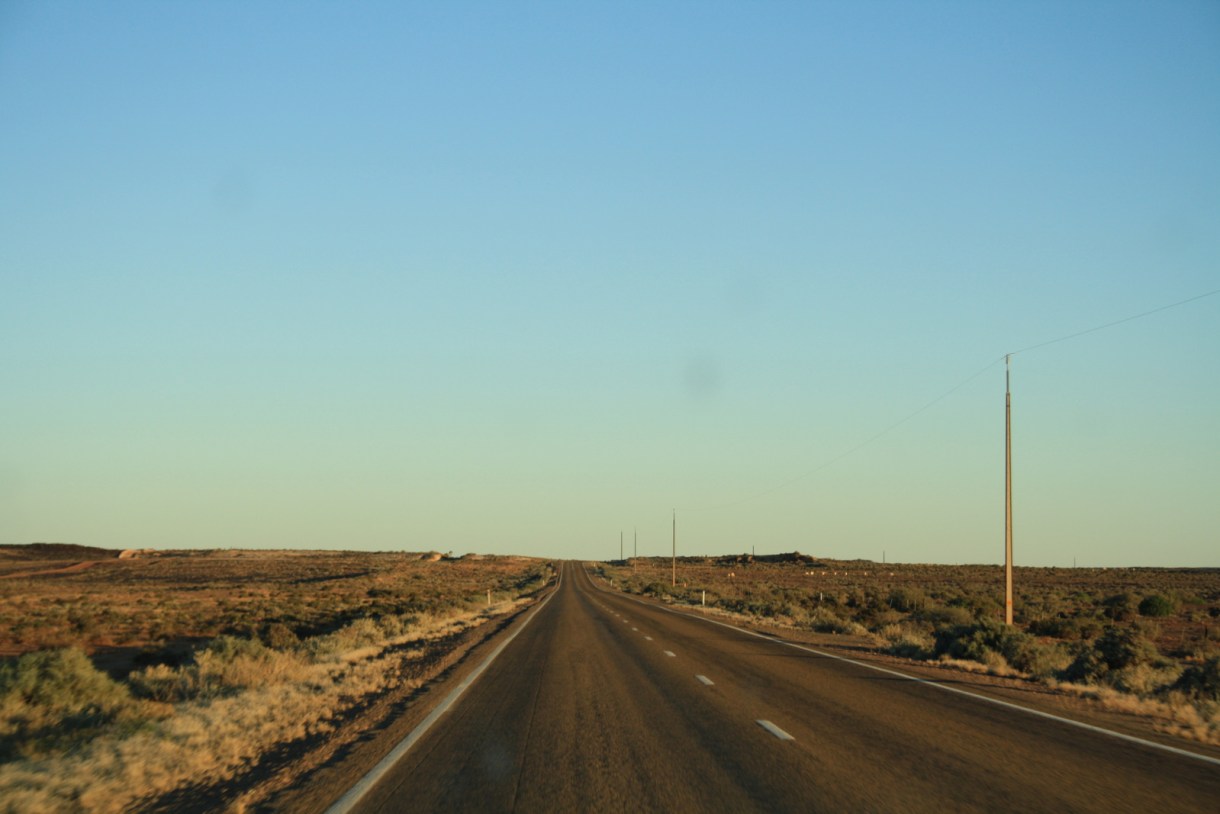 "I'm at the data collection stage of my PhD, which really just means a series of awesome road trips to the outback in order to interview people about the future landscape of a coal mine that's just closed. I keep my feminist geographies theoretical framework a closely guarded secret. This latest trip was with Mum, Thelma and Louise style, and we had a wine-tasting weekend to finish it off."
---
Mallory (she·her) / 23 /  New York, NY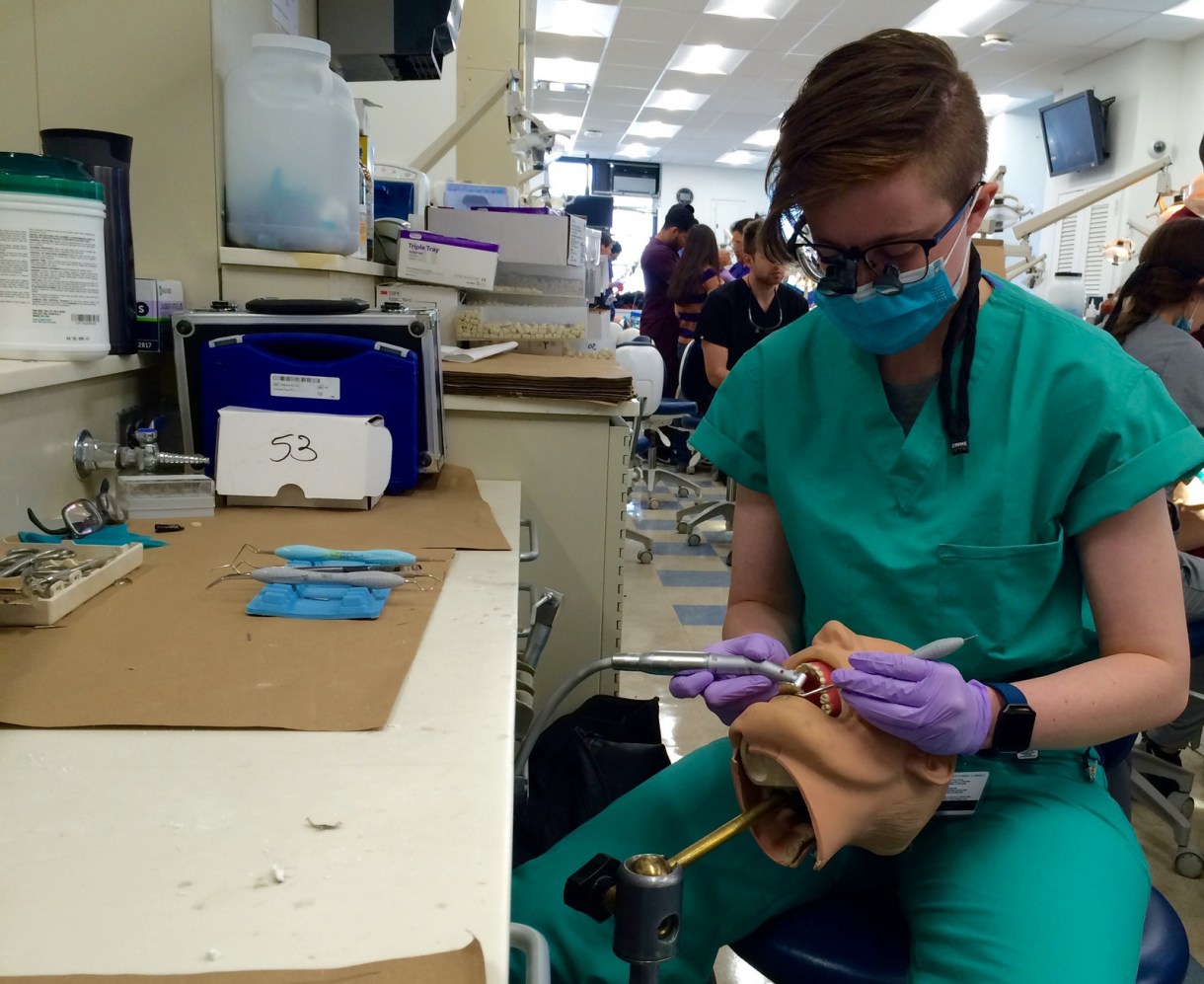 "In dental school, drilling on some fake teeth in a creepy mannequin head (yes, that is in fact just a fake head on a pole). Trying to become an oral surgeon, trying not to freak out about doing this to real people very soon, trying to be a visibly queer woman in a field that lacks representation.
Who wants to be my first patient?"
---
Erin / 25 / Washington, DC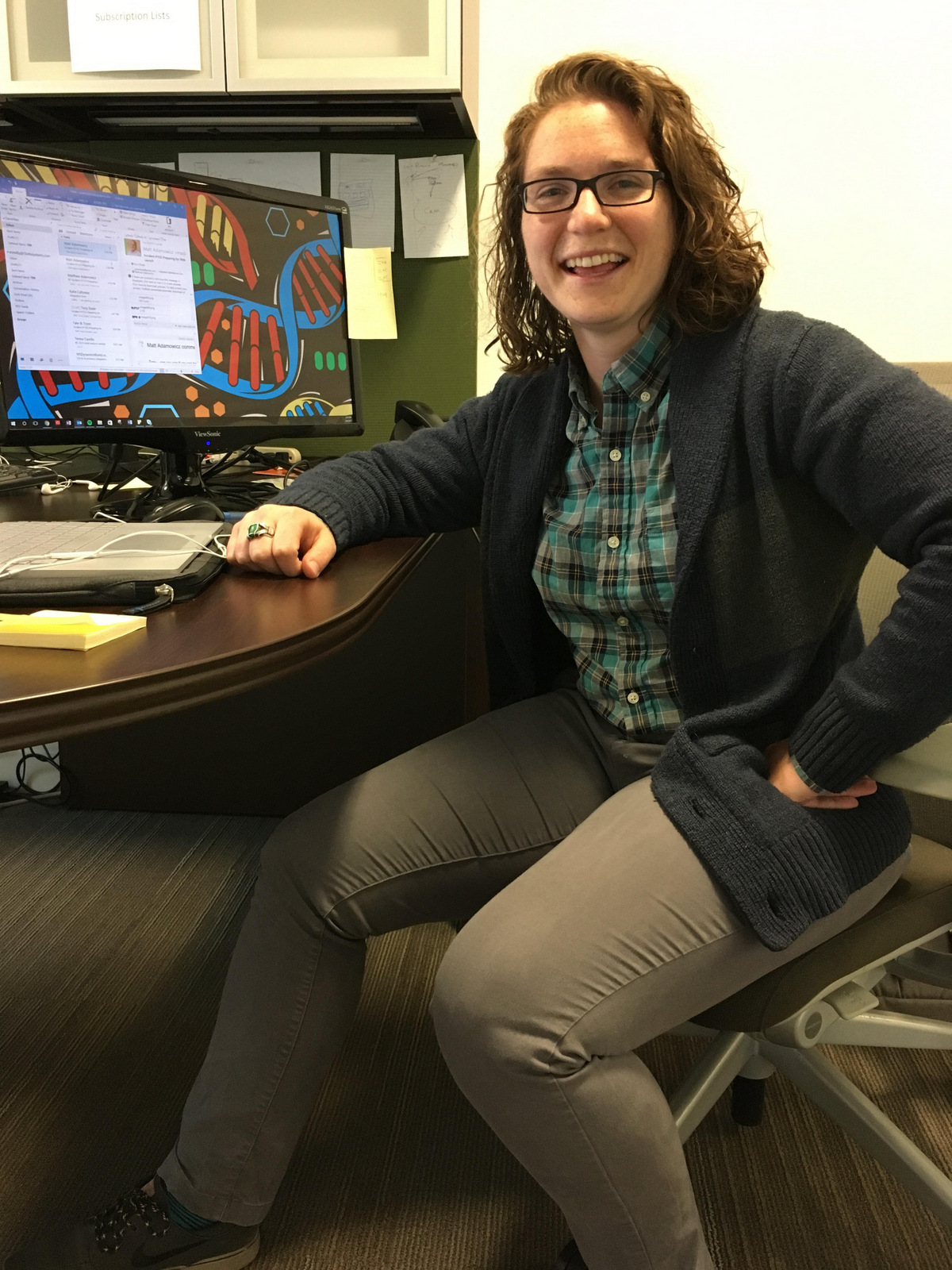 "Making final edits to my company's new website – which I've been single-handedly building since I started here in December and we are finally launching today! As one of only a handful of women at a technology company of about 30 people (and the only openly queer person) I see my work as important for women everywhere as we continue to strive for better representation and opportunities in the tech field.
It was an unusually cool day in May and I was very excited to be able to pull my favorite sweater back out because I love cold weather and try to wear my sweaters as far into the spring as possible."
---
Tyler Callich / 29 / Chicago, IL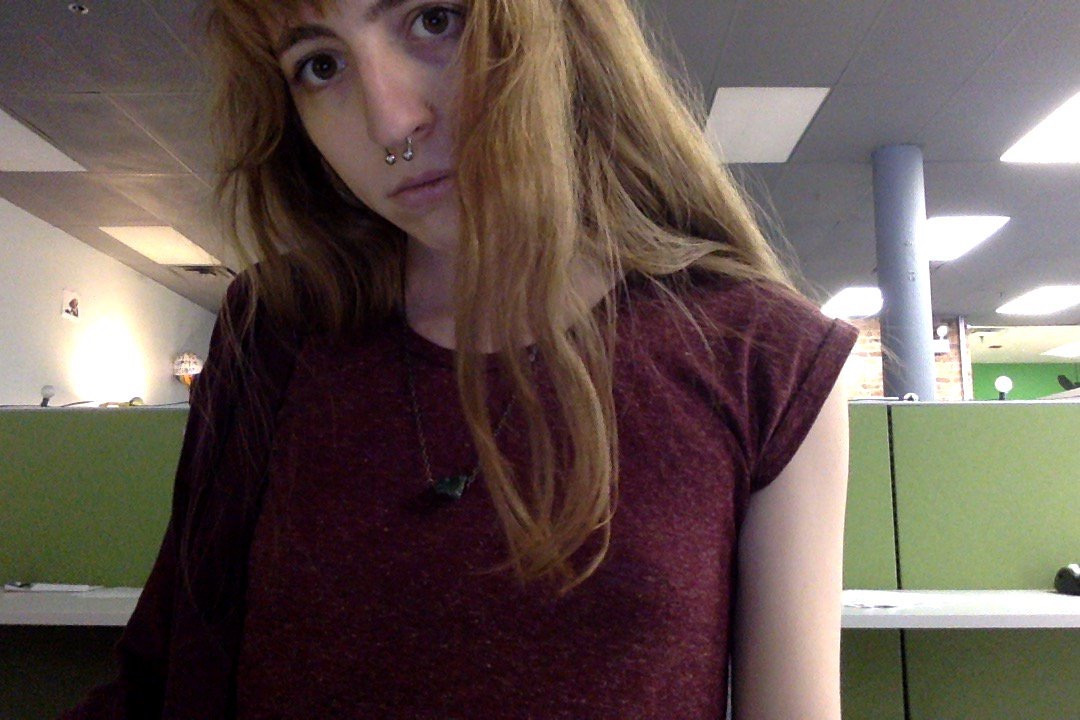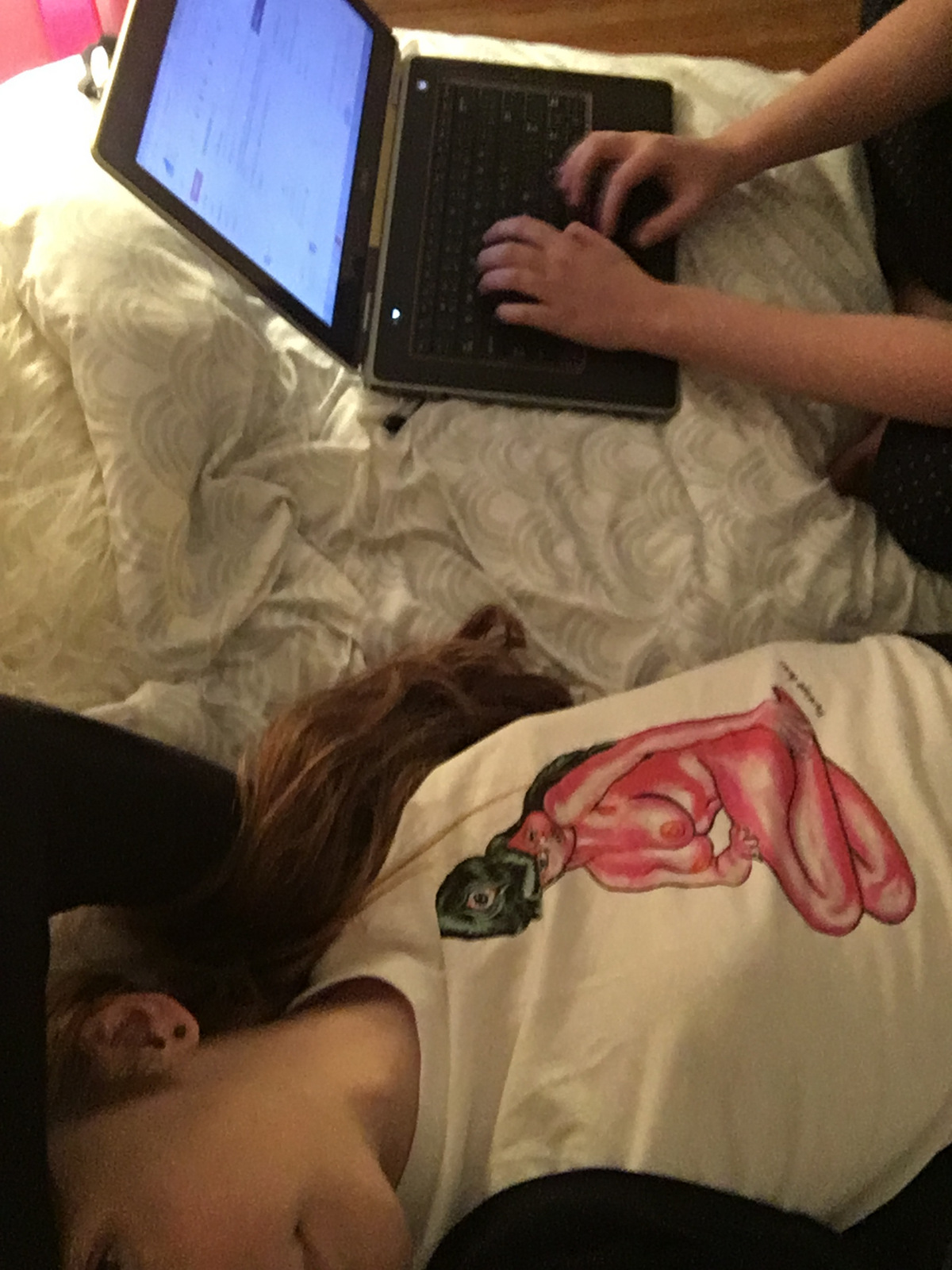 "I'm a writer/artist/embroiderer living in Chicago. I love exploring and fucking with traditional femme aesthetics and cuteness. Embroidery calms me and centers me, and it's also a source of supplementary income. Texture is my life. The surface and depth of feeling."
---
Eva Marie Gonzalez-Ruskiewicz / 28 / Normandie Avenue Elementary School, South Los Angeles, CA
"I'm an elementary school music teacher. Remember playing the recorder, champion of being shrill? Of course you do. I say variations on "fingering" roughly 25 times a day (make sure you're fingering that correctly, practice your fingering), and that feels pretty queer to me."
---
Erika Lygren / 23 / San Francisco, CA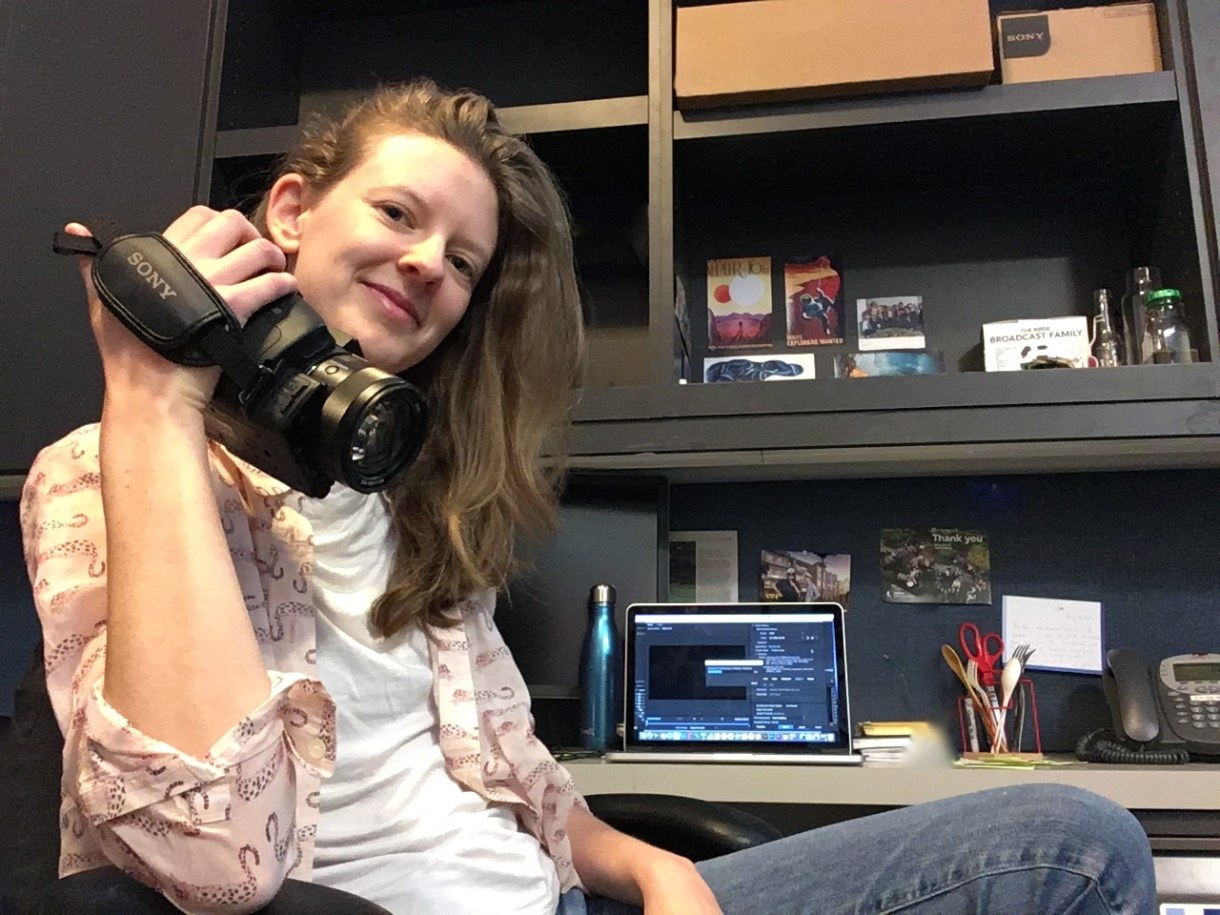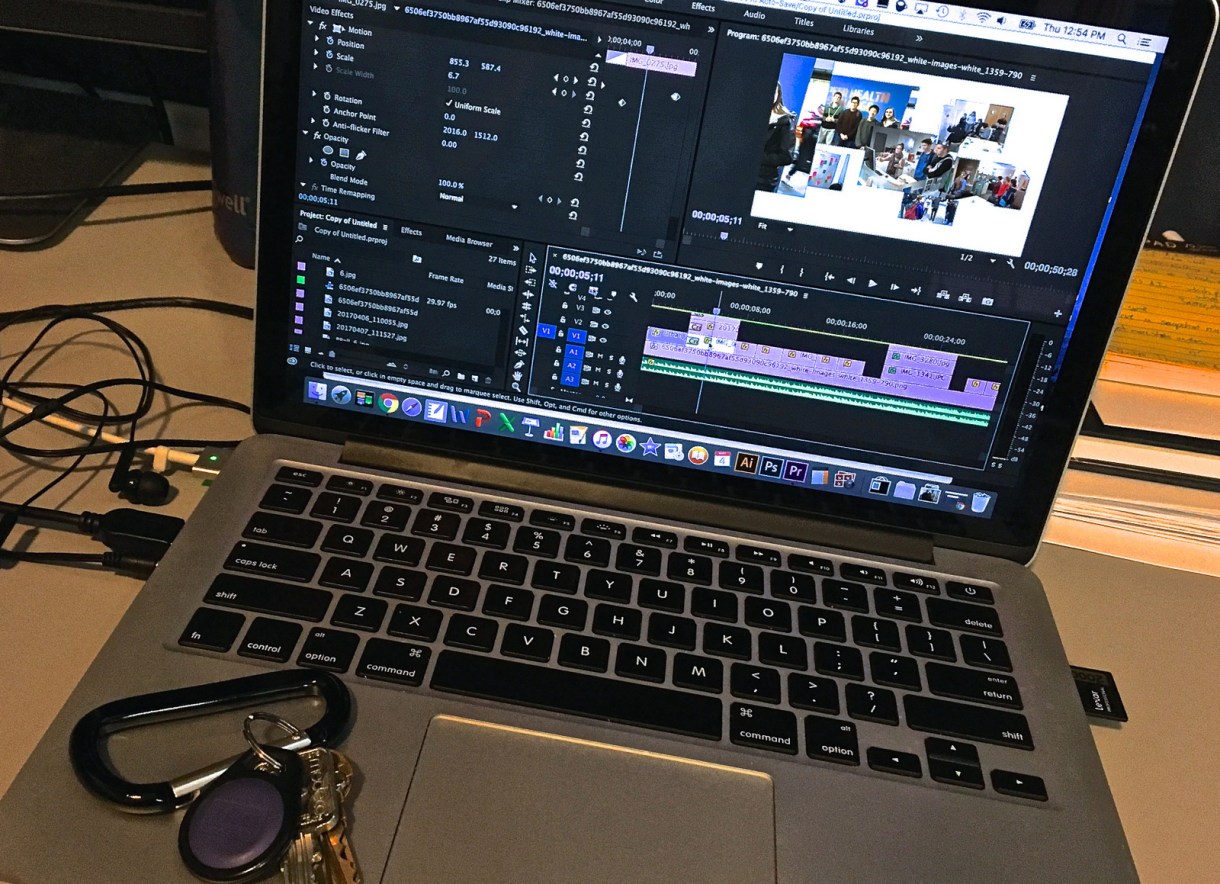 "I'm actually exporting a vid at the moment! I'm into video work for the non-profit sector, or environmental/social businesses. Linkedin me if you're in the bay area, or in Portland OR anytime after September. Mmmmm look at that sexy timeline! Also it wouldn't be work without the key ring…"
---
Nani / 25 / Minneapolis, MN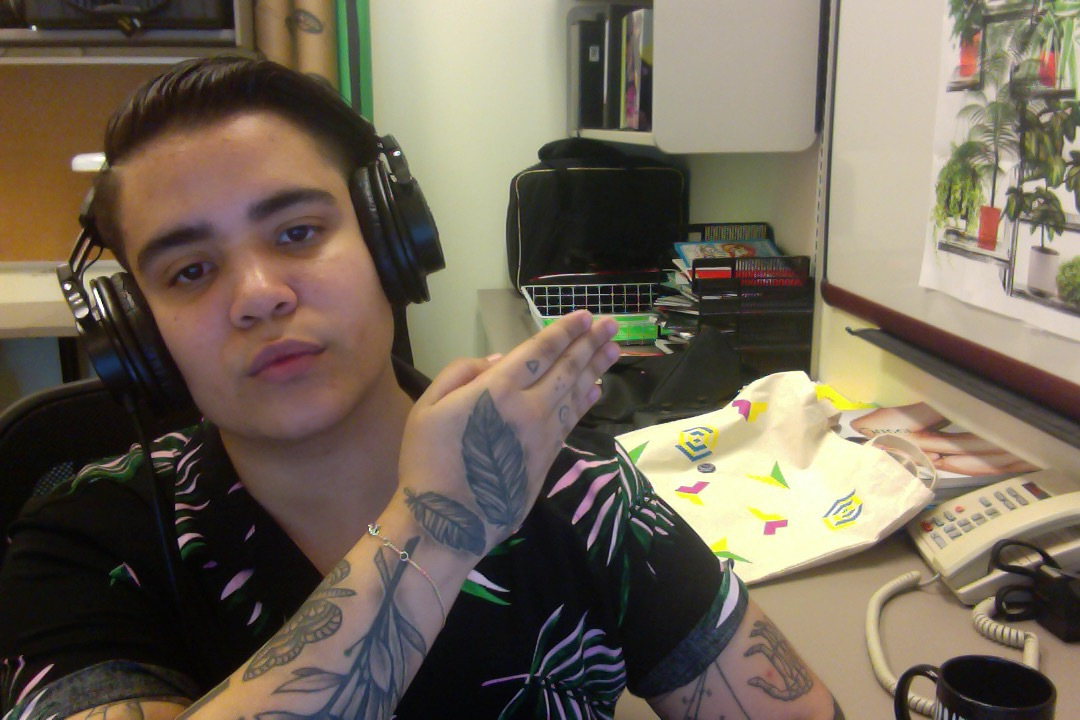 "These are my work plants."
---
Ocean Capewell / 35 / Oakland CA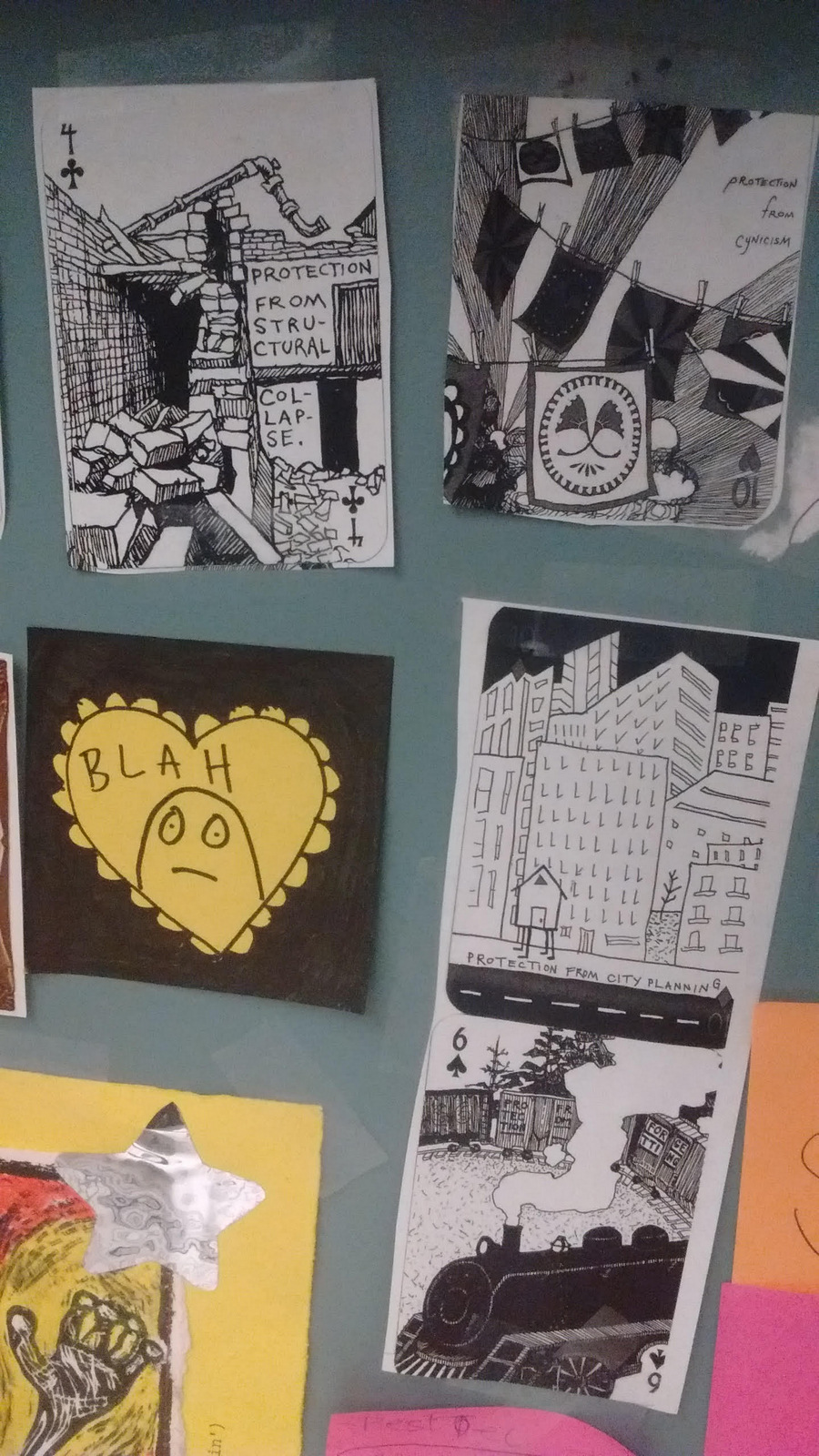 "I am a case manager/social worker in San Francisco's Tenderloin neighborhood, which can get pretty intense. One of these pictures is me, not long after I'd opened a client's duffel bag and stuck my (gloved, thankfully) hand into some (human) poop. The other picture is of the wall above my desk at work. I drew the cute blah while on hold with the hospital one day!"
---
Christina / 29 / Austin, TX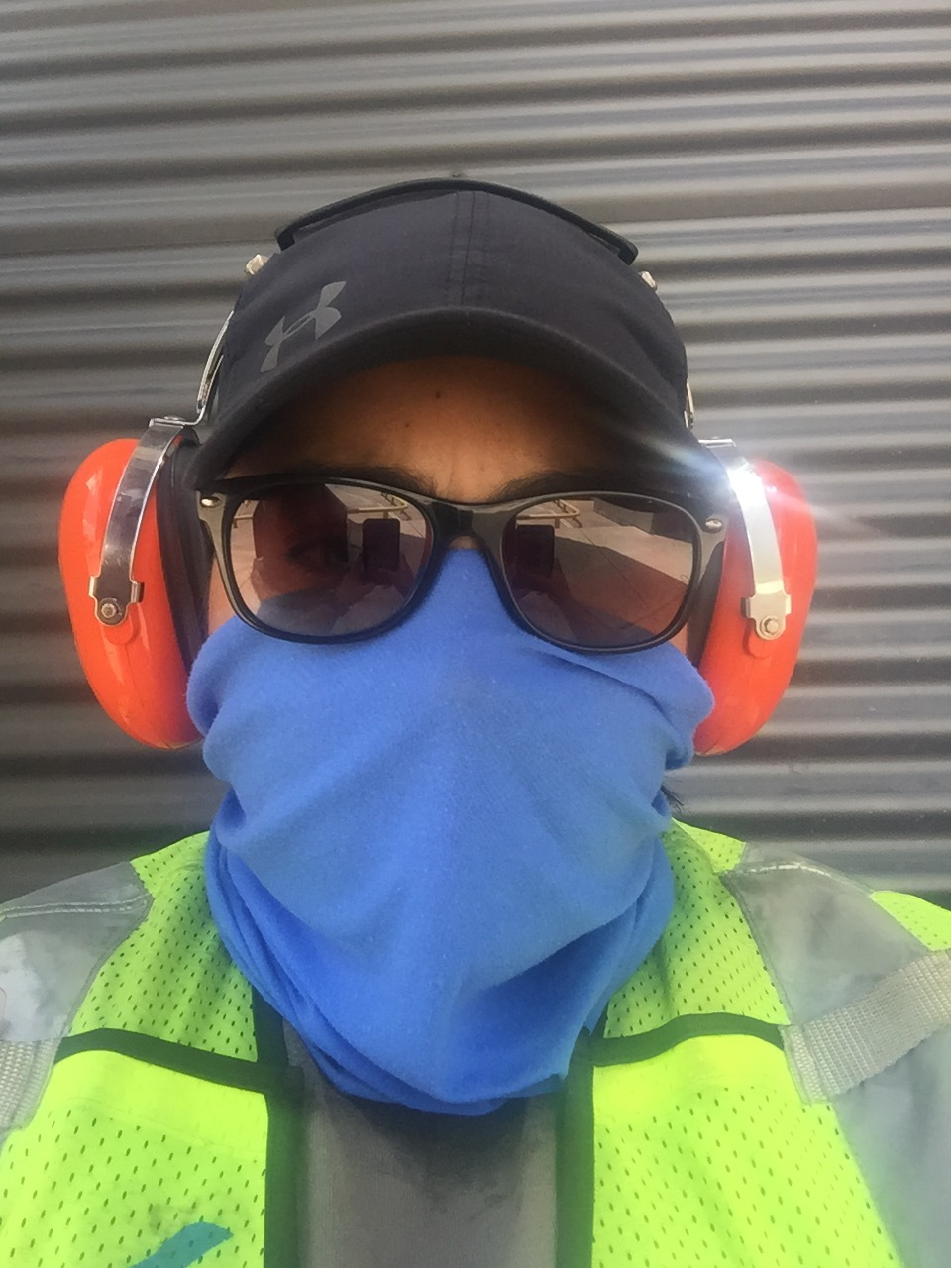 "In this picture I'm getting ready to work my flight, which entails offloading all the luggage and loading luggage in the time given. It was the middle of summer with temps in the triple digits. I wanted to make sure I was protected. I hope people will see that ramp workers and all airport workers in general have to deal with a lot in order to not get a delay. I work for American Airlines! Next time you see an airport worker give them a thanks. It means a lot!"
Liz / 24 / Indianapolis, IN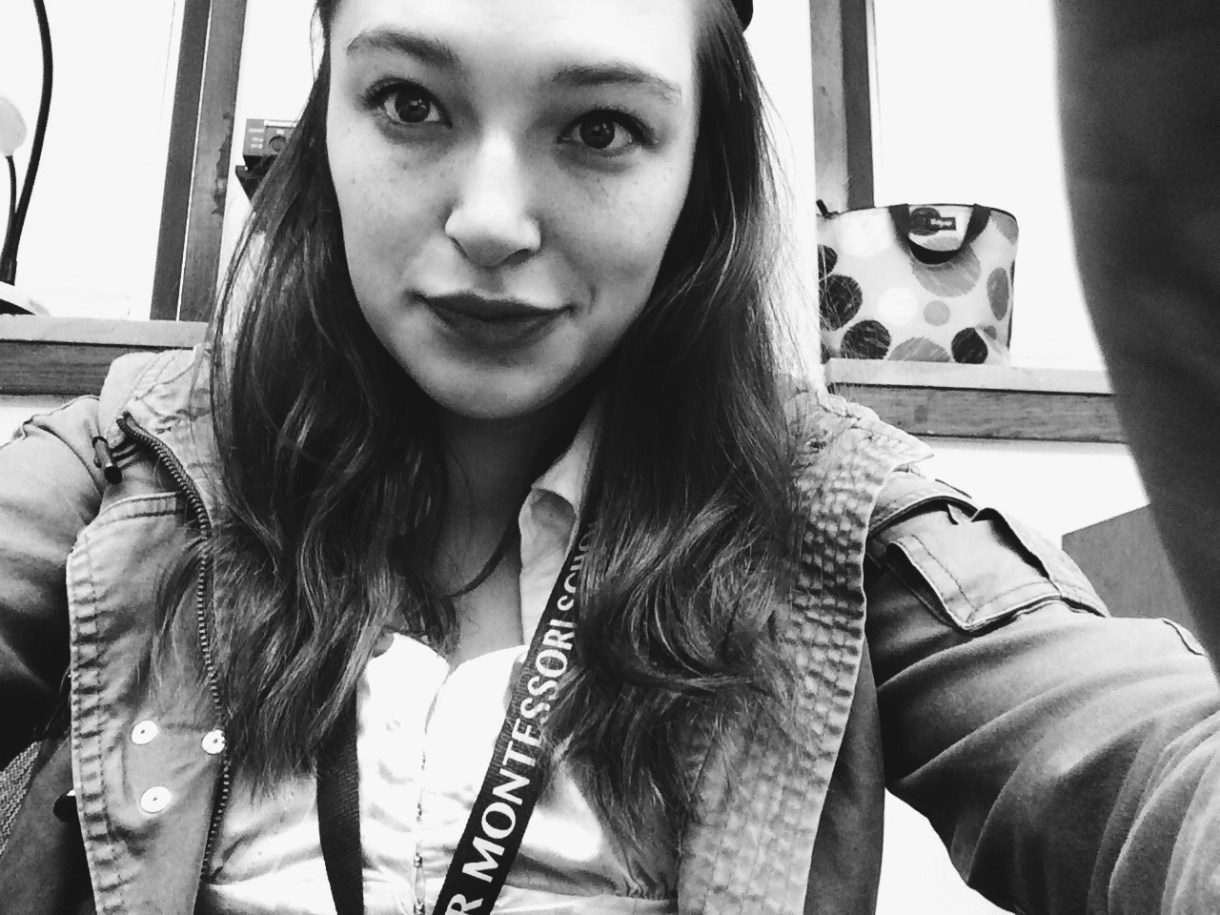 "I'm the lead teacher of a self-contained classroom for students with Autism at a public Montessori school. Which basically means I get to build robots out of legos and play tag on a weekly basis. So, life is good."
---
Hannah and Kim / 29, 30 / Women's Hospital Labor and Delivery Unit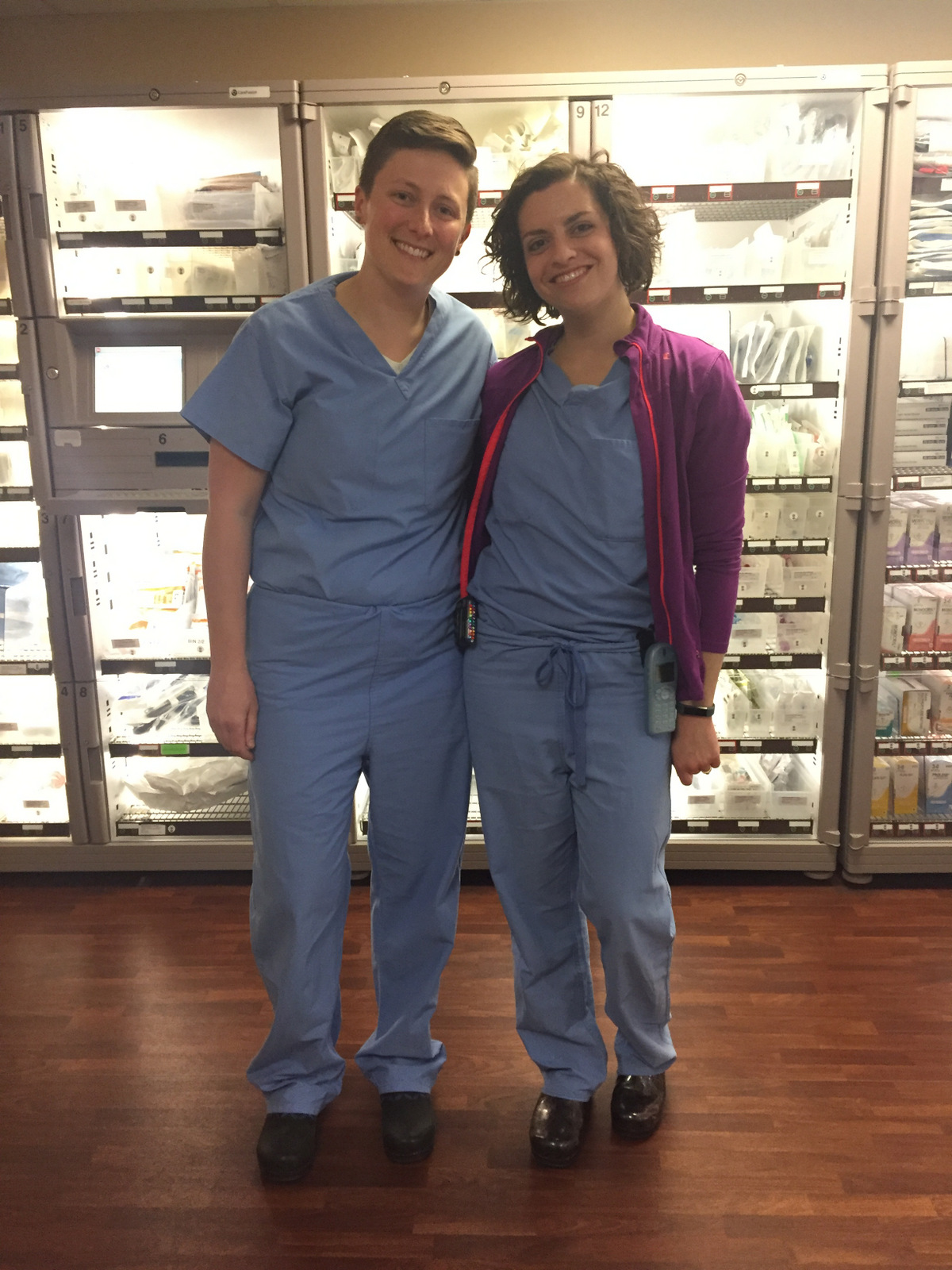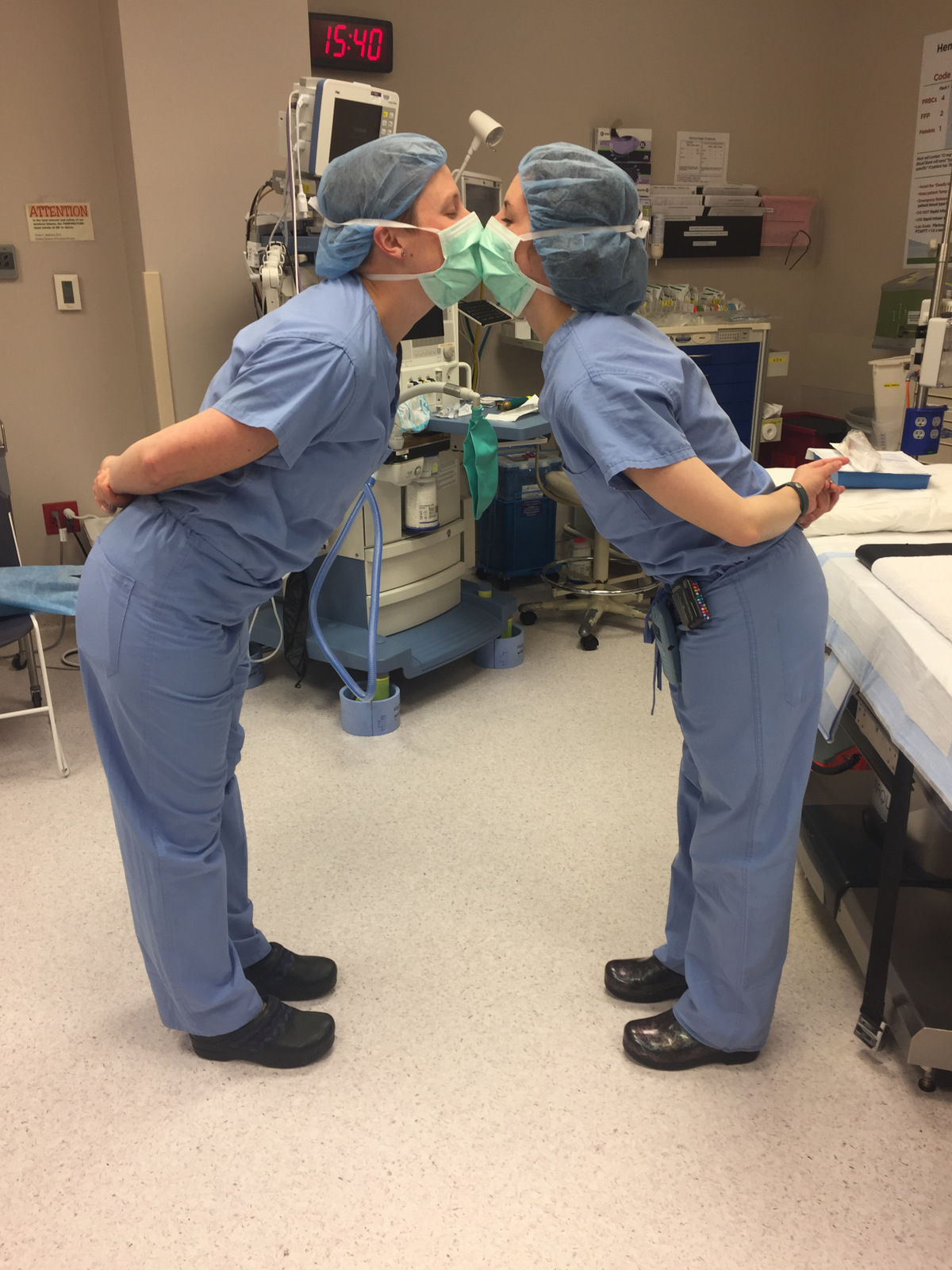 "My wife and I work together on labor and delivery. I'm an ob/gyn and she's a labor and delivery nurse. I like to say we're living up to stereotypes and breaking barriers all at the same time. Please note my rainbow bedazzled pager. This picture was taken during a 12 hour shift for Kim and a 24 hour shift for me. Being a doctor is such a huge part of who I am, I love that Kim fully understands it and appreciates what I do. It's also pretty fun to deliver a baby with your wife assisting you."
---
MacKenzie / 22 / Saint Mary's College, South Bend, IN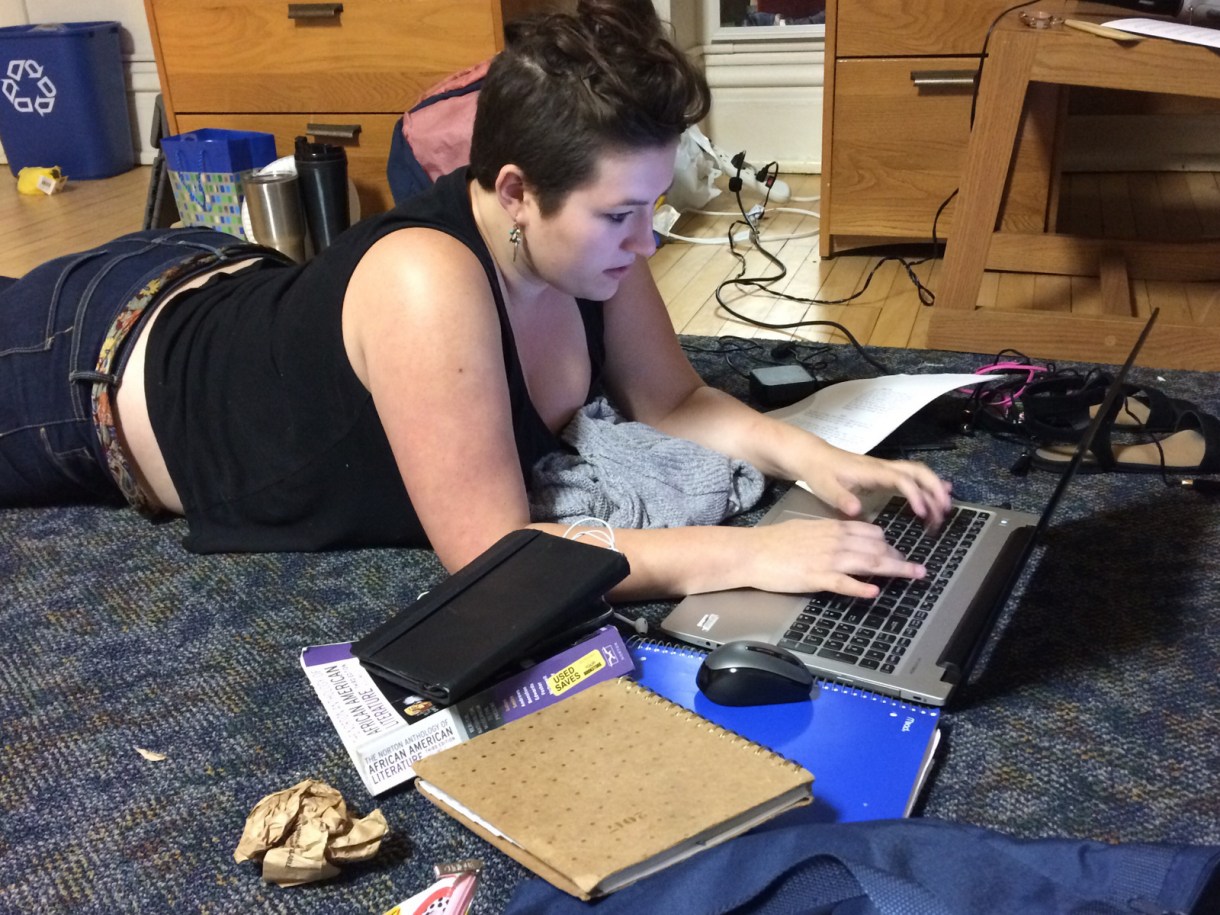 "Working on a mixture of Shakespeare essays, ficiton assignments, a play, and some Vetra/F!Ryder fanfiction. I've always loved writing, but it was only in the last year that I made the scary decision to switch from psychology to English writing as my major. It's been crazy and I've never pulled so many all nighters or drank so much coffee, but I've also never been happier. I never thought that I would write a play about a queer Asian-American woman who summons a demon to get into medical school. I don't know what the world has in store for me once I graduate, but I know that I will always be a writer."
---
Katie Scarlett / 23 / Chicago, IL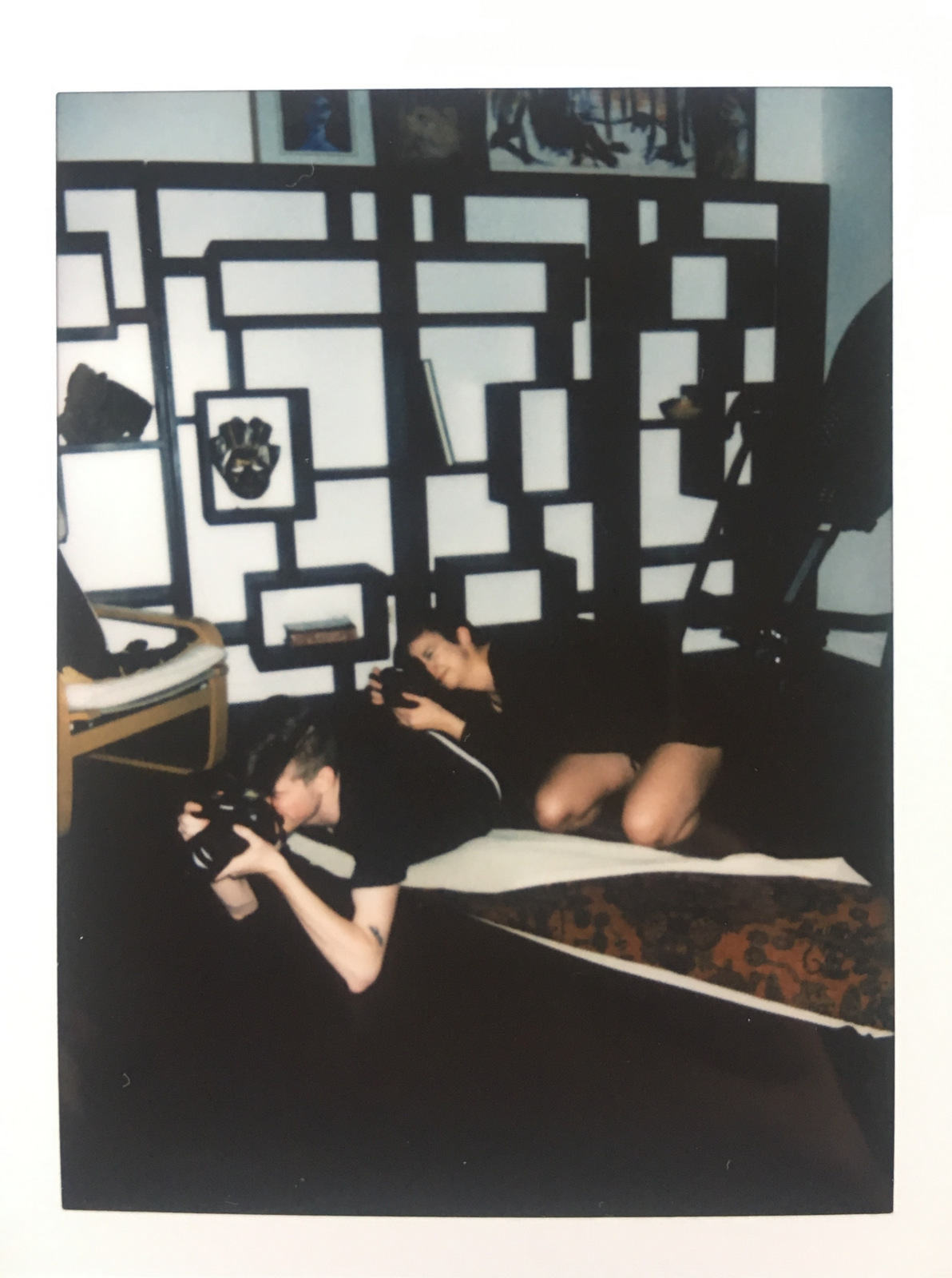 "On this set, I'm photographing with my partner in crime a collection of queer boudoir portraits! (I'm the gay lady laying on top of someone's butt to take a picture) I work full time as a photography agent, so it's nice when I get to create my own personal work. I'm also in graduate school (then off to med school!) for my Masters in Counseling. I also graduated with a degree in American Sign Language three years ago. I sort of love too many things to ever stick with just one at a time-but regardless of whatever I'm doing, art always keeps me grounded. I'm so thankful for that."
---
Rev. Julie Avis Rogers / 31 / Church of the Covenant, Boston, MA
"This is a photo from my ordination to ministry in the United Church of Christ (UCC) denomination. I currently serve as the Associate Pastor of a creative, activist-y and big hearted congregation in downtown Boston with a long and proud history of LGBTQ+ clergy."
---
Haley / 26 / Cambridge Friends School, Cambridge, MA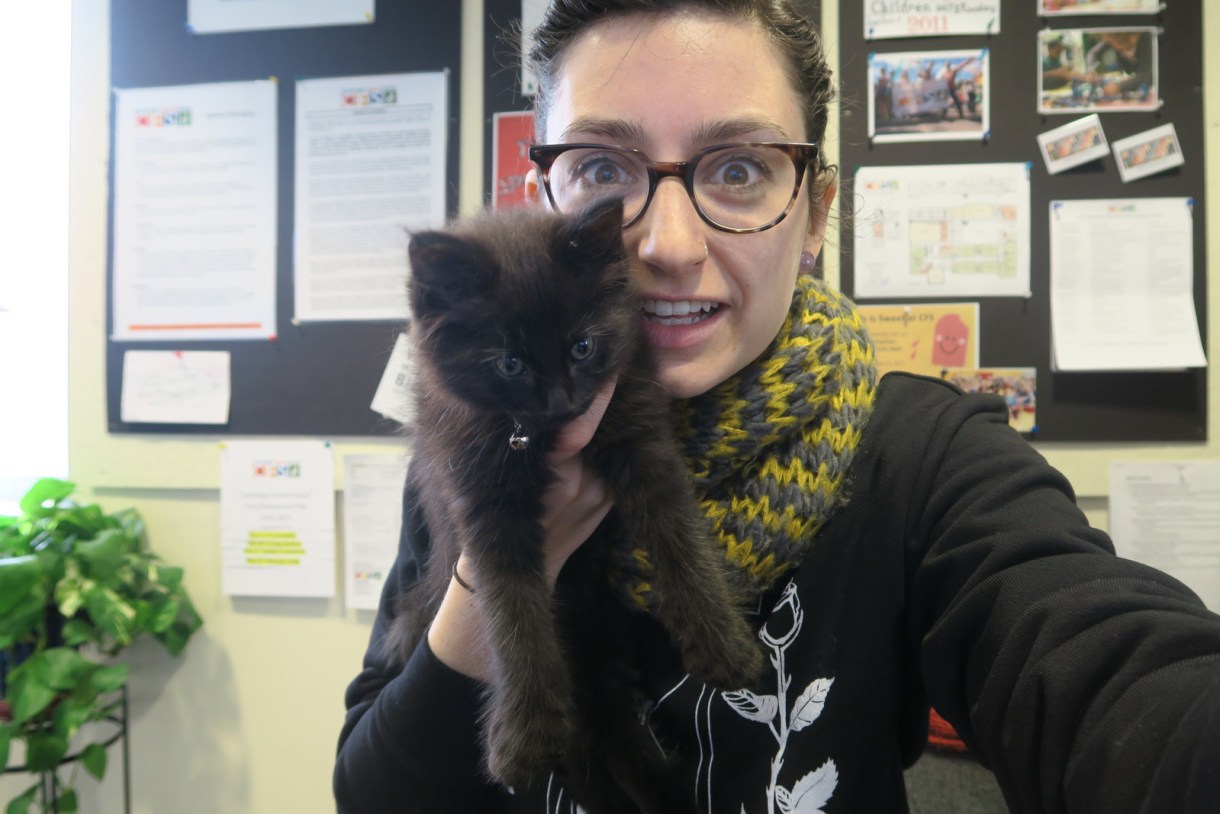 "I work in the admission office at a PK-8th grade Quaker school in Cambridge, MA. Our school is the only Quaker school in Massachusetts and is committed to teaching our students the importance of resistance and social justice. In my position, I get to talk to parents about their dreams for their children, their hopes for the future, and how our school can support each child in their unique growth and development.
This photo was taken while students were on spring break, when we were visited by a v smol baby. Not pictured: the 2 hour nap this kitten took in my filing cabinet soon after this photo."
---
Noelle Osborn, LPC / 42  /Non-Profit Agency in Eugene, OR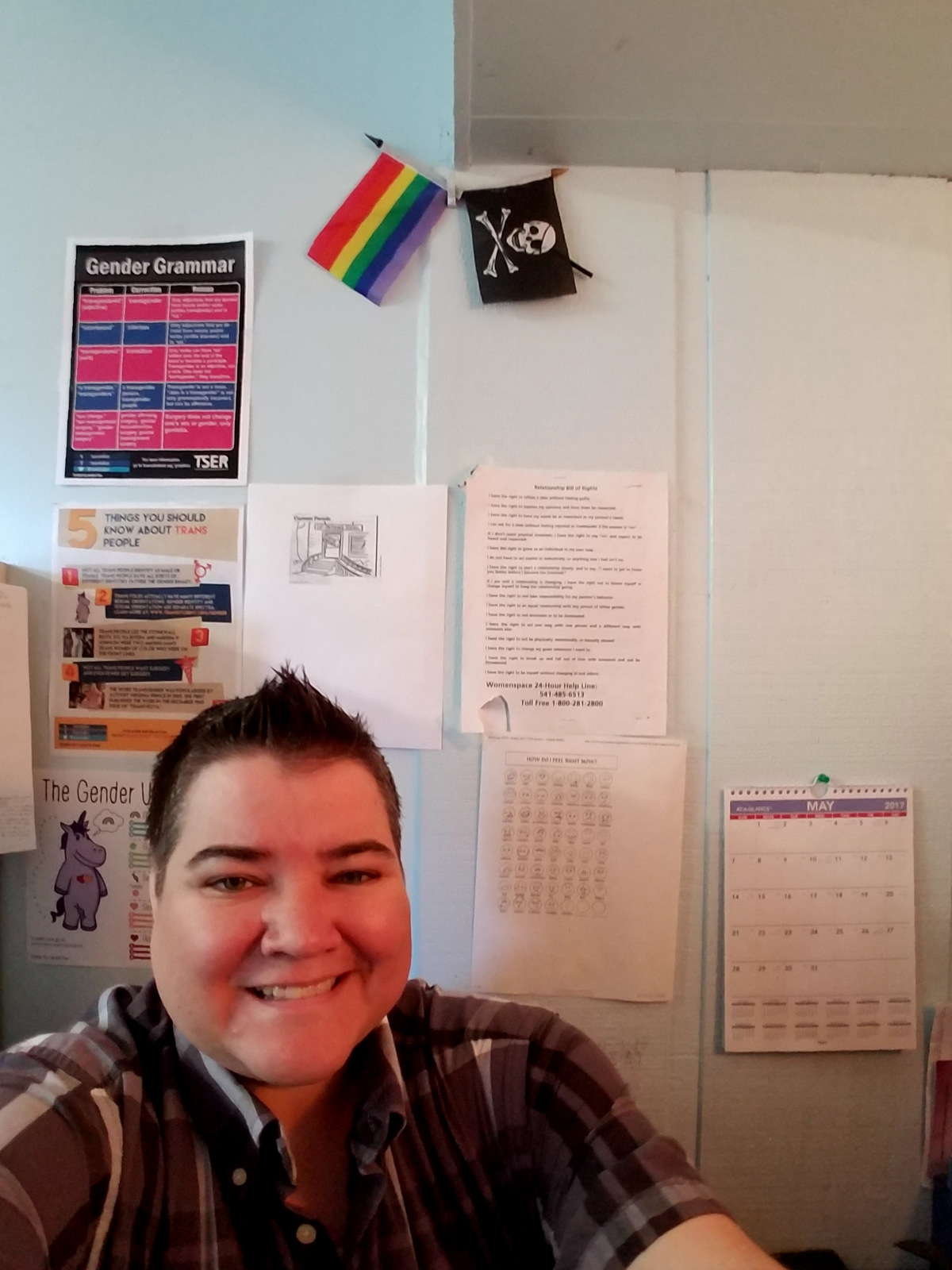 "In this photo, I am in my work area which is a converted closet (the irony is not lost on me). I am a mental health counselor specializing in LGBTQ needs. I identify as Queer/Gender nonconforming/Trans masculine and use He/They pronouns. I work primarily with folks exploring gender and gender transitions alongside a diverse group of general clientele. My agency focuses on serving homeless folks and those with low incomes. My work is something I am extremely passionate about. I get to help people along their personal journeys and assist them to navigate challenges in their paths. I am proud to serve the queer community to improve mental health and family lives locally. I experience a profound sense of fulfillment through aiding individuals to find agency and empowerment and to strive be their most authentic selves in the world."
---
Kylie Havelock, Charlotte Jackson, Kamala Hamilton-Brown (aka the Queer Ladies of Justice!) / 28, 42, 28 / Bletchley Park, England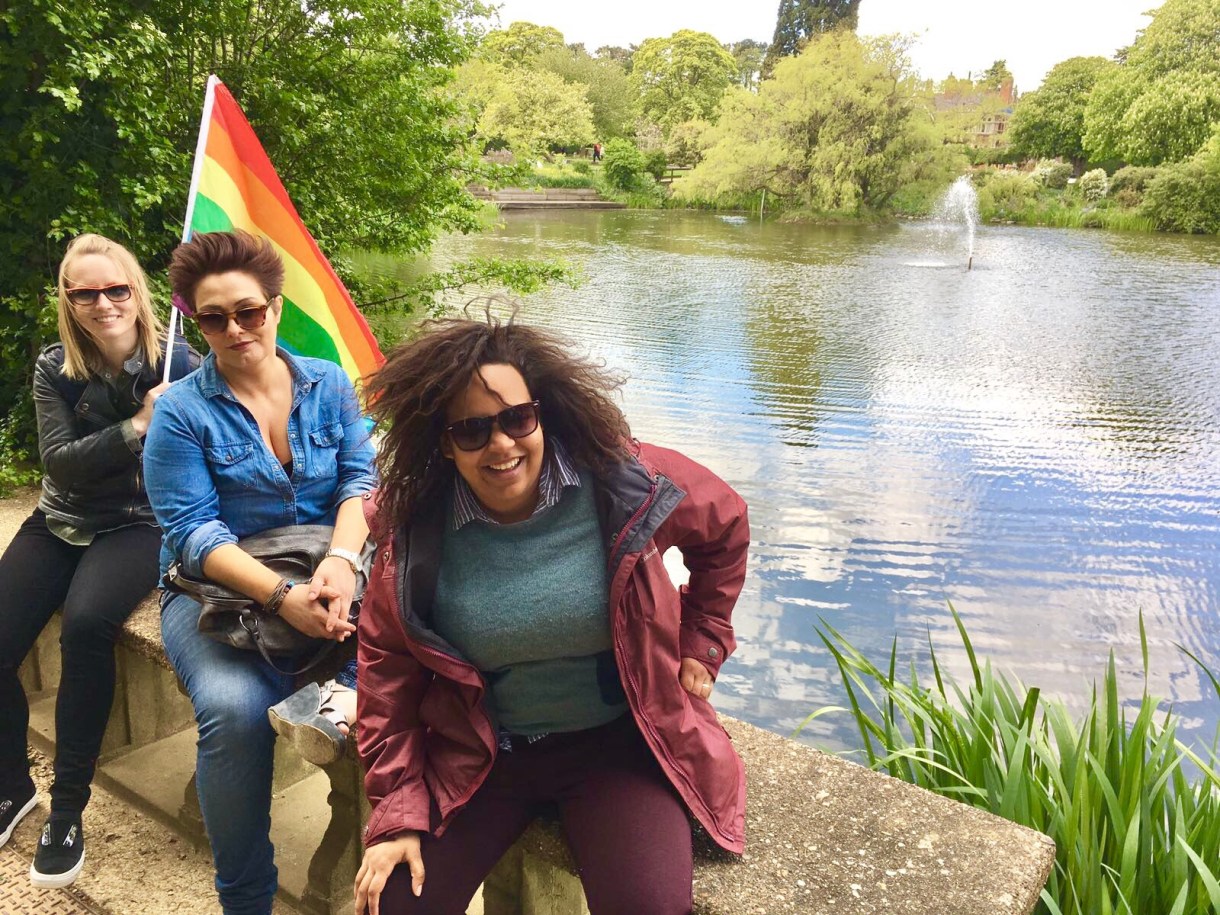 "We organised a trip celebrate the 1 year anniversary of our queer community at the Ministry of Justice (nickname "Rainbow Raves") we took a trip to Bletchley Park, home of the WWII codebreakers and where Alan Turing famously broke German ciphers. If you haven't seen the Imitation Game…Turing was a gay man who was convicted of (then illegal) homosexual acts and sentenced to chemical castration, later committing suicide. The UK Government eventually issued a posthumous apology to Turing in 2004, and the Ministry of Justice recently pardoned thousands of gay men in what was known as the 'Turing Bill'.
We're now known as the Queer Ladies of Justice! We visited Bletchley Park because wanted to celebrate the success and importance of our queer community, and remember how far we've come in fighting for LGBTQ* rights."
---
Grace Piper / 22 / Queer Resource Center at Portland State University, OR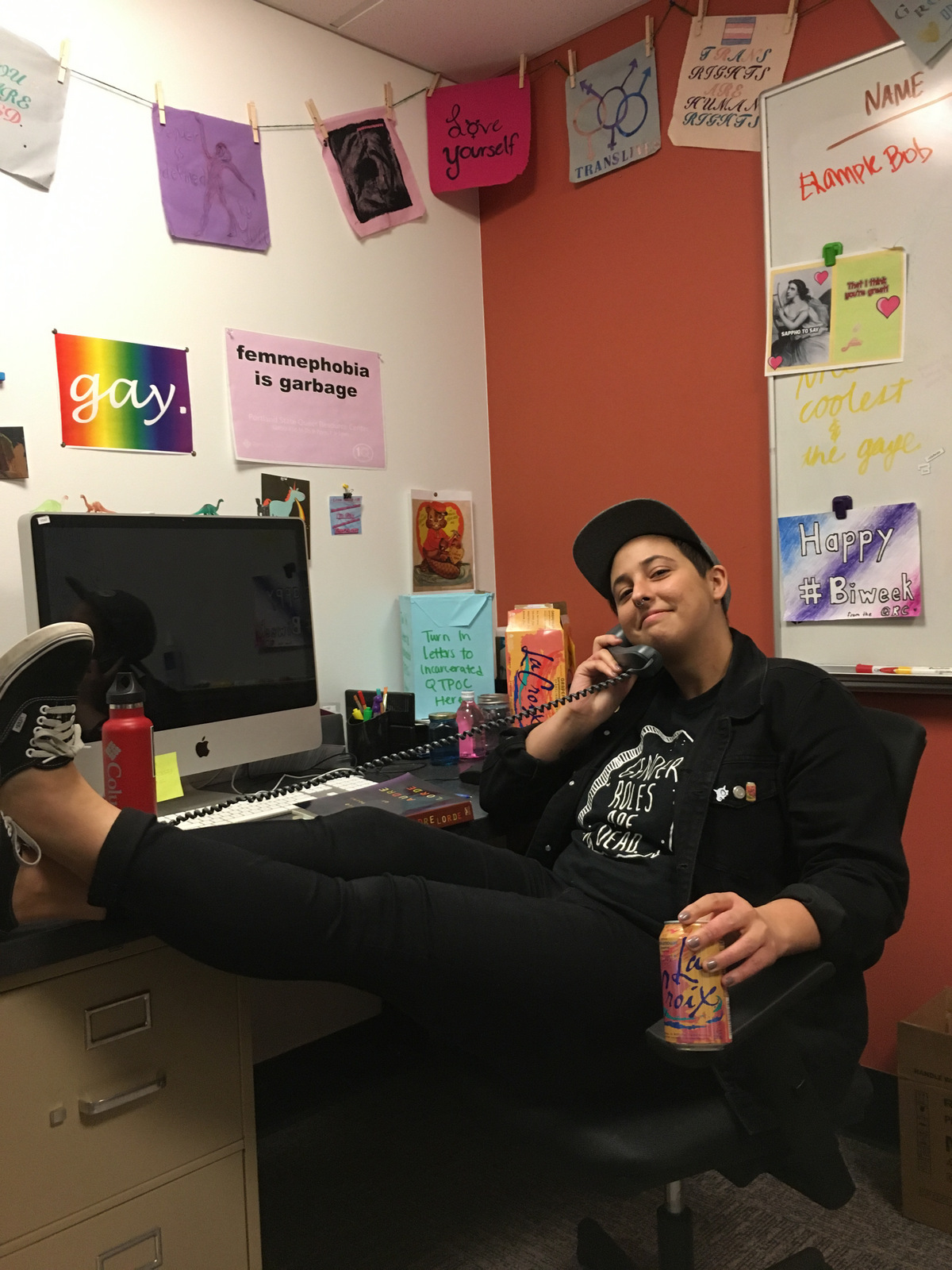 "I am the Marketing Coordinator in my really gay office for the Queer Resource Center, which means I get to do a lot of festive social media stuff, create queer and trans positive marketing campaigns, manage newsletters, and do some event planning. Right now I am working on designing a handout about removing harmful gendered language in conversations around menstruation that we will hand out at the upcoming period party. I think the media I work with creates a really interesting way for us to engage with queer and trans students and faculty and make them feel seen and valued on campus."
---
Steph / 22 / Park Ranger and Super Intern / Great Basin National Park, NV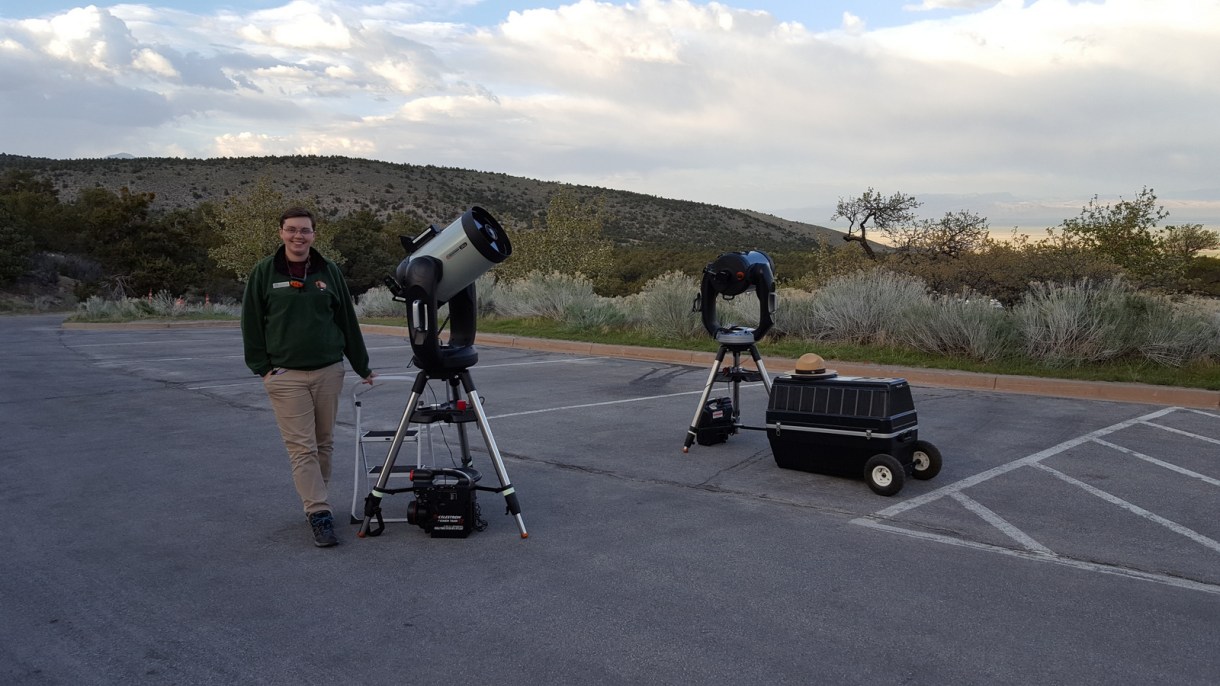 "Astronomy and National Parks have always been passions of mine; I sent one email putting myself out there to the guy who ran this program and I managed to make it into a job. Also: the inspiring story of an English/creative writing major who got a job! (The physics minor and astrophysics concentration probably helped though.)"
Laneia / 36 / Executive Editor of Autostraddle / Mukawango, WI
"My day job is all about sitting in a moderately comfortable Ikea chair and typing on a laptop, but once a year I get to stand up in front of other queers and do things! Here I am showing these lovely people how to make granola. I look really professional, right?"
---
Amy Flower / 32 / Koreatown, Los Angeles, CA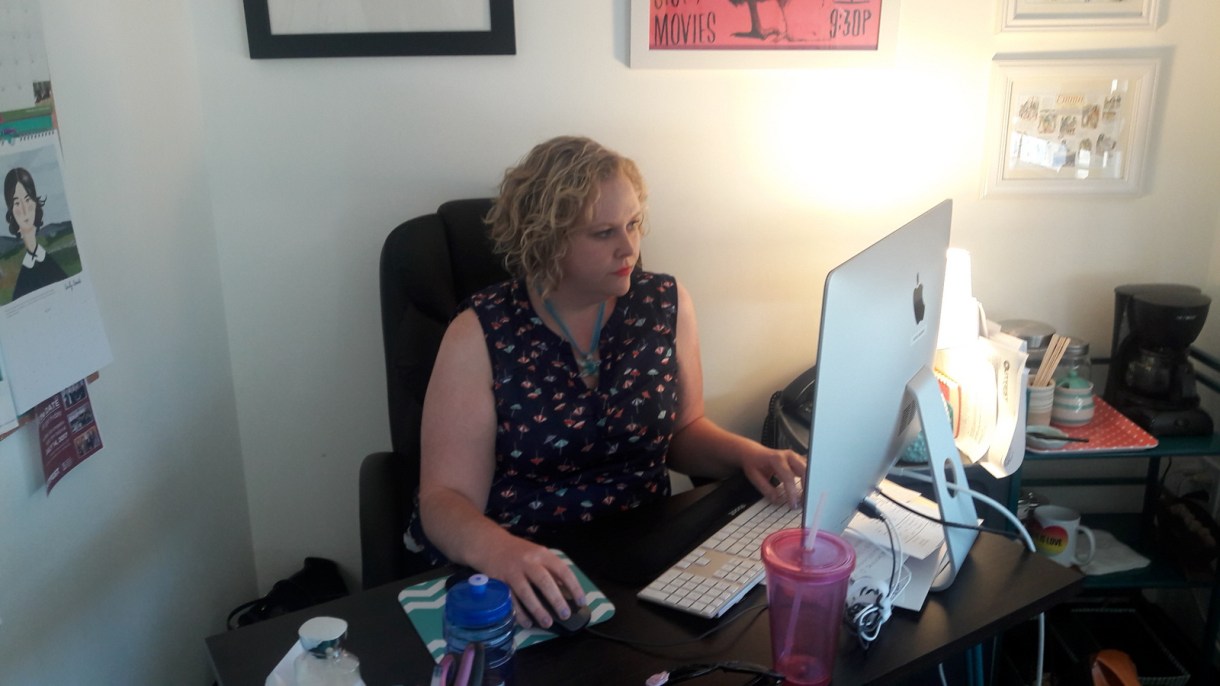 "I am the Corporate Relations Manager at Outfest, a 501(c)(3) arts non-profit and LA LGBT Film Festival. In the photo I'm currently working on locking sponsorships to support the festival like entertainment industry companies and major studios. I feel incredibly lucky, as a filmmaker myself, to support the work of up-and-coming queer storytellers. I hope that LGBTQ artists and film-lovers alike will continue to find comfort in their art and use moving-images a way to promote activism in our community."
---
Emma (she·her) / 24 / Tumbler Ridge, British Columbia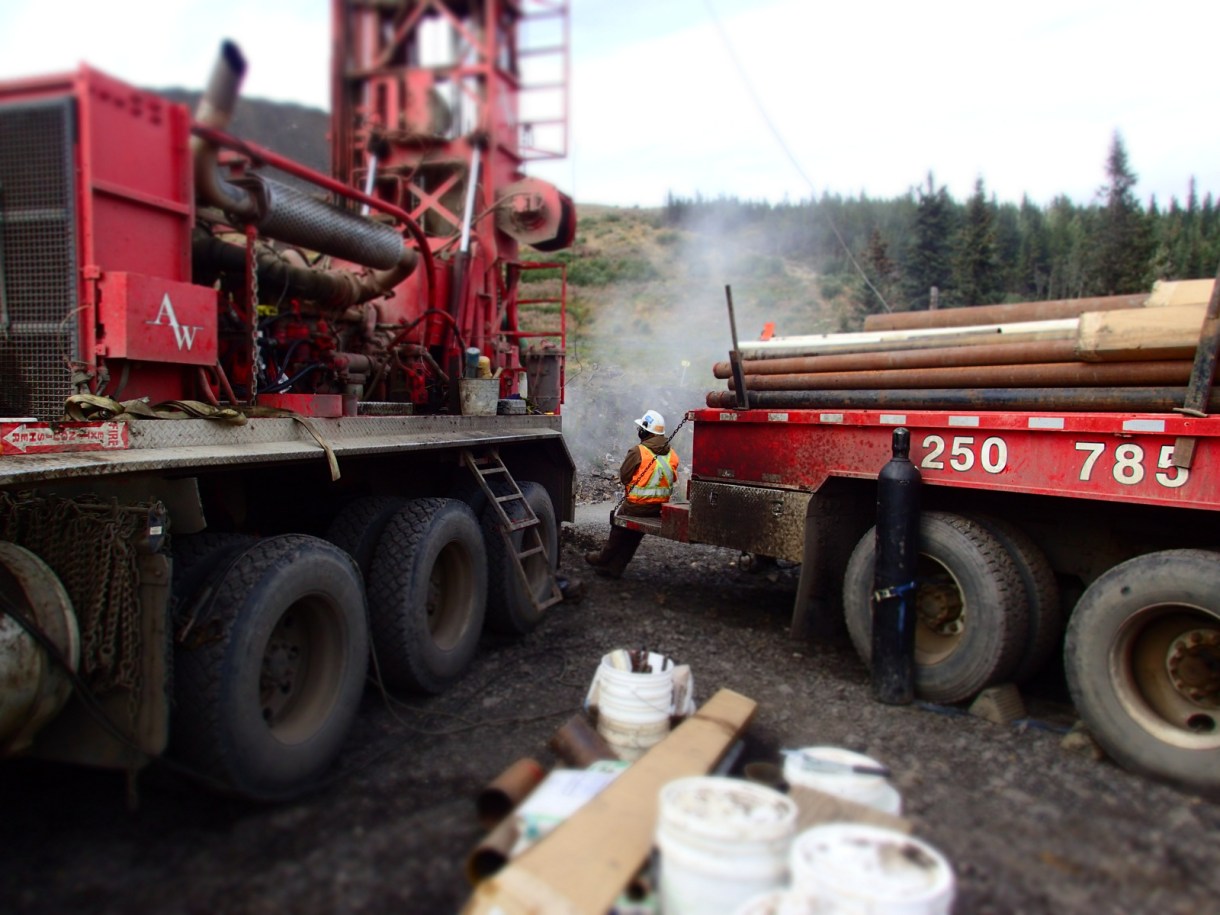 This is the very first picture I ever took of my fiancée, Emma, taken on the very first day we met nearly three years ago. This is the first of 12 pictures I took of her that day, including a couple that showed off how nice her bum looks in Carhartts (not featured). On the second day, I took a photo of her napping in our field truck (I'm not a creepster at all…). We were working at a coal mine in northern British Columbia and she was in charge of training me. She basically ignored me as much as she could and I cried to my then-boyfriend on the phone after work because I thought she thought I was stupid. Turns out she had a major crush on me and was acting out of self-preservation. Coal: bringing queers together since 2014.
---
Lucy / 33 / Cambridge, UK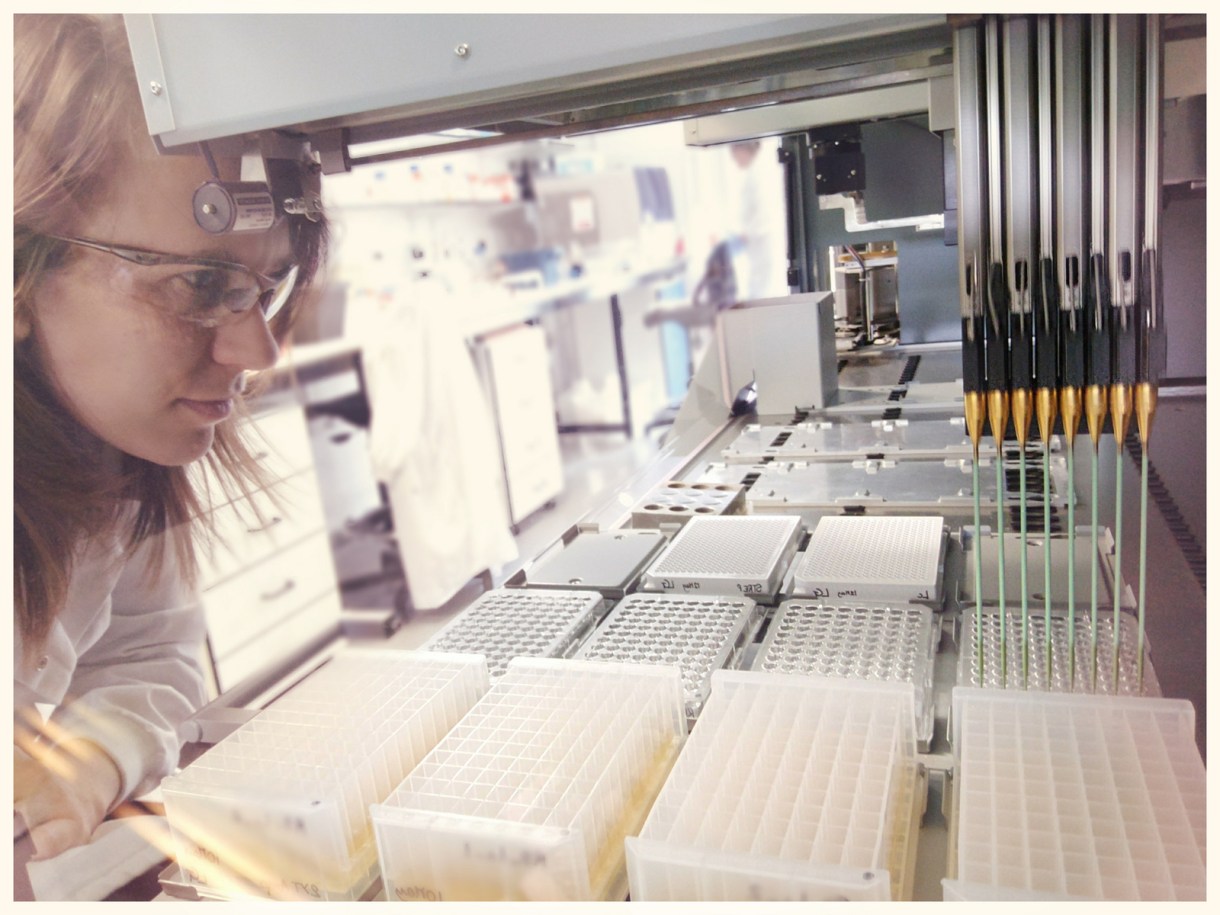 "I work in drug discovery, in the photo I'm using a robot to automate an experiment. I like working with automation because it makes life easier for my colleagues and because robots are awesome."
---
Lee Christoffersen / 26 / Tumbler Ridge, British Columbia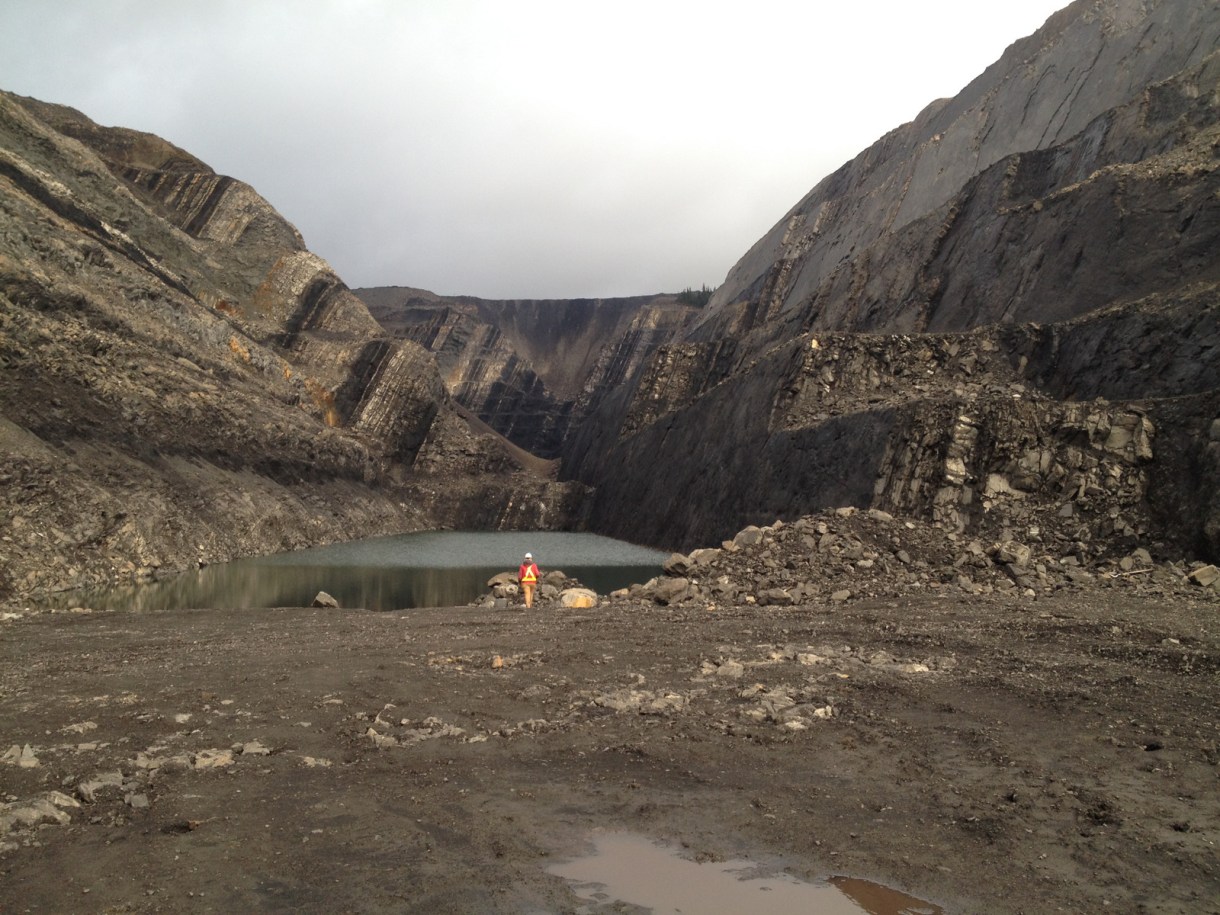 "This is my fiancée three years ago, the first time we met. I was working at a coal mine in Northern BC installing and testing environmental monitoring wells. Before I get into the juicy bits I should follow the format and say that it's really important that people who care about the environment work in mining because it needs to be done right! Designing and installing monitoring networks to monitor the mine's impacts on the environment and then helping the client fulfill their reporting requirements to the government is super important, yo!
Anyways, I had been working for three weeks and she came up as my replacement/trainee. As soon as she made it to site, with a twinkle in her perfectly blue eyes, asking smart questions, and wearing perfectly-fitting Carhartt's and a pink Carhartt's jacket, I knew I was in trouble. I don't think I did a particularly good job training her, because I was so concerned that she would find out I had a massive crush on her. She didn't need it anyways and after I left absolutely crushed the work. In the picture, it was her first day on site and we were touring all of the water sources to identify flow and contaminant loading patterns. I took this picture of her from afar so she wouldn't think I was creeping!
Nothing happened between us for a long time as we were both in relationships but we became close friends after that trip and confided in each other and supported each other in ways we didn't recognize until after we started dating. We started dating just over a year after we first met, and finally all the things we felt about each other over the last year came into the open and we laughed and laughed about how we had misinterpreted so many signs the entire time.
I feel like the luckiest person in the world today, after getting engaged to her last month. We are so honest with each other after some hilariously confusing beginnings. If possible she is even more of the brilliant, fiery, beautiful woman she was when I met her. She has also been fiercely protective and unendingly supportive of me throughout the last year and a half during which I have made the transition from sporty femme-presenting to the MOC genderqueer person I've always been inside. I am so so loving the present and looking forward to our lives together, and it's so fun to trick people into believing that all great queer love stories start at coal mines! (seriously… I actually had one straight person go: "REALLY?")"
---
Deniese, Katie, Kate, Blake / ​23, 25, 25, 26 / Dumbo, Brooklyn, NY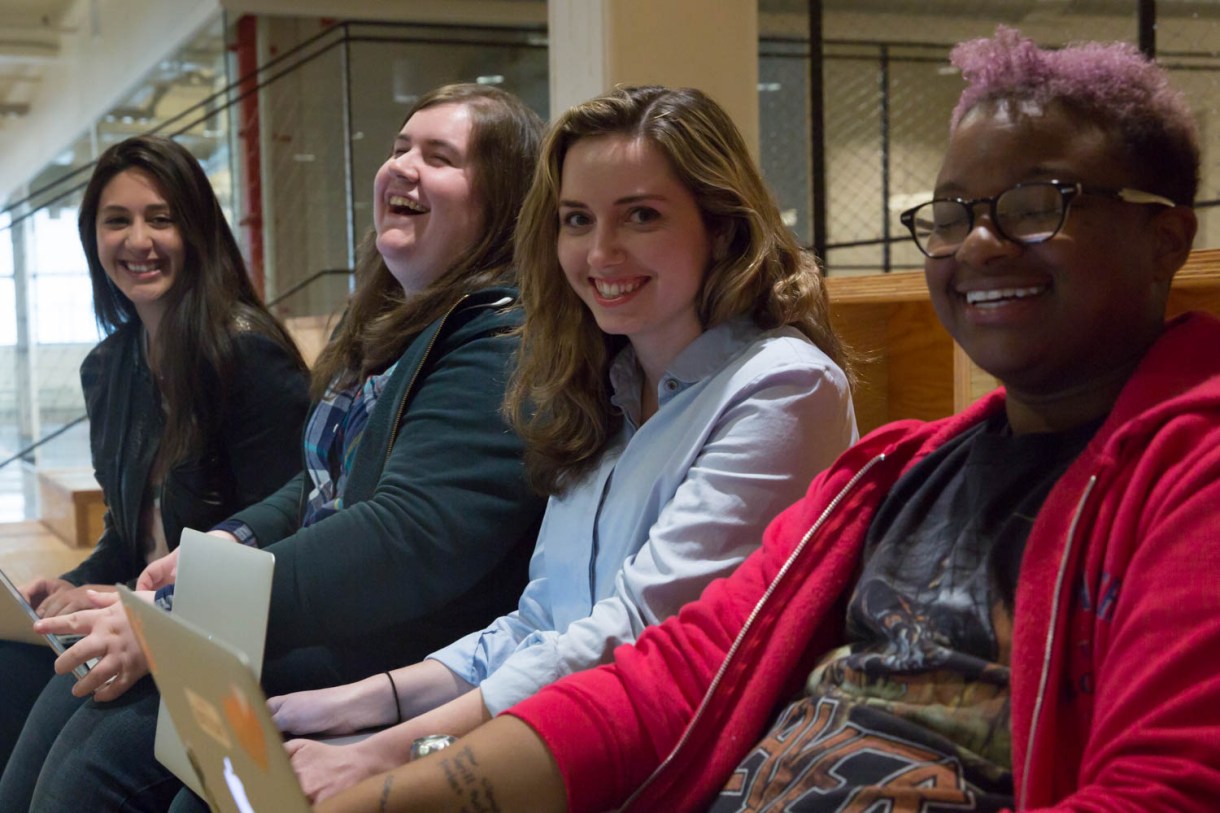 "We're a bunch of queerdos working in advertising/marketing, doing everything from production (Deniese), community strategy (Katie, Blake) and analytics (Kate). Here are our very staged photos of us "working" on our laptops!"
---
Jackie / 28 / Columbus, OH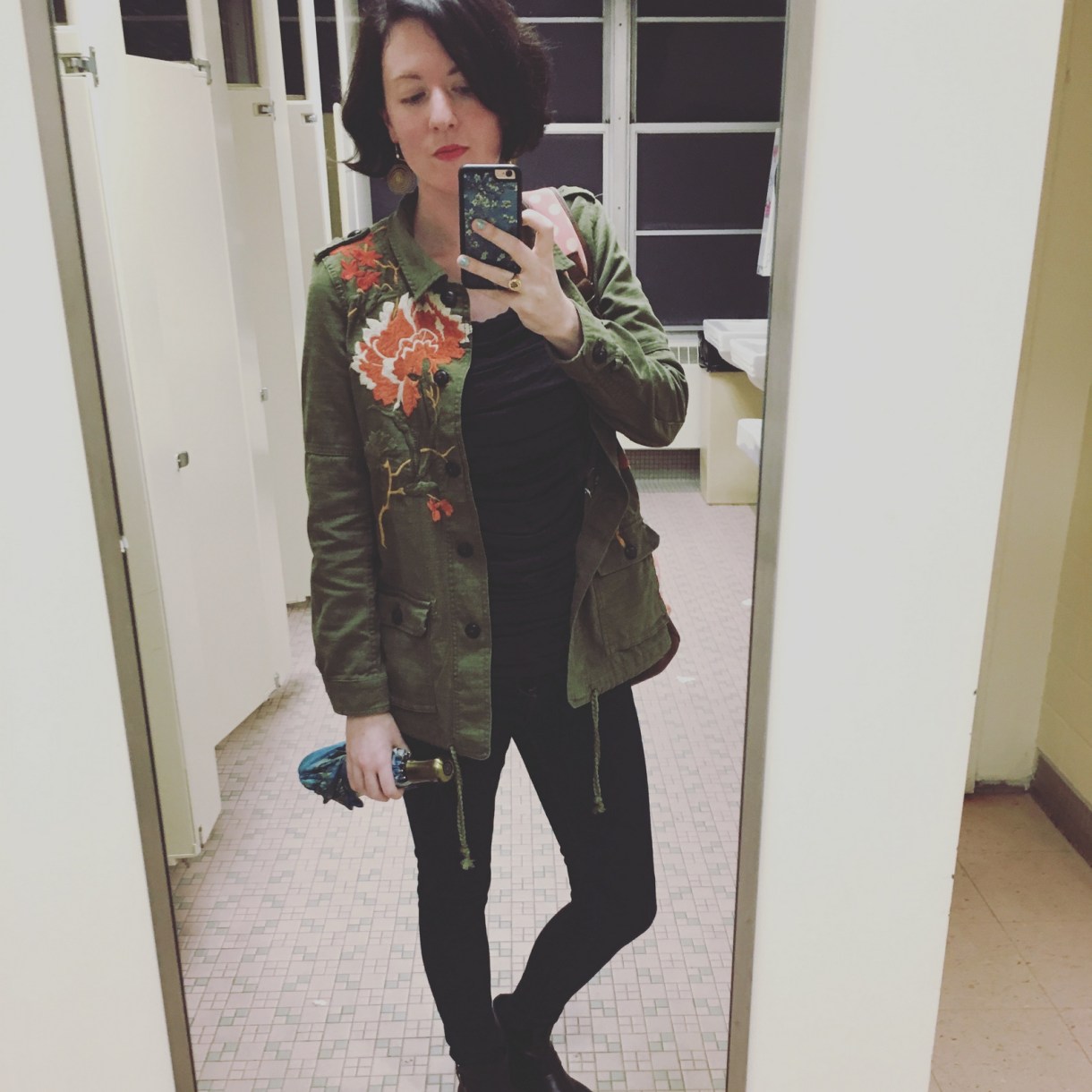 "I took this in the bathroom after teaching an undergraduate creative writing class. Since coming out to myself about a year ago ("not straight" is the most concrete conclusion I've drawn so far, but I'm learning to be comfortable with uncertainty), I've found myself documenting moments when I felt particularly unapologetic."
---
Megan / 33 / Mukwanago, WI
"Here I am at my second job: Program Support Director at A-Camp. In this photo, Robin is "living her dream" of driving a golf cart through woods full of queer people. A-Camp is exhausting and the only time all year that I willingly wake up before 7am for an entire week, but it's always totally worth it. We make our own world up there."
---
Amy / 39 / Trauma surgeon / Chicago, IL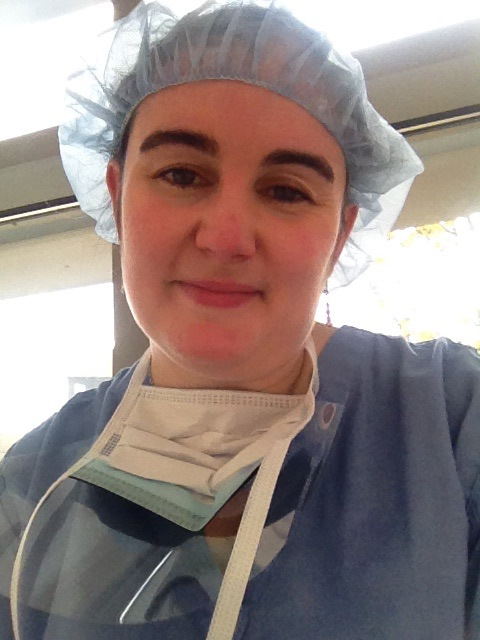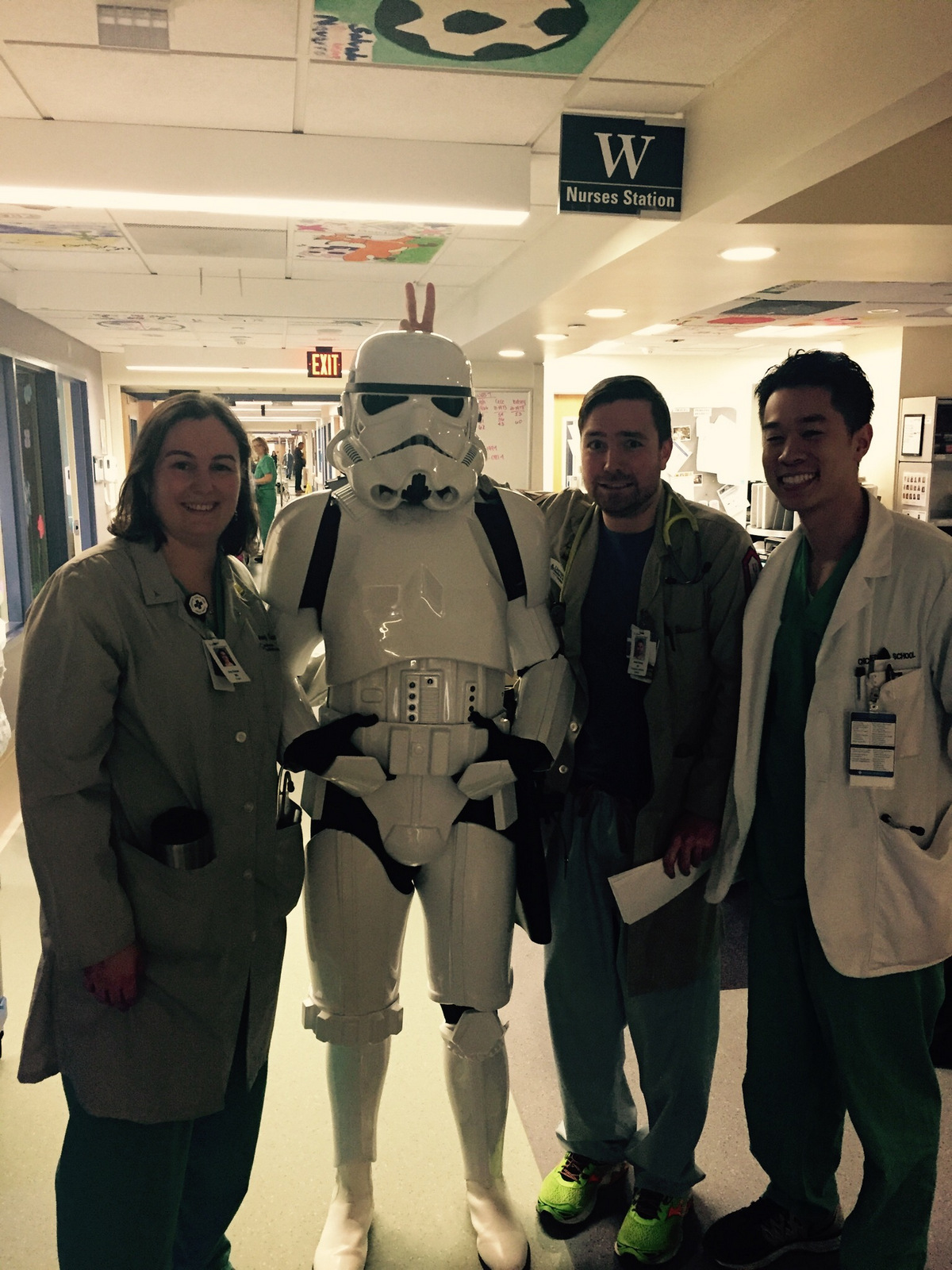 "Me hanging out before a surgery. And my team randomly walking through the pediatrics floor, where we ran into a storm trooper."
---
Ash Wolff / 32 / Waltham Public Library
"Reference Librarian at a public library posing for a Banned Books Week "mug shot" for our social media. Annie On My Mind is one of my favorite "banned" books."
Louisa / 21 / London, England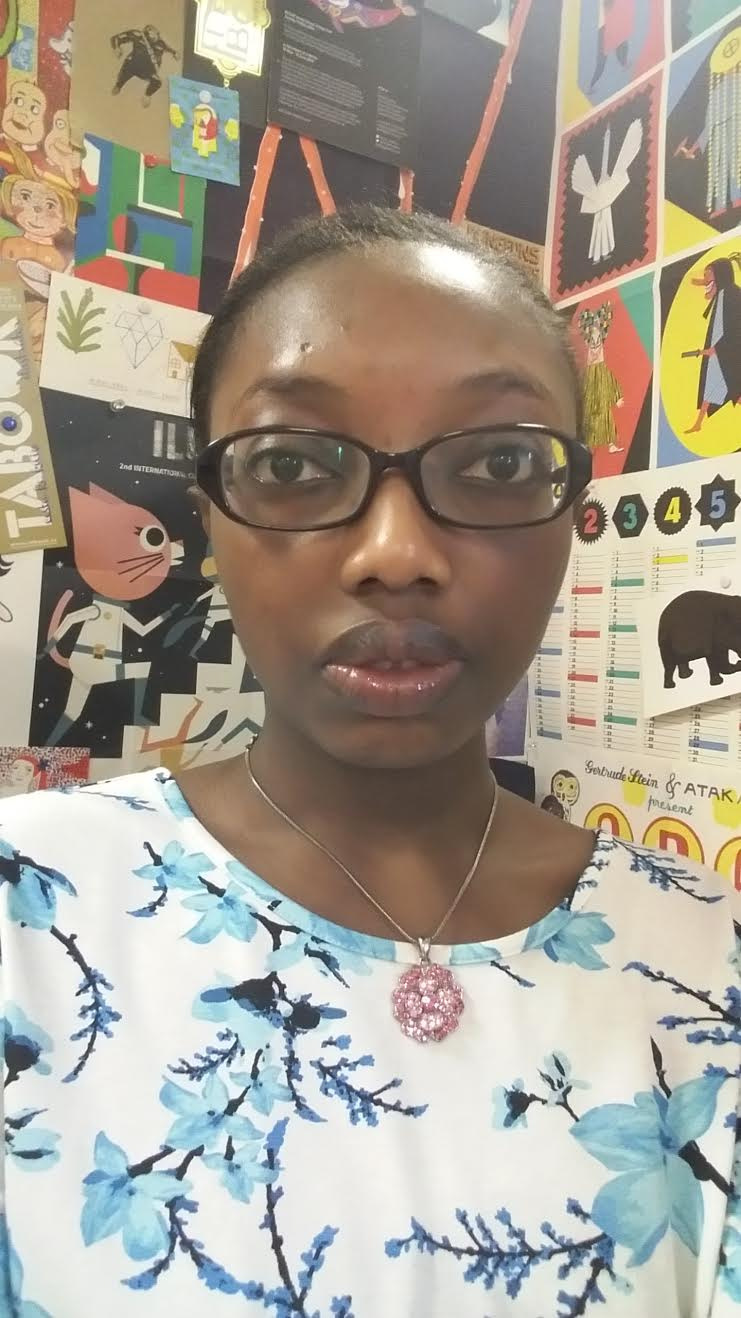 "First day of my internship at a visual publishing company! They have this cool mood board in the kitchen area with drawings from illustrators they've worked with."
---
Yvonne Marquez / 26 / Mukwonago, WI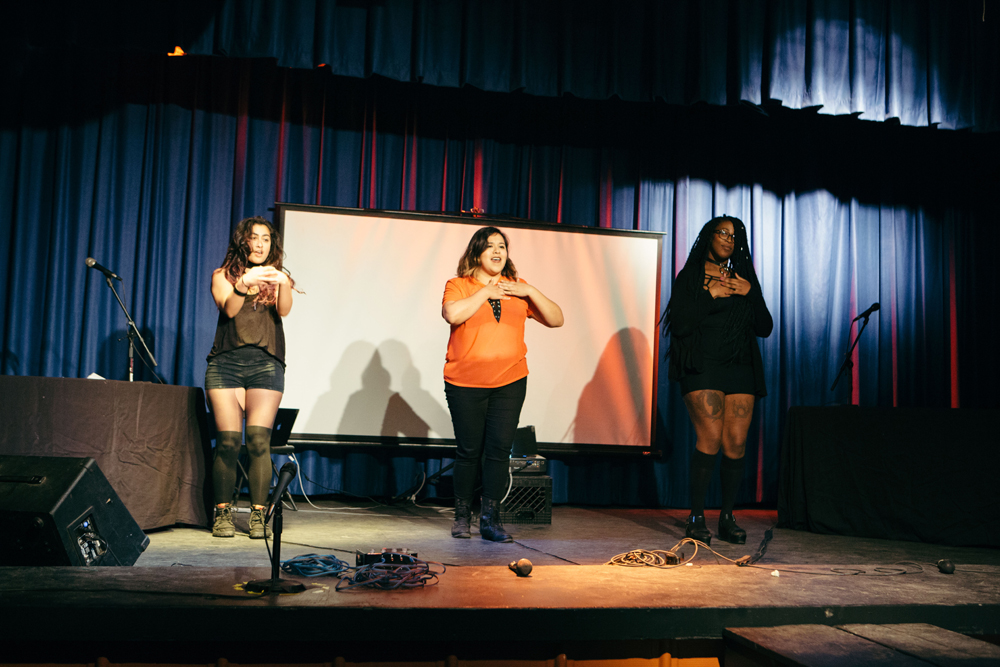 Just a Brittney Spears lip-synch that brought the house down at A-Camp 8.0.
---
Doreen / 36 / ER, Hospital near Berlin, Germany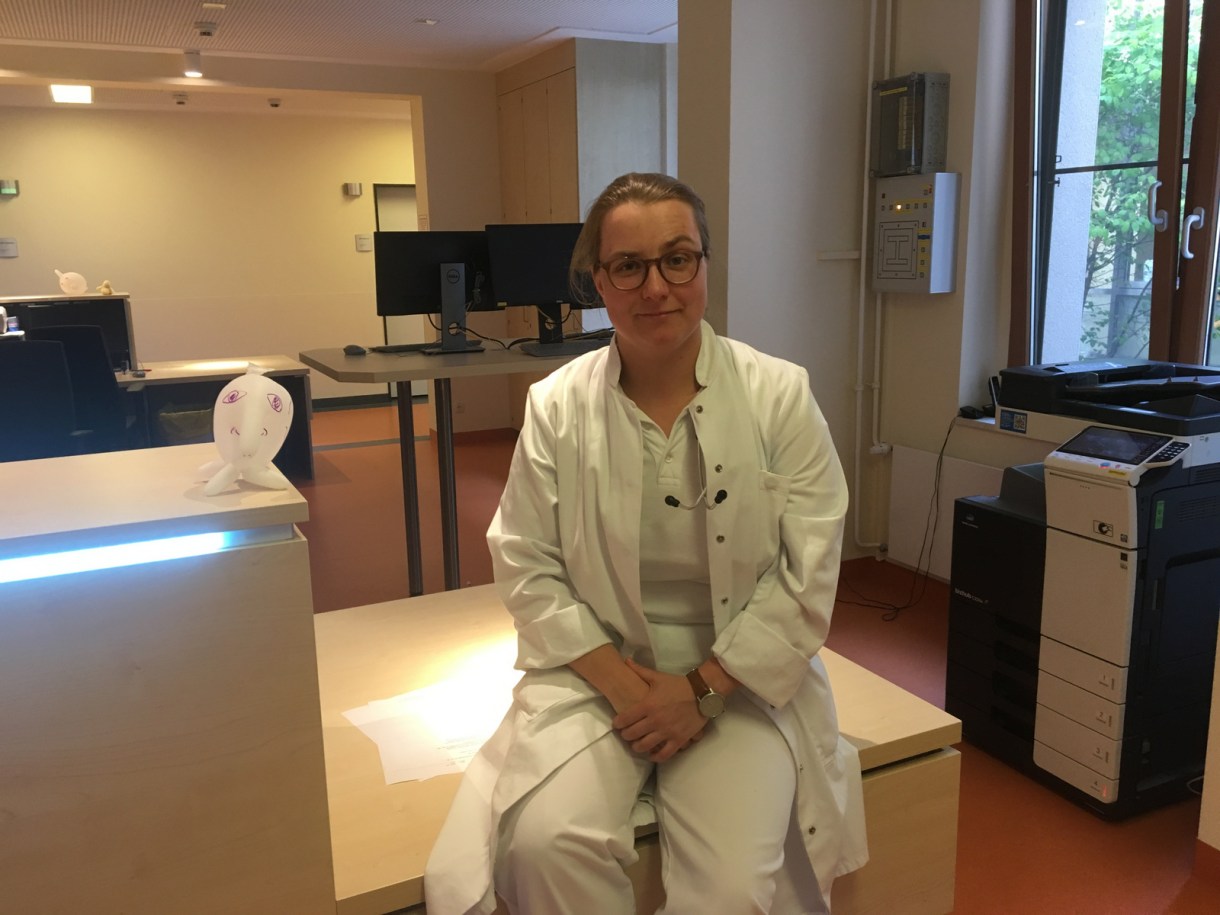 "Working in internal medicine translates roughly into a mixture of Scrubs and ER with a Dr. House moment thrown in here and there, if you're lucky, and well, at least ten times more patients than on TV. I never wanted to study medicine, and I kind of ended up here, somehow, but honestly, it's the great love story of my life."
---
Aubrey (I also go by Lux) / 23 / VA
"I am a full time student, majoring in studio art and media studies. My concentrations are photography and journalism. I am aiming to work within LGBT+ journalism and documentation. My photography final review project revolves around my acceptance of what I consider to be a genderless self within a clearly female-read binary body. My goal with my photography, especially this project, is to bring awareness of non binary genders to otherwise uninformed parties. It's also a somewhat of a 'coming out' project. Though I came out as LGBT when I was in high school, I tend to keep my non binary identity a secret, aside from a few very close friends. Almost all of my review photos are self portraits taken in this room, where my dog sleeps and I feel the most comfortable."
---
Kate / 24 / MD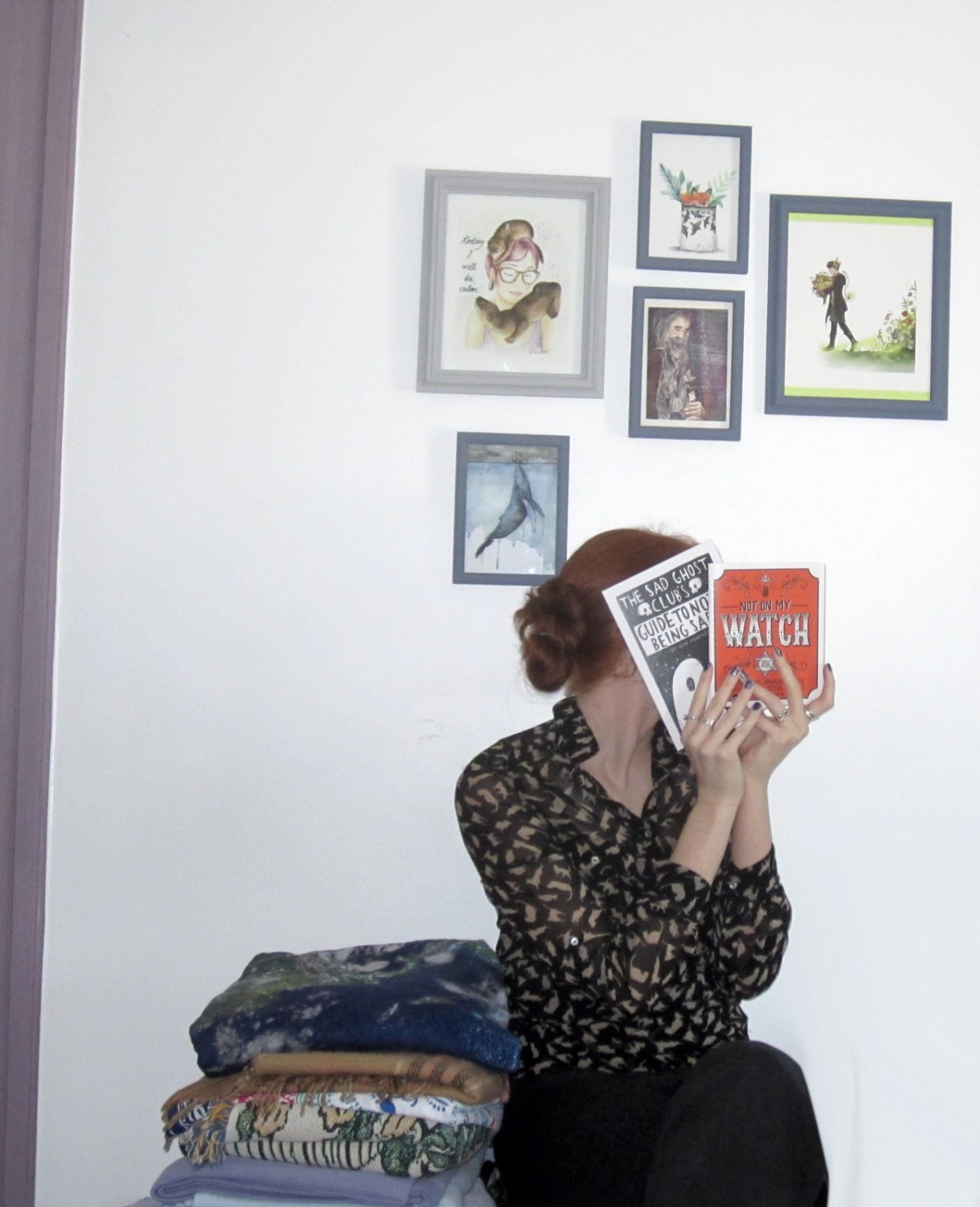 "I'm a therapist at a domestic violence/sexual assault agency. I primarily work with survivors and children who have witnessed domestic violence, but I also facilitate abuse intervention groups with perpetrators, which is a whole different challenge. I am amazingly humbled by the work I do and the people I have the honor of working with- every single time someone trusts me with their trauma and vulnerability is a sacred moment. My favorite part of my job is how I have the opportunity to incorporate social justice into trauma work. I'm not out at work but I've made it my mission in life to queer-ify the group curricula/referrals and resources/whatever else I can get my hands on so the agency is as inclusive as possible."
---
Mallory / 20s / The White House, D.C.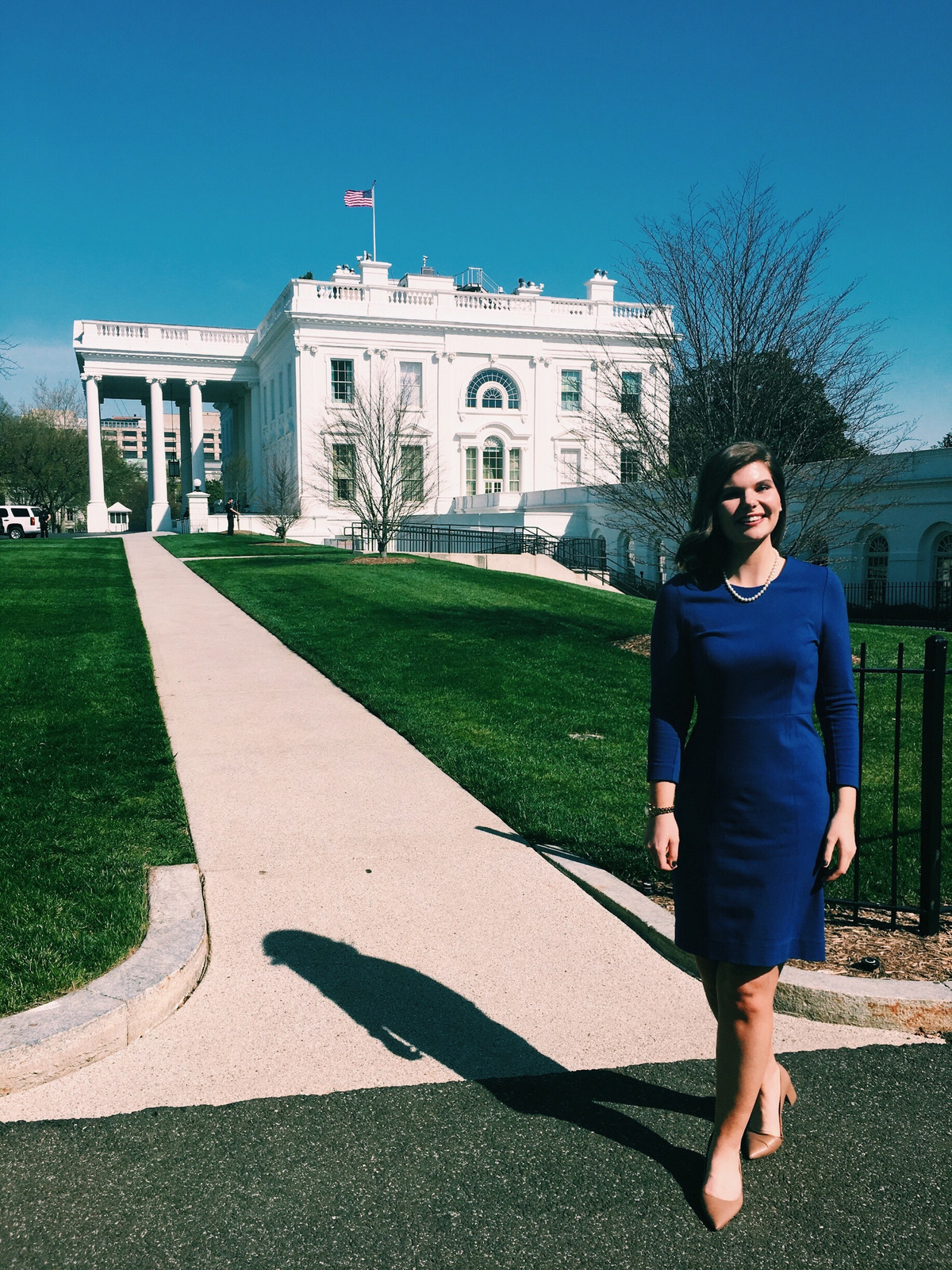 "Though I am a third year law student, this past semester I worked full time as a law clerk for the Executive Office of the President. I believe that having queer women in spaces not traditionally occupied by our community serves an important purpose. Through this occupation, we can work to protect our rights, as well as the rights of people of color and religious minorities, among others."
---
A Gayby Limnologist / Greater Boston, MA
"I'm actually gonna remove giant hogweed this summer! This job doesn't start until after the submission date for the queer at work gallery, so I'm gonna talk about my previous internship with Blanding's turtle conservation!
I've interned at a small non-profit wildlife conservation organization for several years. We promote education, outreach, and conservation of local threatened wildlife, particularly herpetiles and plants, and we mainly do work on Blanding's turtles. My role was to collect soft-release data on head started Blanding's turtles and record behavioral patterns of the remaining adult turtle populations using radio telemetry in various state parks and residences of eastern MA.
I really really really REALLY love turtles (especially softshell turtles), and I love wetlands! I want to do conservation work with softshell turtles one day, particularly on the aspect of habitat restoration and watershed management."
---
Arielle /26 / My sad and unused porch in Portland, OR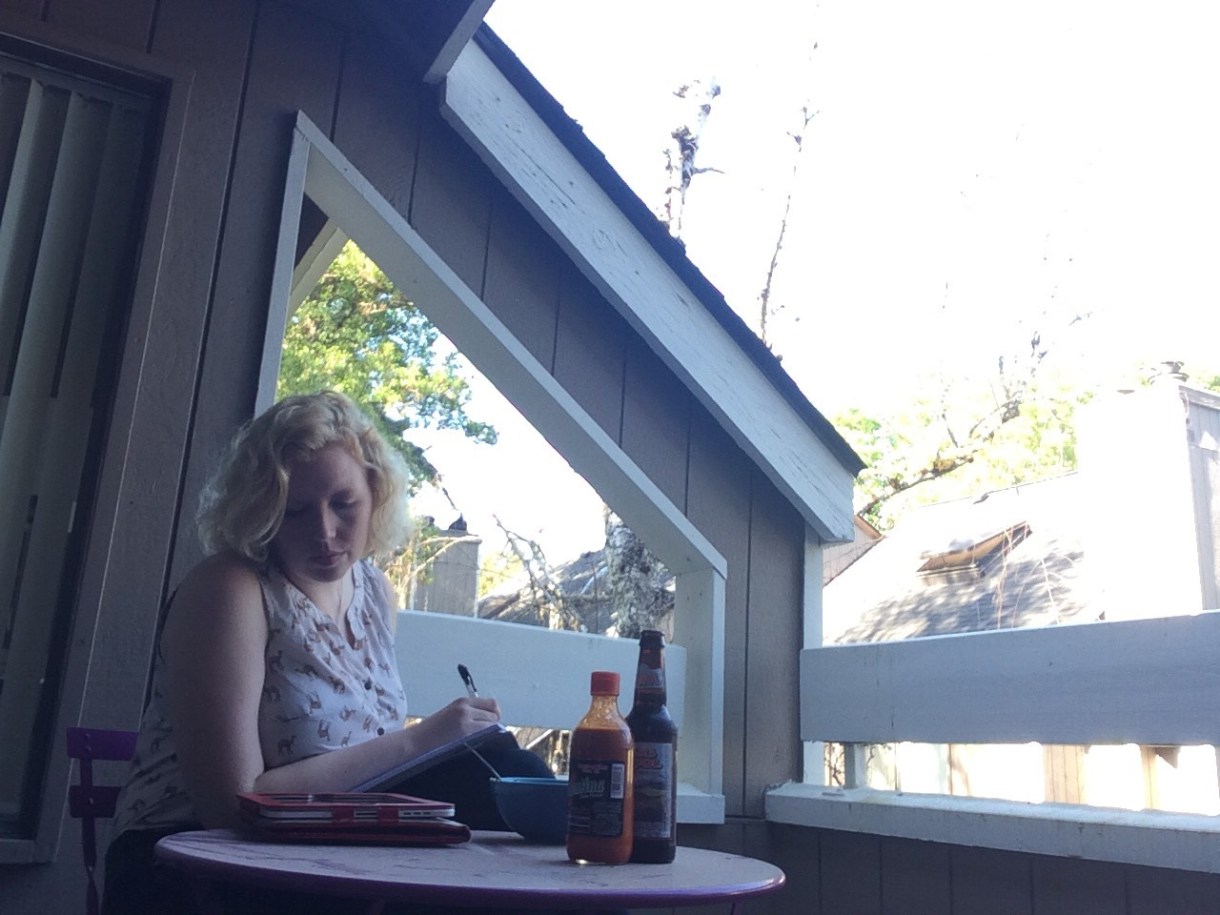 "I'm in grad school to be a family therapist and any free time (including with dinner!) whorls be spent reading and taking notes. I had just opened a beer when I realized the article I had to read was on working with Gay and Lesbian Christians and I just needed to document the moment. In that bowl is quinoa and homemade barbacoa with corn and Valentina hot sauce I picked up visiting my family in Mexico City. And yes, there are camels on my blouse."
---
Rachel / 33 / Chicago, IL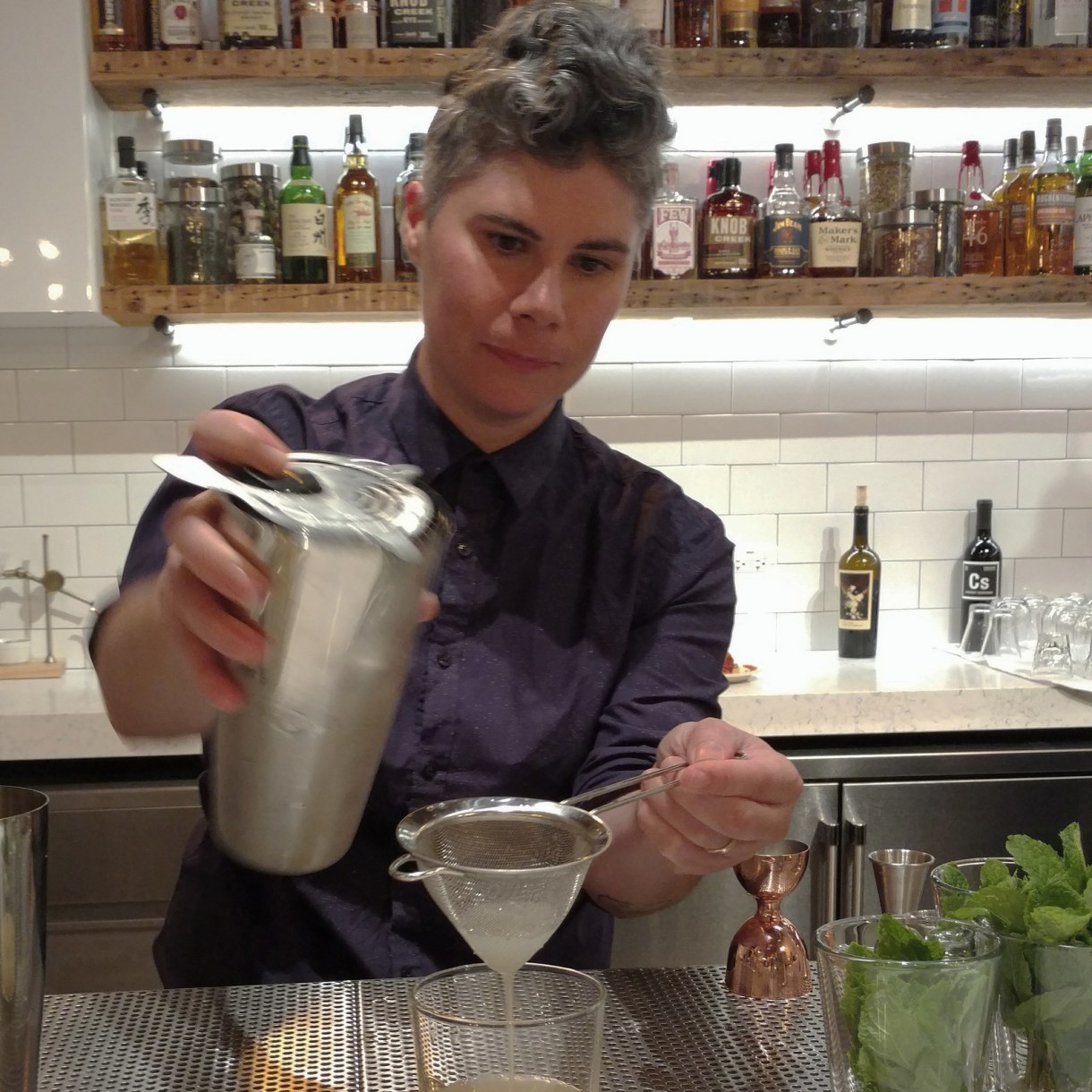 "I'm a bartender. I've been between jobs recently, but I had a one-off special event last week. This month, my job search finally took a turn for the better — I start at a new place in a couple weeks!"
---
Sadie Powers / 34 / Baltimore, MD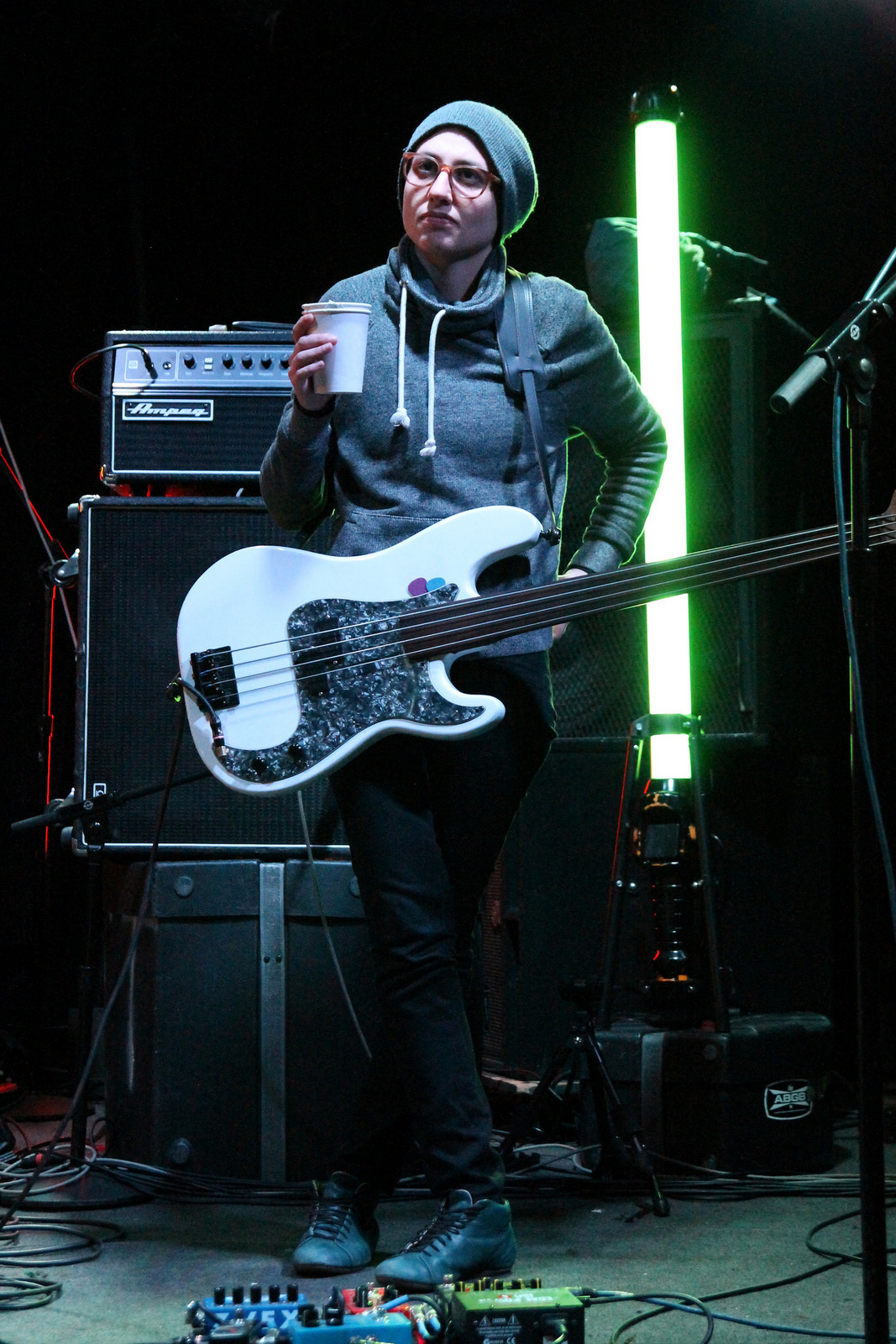 "I play bass in Shearwater and spent close to five months in 2016 on the road. Approximately 92% of the professional music industry comprises of cis men, and as a woman — and a visibly queer one at that — one needs to be twice as good to be taken half as seriously. I joke that gender equality will be reached when women have the freedom to be as mediocre at their instruments as most men and not be considered a token. But I'm not really joking.
My desire is simple: Be the musician that shy, 12-year-old violin-playing me would have looked up to, because I'm sure that there are other socially awkward queer classical musician teens out there, who want to make loud rock music and who have no desire to be the focus of attention but are perfectly satisfied to be competent support. In fact, that's where we shine.
I love this photo, taken by my friend, Michelle Hazuda, during our sound check in Baltimore. It's not the flashy performance shot and there's no European city behind me with a cutesy "hashtag tourlife." It's my third week away from home. I'm tired and have lost count of which cup of tea I'm on. My resting bitch face is in full bloom. I don't know if I'm waiting to do levels on my bass or am waiting to get levels on the entire band, but either way I'm waiting. This is the work I get paid to do. The performance — those 90 minutes of pure elation — that's free."
---
Vicky / 27 / Madrid, Spain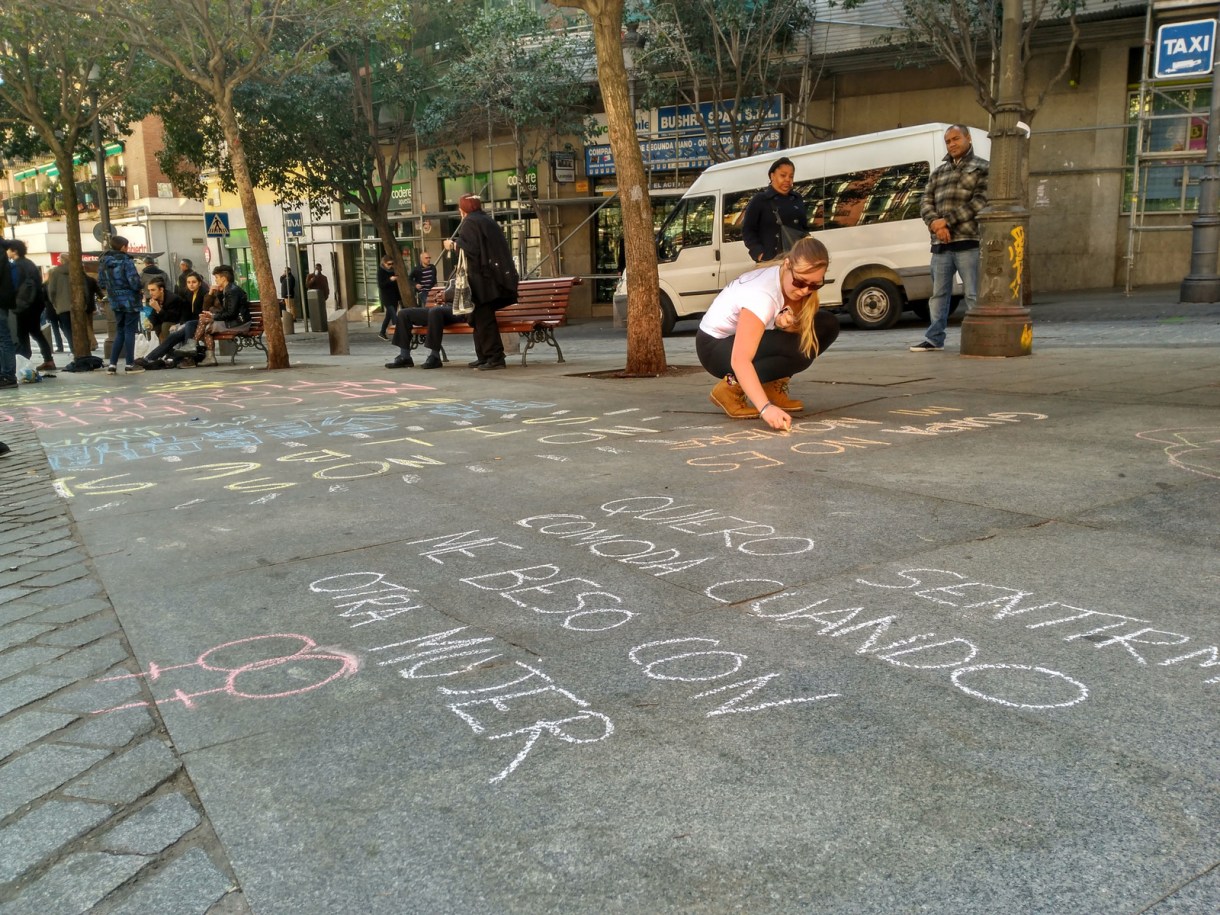 "These photos were taken at a chalkwalk event I organised with my anti-street harassment group Levanta La Voz (branch of Hollaback!) to visualise that street harassment is a problem and to show sufferers they are not alone. My actual job isn't very useful to my community, so I like to be involved in activist work as well. Hopefully together we can change the world, one baby step at a time!"
Jay / 22 / On my college campus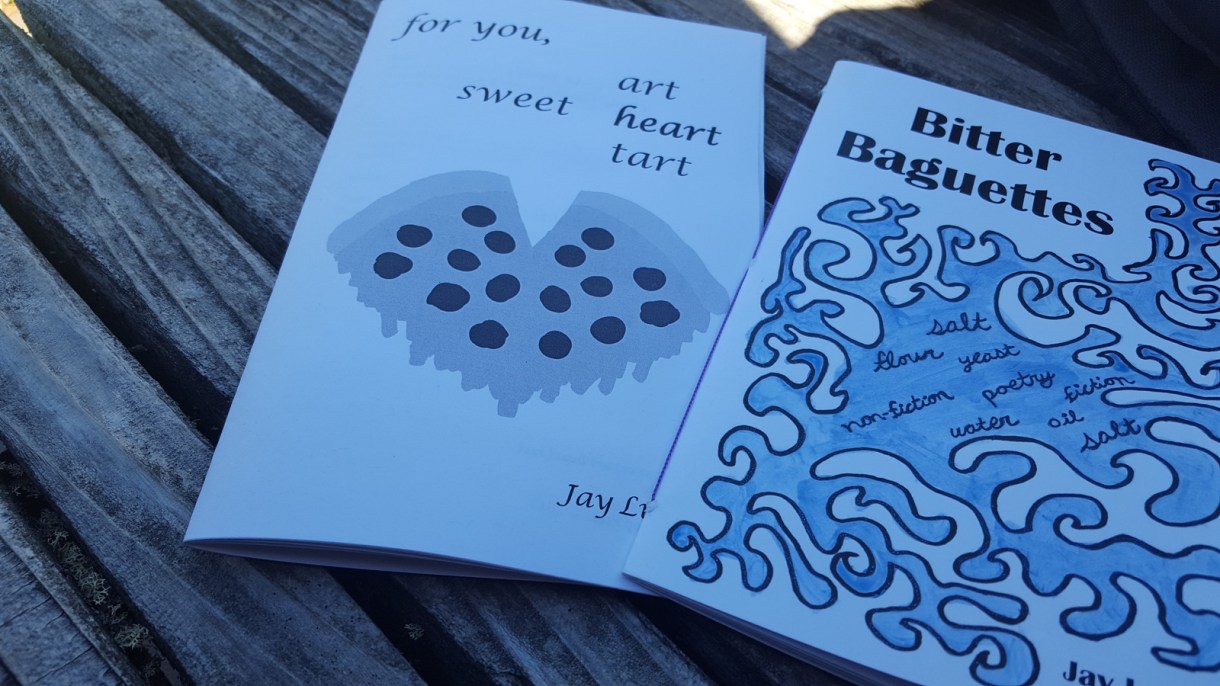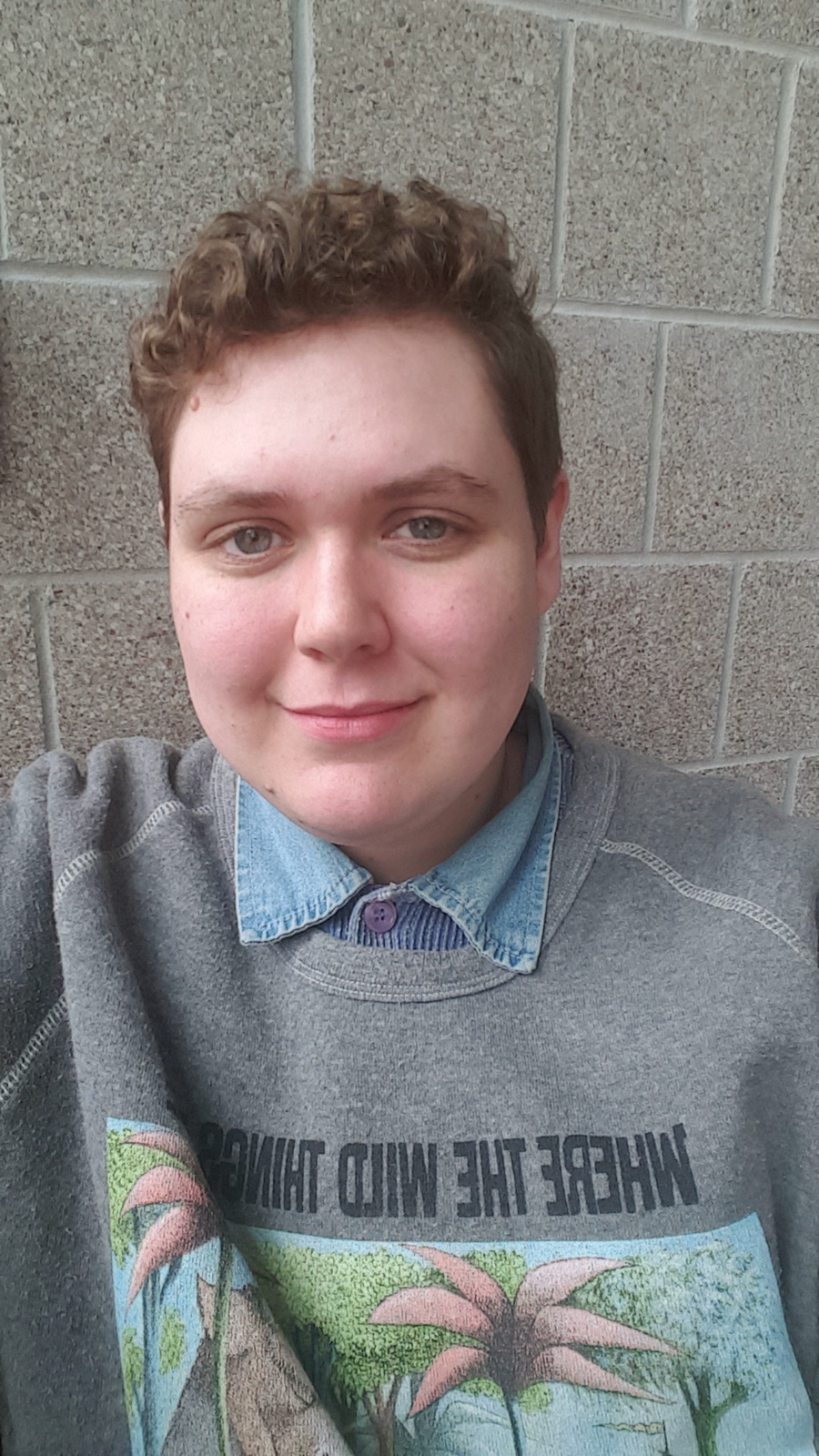 "Practicing for the senior reading where I'll read work from my first chapbook Bitter Baguettes, a collection of pieces about queerness, gender, surviving abuse, and mental illness. Also working on the mock up of my next chapbook, which is all about food! Specifically food love poetry! I have lots of hopeful intentions for my writing, but lately with my food love poetry, I hope readers feel loved and can connect to food and people in their life in a loving way."
---
Elena Novak / 25 / Pontevedra, Spain
"Myself (in the middle) and two friends preparing to record activists' favorite hit "I Can't Keep Quiet" by MILCK. We wanted to show solidarity with the Resistance in the U.S. by recording the song from Spain, where we worked. It's on YouTube now!"
---
Alice / 24 / Italy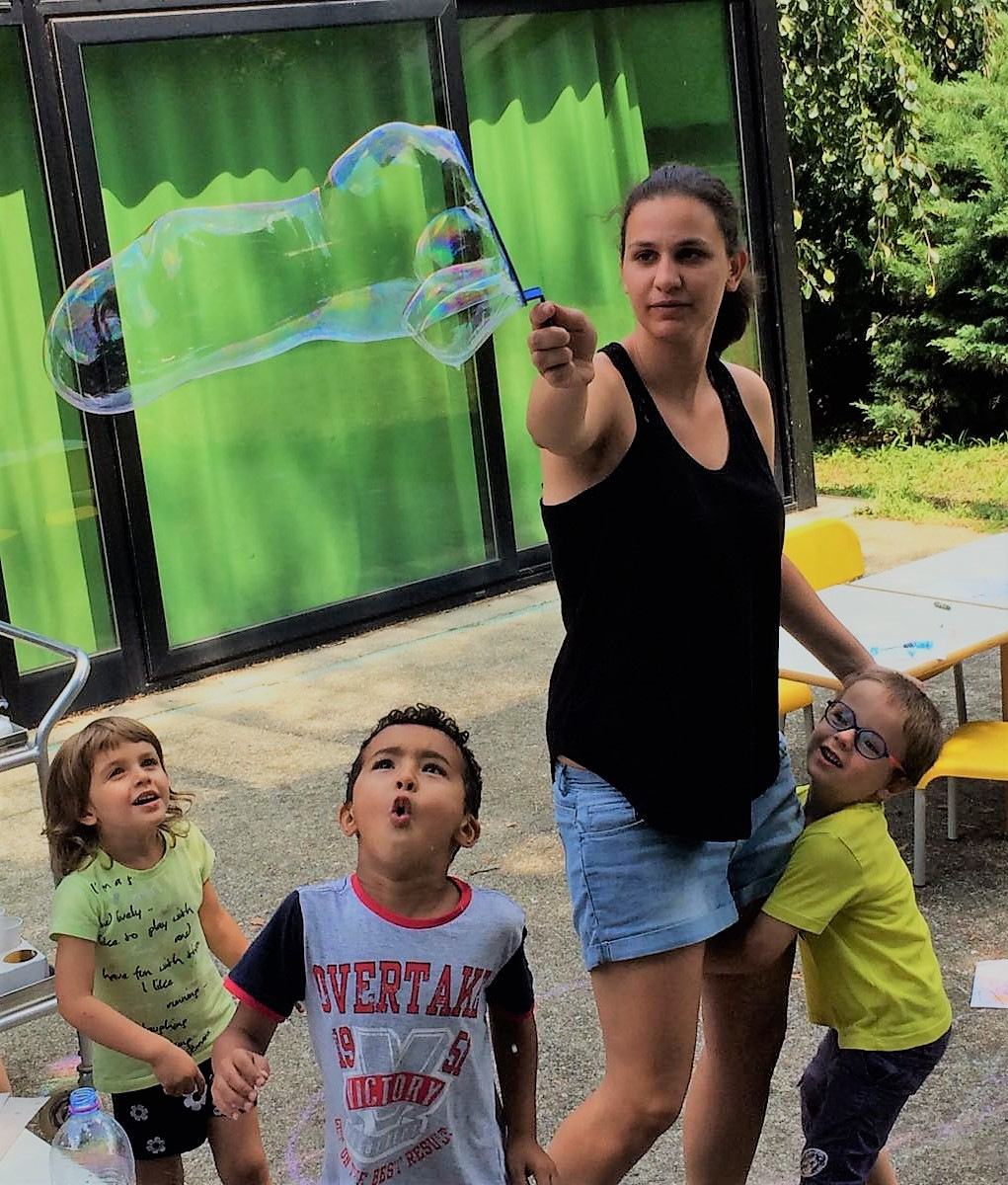 "In the past few years I've done many random jobs while finishing up college and working in a summer kindergarten with the cutest tiny kids was probably my favourite (and I for sure had more fun than them!). Just one of the few things I hope I taught them: there are no 'boys' or 'girls' toys. One of the things they taught me: NEVER use sarcasm with children. (Note: I'm aware that the bubble I made has a somewhat phallic shape. It was totally on purpose. If they call me back to work there in July I'll try to make some boobs.)
I didn't manage to take a picture but right now I'm doing what I like to think as 'bringing happiness to people' aka I work in a take-away pizzeria (I'm Italian after all). Sometimes I do the deliveries myself and I had the pleasure to see some great (and also some weird) stuff like: cute girls, lovely dogs, teeny tiny babies. My favourite things so far: a dog eating the money I was going to be paid with, a guy giving me a joint as a tip, a twelve year old birthday party with like 15 kids all wearing animal onesies, FREE PIZZA ALMOST EVERYDAY."
---
Bee / 27 / Sacramento, CA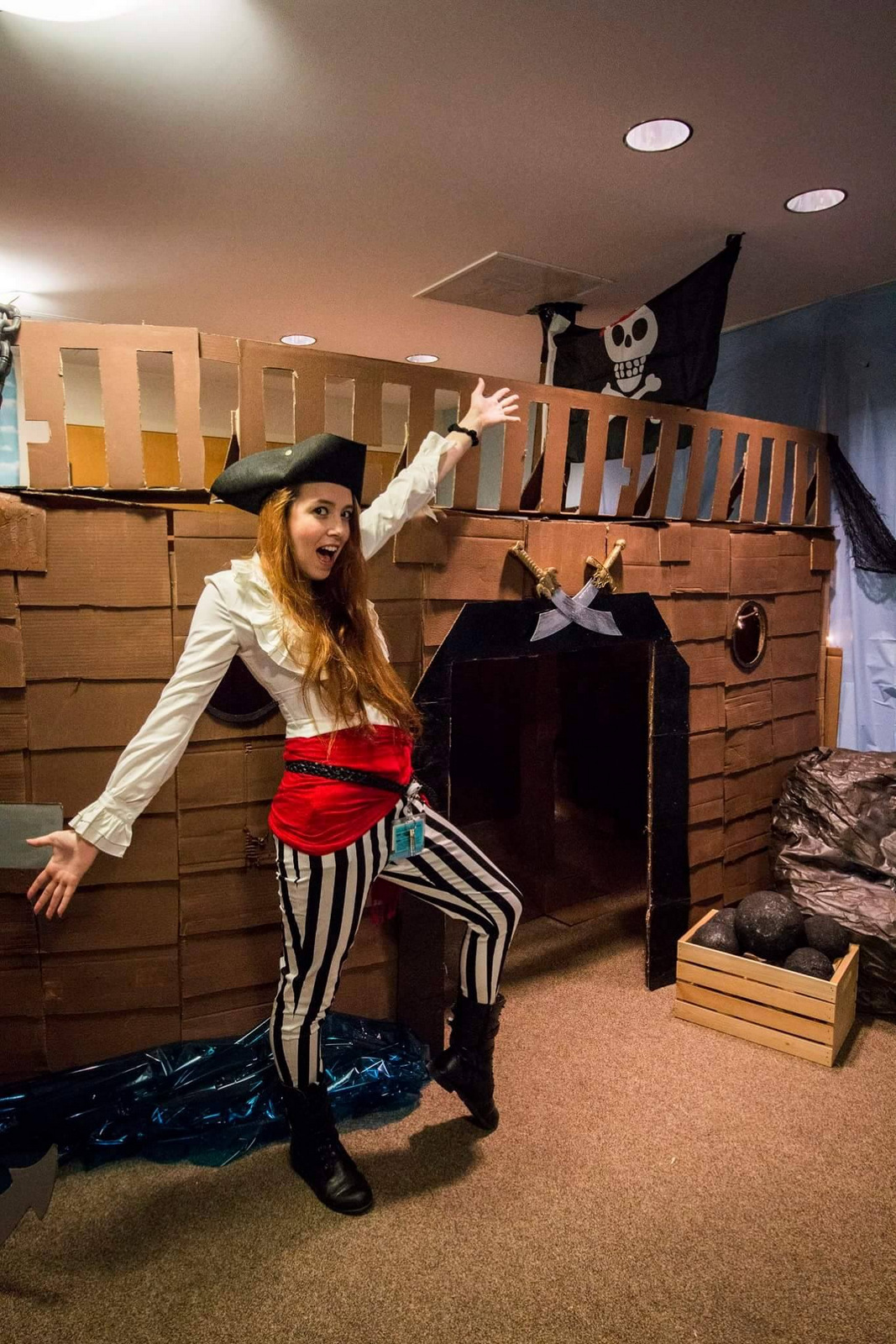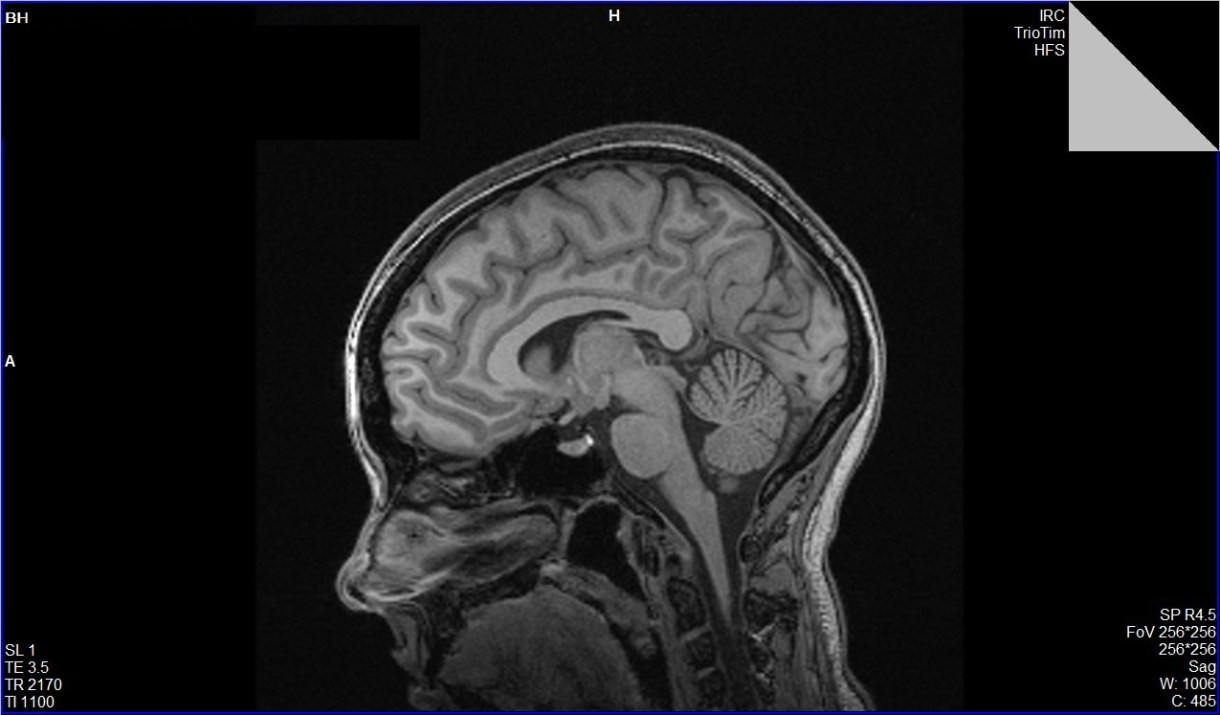 "I really struggled to figure out how to capture my work in picture form and I ended up feeling like I needed two images (or 50, but I think these two cover it decently). I am the project manager for three autism research projects. My job is incredibly broad and I do something different every single day. So here are two pictures of me at work, across the range of what I do. One is a picture of the INSIDE of my head, as my team members and I did training to be MRI operators and practiced on each other.  The other is me and the 12ft cardboard pirate ship I designed for the huge party we hold for all our kids and their families as a thank you for being a part of our research.  My work is hectic, wild, exhausting, and something I love doing every single day!"
---
Ashley / 27 /Burnaby, Canada
"I am waiting for my coworkers to finish up for the day so we can head to the local pub; of course, this is after a long day spent updating the refrigeration design for a new grocery store I am working on."
---
Susie / 32 / Leeds, UK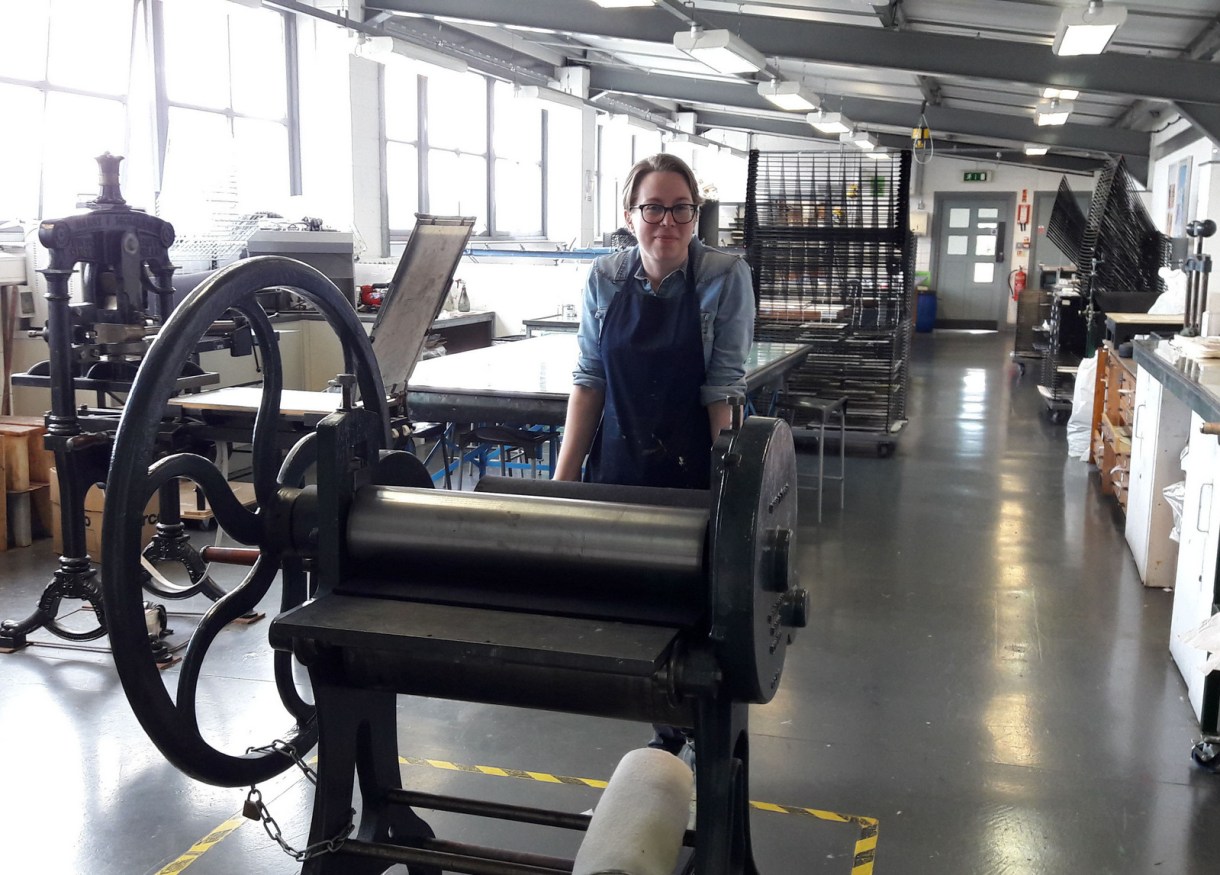 "I am a printmaking instructor at an art college in Leeds, in the north of England. I teach such things as screenprint, lino cut, etching, bookbinding, monoprint, fabric dyeing, letterpress and bookbinding. This picture was taken on a rare moment, first thing in the morning, when the print workshop was not swarming with students. Printmaking is a social artform to begin with, and helping the students work through their creations is good for my introvert tendencies. Plus sometimes I fix the printing presses and things, which is good for my soft butch aspirations."
---
Kass / 35 / Ethel's in Columbus, OH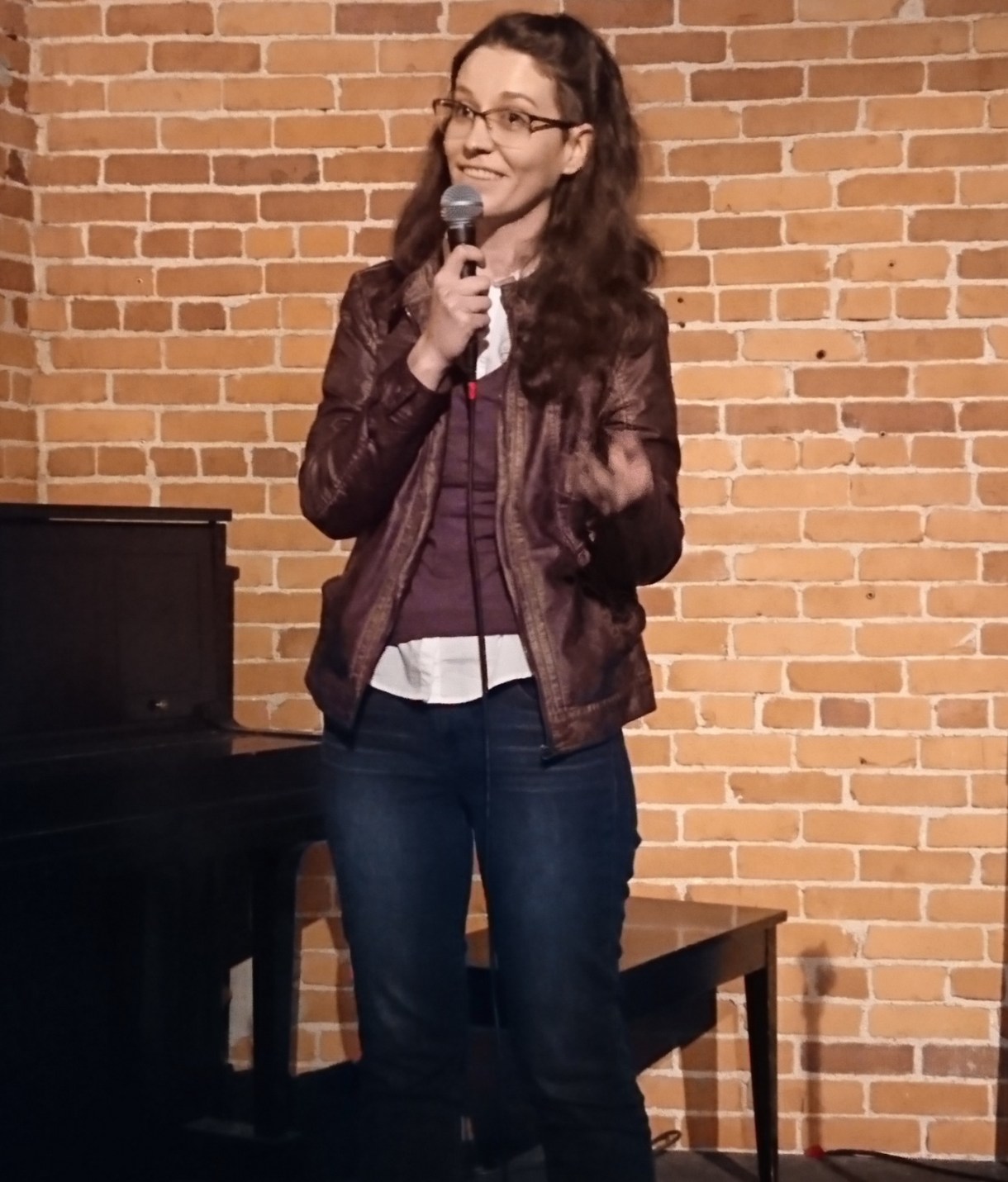 "Because my day job making vegan bacon involves an oh-so-sexy hairnet, I've opted to submit photos from my other "job" performing stand-up."
---
Clark / 21 / Reno, NV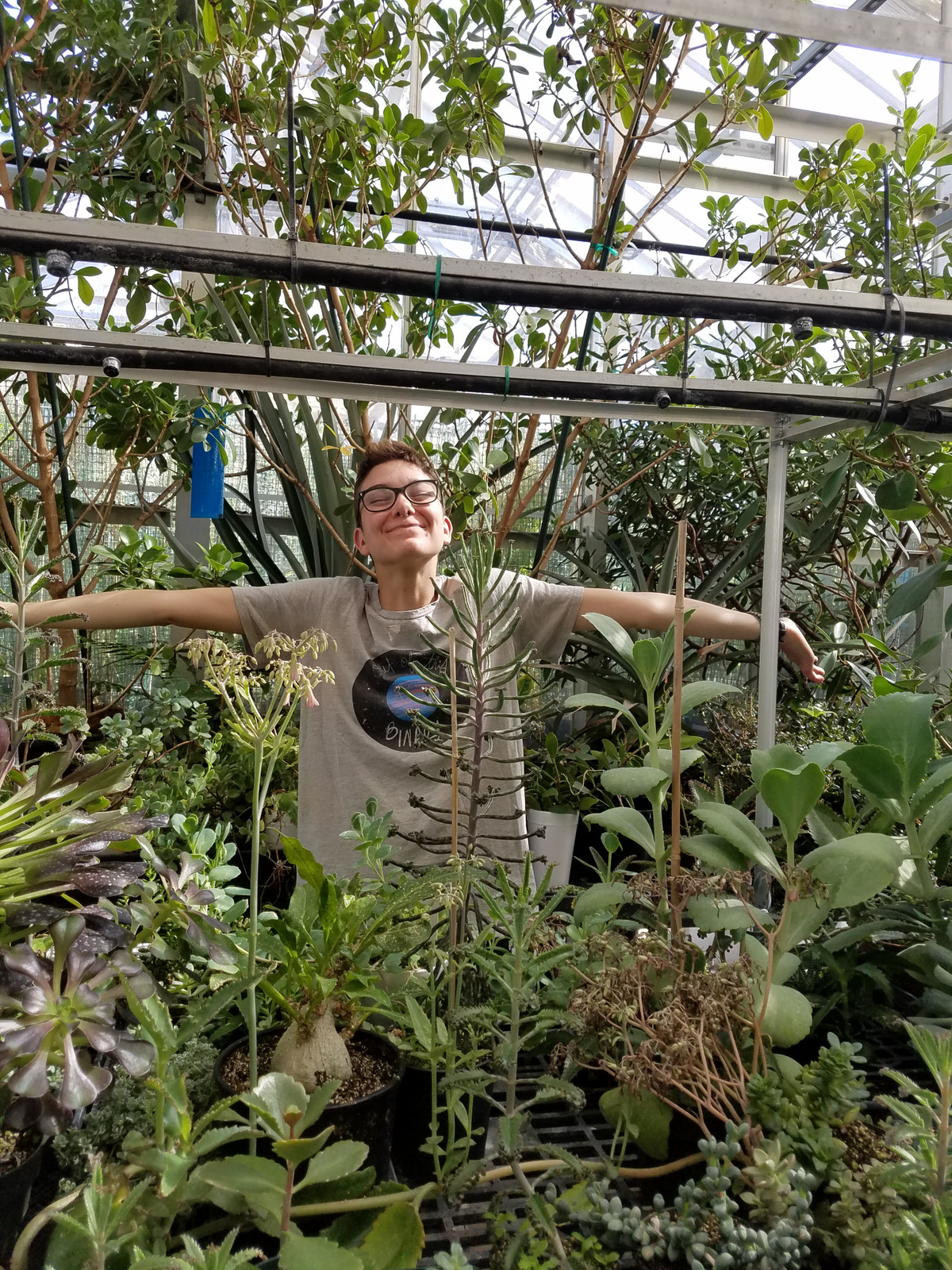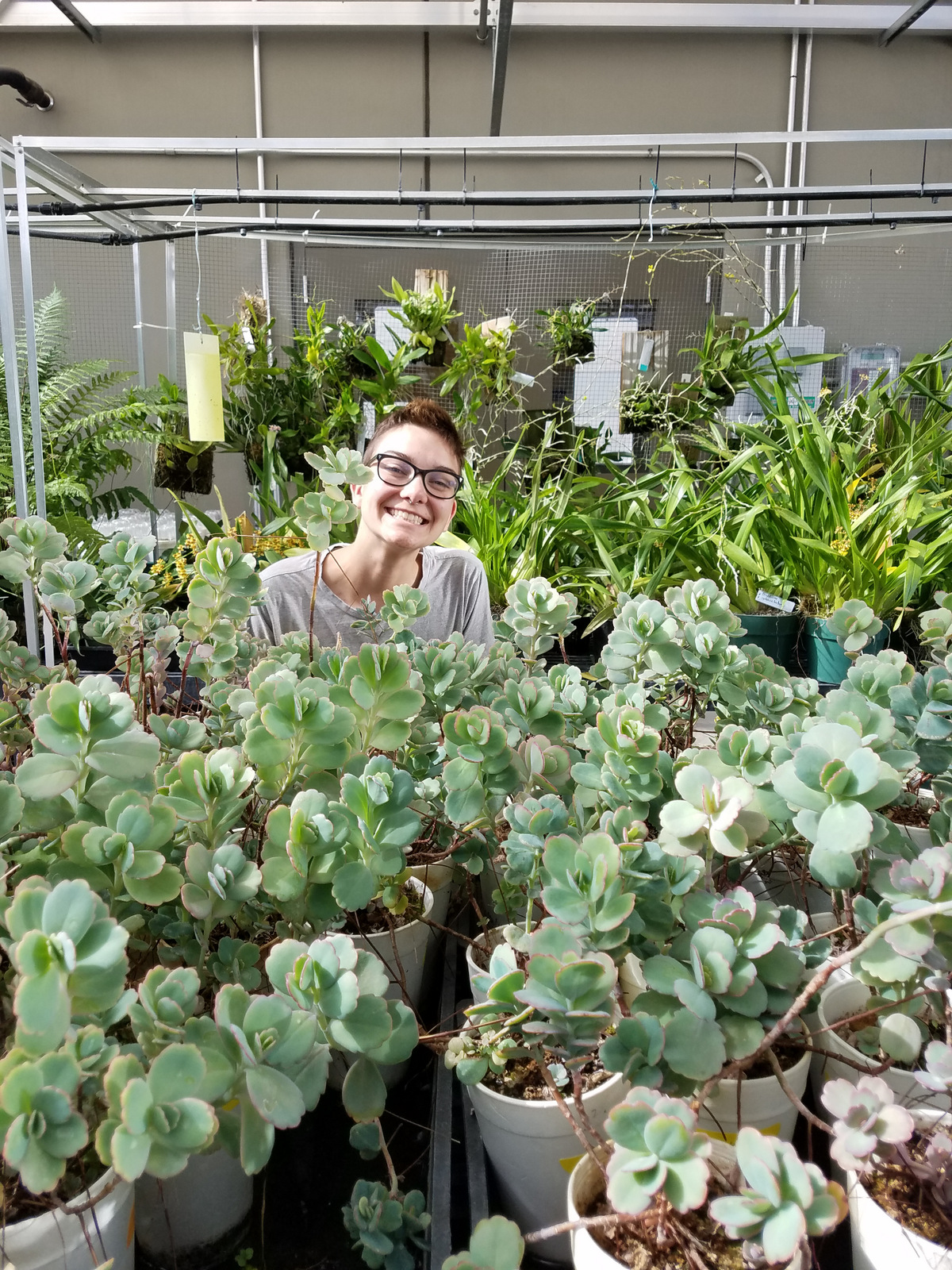 "I work as a research assistant in a lab at my university. We do research on how to make plants grow better in arid lands, so we work with a lot of succulents, which are my favorite! Being involved in climate change related research, there's been a lot of anxiety in our lab lately. These pics are of me in the greenhouse, which is my favorite place to work. The plants in the second pic I grew from tiny shoots when I first started working here 2 years ago!"
---
Kelsey / 31 / Boulder, CO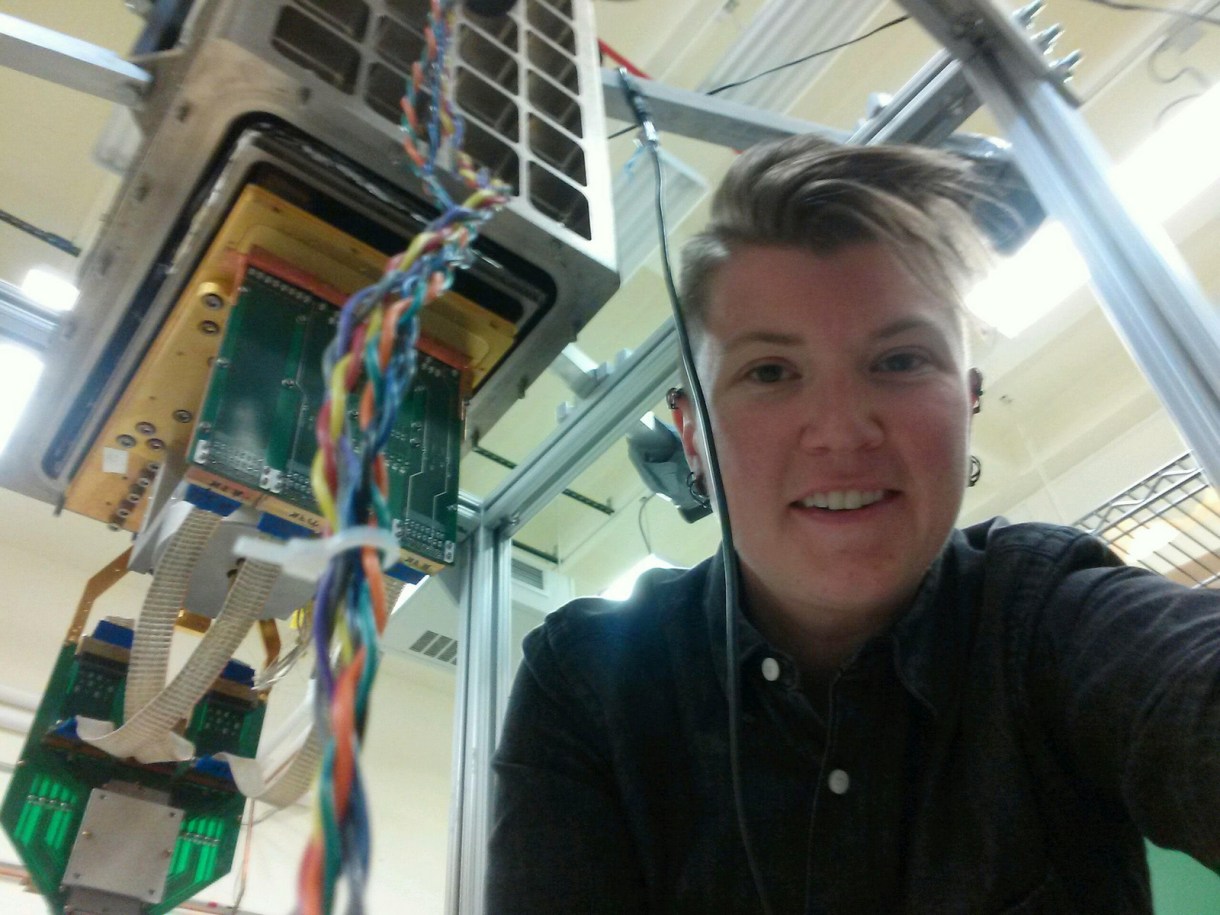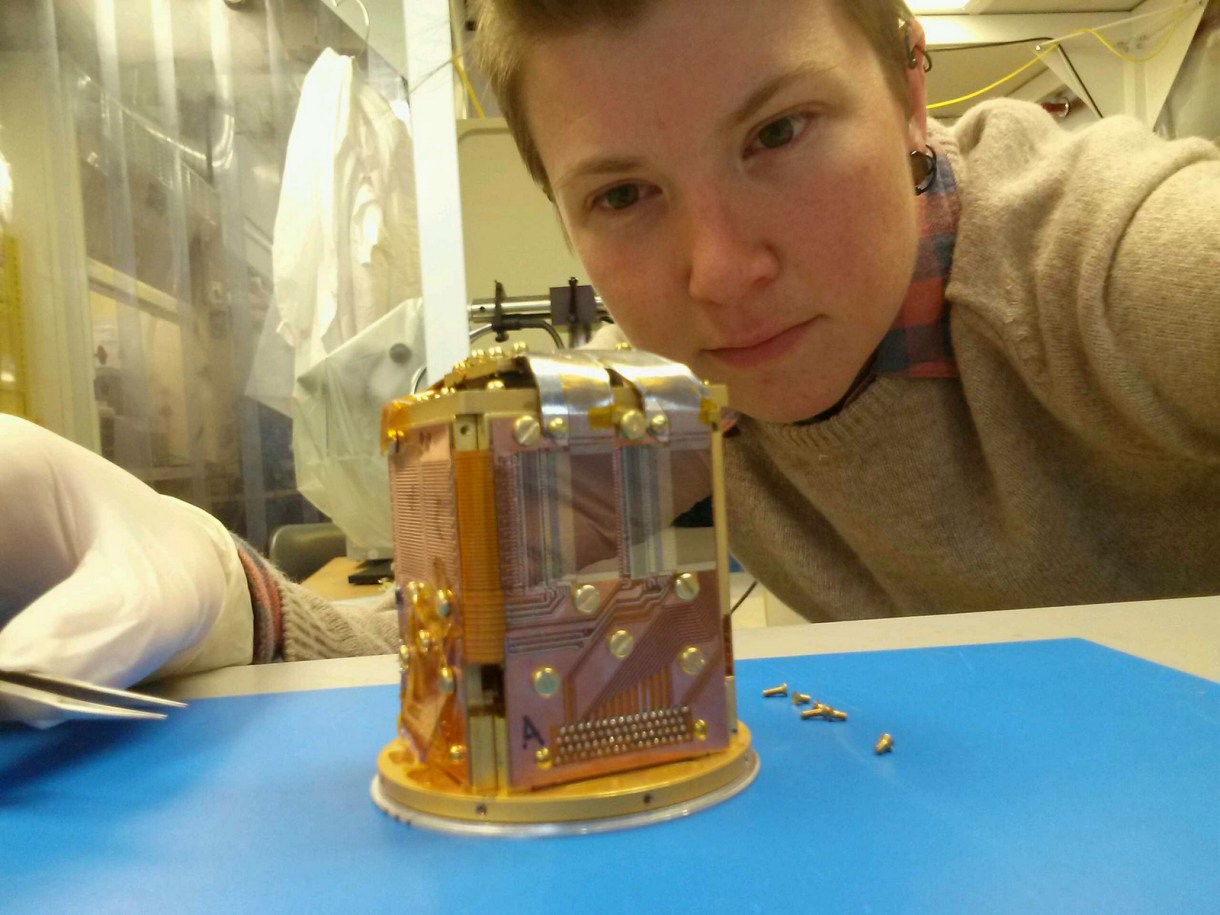 "I'm a physicist at a government research laboratory, and these are photos of me with my favorite pieces of lab equipment. My lab's job is to make very high precision photon detectors (photo #1 shows the insides of the instrument that keep the detectors cold, photo #2 is me assembling the bit that detects the light). Then we help other scientists use them to study anything you can learn about by bouncing x-rays off of it. In the last couple of years, for example, we've helped a group in Sweden look at a weird iron compound that might make solar cells cheaper someday, and a group in California study the chemical reactions that happen during photosynthesis. My job is awesome and I love it and am fortunate to have it. But like most STEM it is very straight white guy dominated, so I hope to both be the gay I want to see in the world, and support the success of more queer/women/POC scientists."
---
Hannah / 18 / Southern CA
"I'm currently finishing off a study on park proximity and race (the map shows my study locations) for my environmental science class.  This is my first long-term research project, and I'm super excited to do more when I start college in the fall!  The picture on the left is me being awkward at my school's awards ceremony."
Hannah / 19 / VT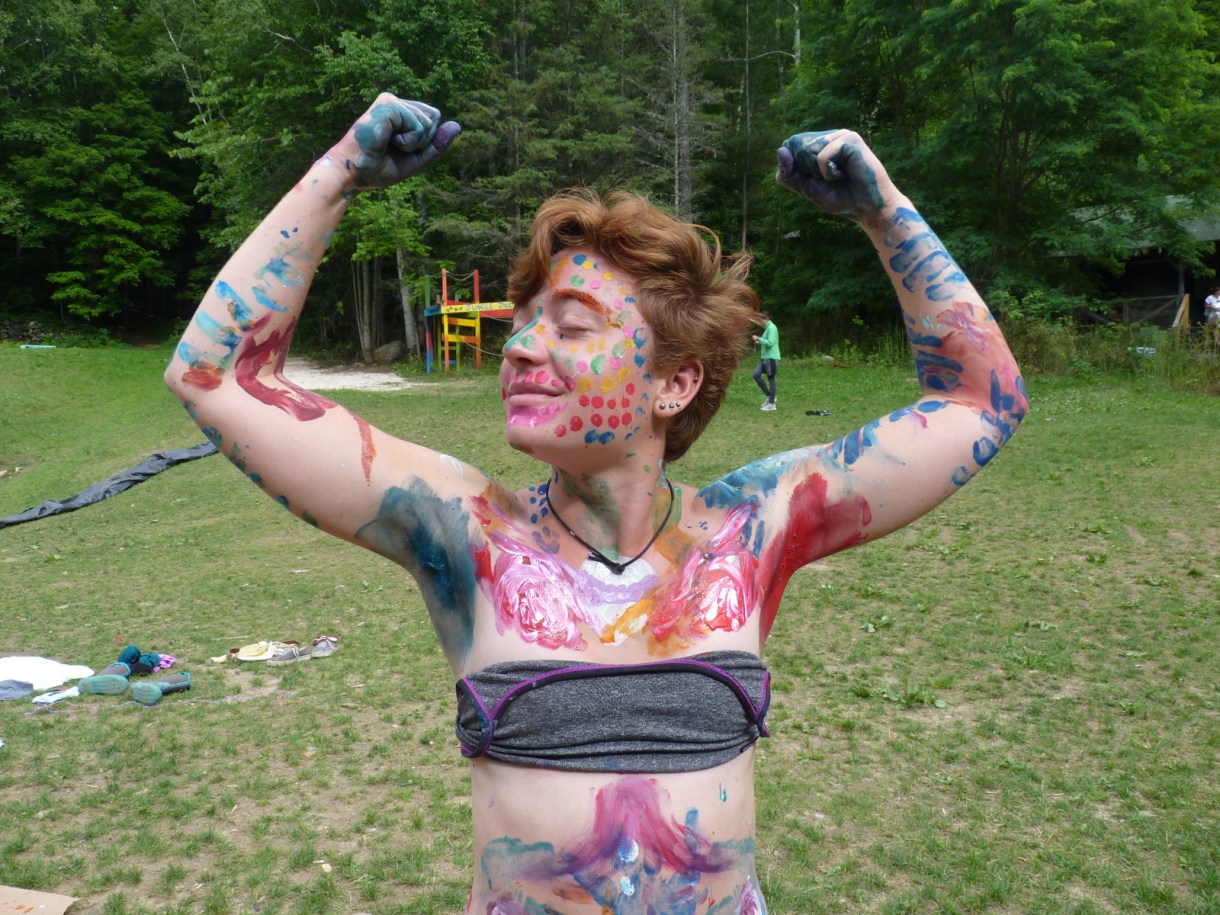 "Last year I started working as a cabin counselor/art teacher/kid wrangler at a summer camp for young girls and non-binary folk up in the mountains of central Vermont; it was the hardest work I've ever done but also the job that felt the least like work. This photo was taken on the afternoon that we let a bunch of 9-14 year olds go wild with body paint on themselves, and also (as shown here) on their counselors. It was hectic and messy and incredibly fun.
This work is important to me because of everything that we teach the campers; everyone is asked what their pronouns are, there's  a "no body talk" rule, and we run discussions on race/privilege/gender/etc. While working there I definitely learned and grew just as much as the campers did; middle schoolers have a lot to say about the world if you give them the chance."
---
Amelia / 28 / Austin, TX
"My work is usually done behind closed doors in dimly-lit rooms, so my coworkers helped me fake this (poor quality) photo op. As a licensed acupuncturist and massage therapist, fire cupping is almost certainly the most visually interesting part of my work (although pulling herbs from the hundreds of jars in the herbal pharmacy is a close second). I just finished my Master's in Acupuncture and Oriental Medicine in December, and have been so grateful to be able to start to practice in the real world. So far, the red tape and start up effort has been as crappy as one might expect, but the seeing patients/helping people part has been even more wonderful than I had hoped."
---
Emma / 25 / Ontario, Canada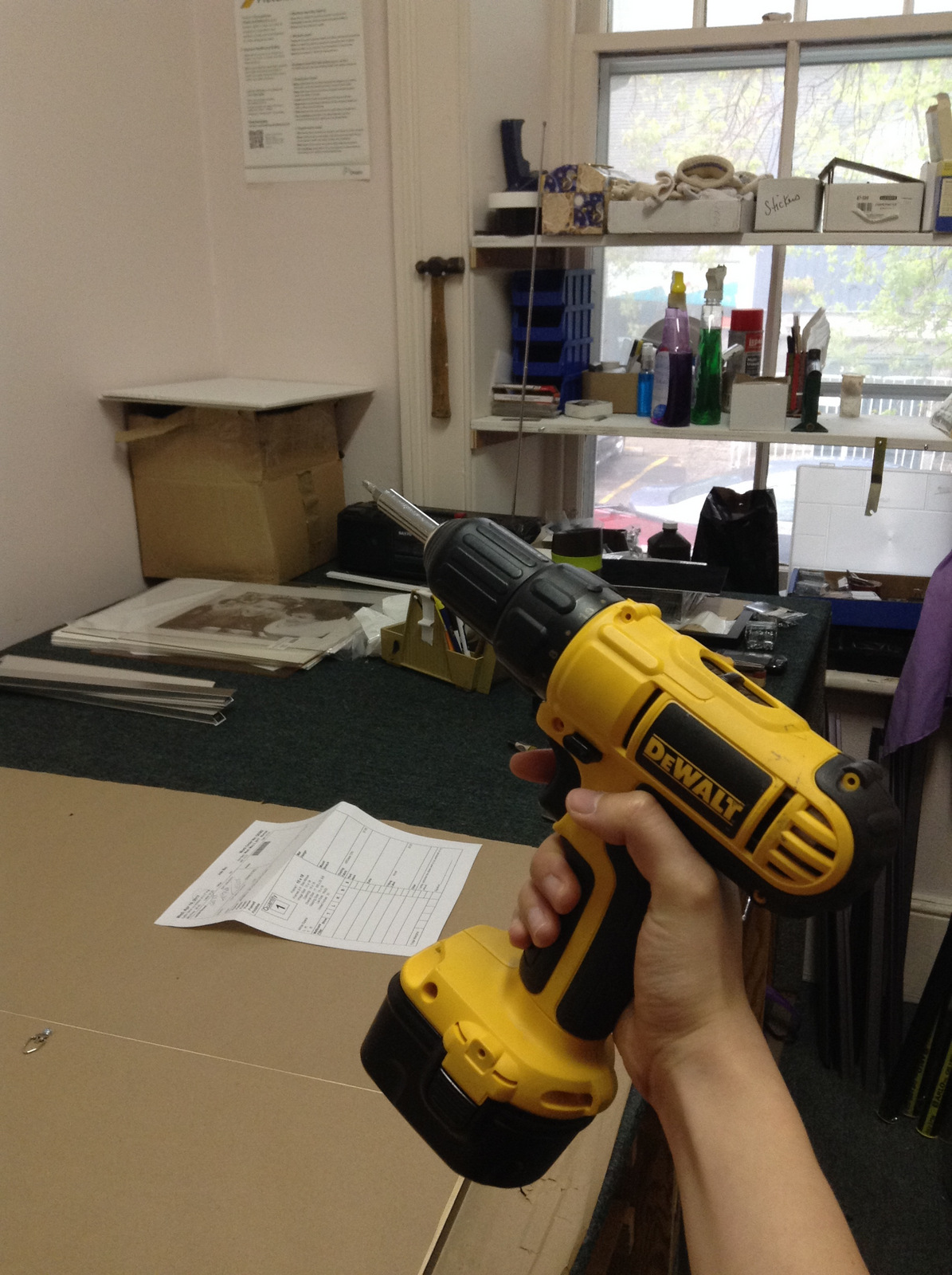 "This is about as much of me as I could get in the photo as I often work alone. While waiting to finish up my Master's degree, I've landed a pretty sweet job in a picture framing studio. After years of academia which, apart from the occasional foray into the field, has mostly involved sitting around reading and writing, it's so refreshing and satisfying to be able to make something tangible with my hands. My job encompasses everything from helping people choose the best frame and mat for their art (and that's from over 800 frame options!) to putting the artwork into the frames and making sure everything is both physically secured and aesthetically just so. I can't exactly say it's my calling, and I probably won't do it forever, but it's a pretty great combination of art and craft."
---
Paige / 22 / American Museum of Natural History, New York City, NY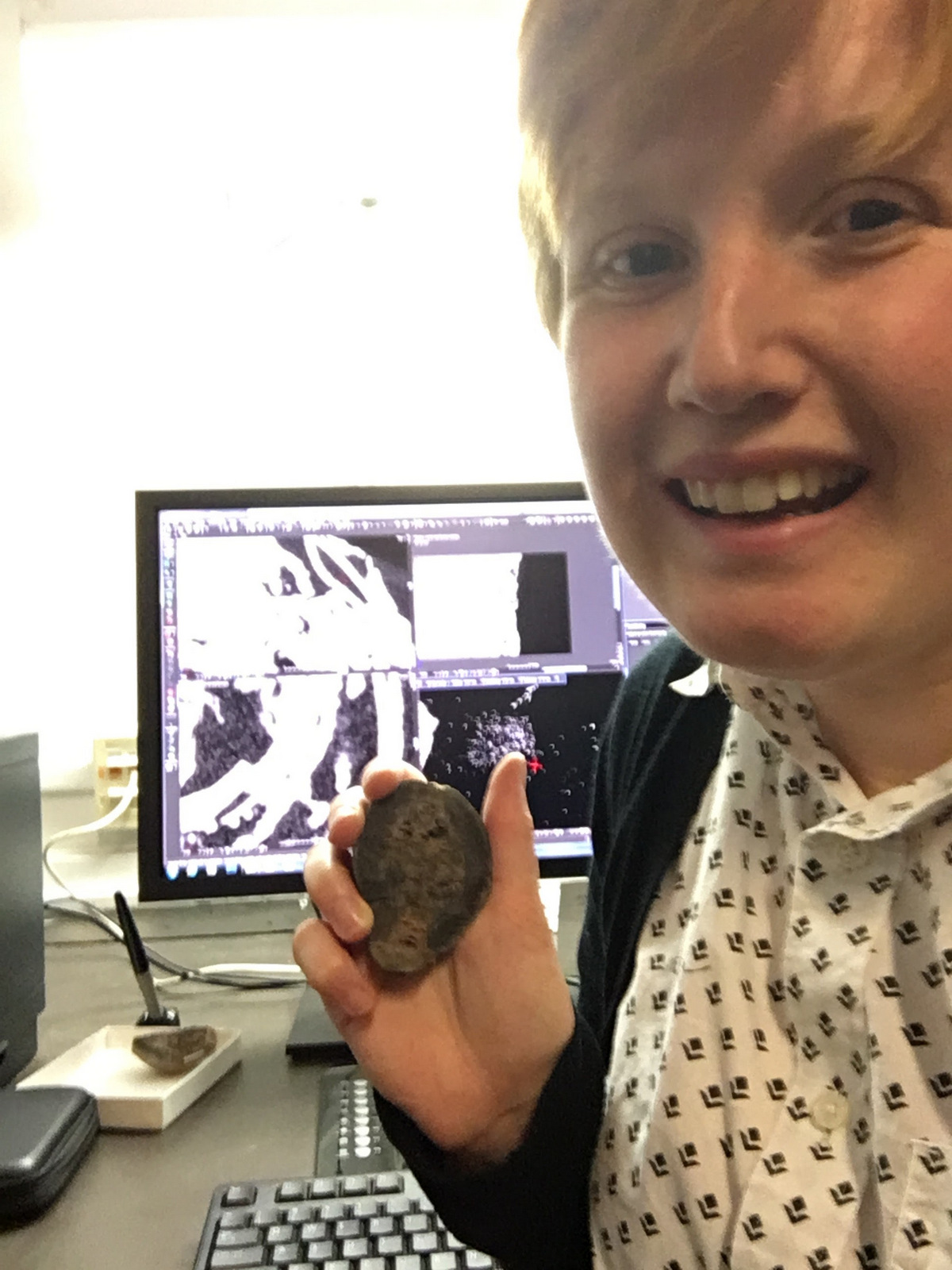 "In this photo I'm holding the fossil eurypterid that I'm creating a 3D digital reconstruction of from CT scanned images of the fossil (pictured on the screen behind me). I work at the AMNH part time and a deli part time (not organized enough to also get a photo at the deli). Two very different but cool jobs!"
---
Quel / 29 / Lisbon, Portugal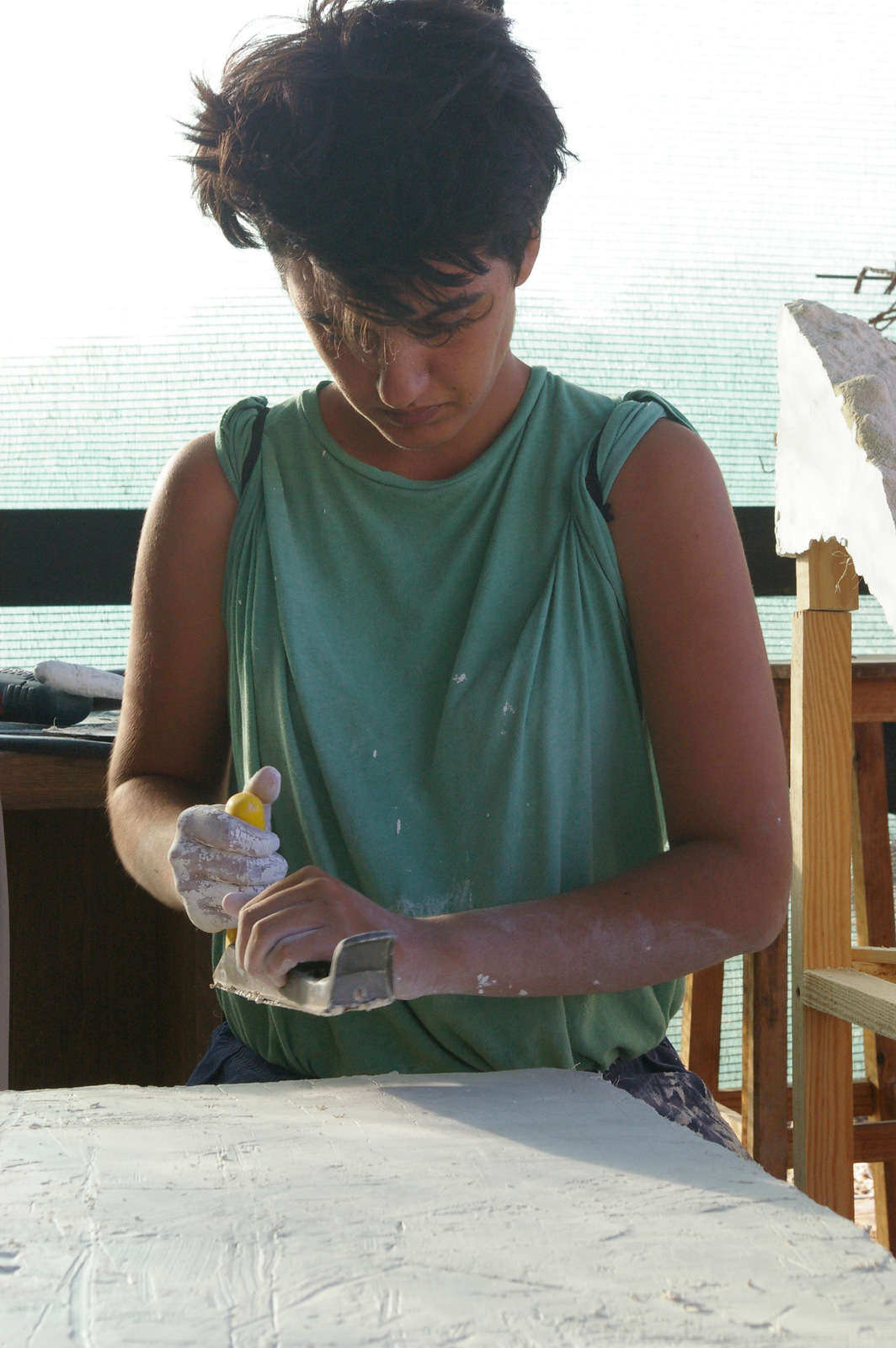 "I work as a sculptor and I'm very lucky I get to do what I love. In this picture I was worried I wasn't going to finish that piece in time and I didn't… but all is good!"
---
Esmé / 23 / At my desk at home in Dublin, Ireland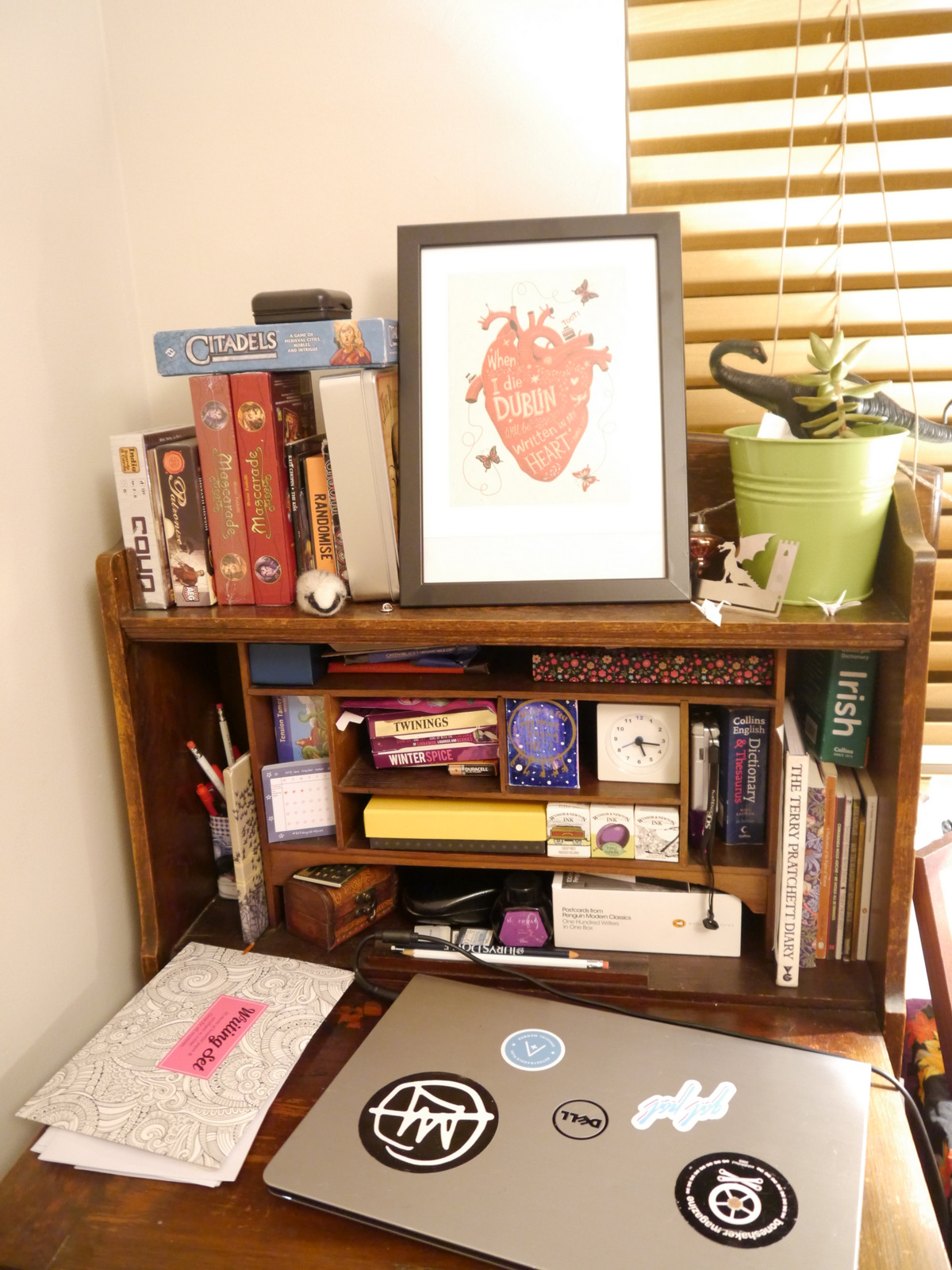 "In my day job I'm a website administrator but I couldn't get a photo in the office, so instead here I am at my desk at home.
I'm trying to write a personal essay about leaving my home as a teen and then returning as an adult, it's part of a long attempt to fight off 2 years of severe writer's block!"
---
Valerie Anne / 30 / Chelsea, Manhattan, NY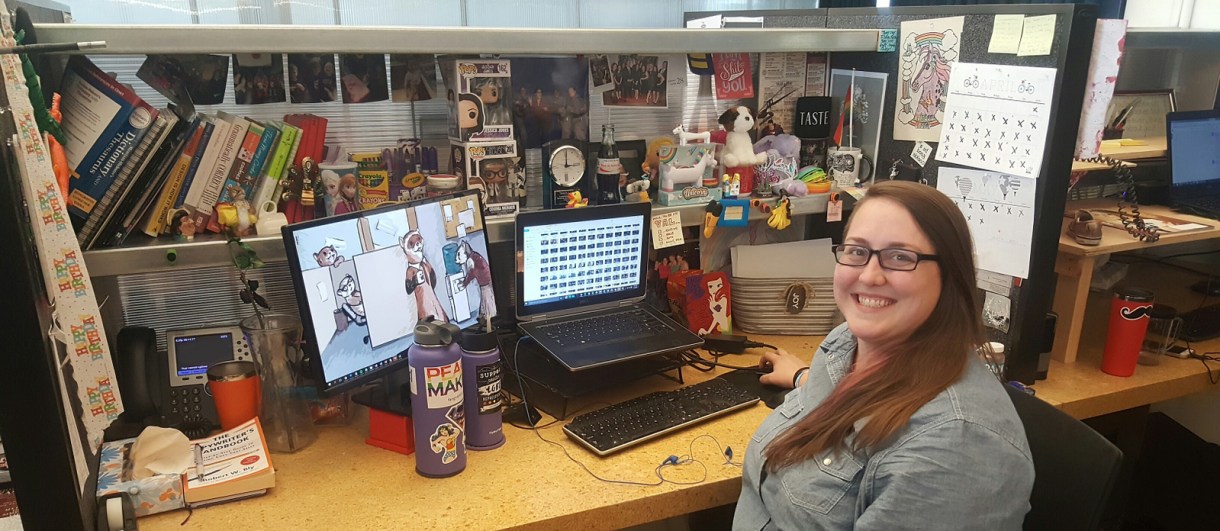 "I'm a copywriter during the day, and 90% of my work is digital, so if I only had work-related things on my desk, it would be the saddest desk of all time, therefore I have spent the past seven years collecting gadgets and gizmos aplenty. It's very ME, if I do say so myself. (My computer background, displayed on the left, is a Business of Ferrets, and on the right I have open a folder of Supergirl screenshots because sometimes I finish up my recaps on my lunch break at my day job.)"
---
Rachel / 28 / Milwaukee WI
"I'm the Managing Editor of Autostraddle dot com. This is my home office, with its one tiny window looking directly into my neighbor's kitchen, so I can watch their cat and houseplants all day."
---
Julia / 22 / Geospatial Centroid, Fort Collins, CO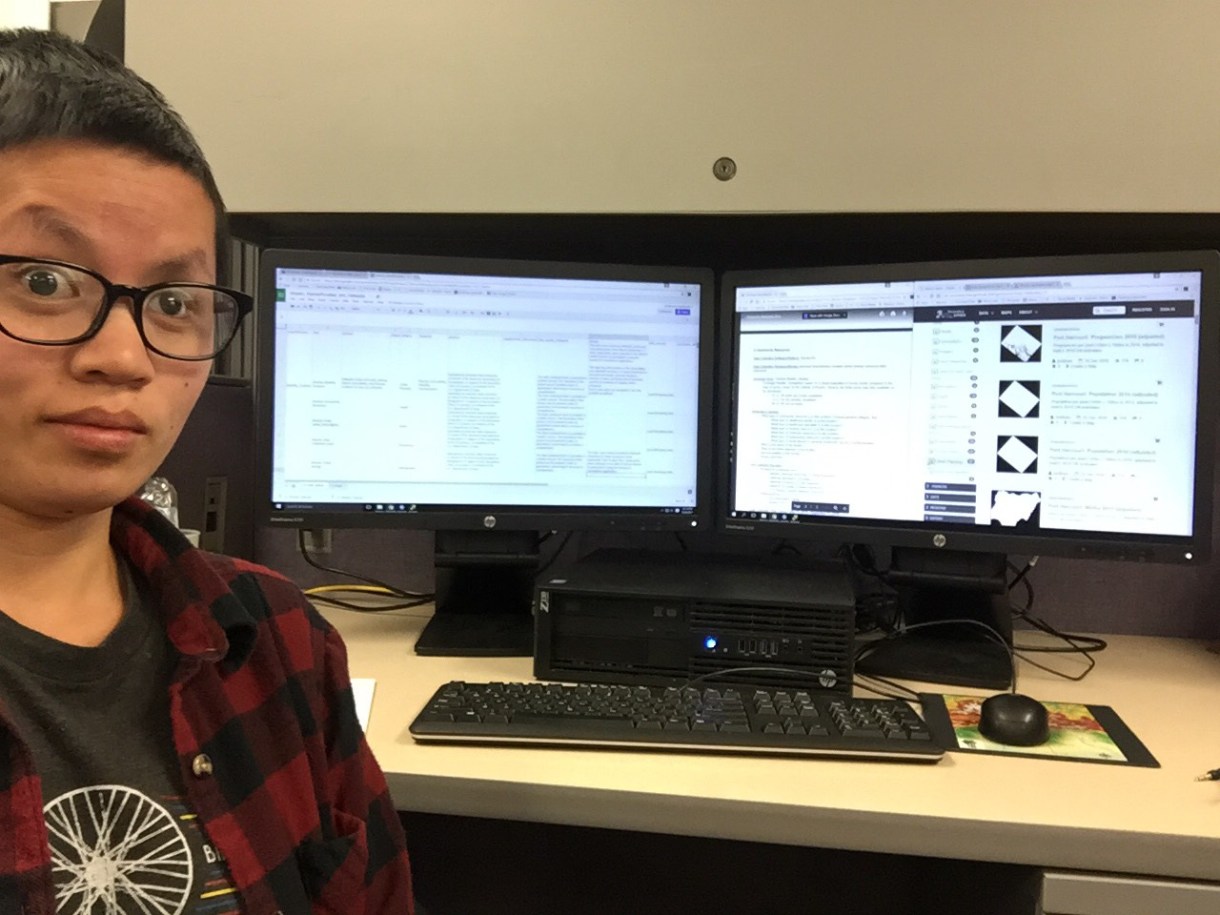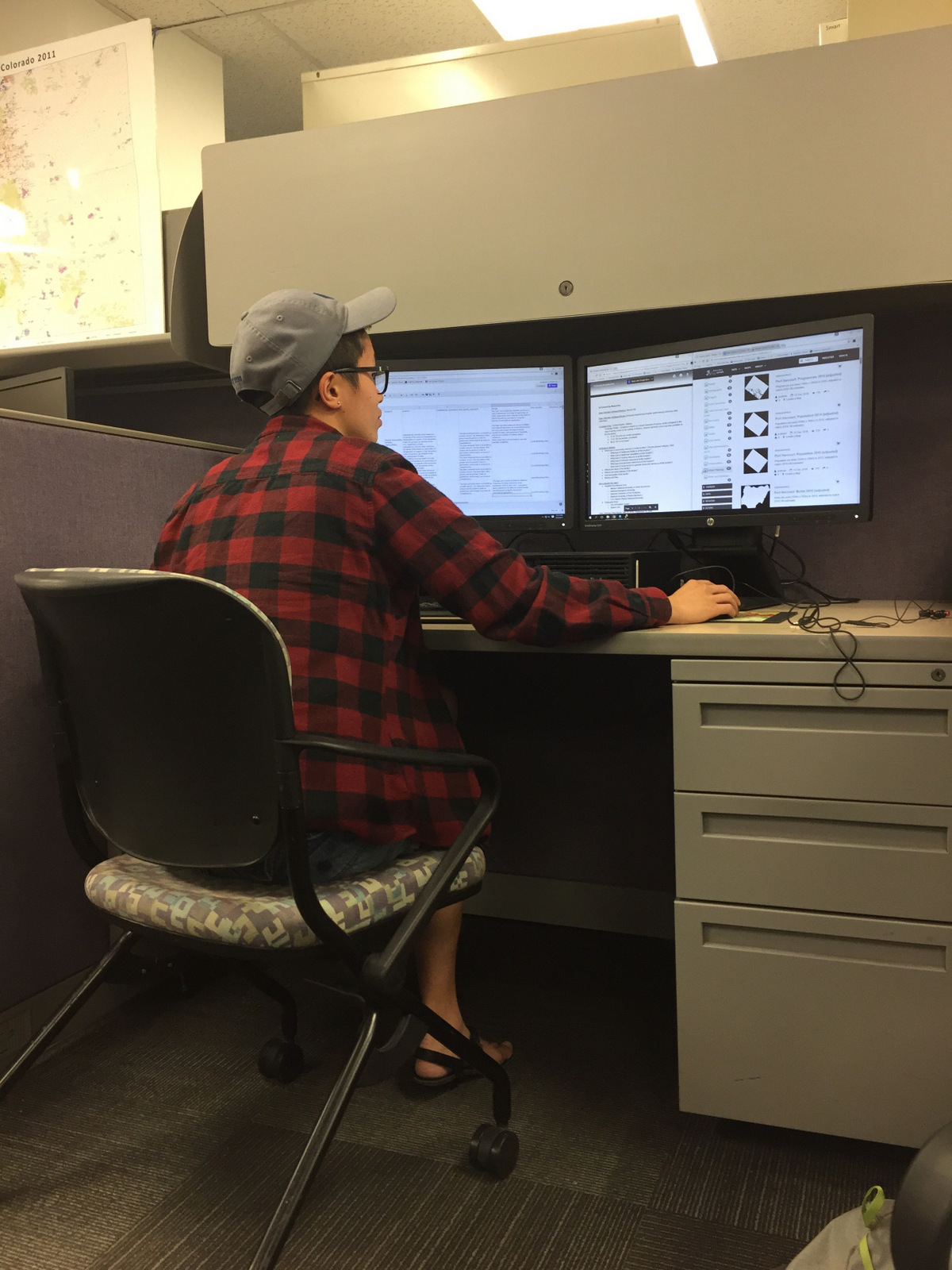 "I'm a GIS (Geographic Information Systems/Science) intern. Though I work in a windowless office and sit at a computer most of the day, my job is super great. My boss is kind and energetic. I've become spoiled by having two monitors, and there is no strict dress code to adhere to. As an intern, I analyze data and try to understand the world through maps. Here, I am making giant metadata (data about data!) spreadsheets. I hope to someday work at a humanitarian aid organization doing crisis mapping or something similar."
---
Olivia (she·her) / 20 / Reno, NV
"I work as a sales associate at a pet store, this is me posing with a bird we had for sale. My job involves a lot of education on proper pet nutrition and care (your dogs need meat, people!). The unnecessary suffering caused by peoples' lack of knowledge about animal care is staggering and I am passionate about minimizing it as much as I can. Also getting to play with ferrets and birds is a big plus."
Jenn / 25 / New York, NY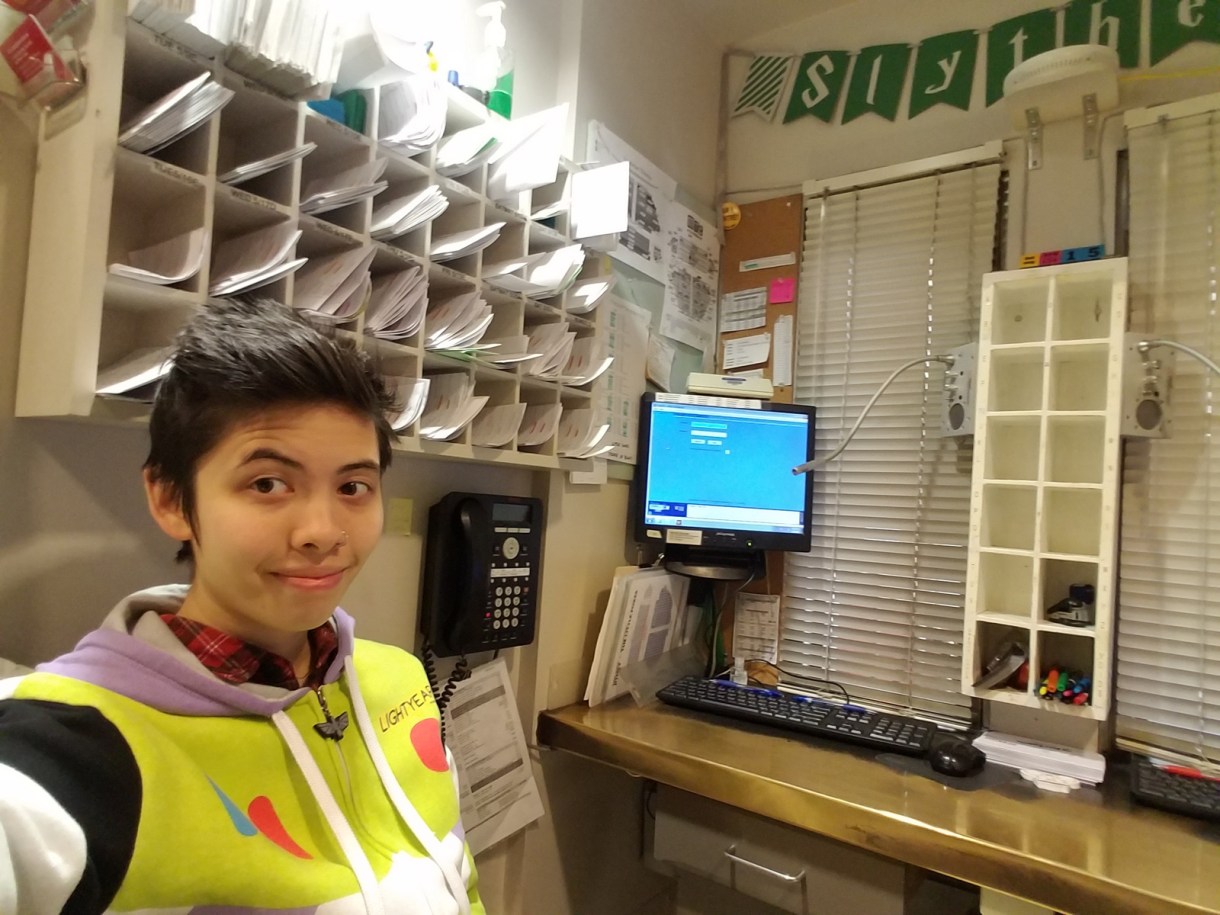 "Welcome to the smallest box office on Broadway! We're an all-female all-Slytherin team that sells tickets and puts out fires while listening to Carly Rae Jepsen. I can't get you tickets to Hamilton but I can tell you where Michelle Obama sat in our theatre (it's J127)."
---
Dera Luce / 22 / St. Louis, MO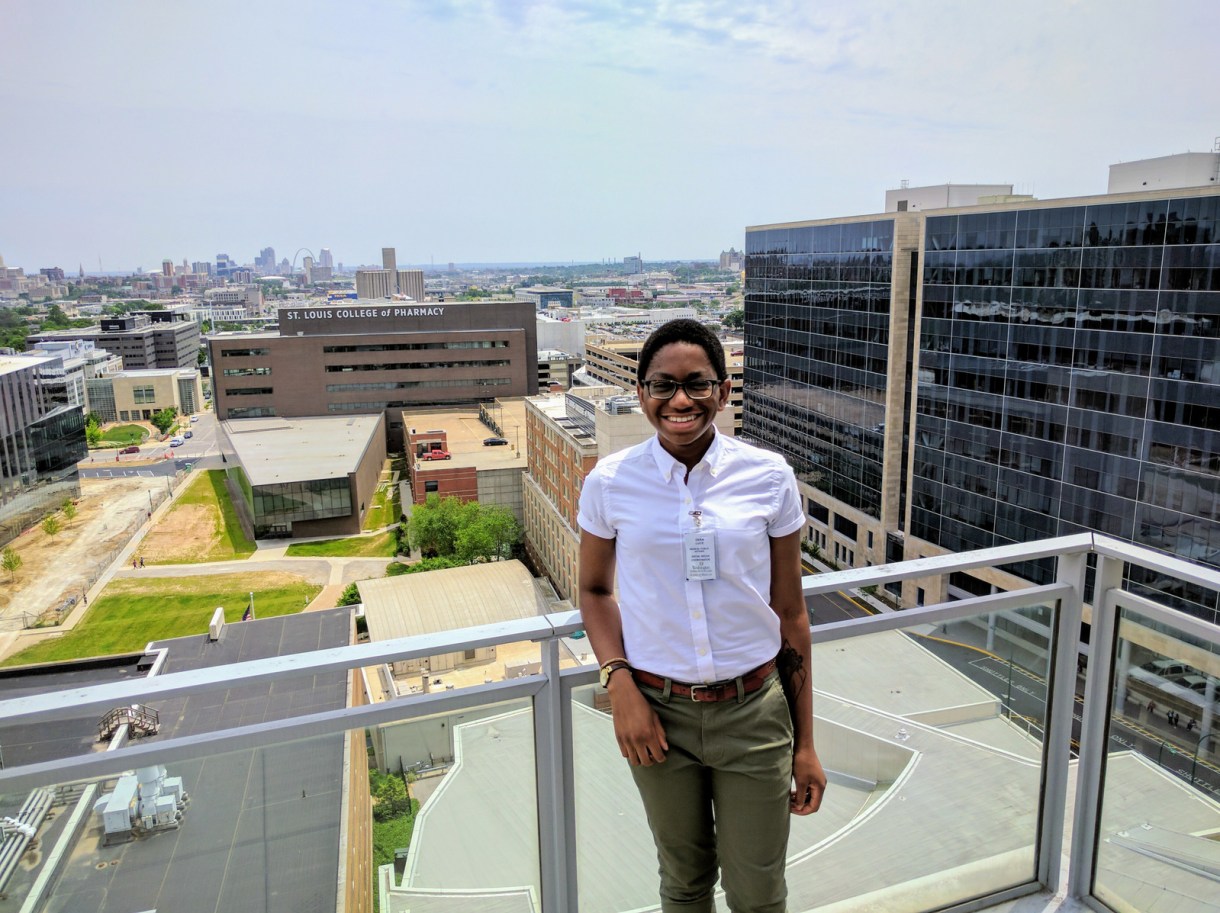 "I just started a new job as​ the social media coordinator for Washington University School of Medicine in St. Louis. This picture is from when the Medical Public Affairs photographer took me on a campus tour.
Working with tech and data is so fun for me, and I like that my job encourages me to flex my creative muscles. It's inspiring to work in an environment with so many smart and talented people. I still fangirl internally when doctors get on the elevator with me."
---
Heather Hogan / 38 / A-Camp, Mukwonago, WI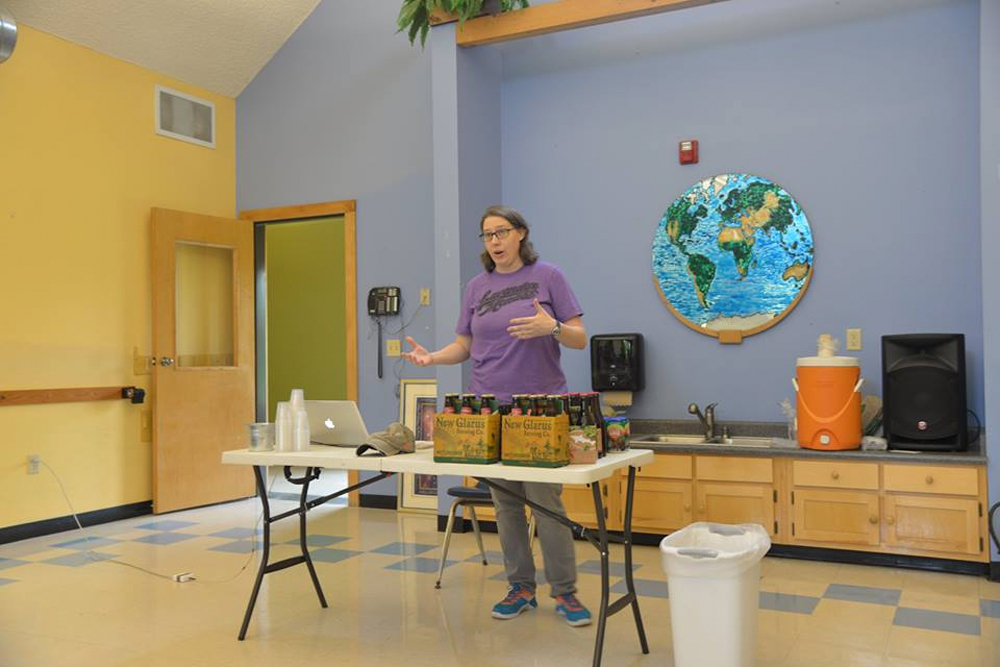 "I am teaching Bitches Brew 102 at A-Camp 8.0! The beers we tasted were New Glarus Two Women, Dogfishhead 90 Minute IPA, Anderson Valley Briney Melon Gose, and Joe Daddy Imperial Coffee Stout. And then we stormed out and took back beer from men."
---
Speegz / 23 / Downtown Los Angeles, CA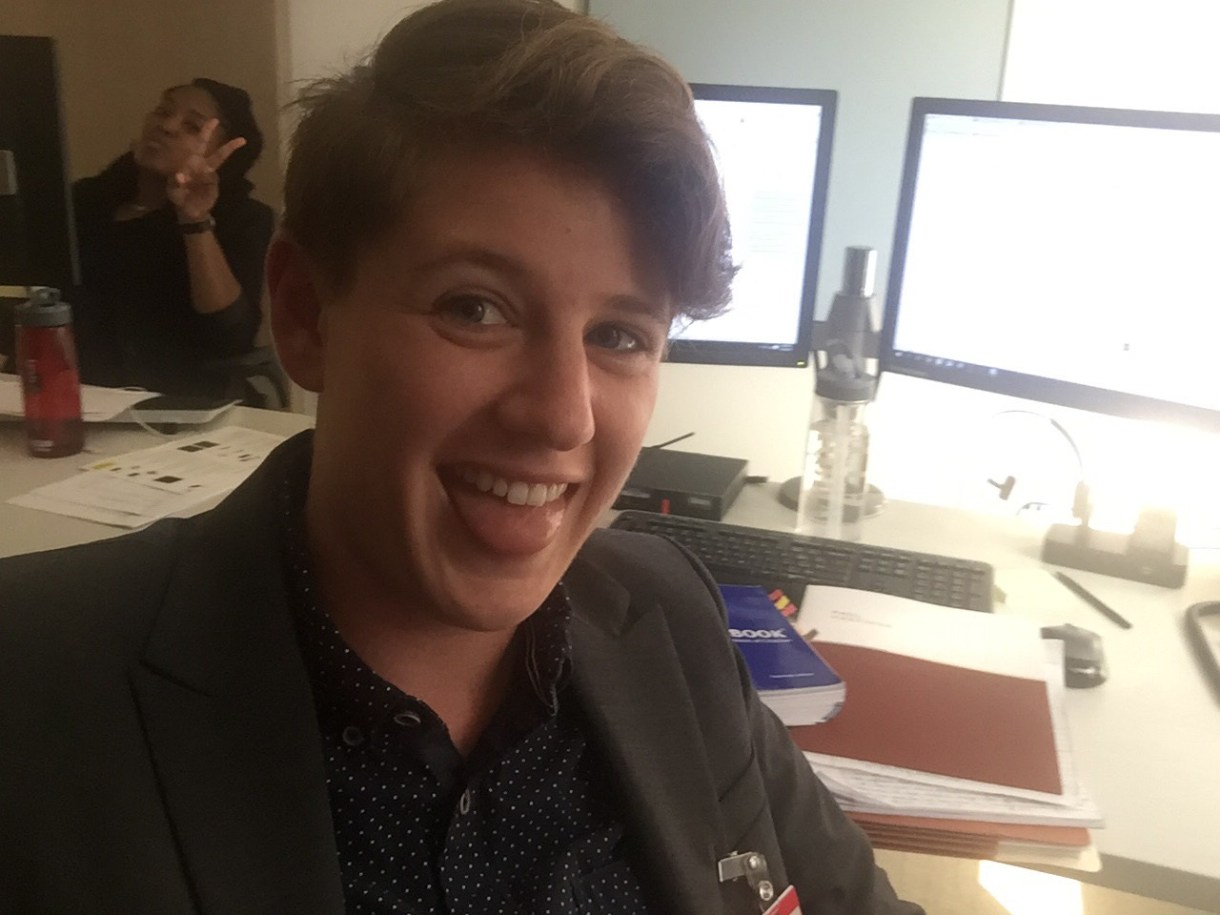 "I'm a summer associate at a law firm. The most important part of this job is the free lunch. The second most important part is looking hot. The third most important part is to be yourself and have fun (jk it's corporate and oppressive but we make it work)."
---
Chloë Poroslay / 20 / Superior National Forest, MN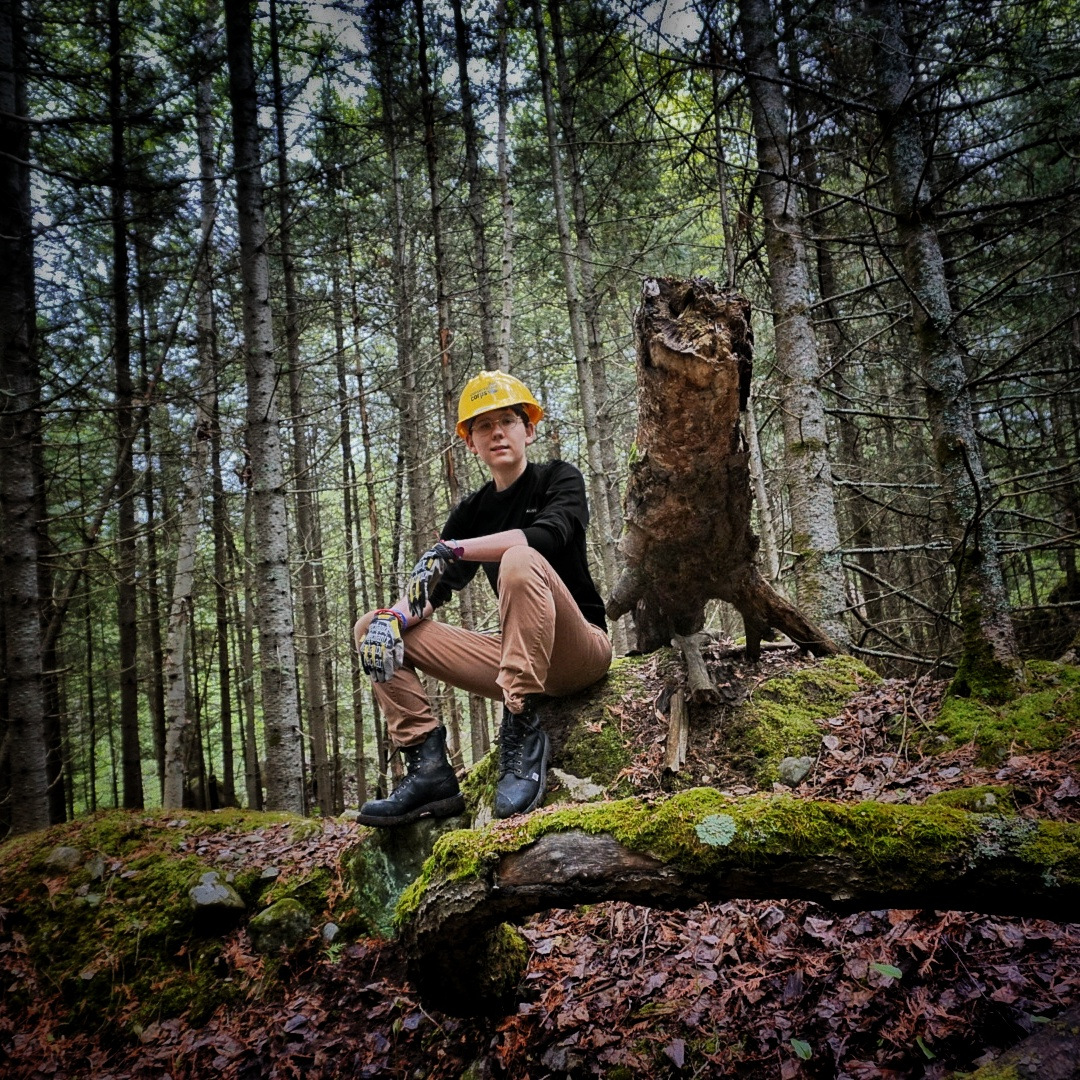 "Who doesn't love a lumberjack lesbian?"
---
Priscila / 25 / Toronto, ON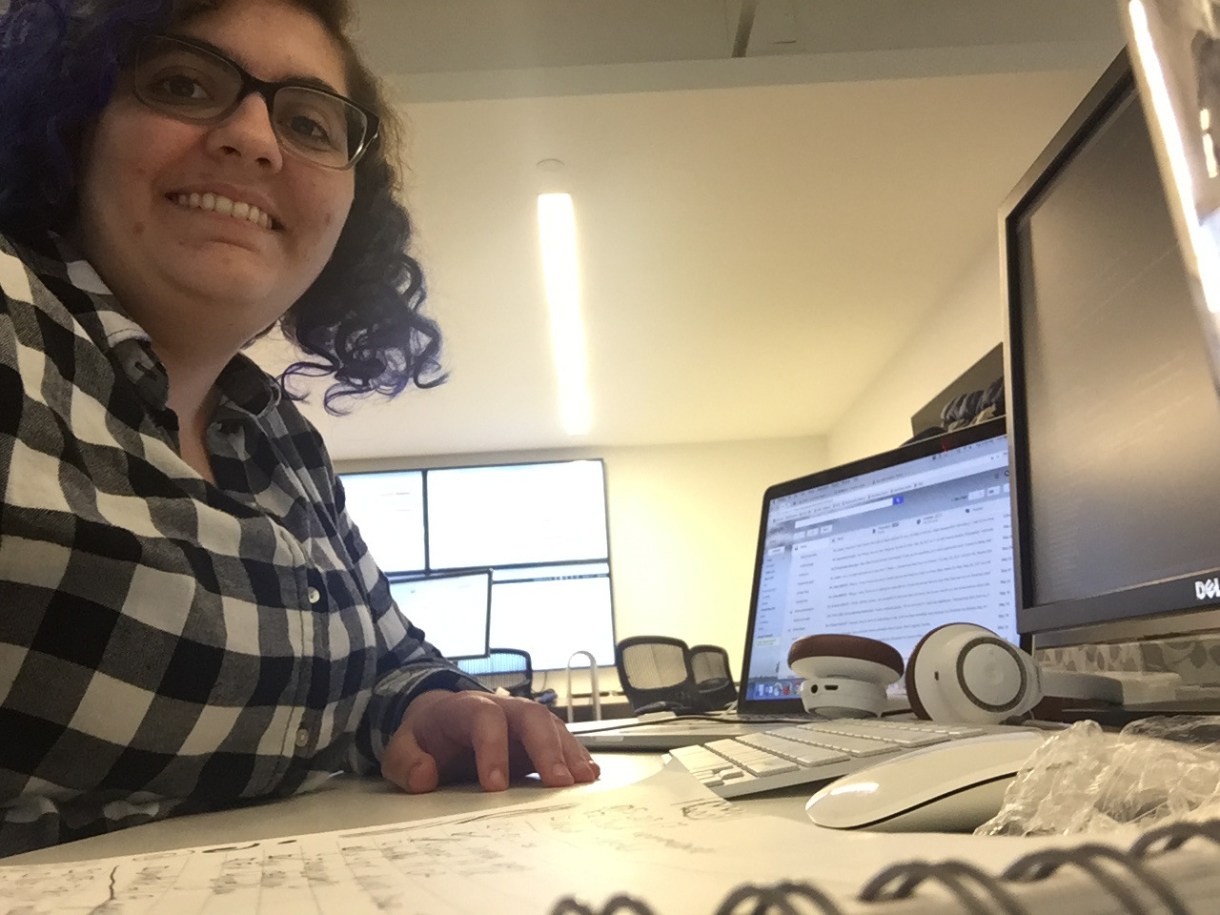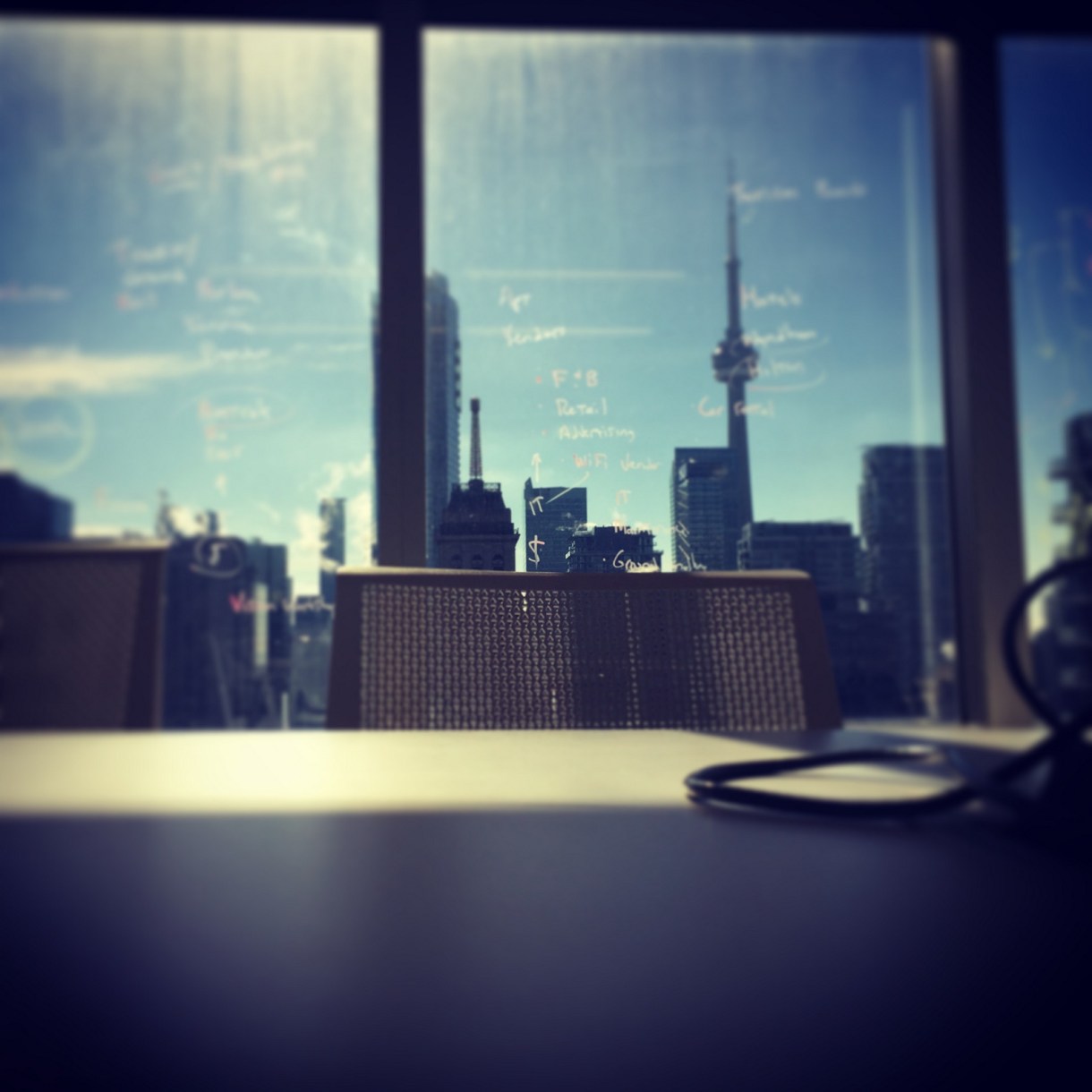 "You'll probably be able to deduce from all the monitors, but I work in Tech, as a software developer. Working for me means taking myself out of my comfort zone, and helping me grow as an adult person. Occasionally I'll make the computer do a cool thing and I'll wonder if I'm a computer witch, cause programming sometimes makes no sense. Also, I have a picture of the view from one of our meeting rooms. We have the whole floor and a view to the whole city, and on beautiful days, I feel very lucky to be there."
---
Liberty Hunter (with Mama Bear, Skittles, Cod, and Herring) / 29 / Clear Lake, WI
"I am a cow butler at Turnip Rock Farm in NW Wisconsin. These bovine queens make the most luxurious milk and only eat of the greenest midwestern grass. Major job perks are easy access to warm milky calf breath and magical raw milk cheese."
---
Monique / 27 / Tucson, AZ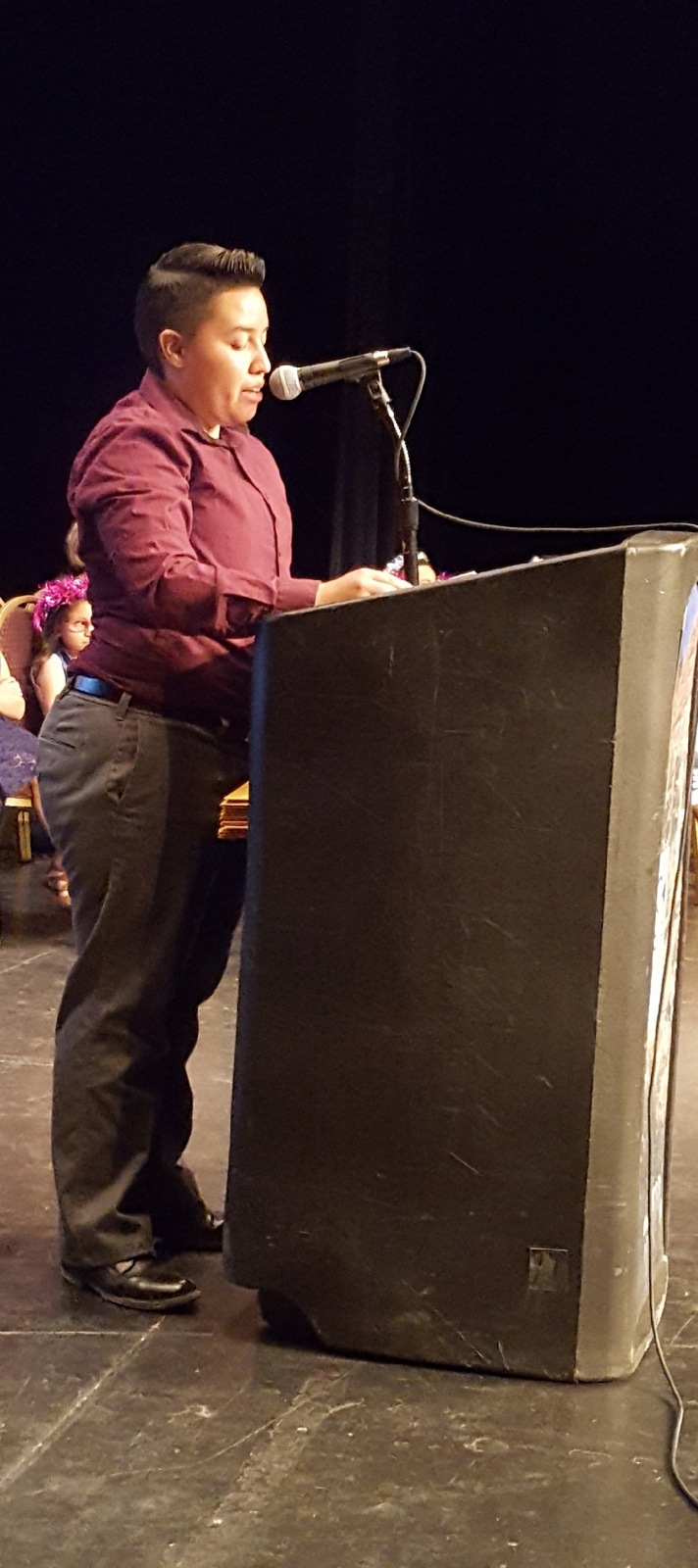 "I was a Long-Term Substitute Teacher in Kindergarten for the last 5 months, and this picture is of me giving a speech at their Promotion Ceremony in front of my students' families. Being a butch queer working in education has always made me a little nervous (I was a teacher's aide for 2 years before this), because I never know how people will react to me. I've been very lucky in that parents have generally been friendly and appreciative of my help.
I hope that my work is meaningful to my students in terms of breaking preconceived notions about gender. Especially in elementary school (and definitely kindergarten), kids have extremely narrow definitions of boys/girls and all they know exists in that binary. Pretty much everything you encounter in that atmosphere reinforces the stereotypes, and even the most well-meaning straight cisgender teachers stick to them as well. So I feel proud at little things, like one of the girls choosing the Scooby Doo fruit snacks instead of Barbie or one of the boys feeling confident enough to wear a pink shirt. You gotta start somewhere."
---
Riese / 35 / CEO & Founder of Autostraddle.com and A-Camp, Editor-in-Chief & CFO of Autostraddle.com / Mukawango, WI
"I'm in the very front of this picture, obviously, but I'm surrounded by so many of the people who make this very hard job worth it — 1. My incredibly talented team who are always game to execute my 1am ideas and turn my dreams into realities I could never manifest on my own AND who also have thousands of their own brilliant ideas that make our world a better place, 2. A-Campers, who in this particular situation symbolize the people who make Autostraddle possible through their kind words & emails & notes & social media shout-outs as well as through their very crucial financial support. Most days I work alone, as in 100% alone, by myself, in my office. I'm an introvert with sub-par social skills and a lot of anxiety, so usually that's fine, but it can also be really lonely and weird a lot of the time too. It's not often that I'm surrounded, physically, by the people I work with and work for, but when I am, it's absolute magic."
---
The next Queer IRL gallery theme will be announced Friday, June 2!
Pages: 1 2 3 4 5 6 7 8See entire article on one page