Liz / 24 / Indianapolis, IN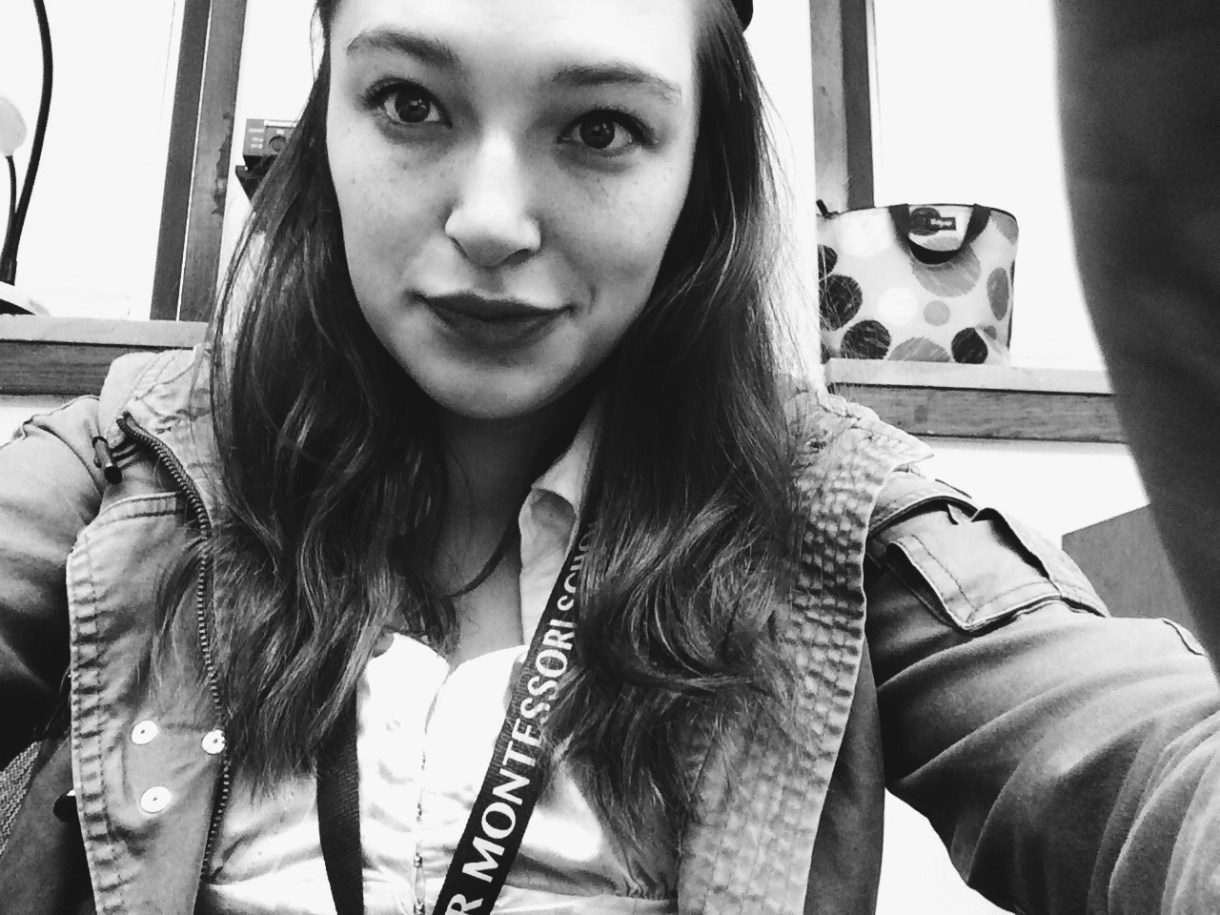 "I'm the lead teacher of a self-contained classroom for students with Autism at a public Montessori school. Which basically means I get to build robots out of legos and play tag on a weekly basis. So, life is good."
---
Hannah and Kim / 29, 30 / Women's Hospital Labor and Delivery Unit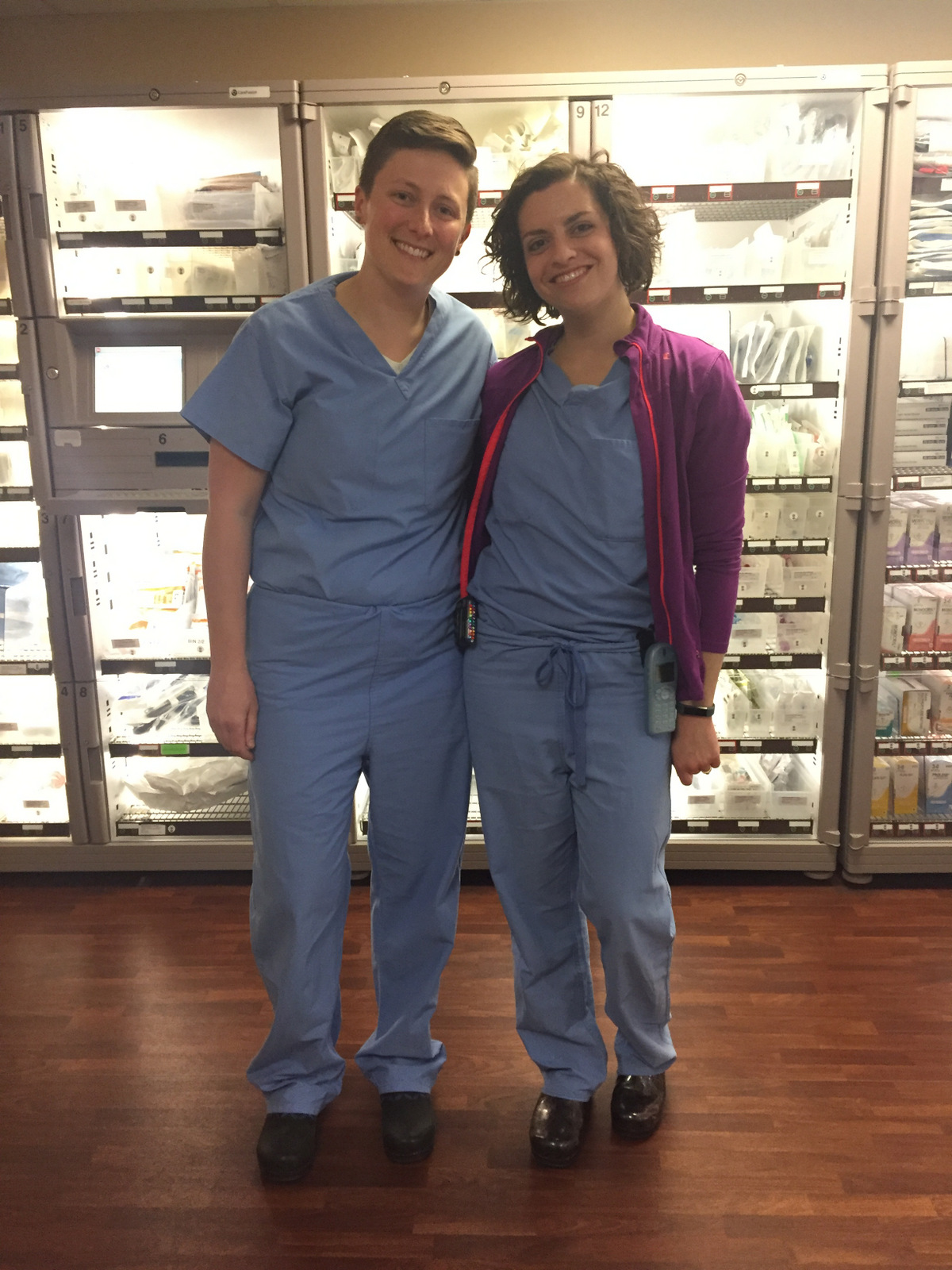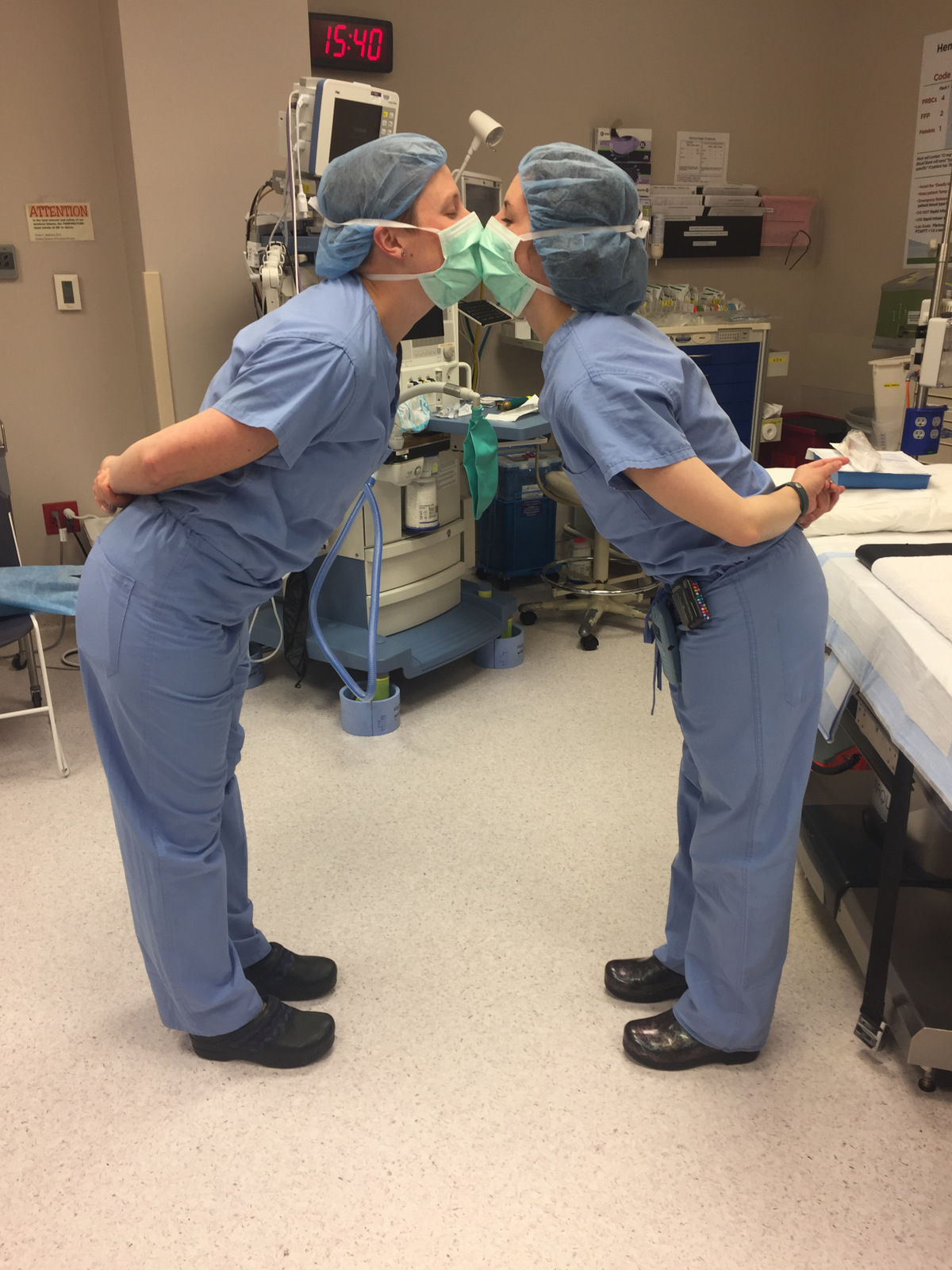 "My wife and I work together on labor and delivery. I'm an ob/gyn and she's a labor and delivery nurse. I like to say we're living up to stereotypes and breaking barriers all at the same time. Please note my rainbow bedazzled pager. This picture was taken during a 12 hour shift for Kim and a 24 hour shift for me. Being a doctor is such a huge part of who I am, I love that Kim fully understands it and appreciates what I do. It's also pretty fun to deliver a baby with your wife assisting you."
---
MacKenzie / 22 / Saint Mary's College, South Bend, IN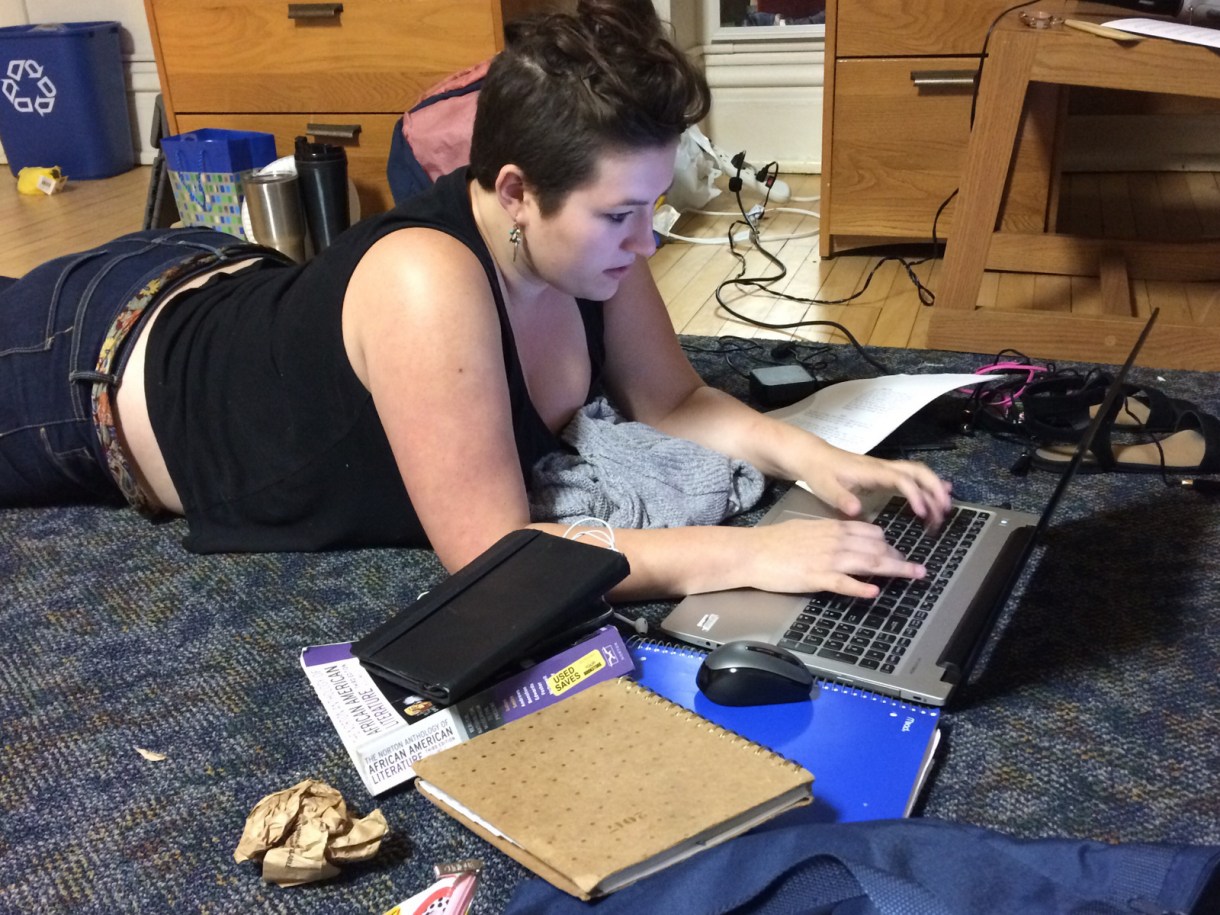 "Working on a mixture of Shakespeare essays, ficiton assignments, a play, and some Vetra/F!Ryder fanfiction. I've always loved writing, but it was only in the last year that I made the scary decision to switch from psychology to English writing as my major. It's been crazy and I've never pulled so many all nighters or drank so much coffee, but I've also never been happier. I never thought that I would write a play about a queer Asian-American woman who summons a demon to get into medical school. I don't know what the world has in store for me once I graduate, but I know that I will always be a writer."
---
Katie Scarlett / 23 / Chicago, IL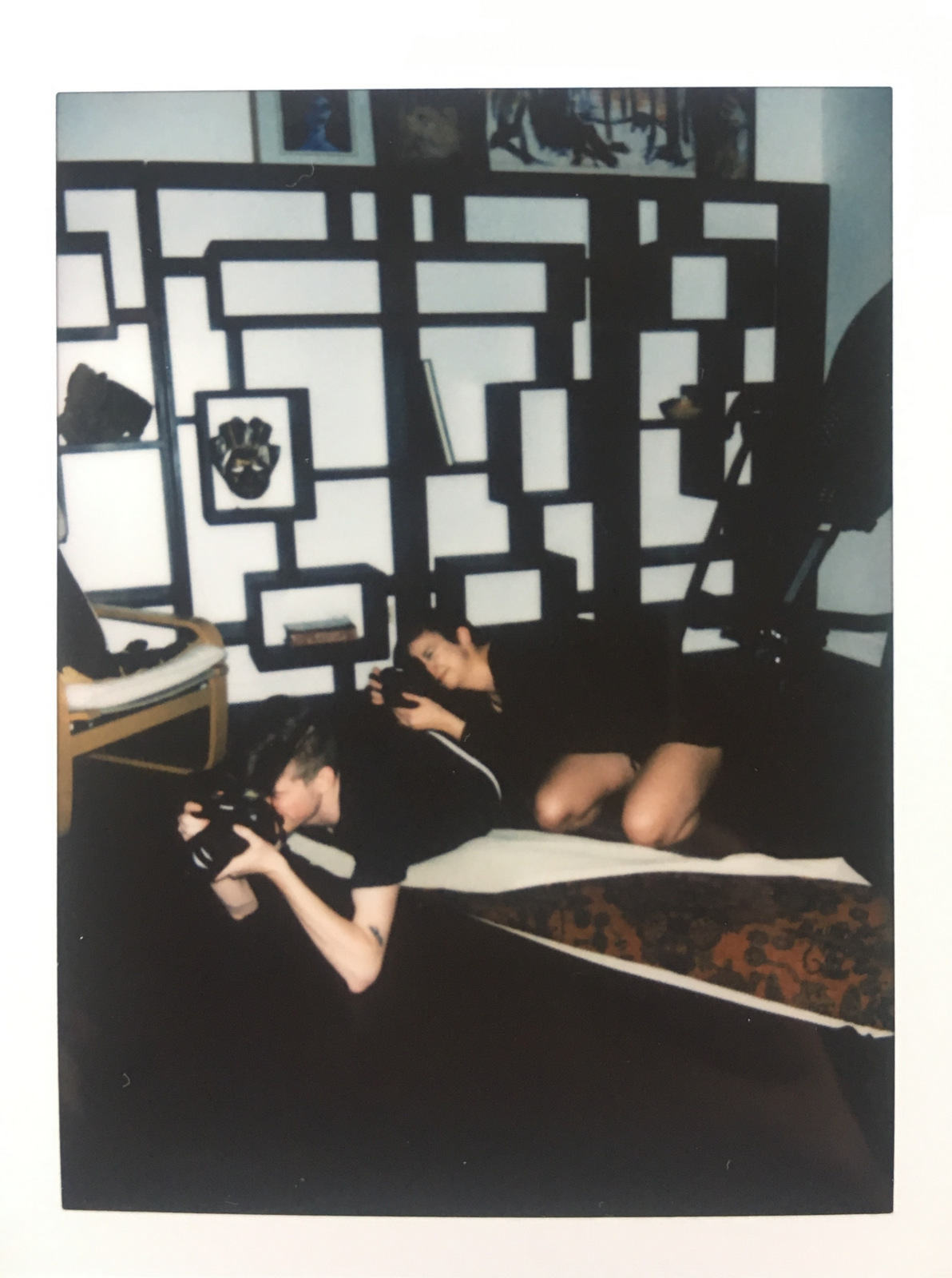 "On this set, I'm photographing with my partner in crime a collection of queer boudoir portraits! (I'm the gay lady laying on top of someone's butt to take a picture) I work full time as a photography agent, so it's nice when I get to create my own personal work. I'm also in graduate school (then off to med school!) for my Masters in Counseling. I also graduated with a degree in American Sign Language three years ago. I sort of love too many things to ever stick with just one at a time-but regardless of whatever I'm doing, art always keeps me grounded. I'm so thankful for that."
---
Rev. Julie Avis Rogers / 31 / Church of the Covenant, Boston, MA
"This is a photo from my ordination to ministry in the United Church of Christ (UCC) denomination. I currently serve as the Associate Pastor of a creative, activist-y and big hearted congregation in downtown Boston with a long and proud history of LGBTQ+ clergy."
---
Haley / 26 / Cambridge Friends School, Cambridge, MA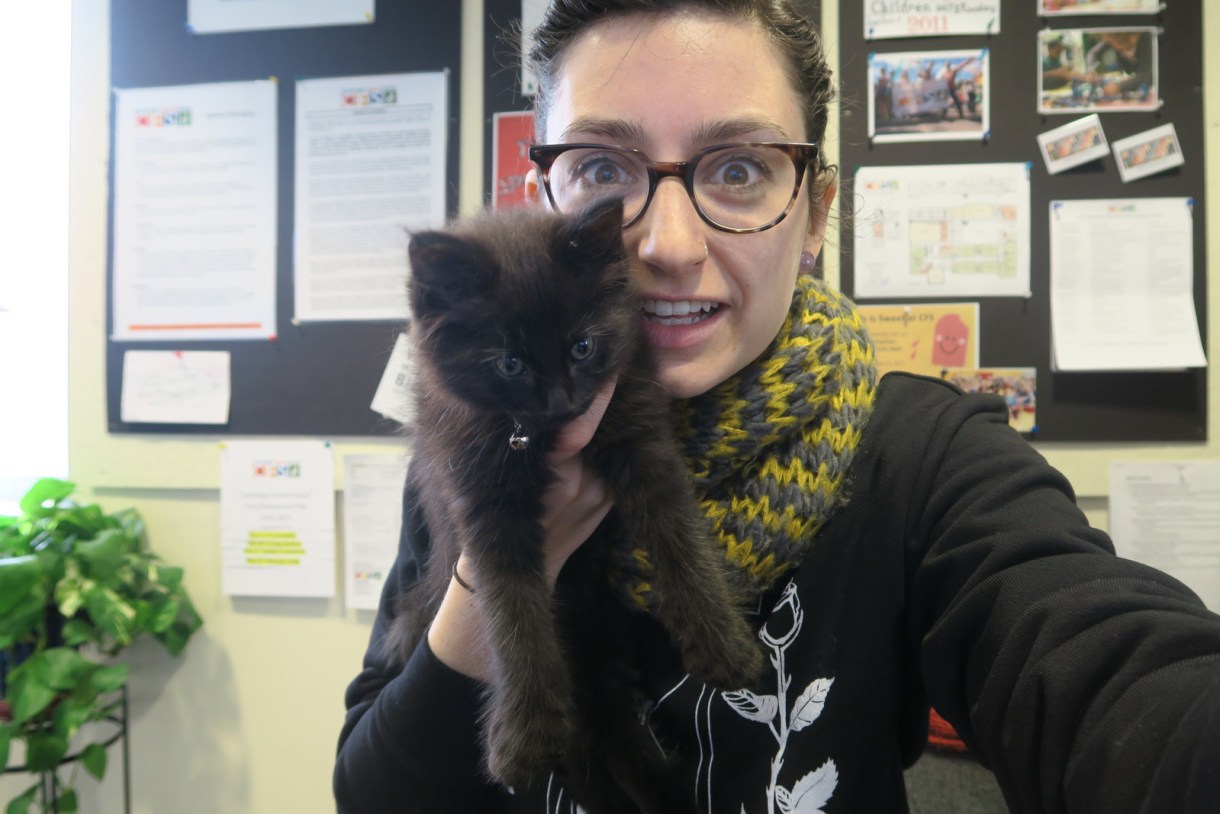 "I work in the admission office at a PK-8th grade Quaker school in Cambridge, MA. Our school is the only Quaker school in Massachusetts and is committed to teaching our students the importance of resistance and social justice. In my position, I get to talk to parents about their dreams for their children, their hopes for the future, and how our school can support each child in their unique growth and development.
This photo was taken while students were on spring break, when we were visited by a v smol baby. Not pictured: the 2 hour nap this kitten took in my filing cabinet soon after this photo."
---
Noelle Osborn, LPC / 42  /Non-Profit Agency in Eugene, OR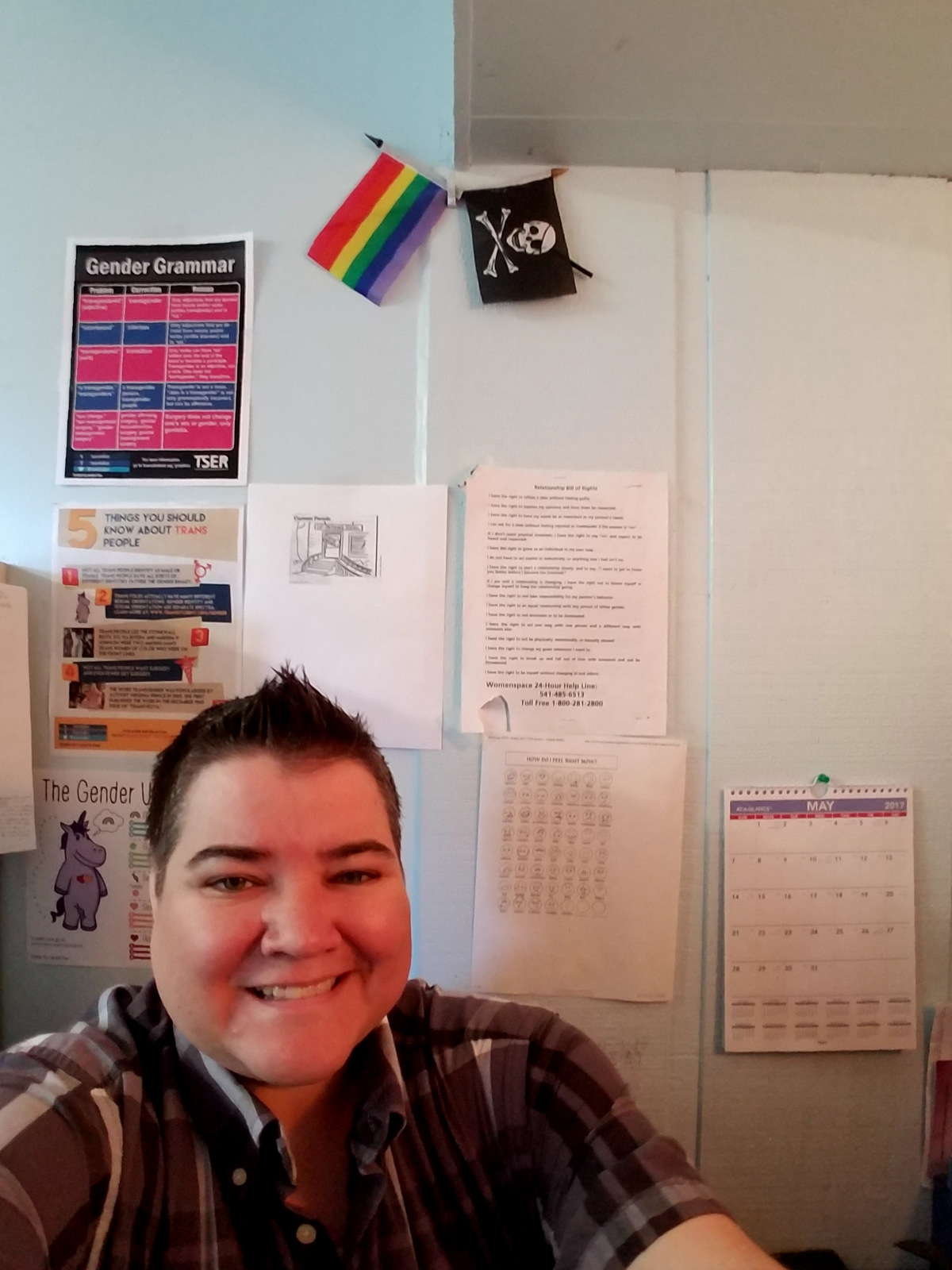 "In this photo, I am in my work area which is a converted closet (the irony is not lost on me). I am a mental health counselor specializing in LGBTQ needs. I identify as Queer/Gender nonconforming/Trans masculine and use He/They pronouns. I work primarily with folks exploring gender and gender transitions alongside a diverse group of general clientele. My agency focuses on serving homeless folks and those with low incomes. My work is something I am extremely passionate about. I get to help people along their personal journeys and assist them to navigate challenges in their paths. I am proud to serve the queer community to improve mental health and family lives locally. I experience a profound sense of fulfillment through aiding individuals to find agency and empowerment and to strive be their most authentic selves in the world."
---
Kylie Havelock, Charlotte Jackson, Kamala Hamilton-Brown (aka the Queer Ladies of Justice!) / 28, 42, 28 / Bletchley Park, England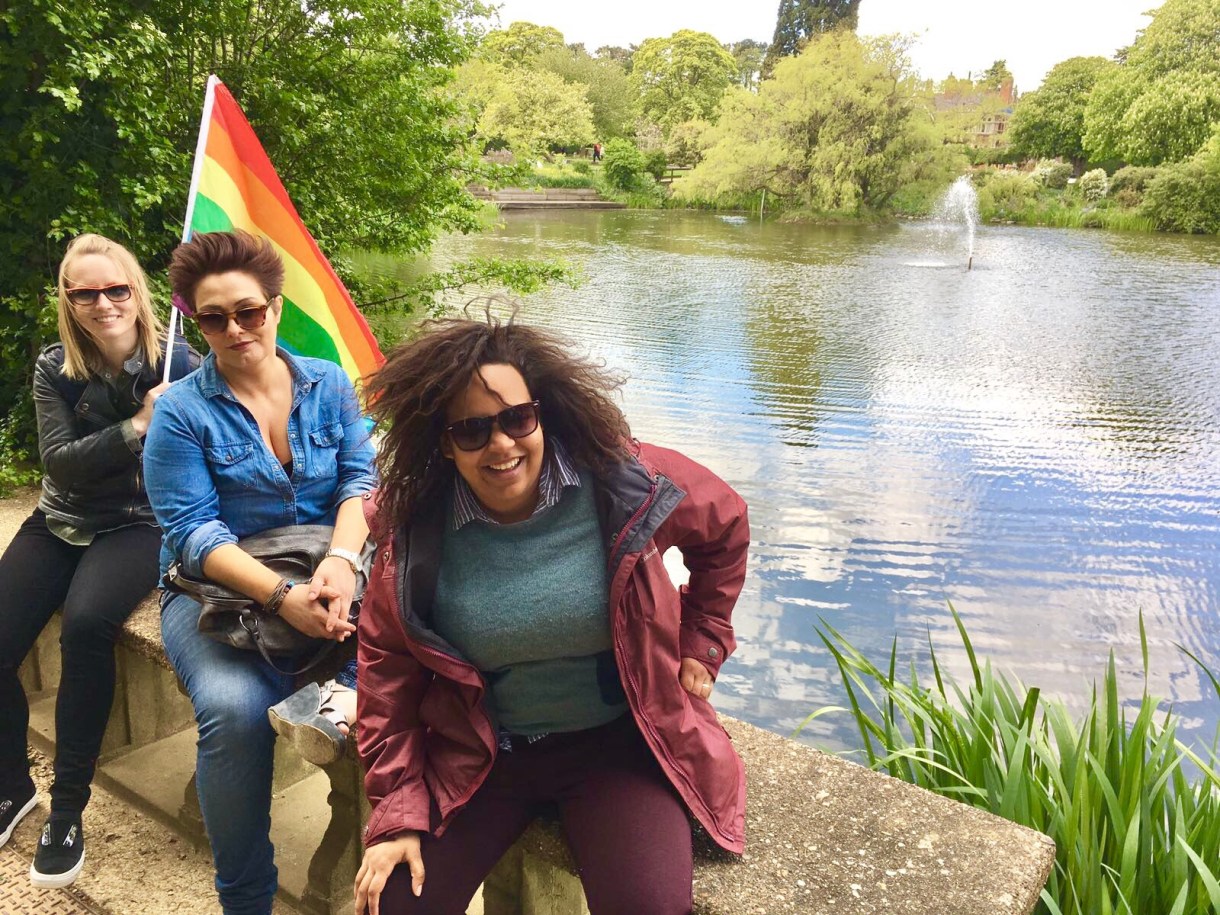 "We organised a trip celebrate the 1 year anniversary of our queer community at the Ministry of Justice (nickname "Rainbow Raves") we took a trip to Bletchley Park, home of the WWII codebreakers and where Alan Turing famously broke German ciphers. If you haven't seen the Imitation Game…Turing was a gay man who was convicted of (then illegal) homosexual acts and sentenced to chemical castration, later committing suicide. The UK Government eventually issued a posthumous apology to Turing in 2004, and the Ministry of Justice recently pardoned thousands of gay men in what was known as the 'Turing Bill'.
We're now known as the Queer Ladies of Justice! We visited Bletchley Park because wanted to celebrate the success and importance of our queer community, and remember how far we've come in fighting for LGBTQ* rights."
---
Grace Piper / 22 / Queer Resource Center at Portland State University, OR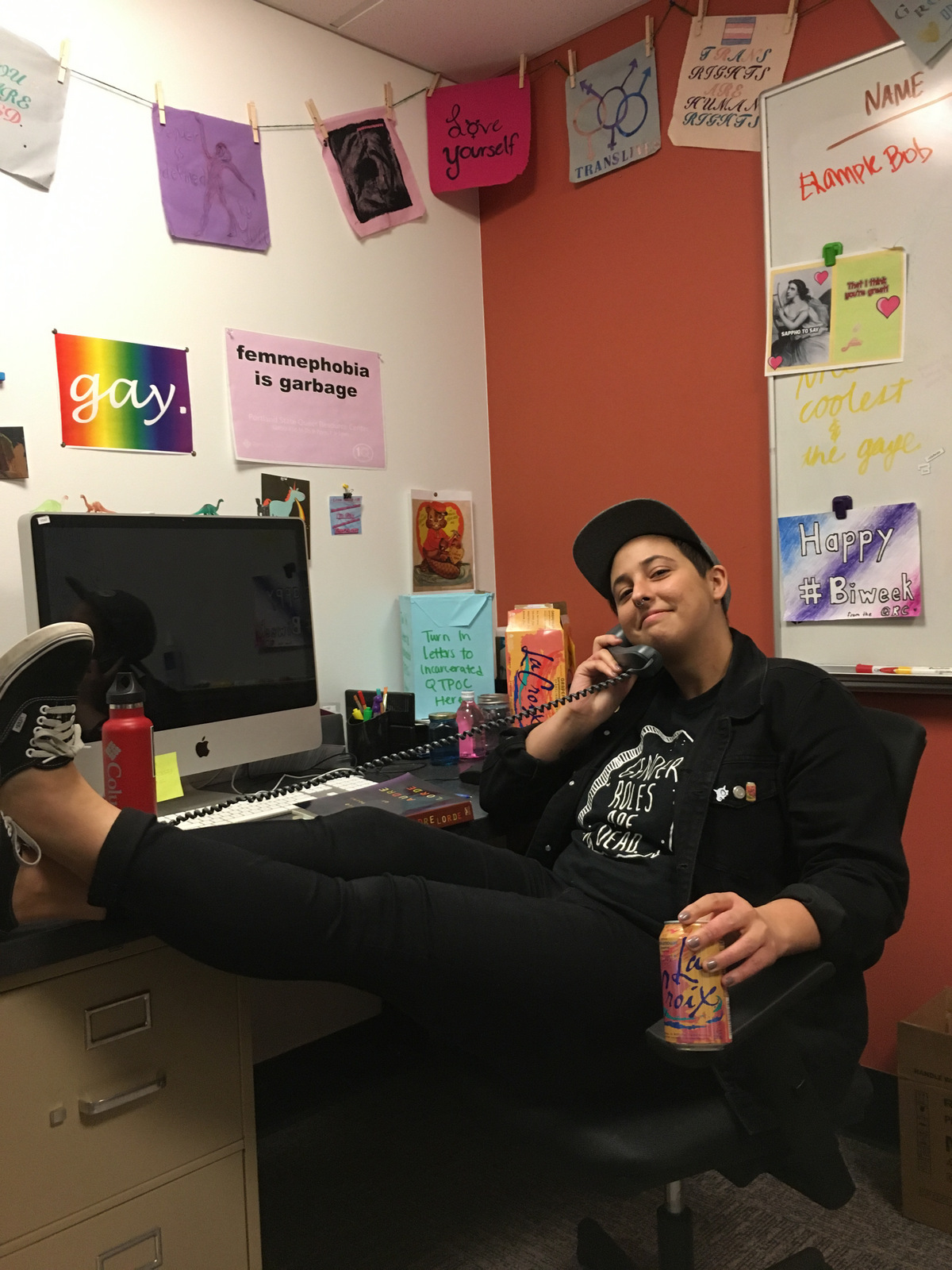 "I am the Marketing Coordinator in my really gay office for the Queer Resource Center, which means I get to do a lot of festive social media stuff, create queer and trans positive marketing campaigns, manage newsletters, and do some event planning. Right now I am working on designing a handout about removing harmful gendered language in conversations around menstruation that we will hand out at the upcoming period party. I think the media I work with creates a really interesting way for us to engage with queer and trans students and faculty and make them feel seen and valued on campus."
---
Steph / 22 / Park Ranger and Super Intern / Great Basin National Park, NV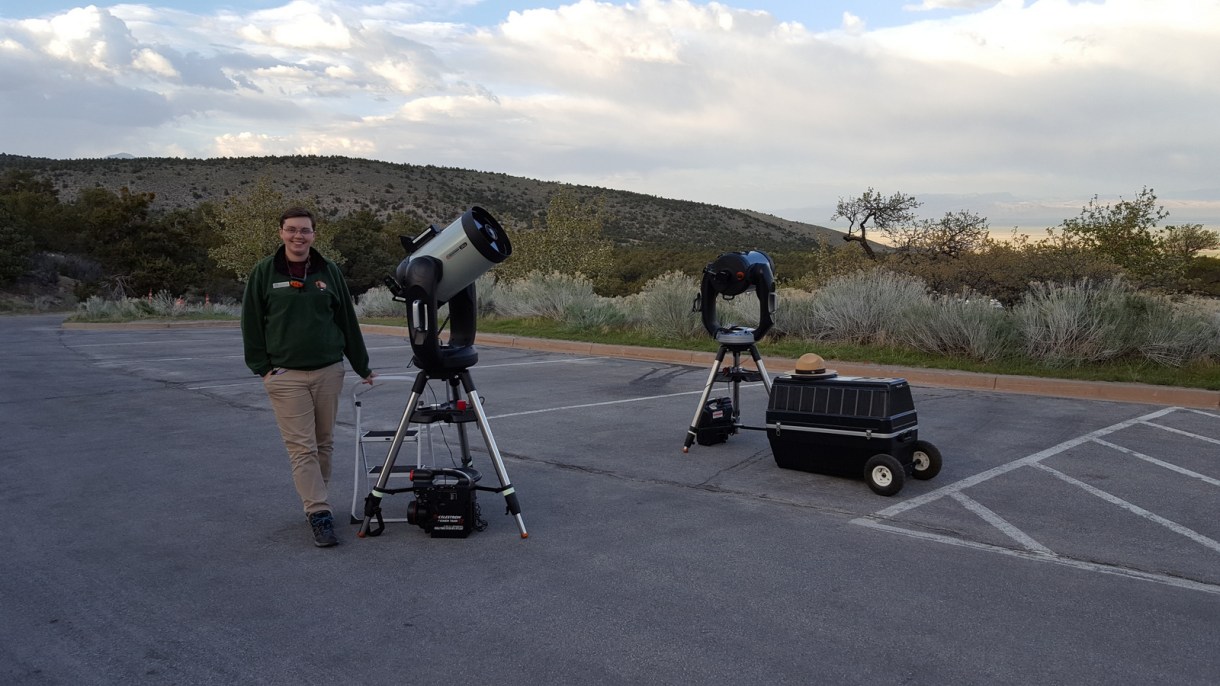 "Astronomy and National Parks have always been passions of mine; I sent one email putting myself out there to the guy who ran this program and I managed to make it into a job. Also: the inspiring story of an English/creative writing major who got a job! (The physics minor and astrophysics concentration probably helped though.)"
Pages: 1 2 3 4 5 6 7 8See entire article on one page