This picture was taken at a 2011 Slut Walk. I don't know if it's the smug grin on her face or just the poster, but I seriously have the urge to yoke this chick up. Ok, so obviously that's not a real threat, I'm sure she's lovely and probably smokes a mean bowl. That being said, I wonder about the clarity of her judgment when opting to create and display a sign with this particular John Lennon & Yoko Ono song lyric at a feminist protest.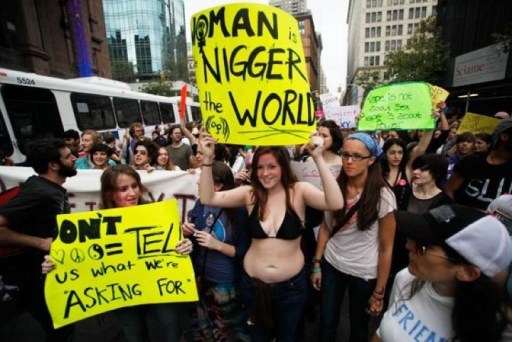 "Woman is the n-gg-r of the world"
I stared at this photo for awhile trying to organize a mental list of the issues I have with it.  As already mentioned, that grin is the first problem. Second, to be real, why on earth would any white girl want to hold up a sign with the n-word on it?  Isn't that just for people wearing hooded robes?  Did she just wake up and lose her damn mind? Third, where were her homegirls?!  Did not a single one of her friends think to maybe tell her to try a catchier, less ignorant slogan?  "Hey Molly, could you maybe write something more along the lines of 'I'm not your bitch, bitch?'"  Finally, is she for real?  Does she really think that all women, Real Housewives and all, experience the injustice and oppression that people of color, specifically African Americans, experience on a daily basis? ::sigh::  I hope not…
We could go into a discussion about the history of the n-word, or the deeply embedded roots of slavery in the United States' current power structures (and gender politics!) but I won't play myself.  The Crunk Feminist Collective posted a super tight and explosive article on the Slut Walk and this picture.  In it they delve into the politics of why this slogan is f*cked up, grossly racist and why it exemplifies the difficulty women of color have in trusting movements backed predominantly by white women.  So go show the C.F.C. some love and check out their piece entitled "I Saw the Sign but Did We Really Need a Sign? : Slut Walk and Racism.
Forget John Lennon's & Yoko Ono, Zora Neale Hurston said it best in her classic novel, Their Eyes Were Watching God:
The Black Woman is the Mule of the World
Ok, so I'm biased on this one. But I also just wanted to share this picture with the world and with Autostraddle and ask: what do you think?  Does this picture evoke anything out of the ordinary from the usual protest sign?  Tell us your thoughts and let's open up an honest thread about racism, feminism and all those -isms messing with the world.