When I moved to Boston, I thought my city-girl bag experience would be sort of like this: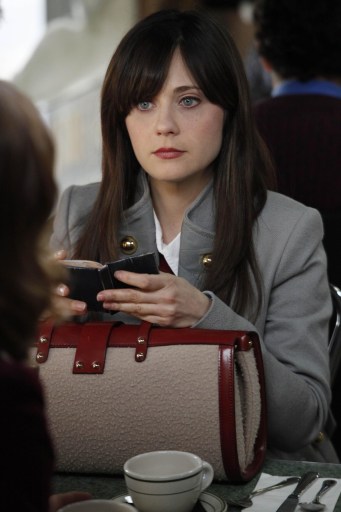 Unfortunately, after about two days I realized that if you live in the city, have a kid, go to school or just own more than two things you take around with you, your bag situation is a bit more:
The solution? You need a new bag. A really good everyday bag. I'm not talking about purses, just cross-body, actually-fits-all-of-your-crap bags. Well, for you, bag singular. The bag you're about to buy because you really need one. The bag you always wish you had, but don't have so instead you carry around a purse and 1.7 tote bags or the backpack you've had since middle school. (Seriously, I've been carrying around a "Wildwood Elementary School" tote bag that I designed in kindergarten.) A bag for a grown-up who works a job (or attends classes) where they kind of need to look like they don't wear a backpack. A bag to go with pumps, flats, kicks and loafers. Your everyday, go to, oh-that's-where-I-left-my-Chapstick bag.
Yet, for some reason shopping for that magical bag you absolutely need is really hard. It's hard to extrapolate from your personal bag narrative what you actually need and frustrating to try to differentiate between tons of seemingly identical bags. That's where I come in. I asked some really really important women what they didn't like about their current bags and hunted them out new ones.
Problem: The Pockets are Too Small:
"My main problem is that [the pocket] is too snug — getting [my] netbook or a hardback novel into or out of the bag is just a pain in the ass. I have to carry another canvas tote for my other two books that I take everywhere. Getting anything into or out of the bag is a pain in the ass, actually, even from the bottom pouch."
Having a bag that's too small can drive you nuts. I should know, I have a bag that's too small. I feel like everything has to go in exactly right or it won't close. Even if your bag is big enough, if the compartments are too small you will go crazy trying to get your things in and out.  Of course reassigning pockets can work great (like using the water bottle netted area for your keys), that just isn't the case I'm talking about right now. The tight-pocket situation also occurs when anyone ever in the history of bags tries to use those two "slip pockets" on the front facing wall. You know the ones I'm talking about? The ones that are supposed to be for pens but instead hair pins just fall in accidentally? No? Just me?
Because there are so many technologies we all carry around, my list is pretty limited to only buy bags that have a specifically sized padded Kindle/iPad/netbook/laptop/Nintendo DS dedicated pocket. I like the idea of buying a bigger bag with a large, structured, open interior and buying a bag organizer or making one out of a fishing vest. This way you can get the exterior you like without having to finagle different pockets to fit your technology-things.
Problem: I Stuff Everything in the Front Pocket
"Even though there are like 4 pockets, I end up only using the outside one because it's easiest to reach, which means that pocket contains every single small object I own and is completely bulging and overstuffed and therefore useless because you have to take out everything in it to find what you're looking for."
I really thought I was the only one who did this. If you're someone inclined to throw your keys, wallet, cellphone, chapstick, gum and every receipt ever into that zipper pocket in the front (sometimes on the flap) then there is only one solution. Buy a bag without one big exterior pocket. Actually, the best option here is a bag with multiple smaller exterior pockets so everything doesn't fall in to the exterior pocket abyss. This is particularly great because exterior double pockets are really cool/in style right now. Plus, lots of designers replace the latches with magnets or velcro (because obviously if you had to latch a pocket you'd never use it). However, make sure that you double check the size of the exterior pockets so you don't end up in a Pockets are Too Small situation.
Problem: I Can't Take This Bag Everywhere
"What I hate is that I feel like I need to bring a ton of stuff around all day, but I don't want to go home before dinner, so I feel like I'm toting a gigantic day-pack with me. I sometimes need to look all chic and stuff."
I feel like this is a common issue for city livers or college students. Especially in college, it's surprising how much the stuff you have to carry fluctuates as you pick things up and drop things off. Maybe you need a huge bag to take a sweater for later, but once your sweater is on you feel like you have a giant bag for no reason. Alternatively, you might want to use the same bag for shopping (and putting new stuff in) as you would for going out. A similar situation might be if you want a bag that you can bike with across your chest but also one that can go in the crook of your arm/tucked over your shoulder. The best solution here is to have a bag that can be folded/held two ways. This is also sort of neat because then you feel like you're getting two bags in one, and that's a super good deal (because I know you're watching your budget).
There is one bag that would be perfect for all of these women. Actually it would be perfect for me too. This would be the best bag ever. The only bag you would ever need. Unfortunately it doesn't exist yet. I would sew it, but I don't exactly know how to work with leather. But look, I drew it!
What's double extra important is having the proper inside:
If you or anyone you know is able to make this bag for us (we will be needing three) please contact me through ASS. Similarly, if you've seen a bag like this (or better!) feel free to post your suggestions in the comments.