It's New Year's Eve, which means probably once or twice or maybe five times this past week, someone has asked you if you're ready / excited for the new year, and what your resolutions are. So we figured we'd just make a party out of it and create an open thread in which we show you ours and you show us yours. Resolutions, that is.
We decided as a team this year that we wanted to move away from negative resolutions. Giving up old habits is great! So is picking up a new, better one. And so, instead of making laundry lists of the things we don't wanna do anymore, we vowed to make our resolutions about the new stuff we're doing for ourselves. Instead of giving up Ramen, we're learning to cook. Instead of giving up the snooze button, we're waking up earlier to enjoy the fresh air.
In 2016, we're giving ourselves permission to do stuff we wanna do, on our terms, for ourselves. We advise you to do the same.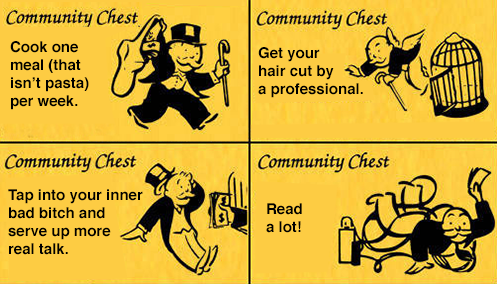 Carmen, Straddleverse Director & Feminism Editor
Remember when I repeated over and over to myself in the middle of the night for a solid month that I would figure it out? Well, I'm still kind of stuck on that. And so, I'm committing to spending 2016 trying to assemble my actual best life: establishing a solid morning routine, actually cooking up some of those recipes I've pinned over the years, driving around in pursuit of adventure, and trying my darndest to "make it,wp_postswhatever that means, as a writer — on my own terms. Also, I am going to tap into my inner bad bitch and serve up more real talk in the new year. Sorry.
Mey, Trans Editor
My resolution is to get a haircut. Like a real one. I haven't had someone other than a family member cut my hair since 2006.
My resolution is to not let my house get so messy that it feels overwhelming. I'll never be a super neat freak, but I'd like to start a dedicated routine of picking up for just 15-20 minutes each night. It'll help curb the mess before it gets out of control and ease my culturally-ingrained anxiety when an unexpected guest comes over.
2016 is going to be a year of opulence — within my means. Which means I'm going to find a budgeting system I like and stick to it! I'm graduating in May and hopefully moving to Chicago, but I can't do that if I'm as broke as I am right now. I have a lot of anxiety about money and spending it, hopefully budgeting will help me overcome that anxiety and be able to live with marginally less anxiety, at least about money. Constant worry about whether or not I looked stupid in front of that cute girl…well, one resolution at a time.
Lyn, Staff Writer
In 2016 I'm going to try enjoying things in the present. I'm always in my head about future plans, and I've been working so hard to improve my career and my kids' childhood that I am constantly stressing and worrying about something. I'll try to stop and smell the roses and start treating myself better. Breaks are a thing that I should embrace!
Aja, Beauty Editor
This year I'm going to sell my house, move somewhere completely awesome with my incredibly good-looking wife, and try to maintain as much dignity and grace as an empty nester as possible. (Is that possible? I guess we'll find out! Is making this a resolution a huge mistake? ACK.)
Laneia, Executive Editor
I want to go outside! I spend entirely too much time inside my cute small house and I think it's killing me. I'm going to find ways to work and live and be outside of buildings.
Maree, Staff Writer
My resolution is to do more of the things I did when I was 13, like make weird collages with things cut out of magazines and have horror movie sleepover marathons and wear platform shoes.
This year I'm going to be honest about the things I want. And say those things out loud.
Aisha, Staff Writer
This year I am going to read a lot. Starting with Riese's "Things I Read that I Love."
My resolution is to build a life where I'm currently at. I have spent the last year trying to figure it all out. I'm pretty tired and I just want to be for a bit. I want to create a space that is all me: DIY projects, posters, photos, art and everything else. I'm going to continue to work on me: Eat healthy, work out, try not to go out to eat as much.
2016 is the year I will get back into climbing shape. I used to be obsessed with climbing – indoor and outdoor – and going out and figuring out routes with my friends is some of the most fun I've ever had in my life. New York City life is not as conducive to climbing as I would like, but if I get my strength back, a trip (or ten) to Brooklyn Boulder would really hit the spot.
This year I will do the things I need to do for myself but keep putting off for reasons unbeknownst to me. Maybe deep-seated fear and anxiety? Probs. I know I'll find a good therapist who is a woman of color and hopefully ~*understanding*~ of LGBT people and make an appointment to go see her. I'll also go to the goddamn gynecologist for the first time. Yes, I know! I'll also apply to grad school!
Riese, Editor-in-Chief and CEO
I want to make conscious — if gradual and experimental — choices every day that contribute to my physical and mental health. Secondarily, it's gonna be about pushing myself out of my comfort zone and connecting — to my body (workout classes! carefully planned meals! bed-related things!), to my friends (making them visit me! texting them incessantly!) and to my writing. When I talk about my mental health I am often just talking about writing.
I want — I need — so badly to readdress my computer time. I have always thought of myself as an outdoorsy, adventurous, engaged person but in the past 18 months, that just hasn't been me, and now I feel lost and sad and a little dead inside. I'm always sitting at my laptop. So I'm rethinking my whole life-structure-daily-routine-living-space-work-definition-everything to allow me to step away from the computer and get back out into the wind, rain and sun where I belong. It's so easy to get lost in the digital jungle, especially because I earn my living online, but I feel like I've been using that as an excuse to justify getting more and more computer-y. Maybe I had to do that to realise how much I need the elements more than I need a screen. I feel so amazing about making this commitment to my emotional health.
I also want to get these damn mercury fillings out of my mouth because the slow leeching of metal into my system is harming my body! It's scary. Cue lots of trips to the dentist and using all my savings… sigh.
My resolution is to cook one real meal (that is not pasta) a week. I often work late hours, and can sometimes go days at a time without even walking into my kitchen. When I cook for myself, I feel less overworked and like I'm living at the office, and it turns out I eat healthier too! I'm setting once a week as a hopefully attainable goal that doesn't feel too hard in any given week.
This year I'm going to make the most of unemployment. I want to read and learn more, and volunteer my time to good causes. I also want to find ways to fall (more) in love with Chicago and make new friends.
Erin, Staff Writer
This year I'm going to apply how Wynonna Judd approaches her relationship with her mom to every aspect of my life by incorporating patience, breathing techniques, and structured crying while still exercising a firm hand. God I miss their reality show.
Corina, Horoscopes Writer
My sister and I have already declared 2016 to be The Year of Less Processing. I intend to deeply appreciate the people I love (who are sometimes difficult), to appreciate their patience with me when I'm difficult, and to spend less time trying to fix everything.
Rachel, Managing Editor
I feel so embarrassed saying this publicly as, ostensibly, Autostraddle's books editor, but my resolution is to read more books for pleasure this coming year! I think that I've gotten into this rut where I feel like when I read I "have to" read really Important, Big Deal books, which are often dense and emotionally draining, and I have so little free time for recreational pursuits in the first place. So I find myself avoiding books because I feel like they'll be taxing and I end up watching Master Chef Junior instead. That's stupid! I'm going to let myself read whatever I feel like, even if it isn't world-changing — YA! Comic books! Cheesy historical romance! I'm gonna read this year and I'm gonna let myself have FUN doing it.
Kayla, Staff Writer
In 2016, I want to travel more and eat more oysters, because both of those things make me very happy. As for writing goals, I want to finally finish writing the queer action-adventure screenplay I've been working on. I also want to learn to let go and be more spontaneous in my everyday life. 2016 will be the year of finding my chill. And oysters. So many oysters.
In 2016, I want to relinquish my position as Autostraddle's Most Eligible Bachelor. This year I'm going to do it a little differently by committing to me. Continue dating myself. Continue spoiling myself. Whoever the mysterious person is that takes me off the market will have stiff competition because I have been an amazing date to myself. I will have a hell of a lot of fun letting people try. ;) I also intend to travel as much as possible so that means more Straddlers posting #selfiesforcarolyn as I ride the rails. I intend to hit as many conferences and Pride celebrations as possible and eat as much good food as I can stomach. I will also get book #2 published. Yes that's a lot but I'm hella ambious. I have a good feeling about 2016.
Lydia, Fashion/Style Editor
2016 is all about being kinder to myself. Taking time off work, eating healthier (cooking at least one or more meals at home), sleeping with some sort of regularity and not being so goddamn hard on myself. More trips with my lovely GF, laughing so hard that I can't breath with my friends, and generally feeling the sun on my face. More outdoors, and more relaxation, 'cause my body is begging me for it.
I want to get better at leaving the house and interacting with other people and saying yes and saying no and not having paralyzing anxiety to run the show. I also want to read more books, because there is always room for reading more books.
My New Year's Resolution is to Venmo people that say homophobic, sexist, racist, or gender-policing things to me or in my presence that negatively impact my day. I am calling it #VenNo. Everyone is welcome to adopt this resolution as well for their respective identity markers.
Ali, Geekery Editor
Remember how I used to study circus acrobatics? Well life and circumstance conspired against me and I had to stop for a time. I did yoga all summer, almost every day, and all I kept thinking was, "I wish I was standing on my hands." So I'm watching Lava's website and as soon as their 2016 class schedule goes up, I'm making it happen! I can't wait to hold people up again!
Stef, Music/Vapid Fluff Editor
This is it, you guys. This is the year I actually write the solo-ish record I've been kicking around and swearing I'd write for the last two or three years. On paper, this past year has been pretty good to me; I landed what is essentially my dream job and have been doing that and almost entirely that every minute of every day. In 2016 I sorely need to figure out the balance between work and a personal life. I want to see friends, I want to go out, I want to play music with other people and who knows? Maybe I can carve out time to date another human being someday.
Maddie, Staff Writer
This year I really want to play music with other people! I play guitar and I even have a banjo in my closet that used to be my grandfather's, but I could probably count the number of times I've played in front of — or even in earshot of — other people on one hand. Every one of those times has been amazing and filled with joy, though, so I'm going to try to make more space in my life for that this year.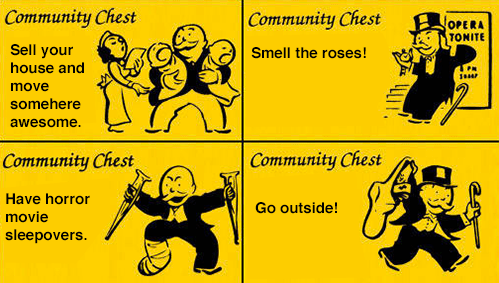 2016 will be the year of finding out what it means to be a grownass queer adult in the state that raised me. I resolve to do it with style and grace, learn a lot, and surround myself with love.
This year I'm going to publish a book with my own name on the cover (and not the name of the person I ghostwrote it for), and I'm going to get the fuck outside and out of the city and into the trees where I can smell the dirt and breathe with the ancient things.
Raquel, Intern, Photoshop Troll, Gif Whisperer
This is my first year with my first big-girl job, and I want to suit up. I've somehow gotten the hang of waking up and getting to work on time — this year, I want to get to the next level by waking up, actually cooking myself breakfast, AND looking like I put myself together with some degree of care and thought. All on the same day. I believe I can do it. I also want to read 80% books by women!
---
What are your resolutions? What will 2016 be your year for doing more of, or starting to do? Tell us in the comments! Also, feel free to just talk to us about your life in here, because we're fascinated by your general existence.