July is my second favorite month of the year. Everyone and everything seems squarely invested in slowing down for the summer. It's the perfect time of year to spend six hours at the pool and get hypnotized by a really good album. I have the perfect album for you: New Black Swing.
You might remember SassyBlack from her time in the hip-hop duo THEESatisfaction. This year, she ventured out on her own to create an R&B album. New Black Swing is the result, and it's her best work yet.
New Black Swing feels mature: it's got synths, bass, and some of the most soul-filled R&B vocals. The record is smooth — that's the best way to describe it. There's this sometimes jazzy, sometimes funky blend and it's combined with lyrics that can sometimes be incredibly vulnerable. It's intimate and playful and you need to go listen to it! I loved getting to talk to SassyBlack about her album. She's full of life when she discusses it, and I loved everything she had to say about her album, the industry, and being a QTPOC artist.
How has it felt venturing off as a solo artist?
It was really nerve racking at first, and now I love it. I like the freedom of doing what I want to do whenever I want to and just making my own music. A lot of people ask me how do you do it, and it's just something I love. I've always been in groups and I really wanted something different.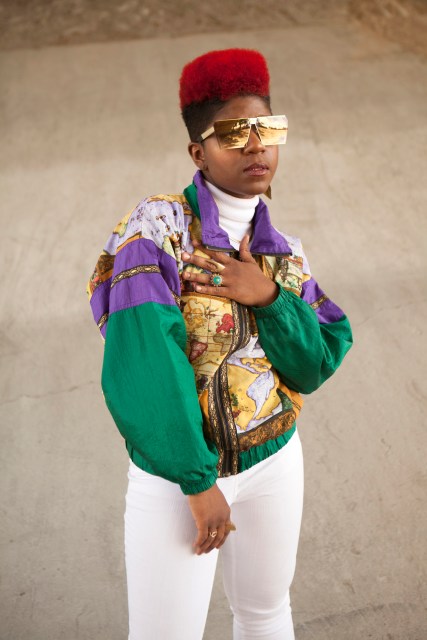 Talk about what this album means to you.
Vibes. It's all about the energy I share, the energy we share with one another. Whether in public or in private, in romance or otherwise. I think about the deepest times in my life and how I dealt with them through music with a bounce, catchy melodies and poetic sentiments. I've always wanted to write & compose a R&B record, but the fear of ultimate vulnerability & judgement haunted me. Would my Queer Black girl feelings be acceptable? With that said, this is a very intent album. Probably the most intentional record I have composed yet.
I saw you at SXSW and was in love with your set; how has reception been overall? You asked, "Would my Queer Black girl feelings be acceptable?wp_postshave they been?
I think they have been. I find that after experimenting and taking the risk, and making music that puts your business in the street, I'm seeing really good responses.
What's exciting and challenging as a black queer artist?
Everything is challenging. I feel like I've trained for it my whole life. There will always be people who like me and people who don't; accepting that is a part of life and the music industry. It's exciting though because I get to do something different. Being intentional and writing this kind of record is fun and exciting to me. I like being myself, so it's always gonna be exciting and a little stressful. I understand some people aren't gonna feel it… I hope through my experimentation that people open up to it and themselves better.
Who are your musical influences?
New Edition and Bobby Brown and Janet and Michael Jackson. It's a lot of the music I grew up on. SWV and TLC and Zhane, some of it was just R&B that also had hip-hop influence. A lot of the one-hit wonders of that time: Al B. Sure!, etc. I was listening to a lot of straight up New Jack Swing, but then I was also listening to Prince and Babyface and a lot of stuff that came right before it as well as jazz. At one point I was only listening to New Jack Swing. People don't know anything about you until you tell them, and now people know that I'm a musicologist and interested in where music comes from — influences, inspiration, I specifically track it down. [I care about] the story behind it and not just vagueness. There are all kinds of folk/jazz. If you're listening based off of genre and not the feel, you can end up with a whole different kind of album.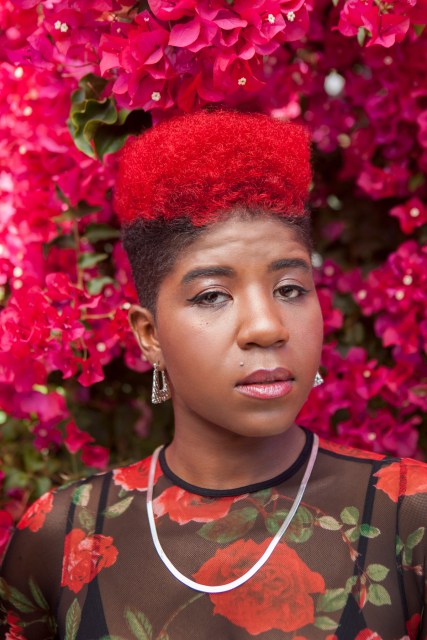 What's your favorite track?
My favorite track right now is "Games". It reminds me that the album is real. The album is here and I love it. I'm working on a video for it right now, so it's really in my spirit. It's super poppy, and repetitive. I've never released something like that.
Where can folks see you soon?
Getting ready to do a tour and getting ready to launch a Kickstarter. Hopefully, a North American tour in September and Europe in October. Hopefully I can raise enough money because everything comes out of pocket. Right now, I am my own label. I'm not just doing it for myself, it will also put me in a position to help others. I'll be at Funky Congregation in New York right before Afropunk. I'm just excited to keep producing and making more music. Working on more music with another artist, producing for the first time.
---
Go buy New Black Swing right now, available on Bandcamp for purchase. You can also find her on Twitter and Instagram (where she'll often improv beats in her Stories). Keep an eye out for her tour announcement, and support her on Kickstarter if you can; she might be make it to your very city sometime soon! Support Black queer women artists and treat yourself at the same time.