"I came to the conclusion that I don't want to be a woman. I just want to be me. I want to be Sylvia Rivera." Sylvia Rivera, trans feminine activist and icon, co-founder of Street Transvestite Action Revolutionaries
I wonder if it's bad for the trans women's movement to admit that I don't always feel like a Full-Time Woman™. While I generally present exclusively in ways that conform to a stereotypical understanding of femininity – long hair, skirts and dresses, makeup, what in queer community is sometimes called "femme" and in trans community is sometimes called "fish" – the nuances of my gender identity, my internal sense of being, have always been more complicated than that.
And even as I write this, I can feel an old anxiety rising, the fear that I am betraying something or someone – my trans sisters? My self? – by expressing a personal truth that diverges from the simplified narrative that both politics and community so often demand.
So when I meet Vivek Shraya in my apartment on a rainy evening in Toronto to discuss her new album, Part-Time Woman, I am struck by how graciously she engages the charged subject matter of race, gender and representation. Shraya, a quadruple-threat trans girl art star who has garnered wide recognition in literature, film, photography, and music, is on her way to becoming a Canadian icon. Her work delicately troubles the boundaries of identity, eliding the usual political slogans to reveal rich shades of emotion.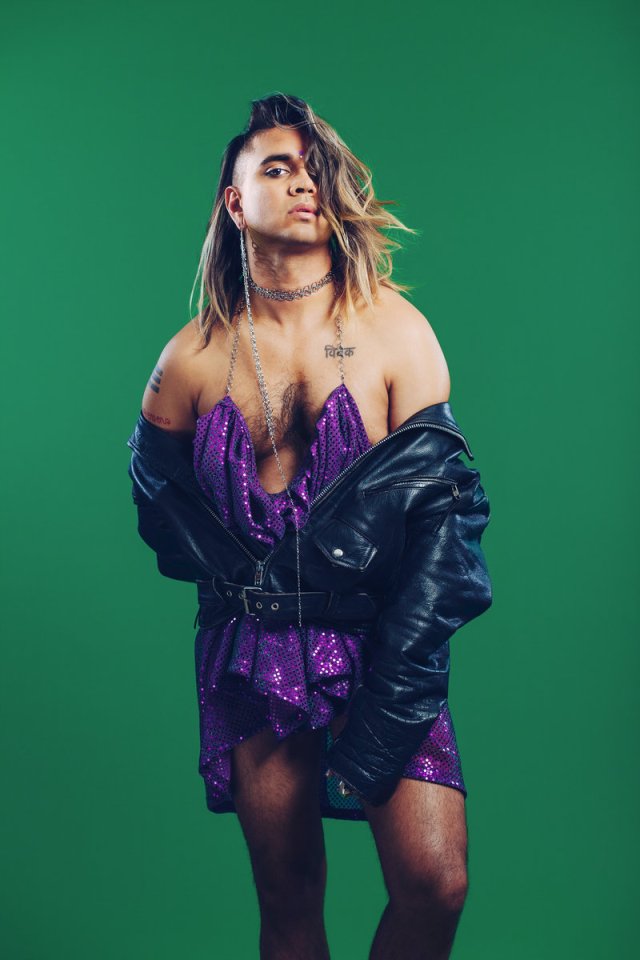 "I really want trans girls to know that some of us don't always have the right words or the powerful political declarations … in response to transphobia," Shraya says with characteristic candor. "Some of us are struggling. Some of us are unsure. Some of us are slow to grow into who we are. I hope it brings comfort knowing that there are other people thinking about these things and singing about them too."
Part-Time Woman is a deep and tender dive into that place of internal struggle and slow metamorphosis – giving lie to the misconception that pop music, Shraya's chosen genre, is necessarily shallow or superficial. Shraya's crooning vocals, set to the backdrop of original compositions performed by Toronto's Queer Songbook Orchestra, ponder the meaning of "woman" and the experiences of those whose right to the word is contested terrain. In its six brief tracks, the album covers an impressive amount of thematic and musical ground; tracing an emotional arc from the balladic disappointment of "SWEETIE" and "I'M AFRAID OF MEN" which excavate the hypocrisy of the male gaze, through the contemplative longing of the titular number "PART-TIME WOMAN," to the triumph of "BROWN GIRLS" and the final track "GIRL IT'S YOUR TIME" (a 1960s send-up which Shraya jokingly refers to as "the selfie of the album").
Yet even triumph acquires new, complex dimensions in Part-Time Woman. Rather than attempting to replicate the anthemic, oversimplified (though admittedly delicious) feel of, say, Lady Gaga's "Born This Way," Shraya goes for something more textured, more grounded in the insecurities and resiliencies of day to day life that every girl – trans or cis, racialized or white – will recognize.
"For me, it was really important to end in a sort of celebratory way," Shraya muses, "but the bridge [of "GIRL, IT'S YOUR TIME"] is like:
"GIRL, IT'S YOUR LIFE
BUT IT'S NOT YOUR WORLD
YOU'RE NOT ALWAYS SAFE
SO WHENEVER YOU'RE AFRAID
JUST KNOW YOU'RE ALWAYS MY GIRL
"So there's this pain there too," Shraya continues. "My reality as a trans girl isn't this one, easy walk through life. It's not always feeling desirable or feminine or safe or any of those things. And yet there is a celebratory tone in the album, because it moves from male gaze to self gaze and affirmation."
Listening to Shraya muse on the way her life inflects her art, I think about my own mixed experience as someone whose life has arced through the identities of Chinese gay party boy to anarcho-punk non-binary femme to trans woman of colour writer. There are aspects of each part of that journey that I loved and mourned and missed. The increased confidence and sense of self that accompanied each shift has never negated the fear and loneliness and trauma. And yet I wouldn't give up any parts of my past.
The juxtaposition of subtle joys and private grief is a theme that weaves throughout the album. Shraya's strength is in her ability to take the listener with her to the edge of some very dark emotional places and then pull us back with a burst of unexpected insight.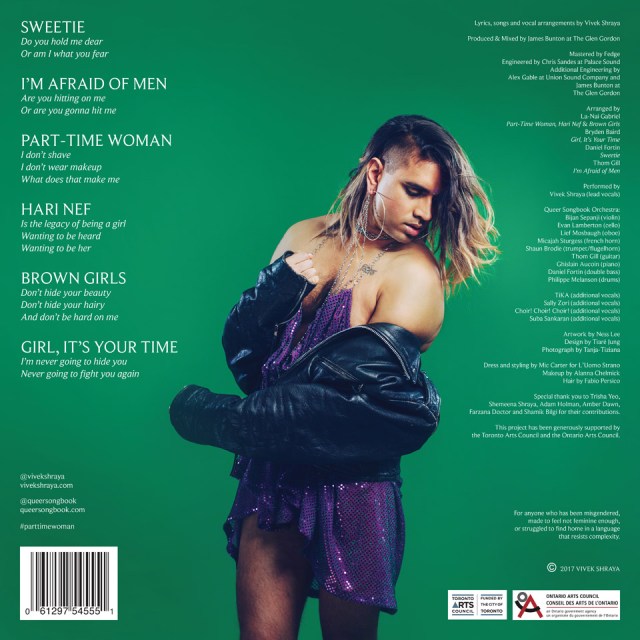 Take, for example, the stark contrast of the final verse of "I'M AFRAID OF MEN," in which she sings:
"ARE YOU HITTING ON ME?
ARE YOU HITTING ON ME?
OR ARE YOU GOING TO HIT ME?"
Followed by a beat of silence, and then the chorus
"IN MY HOUSE
IN MY HOUSE
DONT EVEN TURN THE LIGHTS ON
CAUSE I SHINE SO BRIGHT"
The song closes on a meandering brass solo that leaves the listener on the edge of their proverbial seat.
Shraya's lyrics tease apart the ways in which trans girls' emotional lives are drawings rendered in chiaroscuro, the play of light and shadow: The power and relief of discovering one's identity in private intertwined with the pain of objectification and sexual violence.
This complex interplay is most evident in my favorite song in the album, the enigmatic "HARI NEF," which is Shraya's ode to the eponymous trans femme model and co-star of the hit sitcom Transparent. She sings:
"IS THE LEGACY OF BEING A GIRL
WANTING TO BE HEARD
TO BE HER

SHE'S SO PRETTY BET HER LIFE IS PERFECT
SHE'S SO FUNNY BET HER LIFE IS FLAWLESS

I WONDER IF SHE'S HAPPY BEING HER
OR IF LIKE ME SHE WANTS TO BE SOMEBODY ELSE"
There is something achingly resonant about this glimpse into the envy, longing, and empathy that exists between girls – something that takes on even more layers in the context of being trans and racialized. Trans girls of colour spend our whole lives either invisible or in the spotlight – it's one or the other, never between. And so our womanhood either goes unrecognized or objectified, co-opted to satisfy someone else's story about who we are.
In this polarized context, there is no room for ambiguity, for softness, for uncertainty or exploration. There is no room, in other words, to be human.
"I think that the way that people think about trans women is that [we] have to be totally confident or defiant all the time or that we all have similar politics and personalities," Shraya confides. She goes on to describe the ways in which trans girls are sold a particular, restrictive mode of womanhood that is tied to normative ideals of beauty and race. "This [album] is a love letter to trans girls and a love letter to brown girls."
This is a love that breaks through binaries and flowers in the margins. Lounging on a sofa with Shraya, talking and listening to the rain, I can feel tiny cracks opening in the walls of the labyrinth of labels, identities, and ideals in which we live.
Shraya, like all the best artists, is a storyteller whose vision both captures the world and in so doing, envisions a new one: A world in which you can still be anything. In which every person – man, woman, non-binary, all or no gender, or constantly changing – is exactly enough.