It's ten billion degrees in New York City. This Pop Culture Fix is my last act of defiance against the sun. By the end of the day I will be fried like an egg on the sidewalk. I love you and I hate Skins Fire. Never let the world forget. 
---
You and me. Time and space. You watch us run.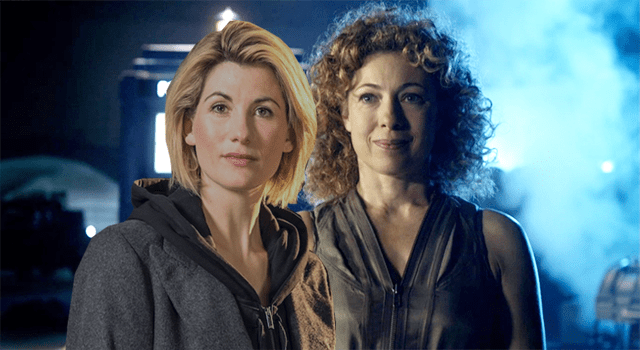 I'm sure you've heard by now that Doctor Who has revealed its 13th Doctor and it's a woman! She's Jodie Whitaker from Broadchurch and through the tears of straight men everywhere — "remember: boys need heroes too," Mark Smith of Scotland's The Herald cried in his post-announcement op-ed — Alex Kingston's voice rang the loudest. "I'm always a cradle-snatcher," she laughed to a group of giddy fans at Raleigh's SuperCon. Right because confirmed bisexual River Song is married to the Doctor so I guess that means Thirteen is a lesbian. (With a lesbian companion…?!)
#BREAKINGNEWS Watch Alex Kingston reacting at #RaleighSupercon to news that Jodie Whittaker is the 13th Doctor #doctorwho #DoctorWho13 pic.twitter.com/pocNVsmgxr

— Keung Hui (@nckhui) July 16, 2017
Pass along your fan fic as soon as it's ready. (Also, you can call this helpline if you're a man struggling with this casting choice.)
---
Teevee
+ Here's a headline from the Los Angeles Time: "Jesse Eisenberg had 24 hours to write a musical — and came up with 'four lesbian sisters'"
+ The next American Horror story is about bees?
+ There's a new writing lab for women screenwriters.
---
Movies
+ Should we talk about the Wrinkle in Time trailer? (Yes, obviously.) (Here's my contribution: HOLY CATS!)
+ Wonder Woman has now made more money than the last Harry Potter movie and is holding stronger in the box office than any superhero film in 15 years.
+ Speaking of which Wonder Woman-ness, it's been a year since DC unveiled Superhero Girls at San Diego Comic Con. It's now DC's biggest new series.
+ However, there's no Rey in the new Star Wars monopoly because Hasbro says there's "insufficient interest." Sure thing, guys.
+ The Hollywood Reporter's got an excellent, candid interview with Girls Trip director Malcolm D. Lee.
Black Girl Magic is real — people want a piece of it, they want to see it, they want to be empowered by it. I wanted a counterbalance to women sniping at each other or throwing drinks in each other's faces; I wanted some real relationships. And my wife's book club watched the movie as one of my first audiences, and they laughed and loved it and said, 'I love how soft they are with each other.' If that's part of the takeaway of this bold, outrageous comedy, that's great.
+ An Iranian Woman Finds Love in the Japanese Lesbian Drama 'West North West'
+ Here is a movie about that thing I talked about on the special Wonder Woman episode of Kristin Russo and Jenny Owen Youngs' Buffering the Vampire Slayer podcast last week!