by carolyn & riese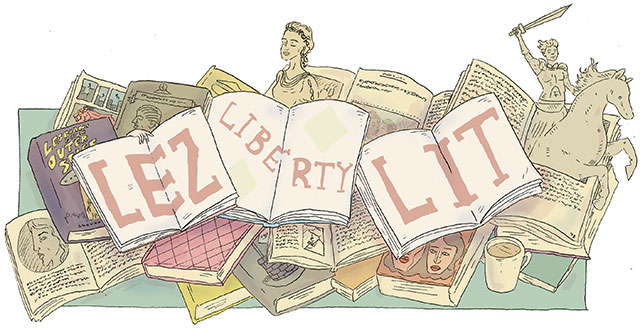 Lit Links
At Lambda Literary, queer authors discuss what "queer writing" means anyway:
"It's important to me to speak with authority—to write from a place of access and experience. While I can imagine or invent experiences other than queer, and the themes I chose to explore as a writer are universal—the lies we all tell ourselves and others, how we compromise and damage each other with painful truths—these are always considered through the sensibility of an outsider. I don't find the queer perspective limiting. Rather, it is a matter of precision. I don't reject a normative perspective as much as I am impatient with it; with its irrelevance to the world I operate in. There's no truth in it for me."
Commas: will they or won't they exist in the future?
You can take a course on Beyoncé at Rutgers University if you are so inclined, and who wouldn't be.
This quick reading speed test will make you feel good about yourself, bad about yourself, or Wikipedia speed reading for the next twenty minutes.
Bonnie Downing writes about what it's like to be a love-letter ghostwriter.
Scholars have discovered what may be some of Jane Austen's handwriting.
Though I hesitate to support even tongue-in-cheek book banning, it's also hard to keep seeing the "Person Who Has Not Had Sexual Experiences Wildly Different Than the Majority of the Population Writes About Sex" or "Recent Graduate of a Highly Regarded Writing Program Writes About the Inner Turmoil of a Person Much Like Himself" categories of books.
Your bookshelf is probably a mess.
Bookslut is rectifying the 1963 National Book Awards because "Book awards, for the most part, celebrate mediocrity. It takes decades for the reader to catch up to a genius book, it takes years away from hype, publicity teams, and favoritism to see that some books just aren't that good."
There may or may not be a difference between love and addiction when it comes to books.
Literary Darwinists are frustrating.
A new type of book of book matches a strappy vest aimed to let readers feel the characters' feelings as they read.
We used to use usen't to.
Grammar is important but sometimes it's better if you break the rules.
Lilit Marcus read only women in 2013, because it matters what you read:
"I told myself that I should be grateful that people were reading books and championing female authors, no matter where they got the idea. That's what one of my college English professors used to say when he saw undergraduates toting copies of Twilight around campus – "well, at least they're reading." A Pew study released last week found that 23 percent of American adults did not read a single book last year. The largest group, 31 percent, read between one and five. There were no options higher than the number 11. […]

Reading is so much more than looking at words on a page. At least they're reading, as if a grocery list and a poem could be the same, could each weigh as much as the other. I wanted my reading, a pastime I enjoyed for its quietness and solitude, to also be a declarative statement. Women have always understood that there is more than one path to revolution. Quite simply, I would not be the human I am without having read My Antonia when I was sixteen years old."
Amazon has released a list of the 100 books it (and Goodreads users) thinks you should read in a lifetime.
Everyone on the literary Internet is reading either Middlemarch or Rebecca Mead's memoir My Life In Middlemarch. At the Haripin, Sarah Marian Seltzer argues "Middlemarch has embedded within its many, many (many) pages, a turgid narrative about a young woman's tumble out of repression and into a life of boning a hot political firebrand. It's sex positive feminism, Victorian-style." (It's also okay if you don't want to read it though.) The New Yorker has an excerpt of Mead's memoir if you want to see what the fuss is about.
Depressingly, 23% of Americans did not read a book last year, according to a recent Pew study. Not even Bigfoot erotica.
There are various ebook subscription services that exist. People are getting really excited about online book subscription services.
In 2009, the Brooklyn Public Library had about 4.1 million books. In 2012, it only had 3.3 million. Residents of Brooklyn: go return your library books.
Being into archives and records is getting really interesting now that archives are starting to incorporate email.
Casey the Canadian Lesbrarian reviewed Favorite Dating Tales, 2009–2012, a zine by Elisha Lim.
On Lambda Literary, Theodosia Henney reviewed The Princess and the Outlaw by Jean Roberta. Damian Serbu reviewed Lake Thirteen by Greg Herren. Kittredge Cherry reviewed The Daring of Paradise by Brian Day. Cathy Camper reviewed two books: The Lavender Menace: Tales of Queer Villainy! edited by Tom Cardamone and Al-Qaeda's Super Secret Weapon by Mohammed al–Muhammad Mohammed and Youssef Fakish. Cathy Camper reviewed Qu33r, a comic anthology edited by Robert Kirby.
At the Lesbrary, Danika reviewed Living as a Lesbian by Cheryl Clarke. Lena reviewed A Dying Place by Emma Johnson Rivard. Rachel reviewed I Can't Think Straight
Recently, on Autostraddle: Mey wrote about Noelle Stevenson and Nimona as well as hourly comic day. Brittani shared the Top 15 Things I Wrote In My Journal Without Context: January Edition. Maggie wrote about burning or not burning your journal.
Events To Watch Out For:
11 February, New York: The Uncensored Collection, new queer erotica, is launching with author readings at Dixon Place (161 Chrystie St.), 7:30 p.m.
12 February, LA: Contributors to True Tales of Lust and Love, including Anna David, Claire Titelman, Sara Benincasa and more, are reading at The Last Bookstore (453 Spring St.),7 p.m.
13 February, Seattle: Rainbow Valentine: A Celebration of LGBT Romance Fiction is on at the Seattle University Bookstore (University District location, 4326 University Way NE), 7 p.m.
16 February, New York: The Harry Potter Re-read Book Club will be discussing Harry Potter and the Sorcerer's Stone at McNally Jackson (52 Prince St.), 11:30 a.m.
23 February, New York: The editors of Selling Sex: Experience, Advocacy, and Research on Sex Work in Canada will be reading at Bluestockings (172 Allen St.), 7 p.m.
25 February, New York: The Women's/Trans' Poetry Jam & Open Mic, hosted by Vittoria Repetto, is on at Bluestockings (172 Allen St.), 7 p.m.
25 February, New York: McNally Jackson is hosting a Harriet the Spy 50th anniversary celebration with Rebecca Stead, Elizabeth Winthrop, Lizzie Skurnick and Anna Holmes (52 Prince St.), 7 p.m.
27 February, New York: Alok Vaid-Menon and Janani Balasubramanian are hosting "Rainbows are Just Refracted White Light! DarkMatter Poetry Show," a queer South Asian spoken word "artvention," at Bluestockins (172 Allen St.), 7 p.m.
Know of a queer event with literary merit? Send it to us!
What We've Been Reading:
Carolyn: I read The Bridegroom Was A Dog, by Yoko Tawada, a novella that felt a bit like the brain lovechild of Kafka and Muriel Spark. I  read Smut Peddler, an anthology of fairly queer porny comics edited by Spike, Trisha L. Sebastian and Johanna Draper Carlson. I also read How Poetry Saved My Life: A Hustler's Memoir, by Amber Dawn, a super queer memoir told through poetry and short essays.
---
Books! They are really great. You just won't believe how great they are. You may think that the Internet's great, but that's just peanuts compared to books. In Lez Liberty Lit, we talk about literary shit that's happening that you should probably care about.
The name "Liberty Lit" was inspired by the short-lived literary journal produced by Angela Chase at Liberty High School in 1994.
feature image via Ben Clinch