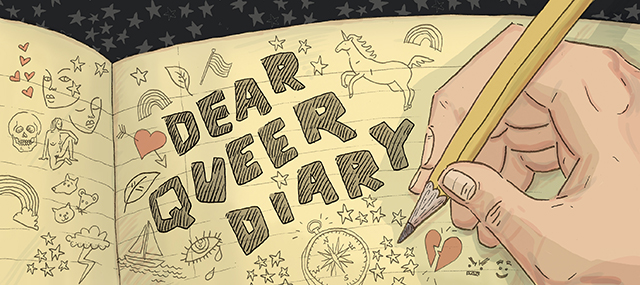 I once lived with a boy who regularly stored volumes of poetry on the stove, a state of affairs that caused me to break into a cold sweat every time I entered the kitchen. Okay, so there was a shortage of bookshelves in the apartment. And yes, that the stove was very infrequently used for cooking. But really— books on the stove?!
I am no pyromaniac. Although I love the sweet melty insides of a toasted marshmallow with all of my nostalgic girl-scout soul, in non-camp contexts, fire actually makes me a little bit nervous. Especially in conjunction with books.
This is one reason why I would never, ever, ever consider burning my diaries. While I have come around to the idea of occasionally dismantling an old copy of Paradise Lost for the sake of home décor, the thought of consigning a book to the flames still gives me dystopian shivers.
To make things even worse, a diary is a one-of-a-kind artifact. Unless you employ a team of monks to work round the clock hand-lettering illuminated copies of your journals as you write, one accident with that nice lavender-scented candle you got from the sale bin of Cost Plus World Market is enough to destroy forever your account of your most recent conversation with the cute girl at spinning class.
In spite of my personal reservations, the burning of diaries seems to be a fairly common occurrence. Most practitioners claim they are protecting others from being hurt by the contents of the diary in question— although some also cite the spiritual benefits of relieving oneself of years of secrets, written down in a weighty succession of notebooks.
I don't think that I am particularly sorry to say my life has not been sufficiently scandalous to merit diary-burning. While my journals have documented their fair share of hurt feelings and complaints, I cannot think of a single sentence I have penned that has the power to really cause anguish. No affairs that must be concealed in order to protect loving families. No crimes whose evidence should be destroyed for the sake of blossoming political careers. And if my future children read about the really embarrassing crush I had on my high school history teacher, I think that's probably okay.
Part of me wonders if my diary's relative lack of the dark and deep devalues it. Does my journal's less-than-horrifying content mean that I hold my inhibitions too closely— that I am somehow failing the sacred confessional charge of the fearless journaler? Yet I am a true believer that the virtue of a diary lies not necessarily in its top secret contents, but in its recording of small moments. Graduate school plans and coffee dates aren't the kind of thing I need to burn.
Rather than imagining my journals disintegrating into ashes, I prefer to dream of their pages displayed in a locked glass-top museum case. Ever since I discovered that it was possible to donate one's "papers" to a university, library, or museum, I have been planning my bequest.
I can picture it now: my journal resting on a perfectly angled foam pillow, the elastic closure sagging with age, and a faithful curator turning one page every day, like they do with the First Folio or the Gutenberg Bible. Literary scholars will travel from far and wide to study my early poetry, composed in honor of my first crush, and the queer theory contingent will comb my diaries for every clue pertaining to my sexuality.
It's a narcissistic dream, of course— but so, I might argue, is the alternative. The diary preserver thinks her experiences should be kept safe for the benefit of future generations; the diary burner believes her thoughts are so important they must be destroyed for the sake of world peace. What say you, my dear queer diarists? Are your journals destined to go up in flames? Or are you already planning the exhibition on your journal-writing career?
---
Dear Queer Diary is a column about the joys (and occasionally, the pains) of journaling. We crack open our tiny notebooks and break out the rainbow-colored pens on the regular, so get ready to limber up your writing hands and document all your beautiful feelings!
Header by Rory Midhani