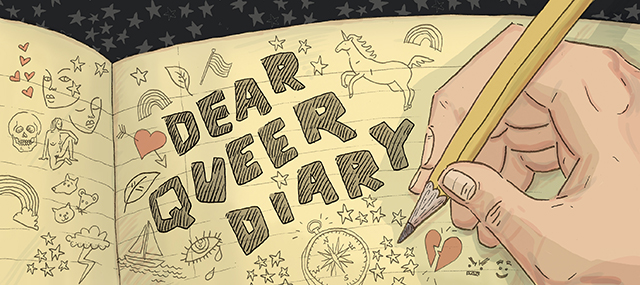 "Okay, so I keep thinking how in a few years I am going to be reading this and thinking it's so immature. But it really does seem important to me now, so don't make fun of me too much." (January 2007)
A stroll through my high school journals indicates that I was a passionate youth. In the same entry as the above selection, I spend a healthy paragraph debating the depth of my feelings for the individual that I believed, at the time, to be the love of my life. And while I suppose all this does indicate that young Maggie was perhaps somewhat lacking in perspective, I am not inclined to mock my past self. Crushes mattered/matter/will always matter as long as we have eyes and hearts and pheromones.
Of course, diaries and crushes go together like Nutella and marshmallow fluff. Half the fun of liking some is the scheming and the intense Facebook stalking and the compulsion to record their every word/move/hairstyle change in your notebook. While I suppose journals are good for things like emotional reflection and self-actualization, their real purpose is obviously to serve as a vehicle for all our crush-related observations, anxieties, fears, and wishes.
Without further ado, I give you this rollicking retrospective of my journaling life as a crush monster:
Two Gays Don't Make a Straight
The vast majority of my high school career was dominated by an all-encompassing obsession with a funny, good-looking, smart, wonderful…boy.
It is with some chagrin, my dear queer diarists, that I must admit there was a time in my life when I thought I thought that there was nothing more alluring than a Y chromosome and a dash of nascent facial hair. And while that time has now passed, my musings on the subject of everything from this boy's dislike of spicy foods to the exact distance between our seats in the library classroom are forever preserved in my diary—a complete record of practically every moment we spent within five miles of one another. In one horrifying excerpt, I even documented the exact color and pattern of my crush's boxer shorts (which were apparently decorated with teal swirls).
Here's the catch. My knowledge of my crush's boxer shorts arose exclusively as a result of my observing them as he packed his suitcase for a school trip. I had no experience with his body in or out of those boxer shorts, for reasons that became crystal clear when he came out to me over gmail chat during my freshman year of college.
It wasn't until a few years later that I came out to him, allowing us to reach the perfect crush détente. Rather than wallowing in thwarted desire, my journal entries were now filled with queer solidarity. Could there be a happier ending?
When Love Goes Sour
The narratives associated with my college crushes were not so easily resolved. There was the boy who broke up with me on the same day that I spent my entire afternoon watching him perform in a three-and-half hour production of Richard III. The one who invited a mutual friend to "hang out" with us and ended up dating her for the next several years.
Here is a tip for the ages, my jilted journal-writers: replace your one-time love's middle name with the f-word (not to be confused with The L Word) and slander them ruthlessly across the pages of your diary. It's just as satisfying as it sounds. And writing in your diary requires fewer supplies than voodoo doll construction!
What Comes After
There are a lot of strange things about love, but one of the strangest may be how little it shows up in my present-day journal. Once you've successfully journeyed across the treacherous territory of "she loves me, she loves me not" and through the misty mountains of "when I put my hand there, was that going too far?" it sometimes doesn't seem like there is much to write about.
When I am hardcore crushing, everything is about me. My interpretation of the offhand remark that she made about nose piercings. My dream about holding her hand as we walked through a circus-themed casino. My thoughts in my diary until my mechanical pencil runs out of lead.
Now that I am past the crush phase, it's about both of us. What we did last weekend. What we're going to have for dinner. In real life, these things are pretty freaking sweet, but for some reason, they don't take up as much space in my diary.
What about you, my dear queer diarists? Are your journals full of musings by the crush monster? Do you cringe to revisit the romantic urges of your youth?
---
Dear Queer Diary is a column about the joys (and occasionally, the pains) of journaling. We crack open our tiny notebooks and break out the rainbow-colored pens on the regular, so get ready to limber up your writing hands and document all your beautiful feelings!
Header by Rory Midhani
Feature image via wellinla.com