Feature image by Agnieszka Bladzik at stocksnap.io.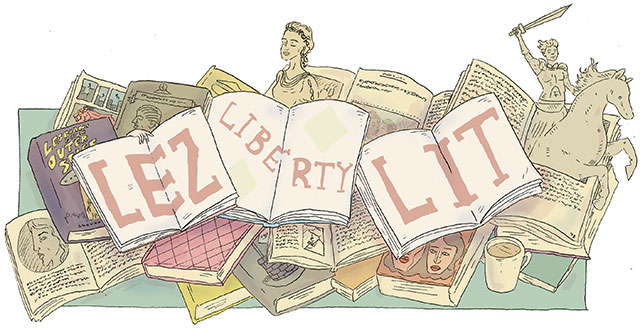 Queer Book News (And Other Book Things Relevant To Your Interests)
At the Los Angeles Review of Books, Roxane Gay discussed Bad Feminist, flawed characters, dissonance and facing the real dead on as part of Dorothea Lasky's series of interviews about imagination, noting:
"That dissonance between what we enjoy and what we know is a fraught place. We deal with that dissonance by accepting that we are human and that sometimes we want what we want, even if it isn't good for us. That said, we also have to be literate enough to recognize the damaging messages of the culture we consume and we have to find ways to push back against more of such culture being created. We have to encourage the creators to be better, to stay true to their work while also respecting women. It shouldn't be so difficult for them and if it is, well, that tells us something. I also believe that we all get to a place where enough is enough and the pleasures we derive from toxic cultural artifacts is not enough to overlook the pain."
Searching for fat-positive queer books? Casey the Canadian Lesbrarian recommends Sideshow Confessions by Lucas Crawford, Unruly Appetites: Erotic Stories by Hanne Blank, Venus of Chalk by Susan Stinson and more.
"Blackness in the white imagination has nothing to do with black people," notes Citizen: An American Lyric author Claudia Rankine at the Guardian.
Print is a zombie now.
1960s adult coloring books were surprisingly subversive: "Where today's titles offer consumers a neat package of therapy, escape and nostalgia, 1960s coloring books were both genuinely novel and subversive."
Public libraries should not be run like businesses, as everyone needs a chance to learn autonomously and "[p]rivate and privatised, the virtual space of the internet is no substitute."
At Blavity, Kayla Stewart asks, "why can't black women have diverse stories too?"
You might be able to have a drink in Barnes & Noble now.
Sometimes it's time to clean out your bookshelves: "Are there any you think 'why do I even have that?' Have you read any of them? Did you like the ones you read? Are you holding on to any for sentimental value or because you think 'I'm definitely going to read this someday'? Start making stacks, buddy."
Emojis in the Oxford Dictionary don't symbolize the death of language since emojis do the same thing words do, ultimately.
Maggie Nelson's year in reading included Straight Life, Like Being Killed, Chelsea Girls and more. (Or, go read this excerpt from Nelson's The Argonauts.)
A brief history of books that don't exist.
Books have always been my friends. Every book, every single book in my house and your house and the Library of Congress is my best friend and not yours. They told me.
Emily Books is launching its first imprint collaboration with Coffee House books and the first title, Problems by Jade Sharma, is coming soon. At Lit Hub, Emily Gould and Ruth Curry discuss the imprint, commitment, publishing and more.
Art is full of virgins.
At Autostraddle, Carmen wrote about I Must Be Living Twice by Eileen Myles. Melanie wrote about Leigh Matthews's Don't Bang the Barista!. Mey listed her 15 favorite single issues of comics from 2015 and also wrote about catching up with Lumberjanes and also about rereading Julie Ann Peters's Luna for the seventh time.
Book Things To Do In Person
9 January, New York: Contributors Milcah Halili Orbacedo, Jesse Jackman, Lorelei Lee, Stoya and Jiz Lee will read from Coming Out Like A Porn Star, edited by Jiz Lee, at Bluestockings (172 Allen St.), 7:00 p.m.
24 January, New York: The first meeting of the Gilmore Girls Book Club, discussing books important to the Gilmore Girls universe, will discuss The Year of Magical Thinking at the Word (126 Franklin St.), 5 p.m.
Ongoing: For Books' Sake is looking for unpublished short stories from self-identifying women (especially women of color, queer women, women with disabilities and other marginalized voices) for its weekly Weekend Read. Submit any time.
Know of a queer event with literary merit? Send it to us! The Liberty Lit is bi-weekly.