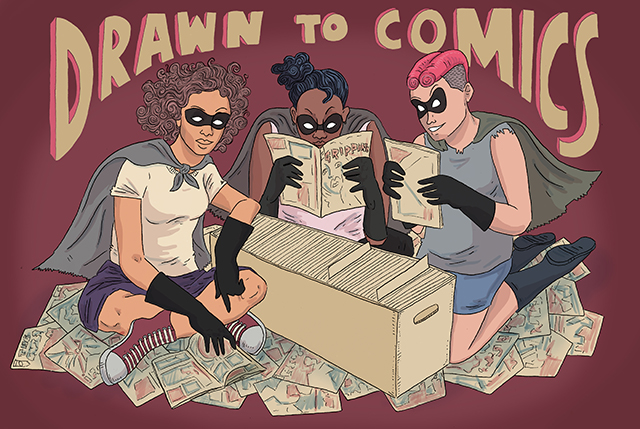 This week last year I made a list of my 12+ favorite single issues of comics that I read. This year, I nearly doubled the size of my pull list thanks to a number of new terrific comics written by, drawn by and starring women, so my list is a bit longer than it was last year. I'm not complaining, though, I'm celebrating. There are a ton of super great comics I wasn't even able to put on this list, including Power Up, Help Us! Great Warrior, Runaways, Howard the Duck, Saga and Gotham Academy.
You'll probably notice a few creators who are on this list more than once; I guess I have a type. There are also a lot of Issue #1's here, that's because there were so many great new series that launched or relaunched in a very big way. I also talk a lot about comics that are fun to read and comics that touch on real issues, two things I think comics are really great at doing, especially this year.
---
This was the issue that made a million queer women's dreams come true as Selina Kyle kissed another woman. And that woman, Eiko Hasigawa, was a queer woman of color who had taken up the mantle of Catwoman. This issue was part of a super terrific run on Catwoman by Genevieve Valentine and Garry Brown, which saw Selina Kyle become a crime lord in Gotham City and definitely harkened back to the legendary Gotham Central comics.
---
I'm kind of a sucker for comics starring teams of girls, and I love the super fun (and diverse and queer) take on Magical Girls that Zodiac Starforce is offering. Kevin Panetta's writing is upbeat and funny, Paulina Ganucheau's art is gorgeous and absolutely adorable, and Savanna Ganucheau's colors make it all pop. If you're a fan of Sailor Moon, comics about high school girls or beautiful art, you need to read Zodiac Starforce right now.
---
This comic is so cool! I really love the idea of a group of foul-mouthed 13-year-old paper girls riding around on Halloween trying to figure out all the weird and scary stuff that's going on in their formerly quiet neighborhood. Do you remember that movie Monster Squad from the '80s? This comic is like that but with a bunch of girls instead of a bunch of boys and time travelers, mutants and flying reptiles instead of the classic Universal Monsters. Plus, with a creative team like writer Brian K. Vaughan (Runaways, Saga), artist Cliff Chiang (Wonder Woman) and colorist Matt Wilson (The Wicked + The Divine) it's hard to go wrong.
---
This comic is so freaking adorable and Lunella (Moon Girl) is maybe my favorite new character in all of comics. I mean, how can you not love a comic about a super nerdy young Black girl and her red T-Rex friend? Writers Amy Reeder and Brandon Montclare, artist Natacha Bustos and colorist Tamra Bonvillain (who also colors the great Rat Queens) do an amazing job of making you fall in love with Lunella from the first panel and making you root for her every panel after that.
---
Every issue of The Wicked + The Divine could be counted as one of my favorites, but this one really stood out for its examination of slut shaming, rape culture and depression. Oh my gosh, the page where it shows a spread of all the horrible tweets that Tara gets on a regular basis is all too real and all too horrible. It was maybe the hardest thing to read in comics this year. Kieron Gillen and artists Tula Lotay and Jamie McKelvie deliver a gut punch that reminds readers that even a comic about gods reincarnated at British teens and young adults can talk about very real issues.
---
Ms. Marvel has easily been one of the best comics that Marvel's been putting out recently, so when the All-New All-Different Marvel relaunch came I was a bit worried that they might try to shake up this series in a way that didn't work. Instead, they kept everything that was great about the series and took the characters into interesting new directions. Kamala is trying to figure out how to save her neighborhood from developers and gentrification while Bruno, her best friend gets a new girlfriend, a fat (I'm fat and I'm using "fat" here to describe a character I relate to) mixed-race Latina girl named Mike. G. Willow Wilson keeps the authentic, hopeful and youthful tone of the book and artists Takeshi Miyazawa and Adrian Alphona and colorist Ian Herring keep the book looking youthful and exciting.
---
This is without a doubt one of the coolest witch stories I've ever seen, and you know I love witches. It starts by telling the story about how Harrow County's local witch, Hester Beck, was put to death, with much difficulty, by the local townsfolk. Then we flash forward as a farm girl, Emmy, is soon to turn 18 and starts experiencing some really terrifying and weird stuff. This issue is so delightfully scary, you guys. Cullen Bunn's writing and Tyler Crook and Owen Gieni's art build the perfect atmosphere and fill it with creepy details. You can read the whole thing here, just remember that I warned you.
---
Aside from being a great issue, this was a really important moment in comics history. It's so, so rare that we see trans women get to have happy romances, or really any kind of happy stories in any kind of media, so to have an entire issue where the setting and much of the focus was on Alysia Yeoh's wedding to another woman was just wonderful. Aside from that, Cameron Stewart, Brenden Flether and artist Babs Tarr and colorist Serge LaPointe injected the issue with Batgirl of Burnside's trademark youthful vigor and humor, making sure that while the series takes a break to focus on a side character's wedding, it never loses a step.
---
This is easily one of the funniest comics out there; Marguerite Bennett is just killing it on these scripts. In their third incarnation since the year started (after Angela: Asgard's Assassin and 1602: Witchhunter Angela) Angela and Sera (a Black trans woman) stop just flirting and finally make out not once, but twice. I'm also a really big fan of the way they have Kim Jacinto and colorist Israel Silva doing the art on the main story and then Stephanie Hans coming in for art on the flashbacks. This series has just gotten better and better as it goes on, but this first issue is where the fun starts.
---
On the cover it says to steel yourselves for heartbreak, but i don't know if any of us were ready for just how heartbreaking it would be. This issue was delayed a bit, but it was well worth the wait. Writer Kelly Sue Deconnick was at her absolute best, and artist Valentine De Landro and colorist Chris Peter continue to make this one of the most striking comics I've read all year. We finally see the women of Bitch Planet on the Megaton field, and it's even more brutal than I expected. This issue, like several others on this list, touches on a very real issue. It focuses on the violence that women, and especially women of color face in prison and at the hands of law enforcement. Bitch Planet #5 shows why this is one of the most important series out there today.
---
I had never read a straightforward romance comic before, but I'm super glad that Fresh Romance #1 was my introduction to the genre. Showing three very different, but all very enjoyable, chapters in romance stories, Fresh Romance #1, edited by Janelle Asselin, has something for everyone. My favorite story is "School Spirit," written by Kate Leth, with art by Arielle Jovellanos and colors by Amanda Scurti. This supernatural and queer high school romance hits all the right notes when it comes to humor, drama and teenage love. The other comics, "Ruined" and "Ruby's Equation" just make this issue even better, providing nice changes of pace and their own pleasant art and stories.
---
I'm in love with this series and the relaunch was, in my opinion, the most successful at Marvel after this summer's Secret Wars crossover event that resulted in a bunch of new titles and new launches for the rest of the titles. Writer Ryan North is writing probably the funniest comic in stores today, and Erica Henderson continues to draw some of my favorite art in the world, infusing each character with as much life and personality as humanly possible. Rico Renzi's colors just make Henderson's art even more bright and poppy, making each page an absolute delight to look at. In this issue, we see Nancy get a cool new haircut and Squirrel Girl travel back in time, setting off a really fun and terrific storyline. This comic seemed like a weird idea, but it's one of the best Marvel's had in a long time.
---
When I first heard that Hellcat was getting a solo series, I was super excited, I loved her in the recent She-Hulk series, and then when I saw that Kate Leth, one of my favorite writers, was going to be writing it, I jumped for joy. Then I saw Brittney Williams would be doing art, and I remembered how much I love her art (especially her Lois Lane) and I couldn't wait for this series to start. It didn't let me down one single bit. Everything about this issue was so great and actually, so much better than I even thought it would be (which was really great). It was fun, it was exciting, it was hilarious, it was beautiful and it was creative. Marvel's been doing really great with young, exciting comics starring young women, with Ms. Marvel, Squirrel Girl, Silk and Spider-Gwen, and this book is an excellent addition to that sub-genre. Of course, Leths' writing is hilarious and full of great puns and musical theatre references, and William's art, bolstered by Megan Wilson's bright but soothing colors, is even more cute and exciting than I remembered. I'm kind of obsessed with this comic, you guys.
---
I've been waiting for a superhero team like this for ages. A team of girls, mostly girls of color, and one of them is trans. One of the big things fans of Alysia have been hoping for ever since she was introduced was that she would get to put on a mask and become a crimefighter herself. In Bombshells #7 she finally got that chance. Okay, let me back up a bit, if you don't know, DC Comics Bombshells is a series where Marguerite Bennett gets to team up with a bunch of really terrific artists to explore a world based on the successful Bombshells line of toys where, in an alternate World War II, women heroes are the ones who rose up, without any of the male heroes that populate the DC Universe. So instead of Batman, we have Batwoman saving a young Bruce Wayne's parents as they walk down an alley; instead of Superman, there are two Russian adoptive sisters who become Supergirl and Star Girl; instead of Aquaman, there's just Mera. It's all really wonderful and delightfully queer.
Back to this issue. We had previously seen Batwoman inspire some local Gotham girls, including Harper Row, Kathy Duquesne and Nell Little to put on domino masks and matching dresses and become Batgirls. Now, in this issue, Alysia Yeoh joins their team as they break Harper's little brother out of his orphanage and stop an evil "Keep America American" plot. It's honestly so, so great seeing a team of Batgirls (which also includes Bette Kane) like this, and it's something that I, and plenty of other fans, have been hoping for for a long time. Thank you Marguerite for writing this story into existence, and thank you Mirka Andolfo and Wendy Broome for making these girls equally adorable and kickass.
---
Come on, this comic made my year, it was just beyond great. It wrapped up one of the best Lumberjanes storylines yet, bringing some closure to the mysteries of the Grootslang and Rosie and Abigail's past, and it gave the Lumberjane girls a chance to grow as characters. But more than that, it showed that trans girls deserve to have representation in the comics they love to read, just like cisgender girls do. In this issue, Jo, a nerdy girl of color who's best friends with April, talks to Barney, a boy from the Scouting Lads, about why she's been so rude to him. In one of my all-time favorite comic book scenes, she tells him that when she looks at him, she's reminded of who she used to be, and more importantly, who she would've had to be if her life had been a little bit different. Writers Shannon Watters and Noelle Stevenson perfectly balanced humor, exciting action, touching character moments and real talk about identity issues, and artist Brooke A. Allen and colorist Maarta Laiho made this comic fun to look at, never boring and perfect for readers of all ages. Once you add in Aubrey Aiese's unique and fun letters, you have one truly genius and truly moving comic book.
---
New Releases (December 30)
Jughead #3 (Archie)
Black Canary #6 (DC)
Harley Quinn and Power Girl #6 (DC)
Wonder Woman #47 (DC)
Jem and the Holograms #10 (IDW)
Orphan Black: Helsinki #2 (IDW)
Rat Queens #14 (Image)
Beauties (Rosy Press)
Howard the Duck #3 (Marvel)
Jessica Jones: Alias Vol. 4 TPB (Marvel)
---
Welcome to Drawn to Comics! From diary comics to superheroes, from webcomics to graphic novels – this is where we'll be taking a look at comics by, featuring and for queer ladies. So whether you love to look at detailed personal accounts of other people's lives, explore new and creative worlds, or you just love to see hot ladies in spandex, we've got something for you.
If you have a comic that you'd like to see me review, you can email me at mey [at] autostraddle [dot] com.