Welcome to Were We Ever So Young, a series where we revisit gay/queer books we read as young people that were Very Significant for us and rereading them as adults, noting the differences in our reactions.
---
When I first picked up Luna almost a decade after I first read it, I could feel the buzz that I used to get from reading it spreading all throughout my body. It's the same feeling that you get when you're going up on a roller coaster right before the first big drop. My entire body remembers what it felt like to be afraid and nervous and excited — mostly excited — to finally read a book that was about someone like me.
Luna, by Julie Anne Peters (who's book Keeping You a Secret was the second ever lesbian book I read, after Annie on My Mind), was not just the first book I read that starred a trans character, it's the first piece of fiction I can remember seeing that treated its trans character as something other than a one-dimensional victim, a freak, a predator or a joke. Instead, it's about a high school girl named Regan, just your Average Girl. She's not too great at school, she has few friends, and she has a crush on a guy who's way out of her league — but has a crush on her anyway. What makes the book stand out, though, is that she also has a sister named Luna who's a trans girl stuck pretending to be a cis boy.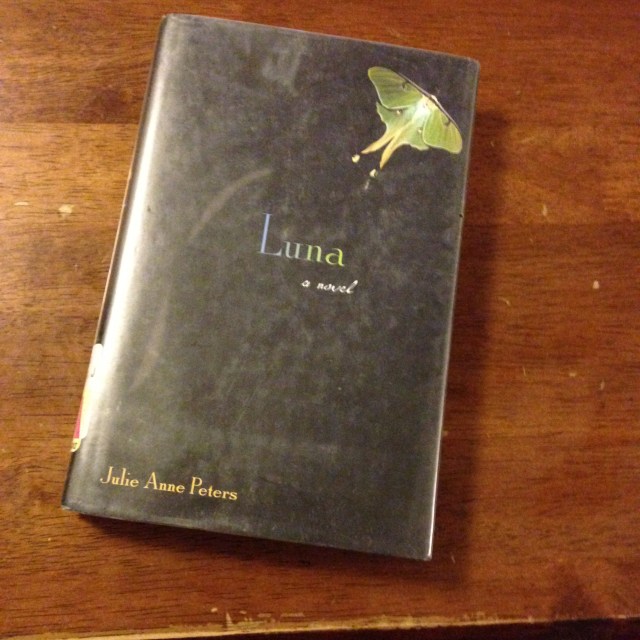 The book is kind of three stories woven together. There's Regan's story about trying to get the guy and find her place in high school, there's the story of Regan and Luna trying to find out how Luna can be herself, and there are flashbacks that help Regan remember that Luna's always been this girl, not the older brother that everyone thinks she is. Because of this, we see Luna through her sister's eyes, and so we read a lot of Regan being confused about what it means to have a transgender sister.
Still, the book is largely positive in the way it treats Luna. Luna and Regan are both very insistent that she's a girl, the book talks about how gender and sexuality aren't the same thing, it talks about how gender isn't necessarily a binary, it even mentions Two Spirit people and other indigenous genders that don't exist within the confines of the Western Gender Binary. But it's also pretty outdated. The book, and even Luna herself, calls trans women "TGs" and "transgenders" and calls cis women, "GGs — genetic girls." It talks a lot about following the Harry Benjamin standards of care, and there's a huge emphasis on passing, getting surgery and going stealth.
Luna is a complicated book and Luna is a complicated character. There are some really, really sweet moments, like when Luna and Regan go to the mall, as Luna and Regan, and Regan reassures her nervous sister that no one will stare at them because "we're just two sisters out slumming the mall" and moments where Luna gets to be herself. It is a really nice story about two sisters.
However, there are also moments that make me cringe. At one point Regan jokes that Luna and a trans woman she met online are going to "compare the size of your Adam's Apples, or whatever it is tr***ies do when they get together." Yeesh. Luna also kind of dresses like she's two decades older than she is. At one point she says that her blonde wig is "too bold to wear with casual slacks" and at another she asks her sister to buy her "Maidenform high-cut in beige" underwear. What kind of 18-year-old girl is she? Many other times it seems as though there are no options for trans girls other than to lose their families and past lives. In a lot of ways, it paints a pretty bleak picture for trans readers.
Starting my junior year of high school, I was far enough ahead of my required credit load that I was able to take a free period, and was a big enough nerd and loner that I spent that free time at the local public library, just two blocks away from my school. At this time I was still sort of figuring out that being trans was a real thing people could be. I knew I couldn't stop thinking about how much I wished I was a girl, but I was also too afraid to admit to myself that maybe I was transgender myself. It was a very confusing time for me.
I still remember the exact moment when I learned about Luna. The library would get this magazine that was all about upcoming books, and I would dutifully read each new issue, looking for anything that caught my eye. If I'm being honest, I was mostly looking for novels about queer women. One day, I saw a preview for a YA novel about a teenage girl whose brother was really her sister. This set something off inside me. I had to read this book as soon as my library got it.
I read the book, not by checking it out and bringing it home, but by taking it off the shelf, going upstairs and to the back corner of the library, and reading it, forty five minutes at a time, always putting it back where I found it before going back to class. I was afraid that if I checked it out, the librarian would give me a look that meant she saw who I really was, even if I couldn't admit that that part of me existed. So I sat up there, alone, constantly looking up from the page, devouring the book and being terrified that I would be found out.
After I finished the book, I remember being kind of furious and terrified. This was how Luna's story ends? Abandoned by her friends and family, running away from home and skipping college? I didn't want that, that's not who I wanted to be. So I was able to convince myself that I wasn't transgender.
At that point in my life, the only thing I liked about myself was that I was a good student and that I was going to go to college and be successful there. So when I finally found a character I related to this much, a character who was a smart and depressed trans girl, and I saw that the only way she was able to be herself was to leave her life, and her future at college, behind, I lost all hope that I could be happy.
Now, I'm on page one of my re-read and I've already got a stomach ache. I'm so anxious for Luna. It's weird, because I know exactly how this book goes, but I want her to be happy and safe and herself so, so badly. I also feel an intense feeling that's adjacent to, but not quite aligned with, jealousy. I feel like I'm in high school reading this again, wishing that I could be like her.
This book makes me cry a lot, both tears of happiness and tears of sadness and fear. I cry when Luna almost outs herself as she dances and sings along to Madonna at her sister's sleepover. I cry when Luna gets clocked and then harassed while shopping at the mall. I cry when Luna talks about the dress she wants to wear to prom. I cry a lot when Luna comes out to Aly, her best friend, and at first it seems like it's going well, then it goes horribly, then, on Luna's birthday, Aly comes back and says, "I don't know how long it's going to take me to be okay with this… It's hard, you know?"and you can tell that she's really trying to be a good friend. I cry and have to stop reading when Luna shows up to family breakfast on that same birthday in "girl mode" and her father tells her that if she walks out the door dressed like that, she shouldn't bother coming back, and Peters writes that "Luna's arm fell to her side. Every bone in her body seemed to disintegrate as her shoulders slumped. She said, 'I realize I've been a big disappointment to you dad. I'm sorry I couldn't be the son you wanted. I'm sorry.'"
Honestly, sitting here having just finished Luna for the first time in a decade, for the seventh time in my life, I think I hate it. I'm shaking, I'm crying, I can barely type. And this is after I've calmed down. But I don't hate it because it's horrible, I hate it because it's able to so successfully bring me back to who I was when I first read it. My whole body, my whole mind, my whole soul feels like a scared 17-year-old girl trapped in a lie that she has to live every day. I'm depressed, angry, frustrated, self-hating, suicidal girl who can't picture a future for herself. I'm sitting in the library reading Luna and then two hours later praying to God that I'll be kidnapped and that my kidnappers will force me to dress like a girl because that was the only way I thought I would ever be able to be who I wanted to be.
As much as I hate Luna, though, I kind of love her. Like the book's protagonist, Regan, I find myself fighting with mixed emotions. I'm jealous of Luna, terrified for her, happy for her, angry at her. I'm exceedingly glad I read this book as a teenager and I hate myself for ever picking it up in the first place. But in the end, I honestly wouldn't be the person I am today without Luna. It will never leave me, I'll always think about it when I think about how I became the woman I am today. It's not a perfect book, but it was there for me, and I'm sure other trans teens, when nothing else was. Luna opened a door for me — no, it opened a thousand doors, doors that I've been confidently walking through ever since I came out.