photos by Rachel Adler
---
This is Galapagos. She is a turtle.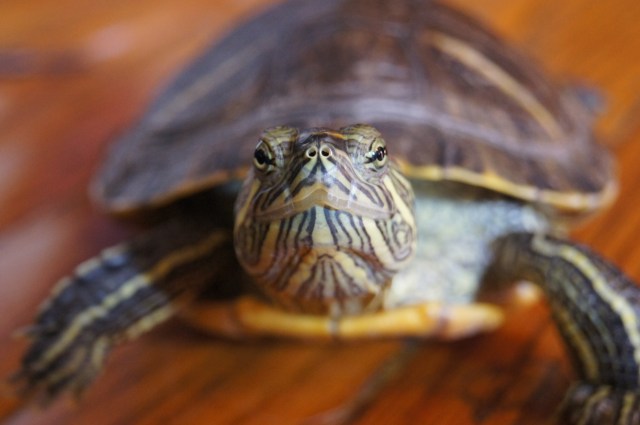 Sometimes, I feel like I will never be able to live my very best queer life because I developed an allergy to cats in my late teens. Yes, I've heard there are hypoallergenic options, but however much money it takes to obtain a hypoallergenic cat isn't really in my financial picture at the moment. Plus, I don't really have anything in my life planned past a few months from now, so making the long-term commitment of pet-having isn't really feasible for me.
But when my friend asked me if I could care for her turtle for a year while she lived abroad, my answer was an immediate yes. A year with a turtle, it seemed to me, was a perfectly acceptable short-term alternative to a cat – mostly because it wouldn't make me want to scratch my eyes out of my face, but also because my general impression was that turtles are chill and low-maintenance while also being willing to react with affectionate enthusiasm towards their human captors.
A week later, Galapagos the Turtle was residing in a large tank by my living room. She is a red-eared slider, about 8 inches long. She spends her days swimming, basking under her sun lamp, and sometimes wandering the apartment while supervised.
And what I've found is that, while she isn't a cat, there are more similarities than you might expect. Here are the ways my turtle is and isn't fulfilling all my dreams of cat-ownership:
1. The turtle is not fuzzy
I'm just making sure everyone is on the same page: the turtle is not fuzzy, and she will not cuddle with you.
She is animated enough to make it very gratifying to project whatever kind of desire for anthropomorphized companionship you might have onto her, just as long as you are okay with that anthropomorphized companion being a withholding introverted weirdo, unless she thinks you have food. Usually, when I approach my turtle, she runs as far from me as she can. Except when she's out of her tank and I'm trying to clean it using the bucket she usually eats in. Then, she tries to bite my toes.
---
2. She would probably eat me if she were bigger.
Have we all read the study about how cats would eat you if they were bigger? I'm pretty sure the same is true of the turtle, who tries really hard to be ferocious, but fails pretty much every time because she's just too damn small. If I hold my finger up to the glass of her tank, she'll snap at it, but she can't bite me. If I take her out of her tank to let her roam the living room or put her in the bucket to eat, she'll squirm around or try to bite at me, but I can easily avoid her toothless jaw just by holding her from the tail-end of her shell. Her claws are pretty sharp, but I don't anticipate them breaking skin the way cats' claws can.
---
3. The turtle eats fish. And bugs.
Like a cat, G's diet consists mostly of pellets made of some sort of dried fish substance. I take her out of the tank in a bucket and dump a handful of pellets in with her and she scrambles around the bucket eating them. When she's done, I plop her back in the tank, dump the gross pellet-y water down the toilet, and put a bucket of fresh warm water back in the tank. She gets really excited about this.
But SOMETIMES, to keep her diet (and life) varied and interesting, she gets to eat live food. This can be in the form of fish or worms or crickets. I'm not trying to set a bunch of crickets loose in my living room; worms are fine, but not very exciting. Feeding her fish, on the other hand, is a show worthy of a Friday night. Literally, I've had friends over on a Friday night just to witness the turtle eating fish. You have to go buy them from Petco for like 17 cents each, and then when the turtle sees the bag she knows and starts swimming like crazy against the side of the tank.
Then you dump them in and the turtle proceeds to spend the next significant period of time zooming around the tank chasing them. The thing is that both the turtle and the fish are really fast. Sometimes the fish get out of the way just in time and the turtle does a face-plant into the side of the tank (her shell absorbs most of the impact; don't worry about the turtle's head). But when the turtle does catch a fish, she swallows it whole. It can feel a little sadistic to watch in fascination, but it's really not much more graphic than watching Ms. Pac Man gobble Inky or Blinky. It's also a lot more fun than when a cat catches "live food," because usually when a cat catches "live food" it means she's caught a mouse or a chipmunk or the family goldfish, and she plays with it while it fights for its life, kills it with satisfaction, and then shows it off.
---
4. Turtle tanks are more annoying to clean than litter boxes
In a similar fashion to cats, you have to clean up the turtle's poop, except instead of scooping it out of a box where some magic combination of chemical dirt has made the poop dry and clumped, the turtle poops in the water it lives in, and you have to scoop it out by submerging a net and probably a good part of your forearm into the turtle water. Then you have to get rid of the waste, and sometimes you have to empty out all the water from the tank and fill it up again. Let me tell you, managing that process while living in an apartment building is a real party. Any water from the tank has to be dumped, bucket by bucket, into the toilet, and then refilled, bucket by bucket, from the sink. Hauling buckets of water around an apartment is not my favorite way to spend two hours. Litter boxes are, quite frankly, just easier.
For us, one thing that makes it a lot easier to keep things clean is that the turtle's rocks for basking under her heat lamp are totally separate from the water in her tank. She can climb between the two areas, but the rocks never get wet.
---
5. Turtles can carry salmonella
It's part of their "natural flora." And chances are, unless you let your turtle co-mingle with raw chicken or egg shells, your turtle probably doesn't have salmonella, but it's still pretty unadvisable to cuddle your face into your turtle's shell, or kiss it on the nose.
---
6. Bonding over turtles can help humans deepen their own relationships
So I live with one of my best friends from college and her boyfriend. I do like this boyfriend person a lot, but he's even more introverted than I am, so we don't talk a whole lot. But once the turtle entered our lives, we began a new chapter in our relationship. He LOVES THE TURTLE, and so now she has become our main topic of conversation. Sometimes he even sends me snapchats of her. We have an ongoing project of trying to discern if the turtle recognizes us and/or her food and/or the color of the canister that holds her food.
---
7. It would be shitty to release my turtle to the wild if I got bored with her
Hello, it's me, up here on my soapbox. This is the part of the article where I give you a little public service announcement about invasive species, which red eared-sliders are. They are native to the southern United States and northern Mexico, but when they're introduced in other areas, they outcompete the other turtle populations – they eat like monsters, dominate habitats and transmit disease. Unfortunately, they're now prevalent all over the world because they either escape or are released from captivity. Some countries and states have banned them, so if this article has convinced you they'd make a great pet, look into that first. Also, if you're considering getting a turtle, make sure you can commit! Red-eared sliders can live for as long as forty years! There are ways to ethically unhand a turtle if you can't care for it anymore, so don't just dump it in a pond if you can't take care of it anymore. Give it to someone who wants it. Similarly, if you would like a turtle as a pet, see if you can adopt one from someone who can't care for it anymore.
---
Do you have a turtle or other small reptile? Is it like a cat or not like a cat? How does your turtle feel about shoes?