Hey, you. Yes, you there. With the hair thing going on? And the nice shirt. How do you get your skin so smooth?
LISTEN UP! I've got a very special announcement for each and every one of you and you're not gonna wanna miss it. Okay, ready? Okay. Ahem.
IT'S TELL US EVERYTHING WEEK AT AUTOSTRADDLE DOT COM!
What the F*ck is Tell Us Everything Week?
Here's the situation. We're all madly in love with you, and especially with what you add to our own lives by being here, right here, in this space with us online, every day. We love your comments, your banter, your avatars, your cute "About Me" sections in your Autostraddle member profiles… the list goes on. We make things for you and we love talking to you about them. We wanna hear even more of what you have to say!
But commenting online has evolved quite a bit over the last few years and a lot of websites are shutting down comment sections altogether, moving the bulk of their social energy into social media, or only selectively opening posts to reader feedback. That's not our style, though. Your words have been as important to us as our words since we leaped onto this ship in the first place. We're gonna talk more about that in a different post later this week, but in the interest of getting to the point:
And thus, Tell Us Everything week was born.
We're dedicating a whole week of content – starting right here, right now, with this post – to you. We're gonna talk Internet culture, share stories about our experiences in the Straddleverse, and maybe even serenade you in the moonlight. We're also gonna talk about our commenting culture in general, and what we've observed works best when it comes to making Autostraddle a place that feels comfortable and safe to the broad spectrum of readers we attract — from that Women's Studies PhD in Northampton who's got a wife and two dogs to the mother-of-two in St. Louis nervous to leave her husband for a life only glimpsed via The L Word to the radical activist in Oakland who recently came out as transgender to the 16-year-old in rural Mississippi who has to read Autostraddle in secret and has no idea what "demisexual" means.
Everything we do here at Autostraddle is about our readers — the people just like you who click our links on social media, leave comments in the night on our recaps, and support our work endlessly, and support each other.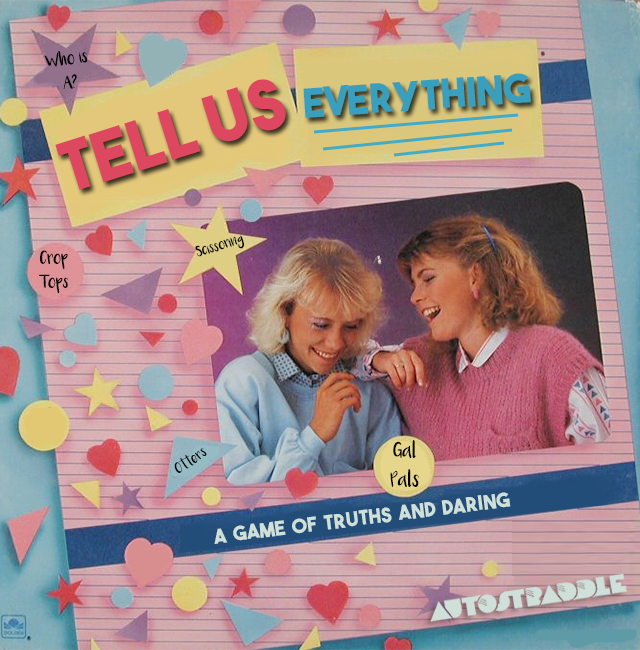 To sweeten the deal, though, we're also throwing in some prizes for the most devoted and active amongst you. Because you're our heart and soul and you deserve A+ memberships and Autostraddle merch!
So, How Do I Win?
Here's how this whole shebang is going down. In order to win a prize during Tell Us Everything week, you just need to do two things: create an Autostraddle member account, and leave as many comments on this website as possible in the next seven days. 
Even if all your comment says is "thank you for this piece" or "I like this" or "wow." (Seriously on the "wow." I'd take a "wow" any day), we're into it. We also really like to know where you are with this — whatever this is, whatever we're talking about. What's it like for you? Can you reach out to another commenter to further their conversation? You add to this community, you bring it to life, you help steer the boat. There's nothing more rewarding for us than sparking conversation, watching y'all get to know each other, and fostering this beautiful and kind community for all of you wonderful humans across the world who want and need it.
So this week, while we're spilling our guts about how much we love you, we wanna hear from you, too! Hence the name of the week, you guys. We want you to tell us everything. We wanna know if our articles rip your heart open or sew them shut. We wanna see pictures when you attempt to cook our recipes or make the DIY crafts we walk you through. Really, we just wanna know how you're doing and how you're feeling today and, like I said, how you get your hair so shiny.
The more comments you leave this week, the more likely you'll be to win bigger and better prizes. I'll be drawing the winners (on camera!) and posting the video on Thursday, July 16. If you wanna participate in the contest, you also have to comment on this very post — that's how we'll know who to track this week. (But it won't count towards your total!)
What Are The Prizes?
Here they are, cap'n: you can pick from any of the options below if you win for your tier. And just in case you were wondering, there are more than one of some of these prize packages available. THE ODDS ARE EVER IN YOUR FAVOR, Y'ALL.
TIER 1: Leave 5+ Comments This Week
Your choice of one of the following: Better Together Issue #1 (OMG I'm GAY), Better Together Issue #2 (I Broke Up Like This), Vapid Fluff Tote Bag, A-Camp hoodie, Liquor in the Front Flask, Safe Space Pencil Case, three Rory stickers or three You Do You stickers or a You Do You pin
One-year A+ Bronze Membership (for you or a friend)
TIER 2: Leave 10+ Comments This Week
Your choice of any of the merch listed in Tier 1 OR Better Together Issue #3 (Queer Sultry Summer), or any t-shirt or tank top in the Autostraddle store.
One-year A+ Silver Membership  (for you or a friend)
TIER 3: Leave 15+ Comments This Week
A "Thank You" postcard from the Senior Editors and the following:
Your choice of any merch item in the Autostraddle Store
One-year A+ Gold Membership (for you or a friend)