Hello, underwater dinosaurs (scubasaurs rex?)! I'm sorry your Pop Culture Fix is later than usual this week; I'm traveling today to meet up with the other senior staff to make big plans to love you even better than we already do, which is a lot! On the plus side (for me), I am now sitting next to Yvonne at Los Angeles International Airport. Her face is even sweeter in person, which I know seems impossible, but it's true.
GOAAAAALLLLLL
Yes, we are going to continue to talk about the USWNT winning the World Cup because it's a big damn deal. They're getting a ticker-tape parade in New York City tomorrow. They're the first non-NYC based team and first women's sports team to be honored with a ticker-tape parade! Also, did you know the gender pay gap applies to women's sports too?
The total payout for the Women's World Cup this year will be $15 million, compared with the total for the men's World Cup last year of $576 million, nearly 40 times as much. That also means that the Women's World Cup payout is less than the reported $24 million to $35 million FIFA spent on its self-aggrandizing fiction film, United Passions.
Meanwhile, 43.2 million people watched the U.S. vs. Japan game on Sunday night, shattering the record the men's team set during last year's World Cup. They raked in 18 million viewers, less than half the number of people who tuned in to watch the USWNT play.
Here's yesterday's celebration in Los Angeles.
https://vine.co/v/engTeEqhr9n
Damn, I'm getting all choked up all over again. (They're chanting "I believe that we just won!")
---
Teeveee
+ The Good Wife is bringing on a white guy to replace bisexual badass PI/woman of color Kalinda Sharma. "Replace."
+ Vulture looks at Orange Is the New Black, Fresh of the Boat, Community, Parks and Recreation, and Hannibal and wonders if Asian immigrants are finally starting to get some respect on American TV.
Chang's story line is a small improvement in the way that Asian-Americans are represented onscreen. She's a recovery of the Asian immigrant, the one who was cast out in the name of political correctness. Chang isn't simply a first-generation immigrant, she's one who doesn't care to fit into the mainstream. So for a brief moment, you get a glimpse of a character who is suggestive of another world that doesn't center around whiteness. You might not be quite sure what's going on, and that's the point: She's not here for you.
Pair with the thoughts some of our Asian writers shared about Chang's OITNB episode in our 306 recap roundtable.
+ Miley Cyrus is a cartoon bird.
http://www.hulu.com/watch/814777
+ It's looking less and less likely that a streaming platform is going to pick up Hannibal now that NBC has pulled the plug. Stef and my girlfriend are heartbroken, y'all. And probably poor old Margot too. She's finally getting to snog a lady this season!
+ Ruby Rose is guest starring on Syfy's freshman series Dark Matter. I know this because I received five — literally FIVE — press releases telling me about it yesterday.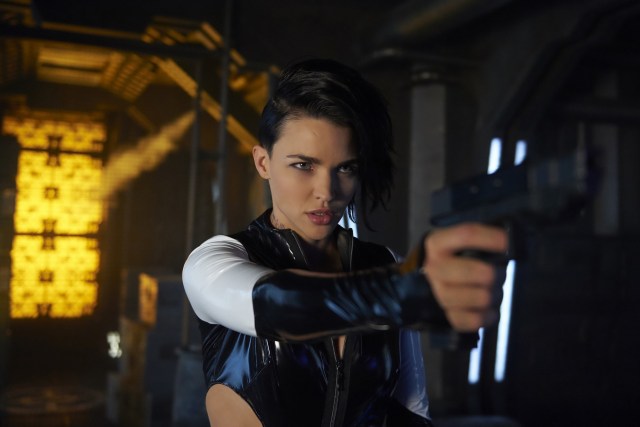 According to the press releases: "In the episode airing Friday, July 24th at 10pm ET/PT, Aussie actress Rose will guest star as Wendy, a hauntingly beautiful entertainment android who dazzles the crew with her sexual prowess and knack for entertaining … until things take a dangerous turn."
Entertainment android! What! What does that even mean!
---
Mooovies
+ Fox is making a movie about the SCOTUS same-sex marriage ruling, obviously.
+ I mentioned it in this week's Boob(s On Your) Tube, but I want to say it again: Marisa Tomei is joining Empire next season to play a lesbian billionaire. She's also going to play Aunt May in the new Spider-Man movie, which is ridiculous because she's only 50 years old, but also: I hope they make Aunt May gay af. It's time for a new origin story.
+ Ellen Page is going to be in a new movie about Lance Corporal Leslie Martz. In real life, Martz "was sent to Afghanistan as a leader of a Female Engagement Team and tasked with the dual mandate of gaining the trust of Afghan women by equipping them with necessary skills for independence but also secretly extracting information from them about their Taliban husbands."
The movie is called Lioness, which reminds me that I wanted to tell you about this HORRIBLE tweet that welcomed the England National Team home from the Women's World Cup. Look at this shit:

That belongs in post-World War II home front propaganda book.  (Obviously, the tweet has been deleted.)
+ Stef (who has a starring role in this week's Pop Culture Fix, have you noticed?) is going to talk to you some more about this later, but Alexis Bledel and Katherine Heigl are playing lesbian lovers in a new movie called Jenny's Wedding.
Oh, Rory, just go home to Paris Geller, the love of my your life.
+ This is an excellent essay from a female producer about four ways women get the shaft in Hollywood.
+ The final Hunger Games character posters are here and … weird. KISS & the Mockingjays?
New #MockingjayPart2 poster (one of eight!) shows Katniss ready for battle http://t.co/RLU8z9prYC pic.twitter.com/gQVFm8VYcT

— Yahoo Entertainment (@YahooEnt) July 6, 2015
Who Ya Gonna Call?
Melissa McCarthy, duh.