Yesterday we dropped our Fall Music Preview '09: Where Crystal and Emily discuss hotly anticipated releases from La Roux, Tegan & Sara, Basement Jaxx, Jay-Z and more.
The Tuesday Televisionary was all about True Blood Ending Underwhelmingly, Glee Beginning Showmantically, and Hot Girls Outlasting the VMAs.
Check out our Fall Preview 2009 Guide to see what's happened and what you can look forward to!
The Fall coverage thus far includes: Fall Books, Fall TV, The Fall Excitantcy Matrix and the Biggest Event of Fall — The National Equality March.
Yesterday's Fix: In which we all unnecessarily obsess with Kate Moennig's haircut, gender norms, Drew & Ellen, sex toys.
HIGH SCHOOL: I can't believe this even has to be a headline: Principal Relents, Lets Lesbian Wear Tux for Senior Picture. (@nbc) In unrelated news, there's a cute photo of Anna Faris in a blazer to the left.
AMERICA'S NEXT TOP: Remember the girl who talked crazy to America's Next Top Lesbian Kim Stolz? Our dear often hilarious but clearly bonkers Bree Scullark was arrested after an altercation in Starbucks. FYI they don't sell granola bars there. Also in ANTM news, (not out) lesbian Nik Pace has given birth to a baby boy, is smokin' hot. Note the article avoids addressing the parentage question. Also, FourFour recaps America's Next Top Model Cycle 13's "Mehovers."
DREW AND ELLEN CUDDLE & TALK AT THE SAME TIME: "I love her madly … You hope that you'll fall in love with your muse and your hero, and I did fall in love with [Ellen Page]," Drew Barrymore tells reporters.
L WORD: Here we go again. Ilene Chaiken has tweeted: "Still working on The L Word movie, and ramping up on The Real L Word. They're two completely separate projects." One of the biggest differences between these two projects is that one is (unfortunately) happening, and the other is not.
LADY TECH: Question: Dear readers of Autostraddle, how do you feel about this website? This is a real question. I'm wondering if the "feminized" approach to technology here is totally offensive or borderline interesting? I'm inclined to go with the former. LET ME READ YOUR PULSE I NEED ANSWERS ABOUT HOW THE INTERNET WORKS.
THE LYNCH CAN DO NO WRONG: "There's something about [her character on Glee]. I've played arrogant people before, but the levels and lengths she goes to, it's so entertaining and fun. The writers love pushing it.  In the first draft, they always go too far. It's like, 'I can't talk about skinning a cat!' " Still, sometimes she wishes the first draft bits would stick. "There have been a couple that I was sorry to lose." – Jane Lynch to People.

DEBT COLLECTORS: Listen to these totally shocking recordings of messages left by abusive debt collectors!
SOUTH OF NOWHERE: Denso Gordon has changed his mind about gay people! Too bad he didn't figure that out sooner he could've participated in that last season of South of Nowhere, that was a real work of art.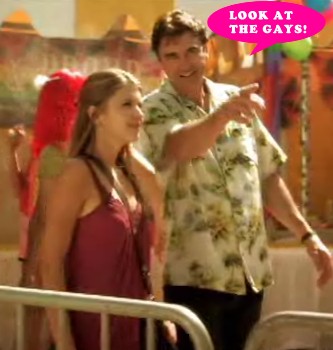 GENDER: Bully Blogger on The Unforgivable Trangression of being Caster Semenya.
KANYE + GAGA: The Kanye West/Lady Gaga co-headlining tour may now be in jeopardy after the VMAs. Surely there's some way she can symbolically incorporate him into her next Biblical thing. (@latimes)
GAGA: Lady Gaga performed an acoustic set practically naked at the after-party for the Marc Jacobs show in NYC. Readers, we could see her nipples — not only was she pantsless, she was topless! (@nymag)
HAVILAND: Haviland Stillwell, the greatest actress to ever live, will be performing at the M Bar with a bunch of other gorgeous people on the 18th of September and you should go if you live in Los Angeles, I feel like you do.
PINK: Quieting rumors that she broke her collarbone, Pink clarified via Twitter: "I separated my shoulder. it kinda feels like 50 angry invisible demon fairies are stabbing me. But the show will go on. It did last night.  And I'd say it went pretty well :) thanks Seattle. loudest crowd we have had this tour." Here's a photo from that tour:
GOT YOUR DM: You can all breathe a sigh of relief — Samantha Ronson has direct messaged Lindsay and Lindsay is appeased. For now.
COLLEGE & THE FRESHMAN 15: Jezebel examines the age-old Freshman 15 in an era of caloric awareness in university cafetieres and whether this will lead to more eating disorders. (@jezebel) [I agree. I wish I'd never learned those numbers, I can't get rid of them]
LESBIANS: SheWired talked to Evan Rachel Wood, True Blood's Lesbian Vampire and one half of the Wonder Twins.
VOTE GAY: Openly gay candidates from Queens made strides toward public office on Tuesday in the New York City primary elections for city council.  (@advocate)
SEX: Susie Bright gives advice for those suffering due to the impact of anti-depressant medications on the libido. (@jezebel)

Auto-Straddler of the Day
Ride the pony…

from Intern Jess:
Bored and wanna read what everyone else is favorite starring on Twitter?  Check out favstar.fm.
+
+

from Crystal:
Comedy group Kasper Hausen have created the First Blackberry, a website offering a glimpse into Obama's PDA. It's a lot more funny than I'm making it sound.
+
+

from KC Danger: What's funnier than a Snuggie (which I still refuse to believe is anything more than a blanket with sleeves)? Snuggie lovin' of course! It's a little hetero/gender-normative, what with the pink and green at all, but it's worth the laugh.