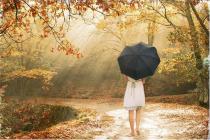 It's Fall and everything is changing! I'm changing. You're changing. I can't even type words anymore because I apparently have adult-onset dyslexia, which is a fine thing to have — but also is a change. When the world around you is changing, I find that the best defense is a strong offense, which is to say, you should also be changing because nothing says unique and independent like doing what everyone else is doing.
So I've started this new feature here on Autostraddle called YourSpace, which is absolutely free of charge and comes with a money-back guarantee.
I know you kids these days, when you think "space" you think "MySpace", which we all know has been over since 2007. But I'm not talking about the web, I'm talking about your own space. Where you live and/or work. Your living, breathing, physical space!
Here at YourSpace, our goal is to change your mind and your home. Do you live in an apartment or condo or lodge? Maybe a cabin or townhome or flat? How about a duplex or single family home? All of these types of dwellings can benefit from the services we provide here at Your Space. You're probably thinking, "But Laneia, what is YourSpace?" Good question! Take a moment to familiarize yourself with this informative list that I've created for you using html and words:
YourSpace Is:
* Taking something that is one thing and making it something else with creativity and most likely a bonding agent of some sort, such as glue or nails.
* Organizational and beneficial to the overall beauty of your immediate surroundings.
* Not expensive like other spaces.
* Pleasing and interesting to all of your sensory organs.
* Being authentically unique while learning small lessons about yourself and your immediate and distant surroundings.
* A fun and enjoyable way to make your friends and enemies jealous or inquisitive or both.
If you enjoy being innovational and imaginative, and crave uncommon errand opportunities, I believe you will be truly fond of Your Space.

This week we'll be taking a brief look at a place I call Where I Sit, as well as some basic tools you will need to get the most out of Your Space. Next week's project will be more in-depth and invigorating for you. I'm looking forward to it very much.
Where I Sit:
This is where I sit when I do things like type on my laptop or surf the internet. I find that I spend several hours a day performing these activities, so it's important that I surround myself with useful and important objects.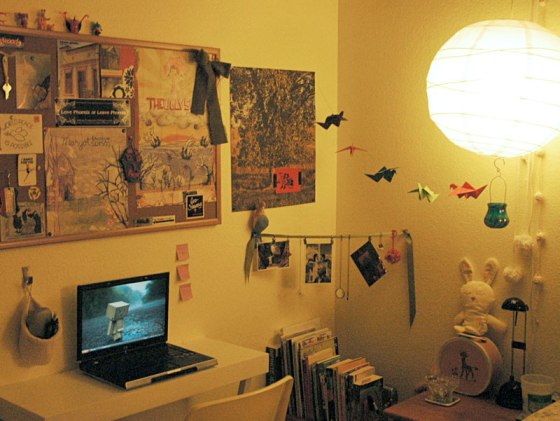 As you can see, I have a bulletin board above my laptop. They're inexpensive and extremely useful. I've filled mine with things I find inspiring and pretty — no to-do lists or bills or anything like that — just visually appealing things with relatively the same color palette. If you'd like your board to double as art, it's a good idea to maintain a theme, which can either be based on color or items or both.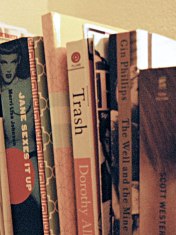 The Table O' Books came more out of necessity than anything else. This is actually the best way to organize your items in a visually pleasing way [otherwise known as 'decorating'] — to do so out of necessity. I'm roughly one-third of the way through about 8 books, so I've lined them up here along with some of my favorites and BAM. Table O' Books. Very inspiring.
Where I Sit might not appeal to everyone, but it need only appeal to one person — me. Where you sit should do the same for you.
Tools: The Basics
In order to install and assemble and hang and create, you will need a few basic tools. I'm not a tool expert, so if you are and you'd like to contribute some expertise/impress me and other people, please email me at green at autostraddle dot com. I would love to hear from you. Seriously.
Here are the absolute basics that you'll definitely need if you want to be a self-sufficient person. I hope you want to be a self-sufficient person, really. My mother never learned how to assemble her own things or hang her own pictures and trust me, you don't want to end up like that. [Love you, Mom!]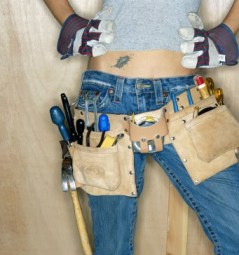 *toolbox
*hammer
*cordless drill
*drill bits
*screwdrivers – Phillips & flathead
*nails, screws & wall anchors – various sizes
*steel tape measure
*level
*pliers
*wrench
*pencil
Spend as much as your budget will allow for the cordless drill and the level — you'll want them to be dependable and sturdy. Go to a local hardware store or Home Depot!  It'll be fun.
So, what is your #1 Favorite Thing You've Done To Personalize Where You Sit? You're probably sitting there right now! Where your computer is! Or maybe you'll go there later, or you can remember it. Show me a picture if you can!


Most of the stuff we'll be discussing here won't be revolutionary or anything — I didn't invent shelving, after all. And I'm certainly not a design expert. But! We will have some fun weekend projects and exciting collaborations. You'll probably come away feeling very creative and independent. Hopefully you'll send in pictures or questions or ideas or all three. We'll be besties! Hey, if you have any tips or whathaveyou — green at autostraddle dot com.
Next week: Making a Look Book for Your Space! [or Why I Saved Three Years Worth of Magazines, Part 1]