Yesterday we posted a new DIY series "YourSpace" where Laneia gives excellent DIY tips for your home, dorm, apartment, workspace, or treehouse!
Wednesday we dropped our Fall Music Preview '09: Where Crystal and Emily discuss hotly anticipated releases from La Roux, Tegan & Sara, Basement Jaxx, Jay-Z and more.
The Tuesday Televisionary was all about True Blood Ending Underwhelmingly, Glee Beginning Showmantically, and Hot Girls Outlasting the VMAs.
Check out our Fall Preview 2009 Guide to see what's happened and what you can look forward to!
The Fall coverage thus far includes: Fall Books, Fall TV, The Fall Excitantcy Matrix and the Biggest Event of Fall — The National Equality March.
Yesterday's Fix features Ilene Chaiken, Debt Collectors, High School Principals, EllDrew, Lady Gaga & Homophobic Actors Defy Expectations.


KELLY CLARKSON: Last night Kelly Clarkson & Melissa Etheridge performed together at the VHI Divas, singing "Somebody Bring Me Some Water," it was hot and totally gay. Also, Paula Abdul dressed up as Ellen, I suppose to make fun of Ellen taking her spot on Idol, and I don't know, the world has just been really weird lately.
SEX, LIES, AND GENDER: National Geographic's new documentary, Sex, Lies, and Gender, is very timely and very compelling. Watch the replay on Saturday, then make someone close-minded and ignorant watch it. Change the world, etc. [Laneia says: "Saw this Tuesday night — loved it. <3 Josie!"]
THREE RIVERS: Look it's a Kate Moennig interview!!!
Not a good day for lesbians and those posing as lesbians in the scandalous crimey part of the newspaper …

TEACHER-STUDENT LESBIAN AFFAIR: In The Toronto Star's report of a teacher-student lesbian love affair (@The Star) we learn that 39-year-old Leslie Merlino's track towards her now-ruined career began three years ago when she began her relationship with a then 17-year old student (16 is the age of consent, unless the assaulter is in "a position of trust or authority.") Merlino pled guilty to common assault in '06 — the girl herself did not press charges (we assume her parents did) — for stroking the girl's hair during a class trip to Europe, an action which apparently kick-started the relationship. By all accounts, Merlino was one of the best teachers at her school. Edge Boston asked:  Was it indeed a tragic tale of doomed love? Or an inexcusable violation of a teacher's sacred trust to maintain proper boundaries with a young person in her charge? Or both?
Well. After Merlino pled guilty to The Hairstroking Incident and cinched her spot on the Ontario Sex Registry for the next 20 years, the student then re-initiated the affair herself (@edgeboston) despite Merlino being ordered to stay away from her. There's no excuse, of course, for teachers to have relationships with teenage students, Merlino's at fault, and we also don't doubt the 17-year-old was in love.  The Star reports that the girl, now 20, has written the following in her "25 Things About Me" on Facebook (sidenote: love it when old media tries to incorporate facebook into its journalism): "Sometimes, I freak out, that I made a mistake. And I shouldn't be with the person I'm with. Other times, I don't know how we've managed to spend so much time apart."
But, to address Edge Boston's question, there's just a few things about the treatment of the case in The Star's article that seem off to us.
Many argue that female offenders get lighter sentences than men, which they claim an unfair double standard — but, when the "victim" is above the age of consent, how do we apply "politically correct" gender-blind laws to a politically incorrect incredibly gendered reality? A few key differences between this case and similar cases with a male teacher: First, the physical male body poses threats to a young female which an adult female body cannot, opening the door for a stronger consideration of fear-tactics and manipulation when considering the male teacher's effect on a female student. Secondly, a female teenager can, presumably, date male teenagers rather than male teachers. Of course, a female teenager under the law isn't assumed to have agency regardless of the teacher's gender. But a young gay woman who doesn't know any other gay women and who's parents clearly don't approve? Perhaps it's not only her teacher putting her between a rock & a hard place, but society itself.
What do you think, are we crazy to desire nuance here or wonder if there's more to the story than meets the eye? Here's a similar case.
PERV POSES AS LESBIAN: Oh yeah then also this man poses as cancer-stricken 18-year-old lesbian to lure girls on social networking websites to give him photos for his spank bank. Yeah, really. That actually happened.
YES!: Can A Man Be A Feminist? "So, can they? Can men be effective advocates for feminism? Given that men are voters, bosses, dads, teachers, friends, and partners, and that they still have more than their share of influence over policy in this country, we better hope the answer is yes." (@jezebel)
VOTE: Primary Results Show Progress for Gay Candidates, in New York City. That's good that's how we can start taking over the world and stealing babies!
HANDS UP: Our Lesbian Jane Castor to become Tampa's first Female Police Chief! Unfortunately she's not on that Policewoman of Browwhipped County or whatevr show. Also, LGBT and women's activist Glenda Testone Named Executive Director Of NYC LGBT Community Center, she's the first lady to take the post!
Look! Gays give it another shot at So You Think You Can Dance:
POETRY: Friend of Autostraddle, Carissa Halston is kicking off her Portraiture Tour. Do you wanna hear this cute girl read poetry and stories to you? The answer is Yes, trust me. Go read some of her work online and click here to see if she's coming to a nearby city! Tell her Autostraddle sent ya!
GAGA Kermit the Frog: I'm Not Dating Lady Gaga "Actually, no actual amphibians were harmed in the making of that frog coat. … As for what she was wearing to the VMAs – I was just happy it wasn't made from anyone I recognized."

And finally. thank god it's friday! here are some puppies!

Auto-Straddler of the Day

The bcw award for bcw: on Ilene Chaiken, Debt Collectors, High School Principals, EllDrew, Lady Gaga & Homophobic Actors Defy Expectations: Daily Fix: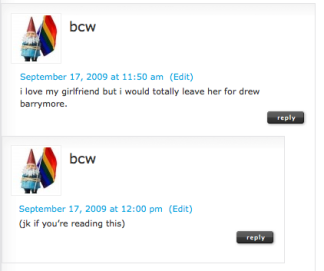 And We Still Don't Know What This Has to Do With Polio Crutches
from Erin on Ladies Dominate MTV VMAs & Lady Gaga Wears Many Outfits, Ellen & Drew Bring Their Special Friendship to Toronto: Daily Fix:
polio crutches.
does anyone else get the sense that lady gaga never lasts through the morning? like is incredible in bed, knows exactly when to stop cuddling, maybe scratches your back until you fall asleep and is never seen or heard from again?
Sapphicsass Can See the Future, on Lesbians Dress Up for Lohanless C.Ronson Shows, Soccer Babe Festivals & Online Dating – Sunday Funday Daily Fixin response to music companies suing Ellen for using their music on her show:
What's next? I'll tell you… God is going to start suing those girls who are flashing for violating copyright laws. He's going to go all… "hey, those boobies are my property because I made them so you can't show them without my permission" on everybody. What is this world coming to? SHEESH.


from Carly:
Apartment Therapy has some beautiful letterpress alphabet posters for your perusal.
+
+
from Alex:
Francoise Nelly's massive and brightly colored portraits are a real treat for your eyeballs. She has a video on her site showing how she makes one of her paintings using only a painting knife. I'm jealous. She's kind of brill, only referencing a black and white photo to create her pieces.