My queermos! Queer Your Tech with Fun is turning 100! Well, 100 posts that is. So I thought we'd take a look back at some of our big hits from the past 100 app roundups and tech musings so we could point you in the direction of some new apps, some updated apps and some cool shit in general. I'm not going to pick something from all 100 posts, because that would be insane. But that doesn't mean you can't! Please, leave your alternatives to the things we've suggested (or your hot tips on apps that have updated!) in the comments below.
---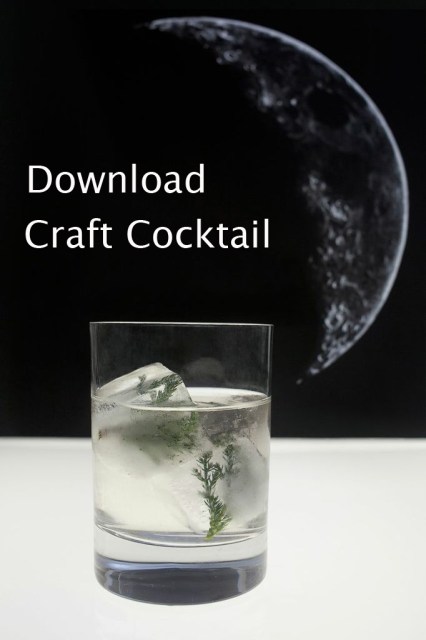 If You Liked Cocktail Flow, Then You'll Like Craft Cocktail
I'm not sure I even truly consider Craft Cocktail an app. It's the digital equivalent of a glossy magazine written by three women in Chicago. It's a bit buggy at times, but the amazing photography and the snazzy writing are worth it—as are the beautiful, complex cocktails the app details. Right now there are two issues out—can we possibly hope for a third? It is Fall cocktail time after all.
Why you'll like it: Aesthetically pleasing like whoa, woman-owned, features a drink called Thyme Lord.
Free for iOS. Visit Craft Cocktail's website for more information.
---
If You Liked Byword, Then You'll Like Quip
If you're crushing drafts and crushing them on your phone, your tablet AND your computer, you probably downloaded Byword. Which is great and feature rich and all, but if you didn't download Byword because of the cost then you'll love Quip. Because for personal use, Quip is free. AND it was designed with mobile use in mind first, not designed as a desktop app and scaled down for mobile. It features collaborative documents, spreadsheets and messaging. You can make lists on it too (I love lists)! Plus if you're running one of those sweet queer-owned small businesses and you need some more extensive features, they do have a fairly cost-effective business plan ($12/user/month). Because why be chained to a desk for word processing, I ask you? In today's work world, that's so late 20th century.
Why you'll like it: Free or cheap, interactive, designed with the mobile user in mind.
Free for iOS and Android (tablets and phones, both). Also free for the desktop web app, which you can access using Quip's website.
---

If You Liked Feedly, Then You'll Like CommaFeed
Alas, when Google Reader kicked the bucket, the Autostraddle team collectively decided it was moving straight to Feedly (because as you would expect, we all do a lot of reading the internet). And Feedly is great! And they've done a lot of work to eliminate most of the things that drove me batshit. But since the untimely demise of Google Reader, a lot more (independent) readers have been popping up (either being created or gaining notoriety). So why stop at Feedly just because it's popular? Keep exploring! Never settle until your RSS reader is right for you. And for that, I bring you CommaFeed. Y'all, this ish is bare bones. It looks and feels exactly like Google Reader of yore and is entirely customizable with CSS. If you're a programmer, they've got an API (which effectively allows you to build your own RSS reader from scratch). The only downside is there's no mobile app just yet (sigh). But it's got all the same sharing that Feedly does!
Why you'll like it: no bullshit, looks and feels exactly like Google Reader, works great with Autostraddle's RSS feed if-I-do-say-so-myself.
Free webapp, which you can access at CommaFeed's website.
---
If You Liked 1Password, Then You'll Like Its Update
1Password was on the pricier side in its original post, but this is one of those moments where you get what you pay for—its security is unparalleled, as is its functionality. And they did a MASSIVE update that not only improves the aesthetic value, but also let's families share certain secure information, well, securely (and just with each other). You can use multiple "vaults" with their new update as well. And personally, as soon as I update to Yosemite this weekend (PSA for Mac Users: You Can Update to Yosemite Now For Free!) I'm purchasing the new version of 1Password because I have let my computer get SO MESSY. And this is part of my plan to unfuck it.
Why you'll like it: generates secure passwords and then remembers them for you, securely; smoothest damn UI in the password software field (IMHO).
Download for Mac or Windows ($34.99 per license, or $48.99 for a Mac+Windows license bundle) and also for iOS or Android (free).
---
If You Liked GeoGussr, You'll Like Sporcle's Geography Category
If you share Maddie's love for map-based digital entertainment, perhaps these Geography quizzes on Sporcle will be to your taste! Now I know we haven't collectively thought about Sporcle since we were wee babies, but these quizzes will actively make you smarter. Do you know where Belarus actually is?
Why you'll like it: you will be able to point out things on a map when you're through, which is better than most if not all Americans*; also it's addictive.
*I am American. And believe me when I tell you, this ish is not taught in schools.
Free web app—here is the Geography section specifically.
---
If You Liked CodeAcademy, You'll Like Black Girls Code
So you've learned everything from CodeAcademy (or Treehouse or Harvard's CS50), then you're probably super interested in ways to get more women and girls into coding and tech. Black Girls Code is a fabulous organization founded by Kimberly Bryant that's aiming to do just that:
Much has changed since my college days, but there's still a dearth of African-American women in science, technology, engineering and math professions, an absence that cannot be explained by, say, a lack of interest in these fields. Lack of access and lack of exposure to STEM topics are the likelier culprits.

By launching Black Girls Code, I hope to provide young and pre-teen girls of color opportunities to learn in-demand skills in technology and computer programming at a time when they are naturally thinking about what they want to be when they grow up.

That, really, is the Black Girls Code mission: to introduce programming and technology to a new generation of coders, coders who will become builders of technological innovation and of their own futures.
And Black Girls Code does this by offering panels, workshops and hackathons created exclusively for young women of color. They have both job openings and volunteer openings, coders (and non-coders, they could always use donations)! Go check it out.
Why you'll like it: more women of color in technology as time marches on, disrupting that weird brogrammer culture and making cool things for our future.
---

If You Liked WeatherWhiskers (And Who Didn't?!), You'll Like Its Update
WeatherWhiskers is the weather app we all need. All of us. Because it's LOL CATS AND WEATHER GOD WHAT'S NOT TO LOVE. When WeatherWhiskers originally sent me their press release, I dropped everything and wrote about them—that's how strongly I feel that my weather report should also make me giggle. They recently emailed me to let me know of a couple major updates—one is a pretty hardcore functionality update to their Android app (also moar kittehs), and the other is themed "litters" for purchase: "Meowsterpieces" and "Mewvies." Example of themed kitteh above.
Why you'll like it: cats in monocles riding in hot air balloons proclaiming that you have "teh clear skiez," and also their sheer commitment to LOL speak.
Free for iOS and Android, 99 cents to go ad-free.
---
If You Liked MCALC, You'll Like Clue
MCALC is the gender neutral period-tracking app of everyone's dreams…as long as you're an Android user. That's the only issue, right? That it's not gonna be available on iPhone, maybe not ever? Well in rides Clue, an app that's a bit focused on fertility but is otherwise pretty damn neutral (and very aesthetically pleasing). As you put more data about your period and your moods into it, it'll be able to predict not only when you're period's about to strike, but when your PMS is about to strike too. And, if you are trying to contribute to the gay baby army, it also tells you the days you're most likely to get preggers with your future queerspawn. Cray cray, right? And it does it all with nary a flower.
Why you'll like it: it costs zero dollars and also has zero pink.
---
If You Liked iOS 7, Then You'll Like iOS 8 (Maybe)
So many people have so many opinions about iOS 8. And for a while there was a massive issue with 8.0.1 (it broke cell service). I have no opinions about iOS 8, not on my phone at least? Why? Because it takes a ridiculous 5.7 gigs free to install! THAT IS ALMOST 6 GIGABYTES, WHAT THE HELL? Luckily, Taylor told us how to download iOS 8 without deleting our entire lives (use iTunes). This is another thing I plan to do this weekend. So will you like iOS 8, users of Apple Mobile Technology? Clearly I have no idea. I have the new operating system on my iPad, but that doesn't really showcase some of the cool new stuff—the sweet predictive keyboard doesn't mean much to me because I use a blue tooth keyboard when writing on my iPad, and the iMessage features and new Health app don't exist on the iPad (also the health app doesn't have a period tracker, luckily we've already covered that). But I can tell you that apps in the App Store are already updating such that you can't download them unless you have iOS 8, so maybe we should all get on this, yeah? Collective pact to update this weekend? Who doesn't want to update and why aren't you?
Why you'll like it: ? Because we all have to like it to download other cool stuff, probably.
Free for current iOS 7 users, with the exception in the tax on your photo and video collection. Free, but at the expense of your memories.
---
If You Liked Lingua.ly, Then You'll Like Its Update
When we last covered Lingua.ly, it was a browser extension and a website. A really clever browser extension and website that lets you learn languages and vocabulary by reading real articles published on the internet combined with flashcards. Lingua.ly recently launched their mobile apps, so now you can take that learning with you wherever! They tweeted to me about it and I thought y'all should know.
Why you'll like it: because it's focused on learning languages through real world application; and now it is an application (har har har, #dadjokes).
Free for iOS and Android. And the webapp is still there, check it!
---

If You Liked If This Then That, Then You'll Like Many Of The Apps That Plug Into It (Probably)
If This Then That is an automation service that connects with a butt-ton of apps (mobile and web) and hardware (I shit you not). It let's you construct basic automations that have fast and effective real world results. An example, if I tag an item "recipe" in Pocket, it automatically emails the article to my fiancée, who is a better cook than I am and can tell me if I'm way out of my league. If I tag an item "Queer Your Tech Research" in Pocket, it adds an article to a spreadsheet where all my research for this column goes. And all this happens for absolutely zero dollars. Aside from the major update (IFTTT is now on Android), there is another major use I  mentioned when I first brought up IFTTT. Because of it's extensive and ever-growing catalog of apps that it works with, IFTTT is a wonderful place to go to discover new and popular apps you might not have heard of (or considered for your own use) before. I think this is worth mentioning again. There's shit in the IFTTT channel list that I have never heard of. And I check that sucker p. often.
Why you'll like it: make the internet do things for you; learn new shit!
IFTTT is free on the web and for iOS and Android.
---
If You Liked Sunless Sea, Then You'll Like That The Combat Is Totally Different
Sunless Sea, our favorite live-action-yet-still-story-based game that recognizes the gender and sexuality spectrum of their players and characters, released a major update (called Steel) on October 9th. Now turn-based combat is live action combat. From their press release:
"We heard loud and clear from our Early Access players that the old combat system was 'okay,' but what we wanted was 'great'," says Failbetter CEO Alexis Kennedy. "So we completely re-tooled it and have had a hugely positive reaction."
Why you'll like it: Sunless Sea is set in a fictional world where you can have the face of a squid and go by whatever damn gender pronouns it pleases you; there's no correlation between the pronouns you like and the portrait's you're able to choose; it's damn fun and addictive.
$18.99 on both Mac and Windows, available through both Humble Bundle and Steam.
---
This has been the one hundredth (!) installment of  Queer Your Tech with Fun, Autostraddle's nerdy tech column. Not everything we cover is queer per se, but we talk about customizing this awesome technology you've got. Having it our way, expressing our appy selves just like we do with our identities. Here we can talk about anything from app recommendations to choosing a wireless printer to web sites you have to favorite to any other fun shit we can do with technology. Feature image via Geneva. Header by Rory Midhani.