Disney's The Owl House was a very bright spot on a very cloudy 2020, and I'm here to tell you the series is just as goofy, kind, lovable, and queer in season two. The most recent episode, "Through The Looking Glass Ruins," which was penned by bisexual show creator Dana Terrace and super queer super nerd Molly Knox Ostertag, is the gayest one yet. It opens with Luz ever-so-casually seeking out Amity in the library, stretches its legs with some they/them pronouns, and closes with a lil' cheek smooch that leaves Luz in a blushing heap on the ground and me squealing like a manic little bird. Like this: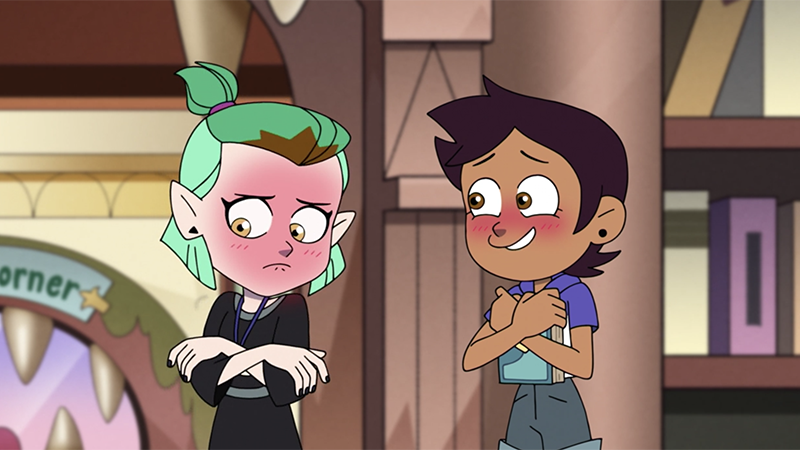 Luz doesn't know how to get back to the human realm, and all the messages she's trying to send her mom to tell her not to worry aren't going through. She doesn't want to leave the magical realm, exactly, but she doesn't want her mom to worry either, so when she finds out there was another human in the magical realm a long long time ago, she decides to try to find his old journal to see if he was able to figure out how to move between worlds. It turns out he donated his diary to the library, so Luz asks Amity to help her dig it up in the FORBIDDEN STACKS.
But before her ask, Luz takes a good minute to peep on Amity doing her readings with the little magical kids in the children's section, blushing when she sees her putting her hair up, blushing EVEN HARDER when Amity's older siblings find her, and nearly bursting into flames when Amity pops up and Luz says that no, her brother and sister aren't bothering her, she just came here to see Amity — "… and, uh, here you are!"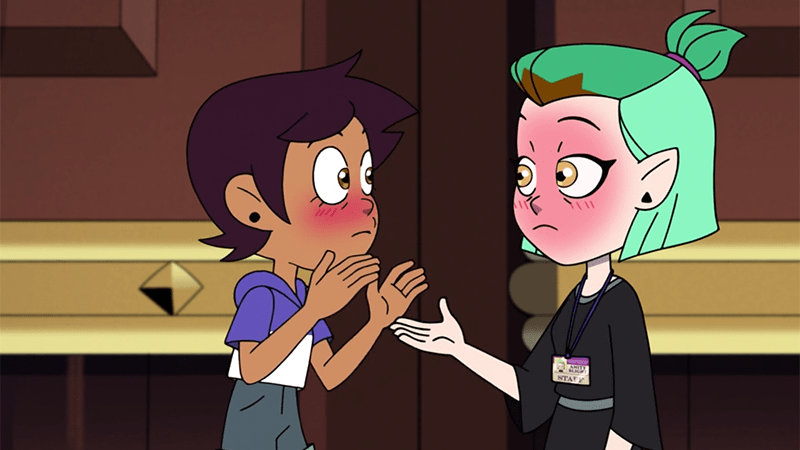 (Edric, Amity's brother, is there to research skincare tips for a date that night. Emira, Amity's sister, says, "He needs all the help he can get, after he texted a poem TO THEIR MOM." Can't wait to meet them!)
Amity's not much of a rule-breaker, and if she gets caught in the FORBIDDEN STACKS she could lose her job. Plus, um, the last time she broke the rules — to save Luz's life — she got in big time trouble. But when Luz suggests that finding the diary might allow her to show Amity around the human realm one day (like a date), Amity grabs her arm and they're off! Every time they brush up against each other or say anything even mildly or accidentally flirty to each other, they blush like sunsets and turn away. When they inevitably get caught, and Amity gets fired, Luz starts rattling off a plan to help her get her job back, but Amity says she's gotta go. Being around Luz makes her do stupid things, and she wishes it didn't. "It's okay," Luz says, with tears in her eyes, "I do stupid things around you too, Amity." OH MY MAGICAL BABY KITTENS, THAT'S LOVE. YOU'RE FALLING IN GAY LOVE.
Amity leaves Luz on the steps of the library, but Luz has never met a problem she chooses to leave alone. So she marches back in there, goes through a whole bunch of dangerous magical trials, and gets Amity's job back from the Master Librarian.
When she arrives on Amity's doorstep to give her her employee badge and apologize, Amity is so overwhelmed, she kisses Luz on the cheek, which nearly gives both of them a heart attack. Amity rushes back inside yelling, "Okay good to see you farewell forever!!!!!" (GAY!) (LOVE!)
There are so many brilliant queer characters on animated TV these days, but one thing that really sets The Owl House apart is that it's on the Disney Channel, which is aimed at younger viewers (six to eleven) than, say, She-Ra on Netflix or Steven Universe on Cartoon Network. And! Luz is a queer Latinx character, who speaks Spanish freely and frequently, written by a queer Latinx writer. It's doubly groundbreaking!
There are eight more episodes of The Owl House in season two, then three 44-minute specials in season three. I can't wait to see where Luz and Amity go next. HOOTIE HOO!