Failbetter Games released their early access copy of Sunless Sea on Steam this week, meaning you can both purchase it slightly-unfinished and play it and have a rollicking good time and also your feedback can impact the final game. Here is the link to go do that before you continue reading. I will also give it to you after you're done reading.
We've covered Failbetter games before, twice: once for their amazingness regarding gender and sexuality in their very popular story-based online game Fallen London. The other for the concept of Sunless Sea. And now it is finally here. The game is set in the same universe as Fallen London — an alternate steampunk-esque reality in which London has been stolen by bats and transported miles underground. But Sunless Sea specifically focuses on the Unterzee — a massive saltwater lake masquerading as an ocean, it's so big (something that's apparently way more realistic than ever thought before). It is also completely dark. You are a captain of your own ship taking commissions and exploring the completely uncharted 'Zee. And you have to balance the needs of your crew with the amount of supplies you have and the threats that exist in the black waters. Turn the lights on to prevent terror and insanity, but don't attract predators. Feed your crew or you will kill and eat them (or perhaps they will kill and eat you). Every time you launch your ship, you run the very real risk of never returning.
It's, like, really good y'all. And here, specifically, is why I thought you'd be interested.
When you start a new game (or when you die and your next character takes over, it will definitely definitely happen) you are asked a few questions. One is what your past might be (definitely choose the veteran — I tried desperately to be a poet and died five times very quickly) and the other is what you'll be addressed as. And then they say: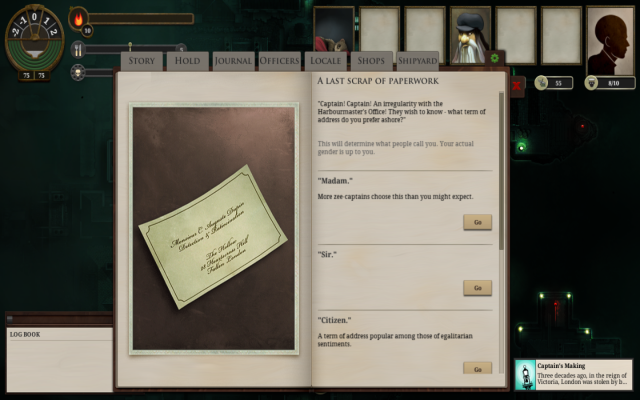 The choice you make here is just what you are called in ports. "Your actual gender is up to you." Well cover me in honey and slap my ass, once again Failbetter does better than 99.9% of the gaming industry. Well done! And the cool part is, the whole universe is like that. You can romance your officers — and the officers are about 50/50 male and female (you know, like the population of Earth) — regardless of this choice that you make. The presentation and gender that you choose doesn't affect your skill set or game play. And regardless of what you pick here, you can pick any portrait to represent yourself that you like. Check it, top right corner. I picked the one with tentacles on her head because duh, tentacles:
For my first five failed poets, I picked the name Elizabeth (my middle name) each time with a more feminine silhouette but had everyone call her Sir. This time, this one is just Beth and I liked the tentacles but she's called Captain in the ports because I dunno, I picked the veteran of the Navy backstory and I thought "Captain" was more appropriate? You guys, every time I create a game character I have the bad writer habit of making an entire backstory and personality in my head. It's just pixels, what the hell am I doing?
As far as game play goes, this game is simultaneously a far cry and not a far cry from Fallen London. The game is CERTAINLY story-driven and still has the text based elements I love about Fallen London that make it feel more like a choose your own adventure book. But Fallen London can be a game for people who don't normally play games, meaning you have time to make your decisions and it doesn't require the kind of "up arrow! left arrow! c! e!" dexterous skill that Sunless Sea definitely requires. Sunless Sea is text heavy, but the game play isn't text based. You steer the ship. You outrun monsters. You crash into islands by accident. This game is hard. The controls were hard to learn, but you get the hang of it. And it's very unforgiving (though that may change in later iterations, this is still early release). There were a few rage quits, honestly.
But once you break the skill barrier then truly exciting characters and stories await you. One of my officers right now even seems to be a masculine of center person of color who goes by the 'she' pronoun, so hell. All the rage quitting was worth it.
If you enjoyed the "being a captain" aspect of Sid Meier's Pirates! but wanted the world to be a more nuanced place where you could play as a female character, be called sir and dance with ladies or gentlemen and also you wanted something a little less repetitive, Sunless Sea is your jam. And your jam is waiting to find you, peanut butter sandwiches. It awaits. Just take my advice and go in expecting to die like six times in a row really quickly. Just take that for what it is and have fun with it.
Isn't it sad, though? Not the game, no. The game is awesome. But that the characters and the approach to gender is remarkable? That I'm so excited to see one masculine of center woman in any game at all? Failbetter games is a much-needed example to an industry that needs to get with the times and understand that all kinds of people game. A+ for Sunless Sea, jury's still out on the gaming industry as a whole.
This has been the eighty-fifth installment of  Queer Your Tech with Fun, Autostraddle's nerdy tech column. Not everything we cover is queer per se, but we talk about customizing this awesome technology you've got. Having it our way, expressing our appy selves just like we do with our identities. Here we can talk about anything from app recommendations to choosing a wireless printer to web sites you have to favorite to any other fun shit we can do with technology. Header by Rory Midhani