Welcome to the  fifty-sixth installment of  Queer Your Tech with Fun, Autostraddle's nerdy tech column. Not everything we cover will be queer per se, but it will be about customizing this awesome technology you've got. Having it our way, expressing our appy selves just like we do with our identities. Here we can talk about anything from app recommendations to choosing a wireless printer to web sites you have to favorite to any other fun shit we can do with technology.
Header by Rory Midhani
---
Okay, so I know weather apps sound blah. I mean, it just tells you the weather. Blah blah blah. Except this one is different. This is a weather app that made me laugh until I actually had tears squeezing themselves from my eyes.
That's because this weather app, Weather Whiskers, is weather told in LOL Cats.
That's right. Weather. Cats.
I'll pause for a hot second while you run and download this free app immediately. Here's the iOS version. Here's the Android one (also a Widget, fyi!).
All the text is in LOL speak. So remember when the weather was pretty universally crappy on the East Coast the night before Thanksgiving? Here's what Weather Whiskers told me was going on.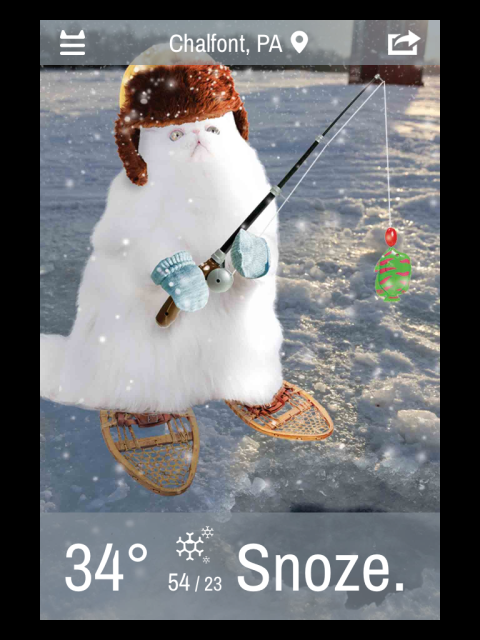 I hate the snow, yet somehow this made it better.
I liked it so much that I immediately emailed Marie McGwier, a front-end designer for Mindspark, the person primarily responsible for the Weather Whiskers kitteh photoshopping and the person who emailed to alert me of its existence. And she definitely agreed with me that Snoze made the world just a tiny bit more bearable:
It's a really good way to laugh even when you're staring into an overwhelming weather forecast, like hail or snow! It's cool, you know, it's getting cold but you're still going to geek out when you check your weather app.
That really was a big inspiration of the project – the idea that something as simple and routine as a weather app could be presented in a way that goes hand in hand with pop culture, memes, and a generally feel good time. My boss, Jim, and my coworker Teresa (you can find them in the "Meet teh team" section!) are cat people, so I think the conclusion of "We have to do weather. But cats," came really naturally to them. Teresa is a LOL-Speak/Pun master, so she was super eager to really get into the 100% use of LOL-speak all throughout the app and all over our marketing. Check out the twitter I've been running, @WeatherWhiskers – you can see it's damn dedicated! We've both enjoyed the hell out of spending hours and hours crafting scenes and giving cats weather appropriate clothing to wear. Jim is really into the smallest details of the app as well as the original overall idea dude – notice the spinner when you pull down to refresh the weather? He brings that kind of detail into it, making this app as purrrfect as pawsible.
And let me tell y'all, this is pawsibly the most purrrfect weather app I've seen since Swackett.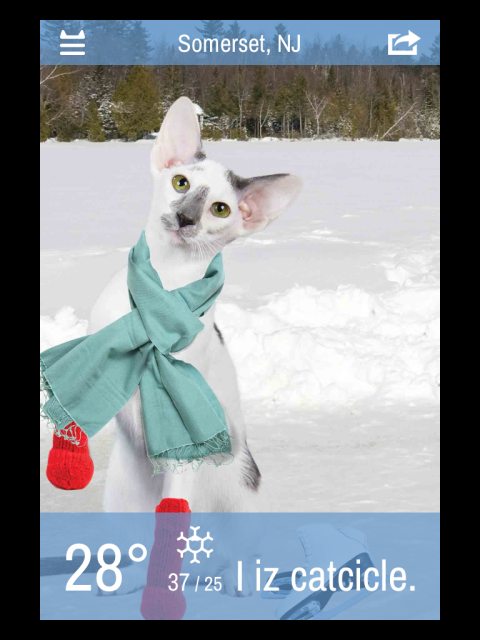 You can remove the ads for 99 cents, but otherwise this is completely free. And just as an FYI, Mindspark is hiring an iOS developer – and McGwier is very much hoping a wonderful queer designer will apply: "I'd love to have another queer woman in my workplace!"