Hello and welcome to the seventh recap of the fifth season of Glee, a terrifying late-night television program about toilet plungers, Thumbelina, overpriced cocktails, strip poker sans poker and a fierce team of crime-fighting balloon animals with chapstick for brains and an irritating tendency to spontaneously break into song. This week's episode took us beyond the candleabra into a majestical world of bubblegum and crack rock, investigating such pressing issues as wildlife preservation, heavy periods and underwater sex acts. Will our merry gang of warriors discover which artifact is turning innocent children into legless puppets? Let's find out!
This week's episode was penned by none other than our dear Matthew Hodgson, best known for the abysmal and offensive situation "I Kissed a Girl." Matthew strikes me as the kind of guy who'd want me to bake him a pie but GOOD NEWS, Marni made a pie yesterday for Thanksgiving so I don't even need to make another pie, I just have to recap this g-dforsaken show.
I feel like this recap isn't very funny but I think that's because everybody in this episode is cranky the whole time! I can't be the only one who came here to party.
---
We open in the Glee Room where, free from the watchful eyes of the Very Shy Anonymous Backup Band, the children have sprung themselves upon wayward instruments. They're plucking and clutching and pounding until interrupted by Blaine, who's been sent to supervise Glee Club 'cause I lit William Schuster's house on fire and watched it burn.
Blaine immediately tops the entire class with his ideas about going acapella in Nationals (starring Blaine of course) and then the entire class power bottoms right back and protests his vision of a night sans guitars.
Tina calls Blaine "Blaine Jung-Il," because of the famine and totalitarianism Blaine's musical tastes will surely inspire. Then Blaine goes and sulks in a corner and Fake Quinn says he's "man-strating." Mhm.
---
We then seal our skulls in Outdoor Research Sun runner caps, stuff the meat and cheese of our fallible bodies into lumpy sky blue snowpants, snap our tiny feet into bedazzled snowshoes and cross-country ski all the way from Ohio, taking a brief detour through the fine slopes of New England, until at last arriving in New York, New York, where Kurt's called an emergency meeting of The Gayest Band Ever.
Kurt's booked The Gayest Band Ever a gig at Broadway piano bar Callbacks, but his band members protest that debuting at Callbacks will be detrimental to their inevitable stardom. Glambert insists that he follows "lots of bands just starting out" and "it's kinda all about the launch," which is nonsense. All bands start out playing open mikes, Bar Mitzvahs, farmers markets, shitty dive bars and A-Camp. Nobody denies you a record deal 'cause you played your first gig at your Uncle's 40th Birthday Party.
But before I can dwell on Glee's ten-thousandth inaccuracy, we segue into Kurt's dream fantasy of the group's debut, which involves Madonna, bright colors, lesbians, my gay boyfriend Adam Lambert, and therefore basically everything good and holy in the world.
http://youtu.be/IMhAkJCvBPs
My gay boyfriend Adam Lambert is sexy, Santana is hot hot hot, and Dani is um… nowhere to be seen?
Kurt's wet dream is interrupted by a ring-a-ding-ding from his fiancee Blaine Warbler, who's despondent that Glee Club finds him controlling when all he's trying to do is control everything. Kurt tells him not to be a puppet master and also tells Blaine he'll send him a JetBlue voucher so Blaine can catch Kurt's debut at Callbacks. Does Kurt get tipped in JetBlue vouchers.
---
Already transported to Lima via the power of The Telephone Split-Screen, we then gamely swing on down the hallowed hallways, where Sue's harassing Figgins 'cause today is Evaluation Day, starring Ted Beneke as the guy in charge of whether or not Sue will get to be Forever Principal Sylvester.
Following her inspirational speech about making McKinley NUMBER ONE, Ted Beneke asks Sue if she'd like to grab a beer sometime 'cause he needs more dude friends. The punchline here is that he thinks Sue is a man because um… she's wearing pants? Perhaps he fell on his head recently.
---
Cut to Sue having an out-of-character feelings-fest with her Beckretary and a bowl of Honey Nut Cheerios.
Sue: "That Bob Harris thinks i could star in the sequel to Boys Don't Cry honestly, it kind of bums me out."
HAHAHAHA HATE CRIME MURDER RAPE HAHAHA SEQUEL HAHAHA
Becky suggests Sue wears a skirt, which segues into Sue segueing us into a flashback wherein a younger Sue Sylvester, clad in a sensible skirtsuit and rocking luscious locks of hair, is unable to demand respect from '80s teenagers hooked on dope and Pac-Man.
Intrepid Intern Grace made this graphic wherein she demonstrates Sue's likeness to Bill Haverchuck from Freaks and Geeks dressing up as the Bionic Woman for Halloween: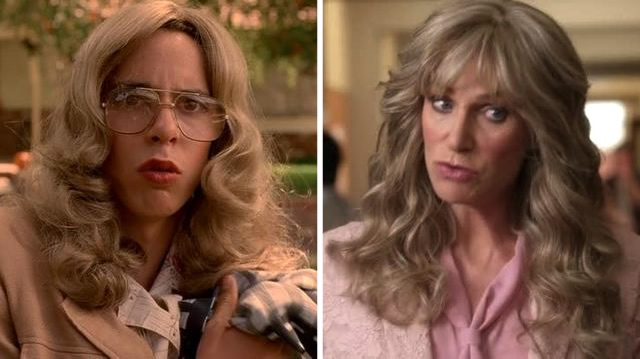 I should watch that show some time, maybe instead of this one? Anyhow, Sue's inability to create change to believe in while wearing a pink blazer inspired Sue to chop off her terrible wig, adopt tracksuits 4 lyfe, and charge through the hallway beating up children.
Sue notes that "the moment I put that track suit on, the world bowed before me," but Becky rebuts that it couldn't hurt to "girl it up a bit." If only "girl" was a word that invoked specific standards of appearance and clothing items! It isn't, but nobody cares because Gender Trouble is really dense and hard to get through.
---
Back in Glee Club, Blaine's sulking that nobody wants his fist up their butt and the Piano Guy's sulking that he lost all his moolah playing online blackjack.
Then Blaine recedes into a misty fog of himself, transitioning into a bizarro-world in which the entirety of Glee Club is represented by muppets, which is really how Glee should always be from now on. Look: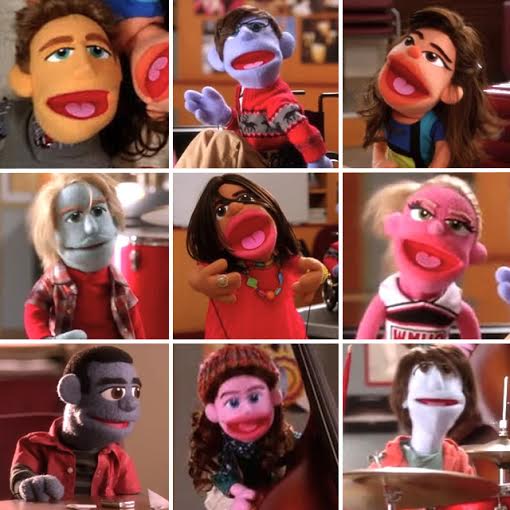 They launch joyously into "You're My Best Friend," a terrible song I totally hate.
We then snap back into real life, where apparently while we were treated to a muppets-enhanced zone-out, Blaine's body remained in the Glee Room, silent and surly. Fake Quinn says she'll call him a wahmbulance but nobody ever calls the wambulence when they say they will, you know?
---
Elsewhere in McKinley High, New Puck is teaching the Cheerios to dance but he thinks they all suck. Then he looks at a girl, and New Santana is like "are you fucking everybody now," and he's like "YUP" and she's like, "ew."
Then Blaine thanks New Puck for standing up for him and warns him of a mystical artifact in the Glee Room causing normal humans to do strange things!
Cut to Glee Club, where New Puck's lost interest in coreographing the Gleeks 'cause they can't booty pop.
Marley's like "you think you're all that but you're totally not," and he's like, um, yeah actually I totally am all that, just like the movie She's All That, but instead it's He's All That, and I'm the star.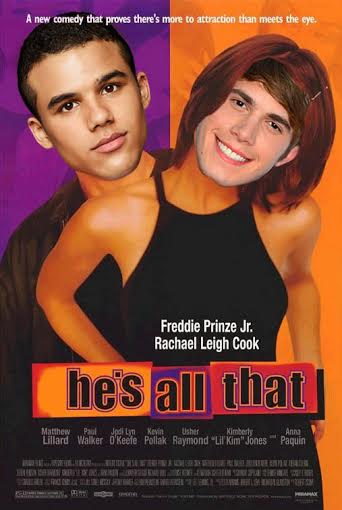 Then New Puck enters the Twilight Zone for a rousing rendition of the Janet Jackson classic Nasty/Rhythm Nation, and it's actually really fucking cool and good and I'm not sure why New Santana has a new personality this episode but whatever I like her better than Marley-Paste that's for sure.
Here, a video:
http://youtu.be/uCQlqM4lSBM
At the song's end, New Puck wakes up from what was apparently a daze inspired by the yet-to-be snagged/tagged/bagged mysterious artifact causing musical blackouts and everybody hates him.
---
Cut to Art Class, where Blaine secures permission to make a Kurt puppet, probs for sexual purposes. Then he chats with said puppet throughout the hallways, which is supposed to be weird but is actually awesome.
Then Sue trips in a pair of heels because HAHAHA FEMINITIY HAHAHA WOMENSTUFF HAHAHA POWERFUL WOMAN IN LADY-SHOES HAHAHAH
Sue, disturbed by Blaine's relationship with his new felt real doll, snatches it from his clammy clutches and leaves him empty-fisted and alone.
---
Pages: 1 2See entire article on one page